Explore two of the last unspoiled wilderness areas on the planet with the Under the Northern Lights: Exploring Iceland & East Greenland itinerary. Cruising along Iceland's mountainous Vestfjords and Greenland's remote northeast coast, home to the largest fjord system in the world, you'll discover diverse and dramatically rugged landscapes rich in iconic arctic wildlife. Immersed in the untamed beauty of the Arctic, you'll experience Inuit culture firsthand at Ittoqqortoormiit, visit ancient Thule sites steeped in history, and marvel at the majesty of massive icebergs and towering bird cliffs. If you're lucky, you may also catch sight of the spectacular northern lights dancing across the sky.

The Arctic has been inspiring explorers for centuries, and our expeditions offer the chance for you to discover why. We're excited to host you on your unforgettable adventure! Feel free to reach out to our team of Polar Travel Advisers or your travel professional, who can answer your questions and provide assistance at any time.
---
Highlights

• Hiking. Hiking in the polar regions differs from your typical trail experience. Here, in a tree-less terrain, you are the tallest figure on the landscape as you walk over spongy tundra, crusty snow or sandy beaches in remotes parts of the Arctic and Antarctica.

• Polar Plunge. The Polar Plunge is scheduled once during each voyage. Throughout the journey, the Expedition Leader and Captain constantly monitor conditions in order to choose the optimal time and location. The Polar Plunge sometimes takes place onshore or, in many cases, from the gangway or Zodiac.

• Zodiac Cruising. Zodiacs are used for transferring you ashore, transporting your luggage when necessary and for taking you ocean-level cruising among icebergs, whales and seabirds. During the expedition, you will visit remote and isolated sites that are accessible only by Zodiac.



Arrive in the Icelandic capital in the morning and make your way to your included hotel. You will have the day to explore the city on your own.

This afternoon, you'll board your vessel and begin your expedition. Get ready for a great adventure ahead!

Each region of Iceland has its own appeal for nature, bird and history lovers, and the little-visited Vestfjords (Westfjords), where the land meets the sea in the most dramatic fashion, is no exception. Exploring this rugged peninsula at the country's remote northwestern tip offers awe-inspiring vistas of mountains, fjords and towering cliffs. If we're lucky and conditions allow, we might cruise along Látrabjarg, known as Europe's largest bird cliff. In summer, these cliffs teem with puffins, razorbills, guillemots and more, but toward the end of the season when we visit, sightings will be more rare. Another possible destination is the quaint island of Flatey, where a replica of Iceland's largest medieval manuscript, Flateyjarbók, can be viewed in the library. The church here features murals symbolizing life on the island, including one of Jesus wearing a classic Icelandic sweater.

As we cruise north across the Denmark Strait, your Expedition Team will prepare you for the adventures that await. Learn about the storied history and politics of the Arctic, its fascinating wildlife, geology, ecology and climate, and the incredible sights you will soon explore. The team will also search for the seabirds soaring around your ship, as well as the whales that frequent the waters here.

During your tour of Greenland's remote northeast coast, you'll enjoy Zodiac cruises and shore visits to several locations. We'll also keep an eye out for grazing muskoxen, as 40 percent of the world's muskoxen population lives in Northeast Greenland National Park. Sailing through spectacular Scoresbysund, the birthplace of many icebergs, you'll immediately see why some say it's the most beautiful fjord system on the planet. Sites such as Frederiksdal and Sydkap offer opportunities to explore the colorful tundra and the remains of ancient Thule settlements. At the entrance of the sound is East Greenland's most northerly community, Ittoqqortoormiit, where you may spend time interacting with the Inuit people and learning about their way of life. You may also have a chance to see the northern lights here if the skies are clear. Deeper in the sound, Røde Øya offers a picturesque locale for admiring the beauty of sky-blue bergs set against striking red sandstone cliffs. Magnificent vistas also await at Kong Oscar Fjord, with possible landings at Ella Øya, renowned for its rugged cliffs and ice-choked waters, and flower-rich Botanikerbugt, on Ymer Øya.

As your arctic adventure winds down, take in a presentation by our onboard experts, share your photos, sip an icy cocktail in the bar or watch a movie—there are many activities during your time at sea. Your Expedition Team will also be on hand to answer any questions and point out wildlife.

You'll disembark in Reykjavik, Iceland's capital, at the end of your journey. If you have booked post-expedition accommodation, we provide a transfer to a central downtown location.

Embracing the unexpected is part of the legacy—and excitement—of expedition travel. When traveling in extremely remote regions, your expedition staff must allow the sea, the ice and the weather to guide route and itinerary details. This itinerary is a tentative outline of what you'll experience on this voyage; please be aware that no specific itinerary can be guaranteed.
20 September, 2024 to 03 October, 2024


Ocean Adventurer

Book now

A Triple Cabin has two lower berths and one upper berth, private facilities, and a porthole with exterior views.

A Lower Deck Twin cabin has two lower berths, private facilities, and a porthole with exterior views.
Main Deck Twin Porthole. From

A Main Deck Twin Porthole cabin has two lower berths, private facilities, and a porthole with exterior views.
Main Deck Twin Window. From

A Main Deck Twin Window cabin has two lower berths, private facilities, and two windows with exterior views.

A Superior cabin has two lower berths, private facilities, and windows with exterior views. Note: this cabin has either corner or parallel bed configuration.

A Deluxe Cabin has two lower berths, private facilities, and windows with exterior views.

An Owner's Suite has a double bed and private sitting room. One features a large panoramic window facing aft, and the other two suites face port and starboard.
Please contact Wild Earth for alternative options or to waitlist.
Vessel Type: Comfortable Expedition
Length: 90 metres
Passenger Capacity: 118
Built / refurbished: 1975 / 1998 / 2017 - re-named to the Ocean Adventurer in June 2017
Ocean Adventurer is designed to carry 132 travelers in comfort to the most remote corners of the world. Originally built in Yugoslavia in 1976, this nimble, ice-strengthened ship has become a passenger favourite over the years and underwent refurbishments in 1999 and 2002 with the most significant being in 2017.
With the latest rounds of refurbishments guests will enjoy:
• A refreshed, contemporary new look and feel throughout the ship.
• The addition of six new twin cabins and three new suites.
• All existing cabins will be furnished with all new soft furnishings and brand new bathrooms.
• Main common areas such as the Lounge and Dining Room will be remodeled as well as the Bar.
• Major technical enhancements – include two new Rolls Royce engines, which will significantly increase fuel efficiency and minimized carbon footprint.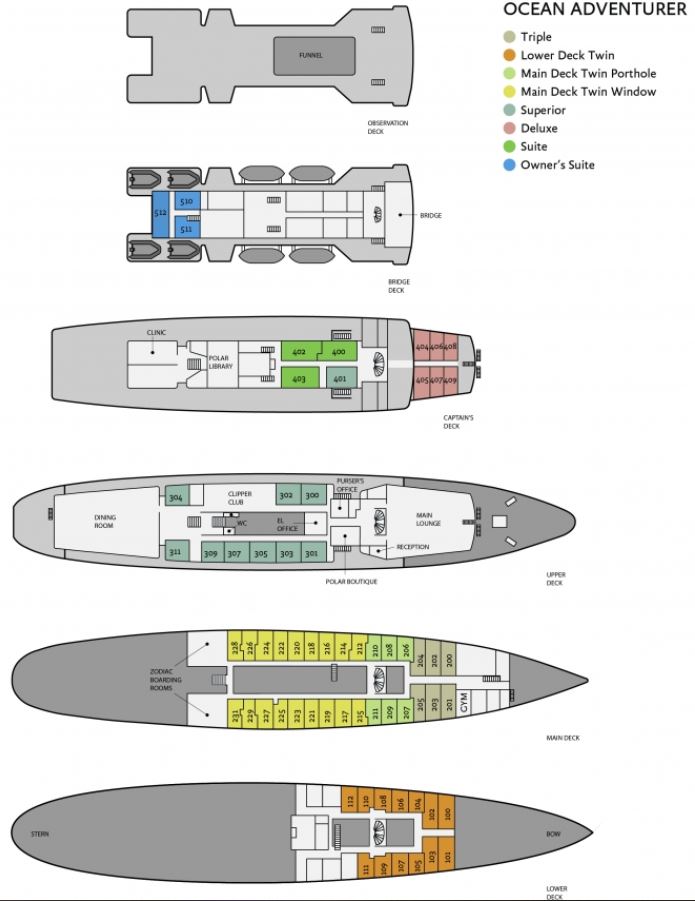 Special Offers
Would you like to learn about our current promotions? Get in touch to learn more! We have special offers available for Antarctica and Arctic cruises!
Inclusions

• Voyage in selected cabin category
• Rubber boots for use throughout the voyage
• Expedition Parka to keep
• Experience Expedition leader and team
• All shore landings and zodiac cruises as specified in the itinerary
• All meals while on board the ship
• Soft Drinks, Juice, Tea and Coffee while on board the ship
• Beer and Wine with dinner
• Lectures and presentations on board held by Expedition team and guest speakers as scheduled
• Photographic journal of the expedtion
• Luggage handling on board the ship
• Emergency Evacuation insurance up to a maximum of USD$500,000.00 per person
• All port charges/taxes
• One night's pre-expedition hotel accommodation in Reykjavik
• Group transfer from the Reykjavik hotel to the ship on Day 2
• Group transfer from the ship to downtown Reykjavik on disembarkation day
---
Exclusions

• International and Domestic airfares unless specified
• Passport and Visa costs if applicable
• Meals ashore unless specified
• Travel insurance including cancellation insurance
• Mandatory waterproof pants - required for zodiac cruises and landings
• Any items of a personal nature including medical costs incurred on board
• Phone and Internet charges incurred on board
• Gratuities
• Transfers other than those specified in inclusions
• Pre and post voyage accommodation unless stated in the itinerary
• Optional excursions (Eg kayaking where available)