A short, comfortable flight from Punta Arenas, Chile, to King George Island in Antarctica has you with boots on the ground, overtaken by the sheer magnitude of the Seventh Continent. Fully immersed in the Antarctic environment, you'll experience a roller coaster of emotions, from excitement to awe, from exquisite solitude to incredible gratitude for the wonder of it all.

You may go in search of whales and find yourself bearing witness to a glacier calving. Or, you might plan to climb one more peak for a better vantage point and find yourself in a rookery of curious penguins. Antarctica will leave you in awe, but it won't leave you unchanged.
---
Highlights

• The fastest, most direct way to Antarctica

• Fly over Drake Passage

• All the Antarctic Peninsula highlights

• Photography instruction included

• Optional polar camping along the Peninsula

• On board lecturers and educational presentations from Polar specialists



Your adventure begins in Punta Arenas, Chile, the most populated city in southern Patagonia. If you arrive early, there are many museums, restaurants and shops to keep you busy for days. By early afternoon, a Quark Expeditions® representative will meet you at the official starting point hotel, where you'll enjoy a welcome dinner and be briefed about preparing for your embarkation day.

Your charter flight from Punta Arenas to Antarctica will have you crossing the legendary Drake Passage in only a few hours. Far below, the ship will approach King George Island for your arrival. Your first glimpse of dramatic Antarctic landscapes will be from a unique perspective, as your plane descends for landing in the South Shetland Islands. After landing, stretch your legs with a one-mile (1.6 km) walk to the shore, before being transferred by Zodiac to your ship to set sail for the Antarctic Peninsula!

There are few places in the world as evocative as Antarctica. As your ship approaches the White Continent, you may be overcome by feelings of excitement and awe. Much of Antarctica is indescribable and can only be fully appreciated through your own eyes. As your captain and Expedition Team keep a lookout for whales and seabirds, you'll be alerted to any new sightings. Our team of expert lecturers will also provide in-depth explanations of the glaciology, history and wildlife of the region. Even more exciting are your land excursions. Your first Zodiac landing is something you'll never forget! Walking on a beach dotted with penguins is the most intimate way to experience the unique wildlife of Antarctica. Each landing is different and dependent on weather, but every day presents new sightings and photo opportunities, and it won't be long before you can tell the difference between an Adélie, gentoo and chinstrap penguin. You may take a Zodiac cruise in search of whales and icebergs one day, followed by a hike to a penguin rookery the next day. From the booming sound of a calving glacier to the thrill of spotting apex predators like leopard seals and killer whales in action, you'll wake up early and welcome each day with a sense of adventure and a desire to explore this unrivaled travel experience. Your Expedition Team will accompany you along the way, ensuring safety and providing insights into the places you visit.

Crossing the Antarctic Circle is an impressive achievement, as most expeditions to the Antarctic Peninsula do not reach 66°33´ S. If conditions allow us to cross this famed line at 66°33´ S, you and your shipmates will celebrate in style with a well-earned glass of sparkling wine! As you toast the first explorers who ventured this far south, you can take pride in knowing you've made it to a part of the world visited by very few people. This is raw Antarctica, home of the midnight sun, Weddell seals and some of the most peculiar, yet magical ice formations you'll see anywhere on the continent.

If you haven't had your fill of Antarctic wildlife and icebergs by now, you'll surely be satisfied by the time you return to King George Island. You will continue to explore by Zodiac or on land as you travel north along the western Antarctic Peninsula. Your Expedition Team will always be on the lookout for species of seabirds, seals and whales that may have eluded you on your journey south.

After your week of exploration, you'll say goodbye to your Expedition Team and disembark at King George Island. Your two-and-a-half-hour flight across the Drake Passage to Punta Arenas, Chile, brings your adventure to an end. After your group transfer to the hotel, you are free to explore and enjoy an evening on your own, in the city or at the hotel to reminisce about the sights and sounds of Antarctica.

After breakfast, you are welcome to continue on your own travels or make your way to the Punta Arenas airport for your homeward flights.

Embracing the unexpected is part of the legacy – and excitement – of expedition travel. There are no guarantees that we can achieve everything we set out to accomplish. A measure of flexibility is something all of us must bring to a voyage. There are nearly 200 recognized sites in the Antarctic Peninsula and South Shetlands and the places mentioned above may be changed to others equally as interesting.
| | | | |
| --- | --- | --- | --- |
| 23 February, 2023 to 05 March, 2023 | Save up to $4,380 AUD | | Book now |

A Triple Cabin has two lower berths and one upper berth, private facilities, and a porthole with exterior views.

A Lower Deck Twin cabin has two lower berths, private facilities, and a porthole with exterior views.

A Main Deck Twin Porthole cabin has two lower berths, private facilities, and a porthole with exterior views.

A Main Deck Twin Window cabin has two lower berths, private facilities, and two windows with exterior views.

A Superior cabin has two lower berths, private facilities, and windows with exterior views. Note: this cabin has either corner or parallel bed configuration.

A Deluxe Cabin has two lower berths, private facilities, and windows with exterior views.

A Suite has a double bed, windows with exterior views, private facilities. Cabin 403 has a bathtub; other Suites have showers.

An Owner's Suite has a double bed and private sitting room. One features a large panoramic window facing aft, and the other two suites face port and starboard.
Ocean Adventurer
Vessel Type: Comfortable Expedition
Length: 90 metres
Passenger Capacity: 118
Built / refurbished: 1975 / 1998 / 2017 - re-named to the Ocean Adventurer in June 2017
Ocean Adventurer is designed to carry 132 travelers in comfort to the most remote corners of the world. Originally built in Yugoslavia in 1976, this nimble, ice-strengthened ship has become a passenger favourite over the years and underwent refurbishments in 1999 and 2002 with the most significant being in 2017.
With the latest rounds of refurbishments guests will enjoy:
• A refreshed, contemporary new look and feel throughout the ship.
• The addition of six new twin cabins and three new suites.
• All existing cabins will be furnished with all new soft furnishings and brand new bathrooms.
• Main common areas such as the Lounge and Dining Room will be remodeled as well as the Bar.
• Major technical enhancements – include two new Rolls Royce engines, which will significantly increase fuel efficiency and minimized carbon footprint.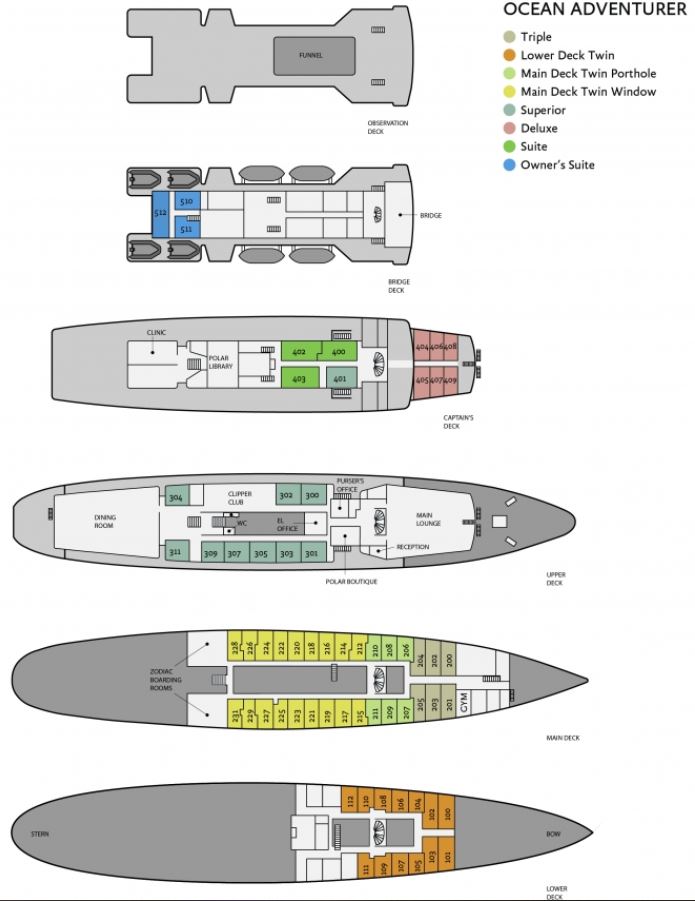 Pay in full by March 31, 2022 & Save 10%
Pay in full by March 31, 2022 & Save 10%. Terms and Conditions apply, special offer is subject to availability, please contact us for more details.
Inclusions

• Voyage in selected cabin category
• Rubber boots for use throughout the voyage
• Expedition Parka to keep
• Experience Expedition leader and team
• All shore landings and zodiac cruises as specified in the itinerary
• All meals while on board the ship
• Soft Drinks, Juice, Tea and Coffee while on board the ship
• Beer and Wine with dinner
• Lectures and presentations on board held by Expedition team and guest speakers as scheduled
• Photographic journal of the expedtion
• Luggage handling on board the ship
• Emergency Evacuation insurance up to a maximum of USD$500,000.00 per person
• All port charges/taxes
• Group arrival transfer in Punta Arenas from airport to hotel on Day 1 (For preferred flights only)
• One night pre-voyage hotel accommodation in Punta Arenas with breakfast as per the itinerary
• A briefing dinner on Day 1 in Punta Arenas
• Group transfer in Punta Arenas from the hotel to the airport on embarkation day
• Flights to and from King George Island
• Group transfer in Punta Arenas from the airport to the hotel on disembarkation day
• One night post-voyage hotel accommodation in Punta Arenas with breakfast as per the itinerary
• NOTE: Hotel Accommodation - The number of guests per room is the same as cabin occupancy on the ship. Due to limited availability, travelers who reserve a suite on board are accommodated in standard rooms at the hotel. Triple rooms may not be available
• FLIGHTS - There is a strict luggage limit of 33 lbs (15 kg) checked luggage and 11 lbs (5 kg) cabin baggage on the flights between Punta Arenas and King George Island. Should you have additional luggage, it can be stored at the hotel in Punta Arenas. There is NO option to pay for additional luggage.
---
Exclusions

• International and Domestic airfares unless specified
• Passport and Visa costs if applicable
• Meals ashore unless specified
• Travel insurance including cancellation insurance
• Mandatory waterproof pants - required for zodiac cruises and landings
• Any items of a personal nature including medical costs incurred on board
• Phone and Internet charges incurred on board
• Gratuities
• Transfers other than those specified in inclusions
• Pre and post voyage accommodation unless stated in the itinerary
• Optional excursions (Eg kayaking where available)
• Gratuities or tips are always at your discretion. We recommend that you budget $10 to $15 per person per day, if you are pleased with the service on board. Gratuities are collected anonymously at the end of each voyage. They are distributed among staff and crew. Payment can be made in cash or charged to your shipboard account.