Explore the captivating coast of West Africa and you will experience a combination of intriguing cultures, colourful history and beautiful wildlife. Travel with us on our 12-night West Coast of Africa - Ghana to Senegal cruise and visit destinations and remote locations in a wildly fascinating part of the world. We begin our journey in Accra, Ghana, where we can sample local culture and delve deeper into the harsh history of this diverse part of the world. Our journey continues to the bustling cities of Liberia and Sierra Leone with their notable histories as settlements for freed American slaves, before heading to the Gambia via far-flung islands covered in mangroves where hippos and pygmy cows are at home. Your remarkable cruise on a boutique expedition ship ends in Dakar, Senegal, a bustling city with a throbbing music culture, finishing off an incredible journey to some of the least-visited cultures, cities and landscapes in Africa.


---
Highlights

• Sample Ghanaian foods in Takoradi Market Circle, the largest market circle in Africa

• See firsthand the rehabilitation of western chimpanzees at Tacugama Chimpanzee

• Get a taste of Liberia at Monrovia's Waterside Market

• Keep an eye out for rare saltwater hippo in the remote Bijagos archipelago

• Watch traditional ways of life continue on Ile Carabane in Senegal



Ghana's fast-paced capital city is culturally rich, modern, and historic all at once. European-built forts and Independence Square's public monuments offer a glimpse at the city's past. To feel the pulse of Accra, head to the neighbourhood of Jamestown – a 17th-century fishing community – with old colonial buildings, plus a diverse art and food scene. While you're here, sample some local bites like waakye­ – rice and beans with sides – at a low-key 'chop bar'.

The twin cities of Sekondi-Takoradi, often called Tadi, are a major commercial hub on Ghana's deepwater port. There's a low-key beachfront, a 17th-century Dutch fort, and inland, a frenetic commercial centre dominated by Market Circle, the largest market circle in Africa, where you can indulge in everything from coconuts to dried fish and a staple local dish – tangy jollof rice. Further afield, you can see fishing boats in the harbour or watch a traditional drumming ceremony.

You can spend your day at sea enjoying the many facilities available. Head to the sauna, get in a workout in the state-of-the-art gym or relax in the jacuzzi whilst taking in incredible views along the way. If you prefer to learn a little more about your surroundings, listen to an informative talk or have a chat with one of our knowledgeable on-board experts.

Liberia's coastal capital was founded in the 1800s as a settlement for formerly enslaved people from North America. The National Museum offers an introduction to the region's history and art. Today's bustling city is a mix of architectural styles, lively beaches, and street markets. For a taste of local flavour, explore the jumbled Waterside Market, filled with colourful fabric and crafts, and sample a hearty meat stew with rice.

Sea days are rarely dull. Take the time to sit back and let the world go by. The ship's observation decks provide stunning views of the passing ocean. A day at sea gives you the opportunity to mingle with other passengers and share your experiences of this incredible trip or head to our library which is stocked full of reference books. Get an expert's view in one of our on-board lectures or perhaps perfect your photography skills with invaluable advice from our onboard professional photographers.

Sierra Leone's portside capital city occupies a major position in history as the home of formerly enslaved people from North America and Britain. Sites like Cotton Tree and the King's Yard Gate symbolise the town's sombre past. Freetown today is a diverse city with a rich heritage – colourful Krio architecture, hearty, rice-based cuisine, and lively beaches. Stop by the Tacugama Chimpanzee Sanctuary to visit rescued, endangered primates in a rainforest.

Days at sea are the perfect chance to relax, unwind and do whatever takes your fancy. So whether that is going to the gym, visiting the spa, trying to spot a whale from the deck, reading a chapter or two, or simply topping up your tan, these blue sea days are the perfect balance to the green days spent exploring on land.

Off the coast of Guinea-Bissau lie 88 islands – most of them uninhabited – covered in mangroves and mudflats, savannah and palm forests. The remote Bijagos archipelago is a protected biosphere reserve, known as the home of the rare saltwater hippo, as well as migratory birds and pygmy cows. The islands remained largely unaffected by colonial influence, resulting in a strong cultural identity with traditional coming-of-age ceremonies like difuntu and fanado still in practice.

The far-flung island in Senegal's extreme southwest, Carabane is a tiny tropical idyll covered with mangroves, baobabs, and palms at the mouth of the Casamance River. As a former French trading post, the island retains much of its 19th-century architecture, and villagers continue a traditional way of life fishing, cultivating rice and producing palm wine. Round off your trip, by relaxing on a palm-lined, white-sand beach.

At the meeting point of the Gambia River and the Atlantic Ocean, Gambia's relaxed capital city sits on a little island filled with colonial buildings and vibrant markets. At the 19th-century Albert Market, you can browse souvenirs and the vibrant traditional clothing of The Gambia's diverse ethnic groups. For a true taste of local culture, sign up to visit a typical Gambian home or 'compound', where local hosts will tell you about their heritage as you sip on herbal tea and sample traditional snacks.

With fabulous museums, a thriving art scene and elegant seaside dining, the capital city showcases a rich Senegalese culture and a forward-looking spirit. Discover the city's traditional side in Medina, a bustling quarter of mosques, tea shops, and street markets. French influences remain in many aspects of city life, from architecture to food. Local mbalax music dominates a vibrant nightlife scene. Traditional crafts like wood carvings and glass paintings are easily found at the Soumbédioune market – the best place to shop for souvenirs.

Itineraries are subject to change.
| | | |
| --- | --- | --- |
| 16 April, 2023 to 28 April, 2023 | | Book now |

19 m2 Sleeps 2 Oceanview cabins features 2 single beds, bedroom and living room and a luxurious ensuite bathroom.

19 m2 Sleeps 2 Oceanview staterooms features 2 single beds, bedroom and living room and a luxurious ensuite bathroom.

28 m2 Sleeps 2 Features 2 single beds, bedroom and living room, a luxurious ensuite bathroom and your own private 6 sq.m. balcony.

28 m2 Sleeps 2 Located at the centre of the ship, these balcony staterooms feature 2 single beds or double bed bedroom with living room area, a luxurious bathroom and your own private 6m2 balcony

44 m2 Sleeps 2 Our Suites features a superking bed and separate living room with and a soothing flame-effect fireplace a luxurious ensuite bathroom and a 12 sq.m. private balcony.

49 m2 Sleeps 2 Our grandest suites features a superking bed and separate living room with and a soothing flame-effect fireplace a luxurious ensuite bathroom, spacious walk in wardrobe and a 12 sq.m private balcony.
Vega
Vessel Type: Luxury Expedition / Cruise Ship
Length: 115 metres
Passenger Capacity: 152
Built: 2020-2021-2022
Our brand new ship has been designed to journey to off the beaten path destinations and remote polar regions in style and comfort. The ship incorporates a PC5 ice-strengthened hull combined with extra-large stabilisers to make your journey as smooth as possible.
Sophisticated Elegance. We know how important outdoor space is, so our spacious, relaxing public spaces provide wide open, unobstructed views throughout the ship. The destination will always be in view.
Your Wellbeing. The safety & happiness of our guests is paramount to our 120-strong crew on board as well as our passionate expedition team who'll be serving up thrilling shore excursions and lasting memories.
Cabin Types. Our 76 cabins including 6 suites have all the amenities you will need to feel comfortable including dressing gowns, hairdryers, personal safes and minibars. Our stylish cabins all have desks, a dressing area and comfy seating. En suite bathrooms all feature glass-enclosed rain showers.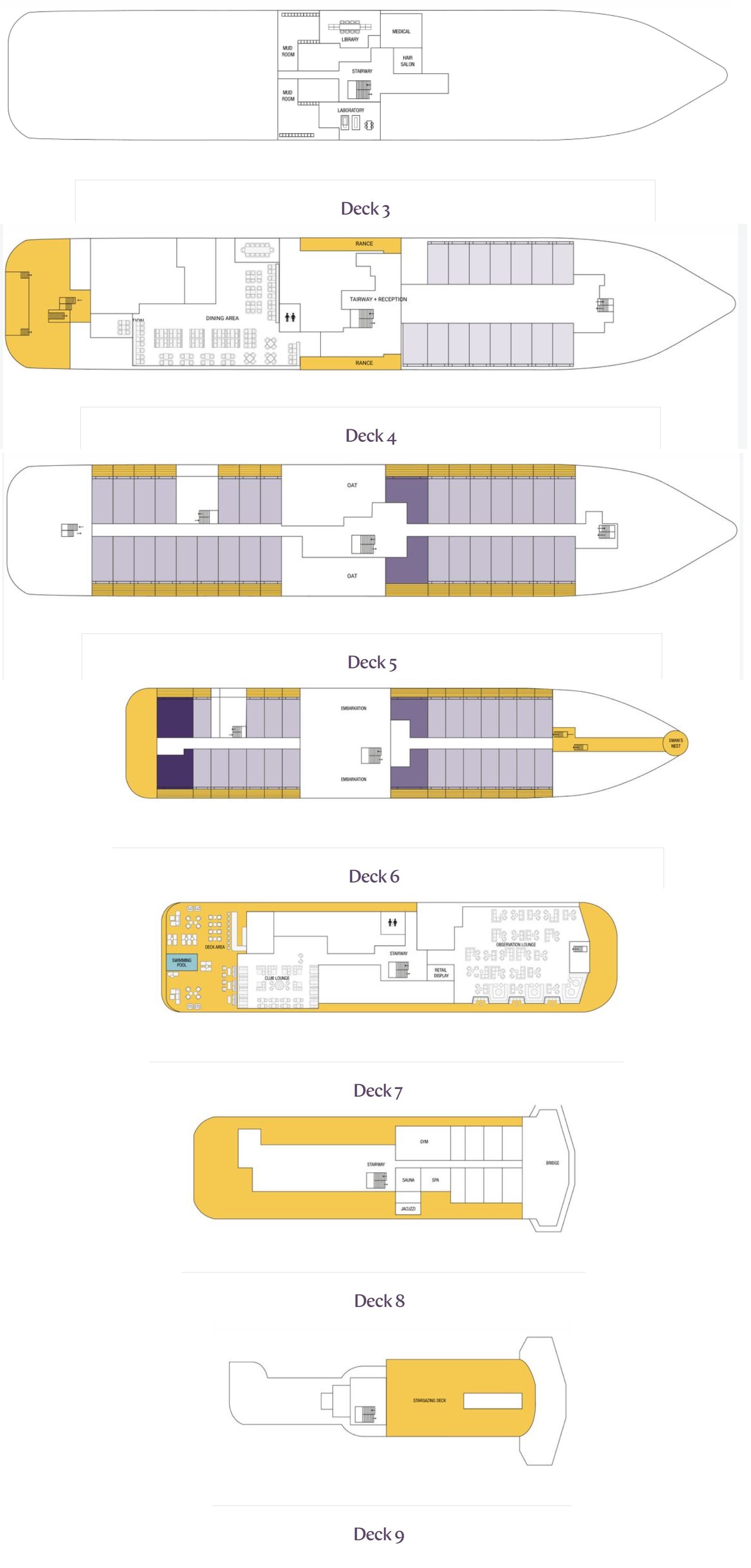 Inclusions

INCLUSIONS FOR ARCTIC
• One night pre-cruise hotel accommodation with breakfast
• Transfer from the airport to the hotel on the day prior to embarkation
• Transfer from the hotel to the port for embarkation
• Transfer from the port to the airport on return
• Onboard accommodation
• All meals onboard including room service 24 hours a day
• Coffee, tea, soft drinks & select alcoholic beverages 24 hours a day
• Lecture programmes by our experienced expedition team and guest speakers
• Shore excursion programme led by our expert expedition team
• Branded Swan Hellenic expedition parka
• Use of rubber boots for shore landings
• Basic WIFI inclusion (Premium WIFI available)
• Onboard gratuities & port taxes

INCLUSIONS FOR ANTARCTICA CRUISES
• Return flights: Buenos Aires to Ushuaia or Santiago to Ushuaia
• One night pre-cruise hotel accommodation with breakfast
• Transfer from the airport to the hotel on the day prior to embarkation
• Transfer from the hotel to the port for embarkation
• Transfer from the port to the airport on return
• Onboard accommodation
• All meals onboard including room service 24 hours a day
• Coffee, tea, soft drinks & select alcoholic beverages 24 hours a day
• Lecture programmes by our experienced expedition team and guest speakers
• Shore excursion programme led by our expert expedition team
• Branded Swan Hellenic expedition parka
• Use of rubber boots for shore landings
• Basic WIFI (Premium WIFI available)
• Onboard gratuities & port taxes

INCLUSIONS FOR REST OF WORLD CRUISES
• One night pre-cruise hotel accommodation with breakfast
• Transfer from the airport to the hotel on the day prior to embarkation
• Transfer from the hotel to the port for embarkation
• Transfer from the port to the airport on return
• Onboard accommodation
• All meals onboard including room service 24 hours a day
• Coffee, tea, soft drinks & select alcoholic beverages 24 hours a day
• Lecture programmes by our experienced expedition team and guest speakers
• On shore transfer per port of call
• Basic WIFI inclusion (Premium WIFI available)
• Onboard gratuities & port taxes

---
Exclusions

• Additional activities such as kayaking, private tours, special arrangements, private Zodiac tours
• Laundry
• Premium wines and spirits
• Purchases in the ship's boutique
• Any spa treatments
• Upgraded WiFi data packages
• Visas where required
• Travel Insurance
• Flights
• Domestic transfers
• Hotel requirements (pre/post cruise) unless otherwise stated in the itinerary description