For those who go off the beaten path, there are places in the British Isles where nature is still wild and history can be touched.

BOTANY
Whether your interest is botanical gardens or native wildflowers, the flora on this voyage is in full bloom. Unique in the British Isles, Tresco Abbey Garden boasts an outdoor collection of more than 20,000 exotic plants from around the world. In Ireland, a walk through the intensively planted woodland at Mount Congreve Estate is one the world's great botanical experiences.

Our British Isles cruise also coincides with spectacular wildflower displays on Fair Isle, where we find a surprising abundance and diversity of plant species adapted to the harsh environment and encouraged by traditional crofting methods.

BIRDLIFE
In these surprisingly wild corners of the British Isles we find some of Europe's best birding destinations. The birds at these world-renowned but little-visited sites are sure to impress and delight birders of all levels, from the casual birdwatcher to the most impassioned twitcher. Each day brings new opportunities as we discover the hidden treasures of the British Isles.

In Scotland, isolated Fair Isle is famous for its abundant local birdlife and frequent sightings of rarities. Our British Isles cruise is timed to coincide with the spring migration and the peak of the seabird breeding season.

HISTORY
In the earliest times, the only way to get around in the British Isles was by small boat. So it is not surprising that many of the most important historical sites are on islands more accessible by sea than by road, leaving them in relative peace today. With our small ship and fleet of Zodiacs, such sites are easily within our reach.

Destinations include gorgeous Iona Abbey, in Orkney we find a Neolithic village site, ancient henge monuments, a Romanesque cathedral, and the historic Burgh of Kirkwall. Throughout our voyage along the British coastline, we discover tastefully curated historical sites nestled in romantic landscapes; most of them are renowned World Heritage Sites.
Welcome to Edinburgh, the capital of Scotland and starting point of our trans-Atlantic expedition. To provide you with more time to enjoy this metropolis rich in history and culture, we've arranged pre-cruise hotel accommodations near the city center. Relax and take a stroll through town, enjoying both medieval and classic 18th-century architecture. The famous Edinburgh Castle rises majestically above it all.
Enjoy the morning and early afternoon at leisure. Each corner of Edinburgh's old streets opens beautiful unexpected vistas of green hills or a blue flash of the distant sea. In the afternoon, you will be transferred from the hotel to the ship in the nearby Port of Leith. Before dinner, there's time to explore the Sea Spirit, your home-away-from home for the next nine days.
Kirkwall, capital of the Orkney Archipelago, is a small, quiet town, with a gentle pace of life. It was first mentioned in Orkneyinga saga in 1046. Such a long history has left a rich heritage which we explore today on an included tour. The most famous sites in town are the sandstone St. Magnus Cathedral, considered to be the finest medieval building in the north of Scotland, the Bishop's Palace and the Earl's Palace. We leave town and head west, passing through the gentle rolling landscape of the Orkney's largest island, Mainland, and into the Neolithic heartland, an area designated as a World Heritage Site due to its wealth of pre-historic archaeology. Passing the Standing Stones of Stenness, we will stop at the Ring of Brodgar – a huge ceremonial circle of stones dating back almost 5,000 years. We then continue on to the 5,000-year-old village of Skara Brae, with remarkable dwellings first revealed beneath the sand dunes by storms just 150 years ago. Return to the ship for dinner and a late evening departure.
You can expect a physically more active day, as the places we visit become more remote with less tourism infrastructure. This morning, we land at North Ronaldsay, the most distant isle of the Orkneys, with a population of about 70 people. The isle supports an extremely rich and diverse population of wild flowers, birdlife and flocks of the unusual seaweed-eating North Ronaldsay sheep. Many migrating species of birds stop here in spring and autumn, while there are also many breeding species which spend the spring and summer at the island. Escorted by our knowledgeable expedition staff, we'll plan to hike and birdwatching in this picturesque landscape. During lunch on board, we head to Fair Isle, a real paradise for birdwatchers. The lush grasslands and spectacular cliffs are inhabited by huge number of birds. Over 345 species have been recorded here – more than anywhere else in Britain. The variety of bird life inspired the ornithologist George Waterston to build a bird observatory here in 1948. Enjoy a pleasant afternoon walk across the island, visit the newly refurbished observatory and see thousands of northern fulmars, kittiwakes, northern gannets, puffins, and great and arctic skuas.
National Geographic Traveler had designated the Faroe Islands as "authentic, unspoiled and likely to remain so". Nature has spared no colors in painting the islands: deep-green hills, bright blue sea, colorful houses and boats, and puffins' orange-red beaks make the landscape unforgettable. The rugged Faroese are proud of their Viking heritage and their love of the sea. We will explore the archipelago with possible stops in: Tórshavn. This would include a visit to Kirkjubøur, the ecclesiastical and cultural center of the Faroes in the Middle Ages. It was the site of the Bishop's residence until the Reformation, when the Faroese diocese was abolished. The imposing Gothic ruin of the late 13th-century Saint Magnus Cathedral still dominates the site. The Roykstovan, standing on the wide, stone foundation of a portion of the Bishop's palace, has been the home of farmers in Kirkjubøur for centuries and occupied by the same Faroese family for 17 generations. There are magnificent views to the west and the islands of Koltur, Hestur, Sandoy, and Vágar. Klaksvík, the second-largest town in the Faroes and an important fishing and shipping port. Charcoal gray, snow-dusted mountains create a spectacular backdrop to our visit. The town originated from four farms which grew into four villages and ultimately into a modern town in the late 1939s. Some light hiking and birdwatching are possible in areas selected by local guides and our expedition team. Our expedition team will also search for more remote areas of the archipelago to visit or pause, where we can take advantage of the ship and possibly Zodiacs to see bird cliffs and other natural wonders that are otherwise difficult to access.
Today is for relaxation on board or watching for seabirds and aquatic life in the Atlantic's pelagic layers from the Sea Spirit's decks or open bridge. When they're not busy giving informative presentations on the geology, wildlife or Viking heritage of the Faroes and Iceland in the Oceanus Lounge, the expedition team will be happy to answer your questions.
Sometimes anglicized as Westman Islands, Vestmannaeyjar is the name of the small town of 4,200 inhabitants as well as the 15-island archipelago that is located off the south coast of Iceland. It came to the world's attention in 1973 with the eruption of the Eldfell volcano, which forced the evacuation of the entire population. It has a unique microclimate, and more than 30 species of birds nest in the millions in the high cliffs and grassyledges. Vestmannaeyjar – literally "the islands of the westmen" – is named after the Irish slaves brought here by the Vikings. A full day here will provide us with time to tour the small town and travel into more windswept and remote areas for hiking and views of massive breeding colonies of migratory birdlife. Tonight, as the Sea Spirit departs Vestmannaeyjar, enjoy the Captain's farewell cocktail party and festive dinner.
We finish our journey in the capital city of Iceland where, after breakfast, guests will disembark and be transferred to either the International Airport or the city center.
Itineraries are subject to change.

Averaging 21 square metres/226 square feet, these staterooms have two twins and a comfortable sofa bed. The twins also convert to a King, if desired. Located on Oceanus Deck, these suites have a picture window, two wardrobes and en suite facilities. Amenities include: in-room safe, refrigerator, satellite telephone access, TV/DVD, individual temperature control, and hair dryer.

Averaging 23 square metres/248 square feet, Main Deck cabins are equipped with either two twins or a King Size bed. They are located on the Main Deck with a minimum of two portholes for exterior views. Amenities include: en suite facilities, in-room safe, refrigerator, satellite telephone access, TV/DVD individual temperature control and hair dryer.

Averaging 21 square metres/226 square feet, these cabins are located on the Oceanus Deck. They feature a picture window, two wardrobes and a choice of either two twin beds or a King Size bed. Amenities include: en suite facilities, in-room safe, refrigerator, satellite telephone access, TV/DVD, individual temperature control and hair dryer.

Superior Suites are located on the Club Deck. Averaging 20 square metres/ 215 square feet, these cabins feature two twin beds or a King Size bed. The picture window overlooks an outside walkway on the Club Deck. Amenities include: en suite facilities, walk-in closet or wardrobe, in-room safe, refrigerator, satellite telephone access, TV/DVD, individual temperature control, hair dryer.

The Deluxe Suites with balconies are located on the Sports Deck. Averaging 24 square metres/ 258 square feet means plenty of room. Choose from either two twin beds or a King Size bed. A sliding glass door leads to a private balcony. These suites feature a walk-in closet or wardrobe. Amenities include en suite facilities, in-room safe, refrigerator, satellite telephone access, TV/DVD, individual temperature control, and a hair dryer.
The Premium Suites are located on the Sun Deck. Averaging a generous 30 square metres/ 323 square feet, with two twin beds or a King Size bed. Access the private balcony by a sliding glass door. Amenities include: en suite facilities, lounge area, in-room safe, refrigerator, satellite telephone access, TV/DVD, individual temperature control, and hair dryer.

Super-spacious (43 square metres/ 463 square feet) elegant suite on the Sun Deck. Designed for entertaining, the Owner's Suite has a separate living room with game and meeting area. A BOSE stereo system provides background music, or watch videos on the HD plasma TV. Sliding glass doors lead to a private deck. Refresh in the jetted bathtub in en suite facilities. Slumber in the King Size bed. A sofa bed can accommodate a third person.
Sea Spirit
Vessel Type: Luxury Expedition
Length: 90 metres
Passenger Capacity: 114
Built / refurbished: 1992 / 2016
Like some of the birds we see in the Arctic and Antarctica, our m/v Sea Spirit is migratory and follows the sun, northbound in the summer and southbound in the winter, always ready for spontaneous discoveries – a pod of whales, a family of polar bears or a glaciated mountain vista. She is highly maneuverable and capable of navigating the narrow fjords of East Greenland and entering the small bays of Spitsbergen.
Onboard, we create a friendly and welcoming atmosphere for all our guests. They are united by one goal – to have a memorable wilderness experience and to become real polar adventurers. We believe that first-hand travel to such places makes one an ambassador for conservation, and helps strengthen our resolve to protect these natural environments for future generations.
Public areas include: Reception, Restaurant, Bar, Outdoor Bistro, Club Lounge, Library, Presentation Lounge, Infirmary, Gym, Bridge.
We have open Bridge policy. Talk to the Captain and officers. Watch landscapes from this special angle of view. Fix your location at a map of your expedition.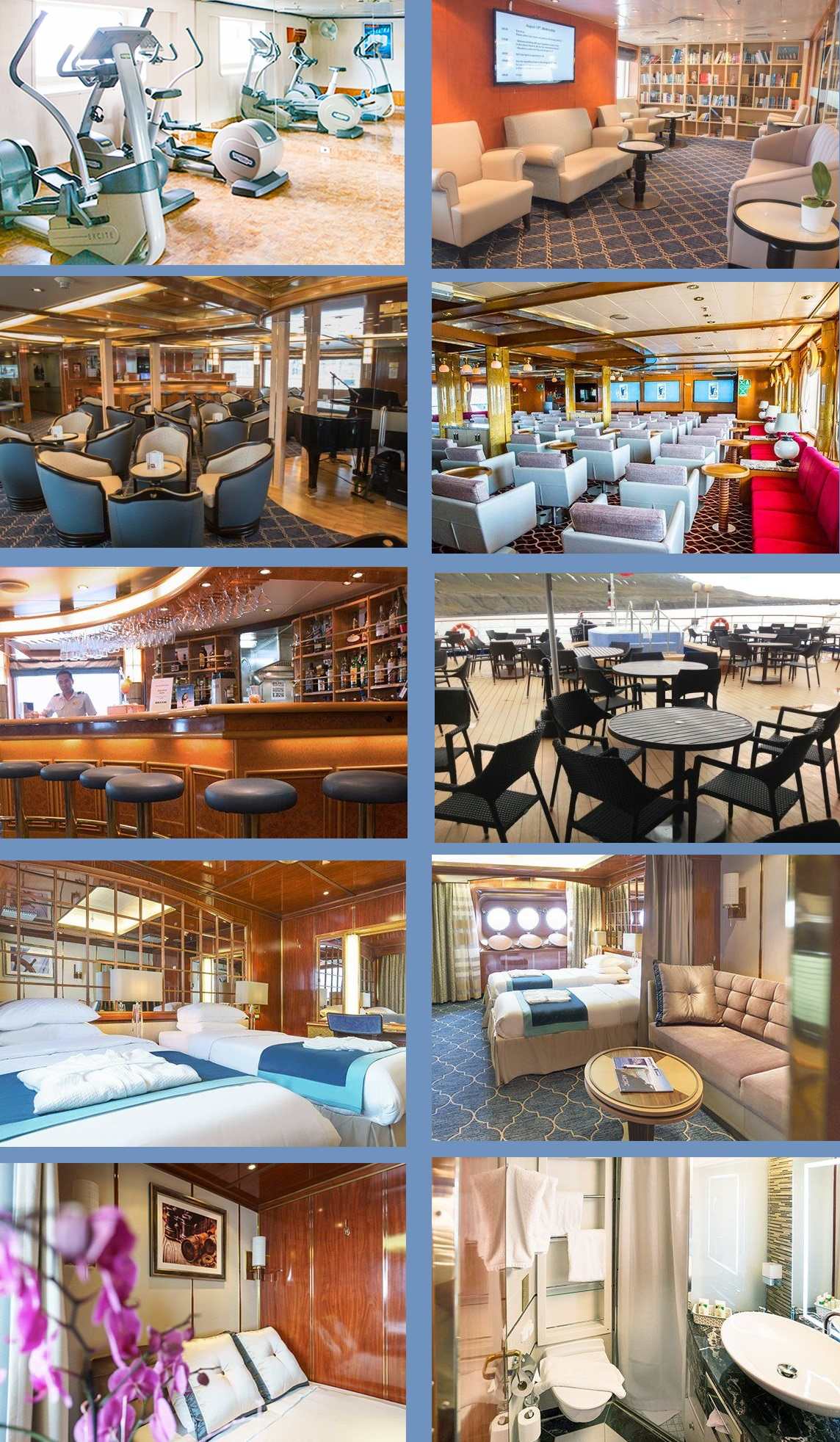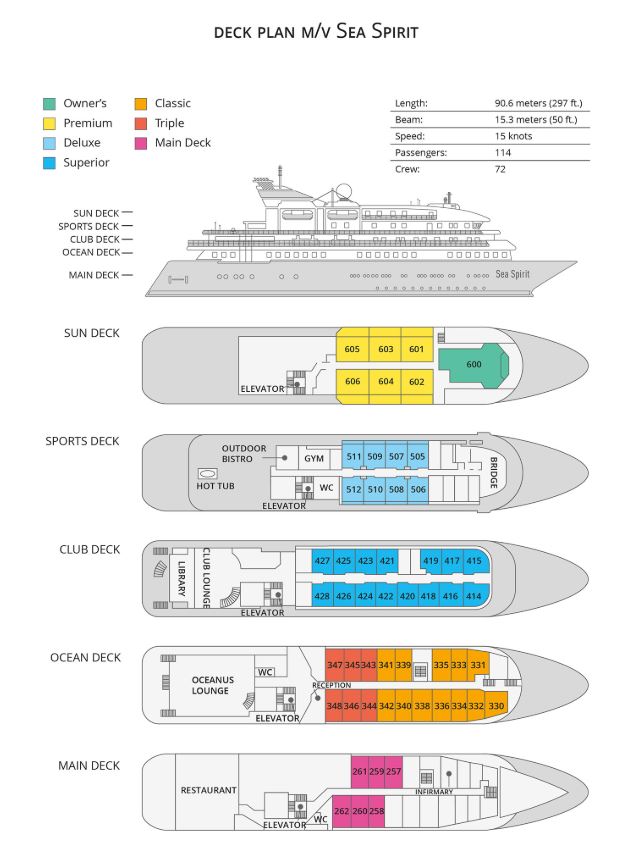 Inclusions

• Group transfer to the ship on embarkation day
• Voyage in selected cabin category
• All meals while onboard the ship
• Complimentary tea and coffee while on board
• All scheduled landings and excursions (Subject to weather/ice conditions)
• Experienced expedition leader and team
• On board lectures held by Expedition team
• Use of rubber boots for landings throughout the voyage
• All port fees
• Welcome and farewell cocktails
• Pre-departure materials
• Digital voyage log
• 1 pre-voyage night on Day 1 in Edinburgh;
• Group transfer to the ship for embarkation on Day 2;
---
Exclusions

• International or Domestic Airfares unless specified in the itinerary
• Visa and Passport fees if applicable
• Travel insurance including mandatory medical evacuation insurance
• Beverages other than those listed in inclusions
• Any items of a personal nature including any medical costs incurred onboard
• Gratuities
• Pre or post voyage accommodation unless specified in the itinerary
• Meals while ashore unless specified in the itinerary
• Optional Excursions (Eg Kayaking or camping where available)