We start from Svalbard in the High Arctic, scanning the coasts of the national park for polar bears under the summer sun. Next is the isolated island of Jan Mayen dominated by the northernmost active volcano in the world. Finally, we explore various sites around beautiful Iceland, admiring its many green mountains, waterfalls, and variety of birdlife.
---
Highlights

• Explore Svalbard's national park before voyaging to Iceland via isolated Jan Mayen

• Journey in summertime for green landscapes in bloom under the Midnight Sun

• See towering mountains, fjords, majestic waterfalls, and gigantic glaciers

• A chance to spot a range of wildlife, including whales, walrus, seals and polar bears




Your trip starts with an evening flight from Oslo. If time allows, enjoy the museums, parks and trendy cafés of the Norwegian capital before your flight to Longyearbyen in the Svalbard Archipelago. Transfer to and overnight at your hotel.

Join an excursion after lunch to explore Svalbard's capital, nestled next to the Isfjord and surrounded by rugged mountains. You'll find it a surprisingly modern settlement with a small and welcoming international community running cafés, bars, restaurants, artisanal shops, and even a chocolatier and a micro-brewery. Board your ship in the afternoon.

Summertime in the Svalbard Archipelago is when polar bears trek along the coast's drifting ice on the hunt for seals. With a bit of luck, we hope to spot one or more of these top predators in the national park. Depending on the movement and thickness of the sea ice, we might visit Kongsfjord´s mighty glaciers and catch sight of icebergs calving into the sea. We may also call on Ny-Ålesund, a former mining town now transformed into an international science centre. Here, you'll find 16 permanent research stations from 10 countries dedicated to the study of glaciology, wildlife, and climate change.

Enjoy a relaxing day at sea with onboard lectures while we set course towards Jan Mayen. Our Expedition Team will hold talks and workshops to share their knowledge and experience to enhance the next days of our journey.

The Norwegian island of Jan Mayen has two main areas. The north is dominated by ice-capped Beerenberg, the northernmost active volcano on earth. The south is flatter and unglaciated, and where 30 people live at a weather station. The island is a breeding site for large numbers of seabirds such as fulmars, auks, and guillemots. Visits to Jan Mayen are extremely rare, and Hurtigruten are one of the few to attempt landings on this Arctic island.

Days at sea are an opportunity to wind down and watch the waves or enjoy a lecture or two from the Expedition Team.

Welcome to Iceland's largest community outside of Reykjavík. Expect comfy cafés, restaurants, and chic art galleries. There are also various museums of interest, distinct churches, and the botanical gardens which will be in full bloom at the time of your visit. Akureyri is also close to natural treasures, such as lake Mývatn and Goðafoss waterfall.

The Arctic Circle currently runs through this green and grassy Icelandic island and you'll have the chance to step across that geographic line. The North Atlantic Current brings warm water up here from the Gulf of Mexico, creating a mild climate on the island popular with nesting seabirds such as auks and Arctic terns.

Patreksfjördur is a charming settlement on the west coast of Iceland with around 660 inhabitants. The picturesque fjord offers scenic hiking trails if the weather allows. Patreksfjördur is also close to the spectacular waterfall of Dynjandi and to Látrabjarg, a renowned site for birdwatching.

The friendly town of Stykkishólmur has beautiful and well-preserved old houses in the town centre and is surrounded by wonderful scenery. Enjoy exploring the town´s interesting museums or join optional excursions to see the iconic sites of Snæfellsnes Penninsula such as the Lóndrangar basalt cliffs or the black sandy beaches of Djúpalónssandur.

Our voyage of discovery ends in Reykjavik. The name of Iceland's capital means 'Smokey Bay', so called because of the columns of steam that rise from the many hot springs in the area. If you have the time, it is well worth booking a Post-Programme to explore the surrounding geysers, mountains, glaciers and geothermal baths.

Hurtigruten offers unique expedition cruises to some of the most remote and pristine waters of the world. As with all expeditions; nature prevails. Weather, and ice and sea conditions, sets the final framework for all Hurtigruten's operations. Safety and unparalleled guest experiences are at all times our top priorities. All our indicative itineraries are continuously evaluated for adaptions, whether this is due to constraints the elements unexpectedly presents – or exciting possibilities nature and wildlife offer. That is why we call it an expedition.
18 July, 2024 to 01 August, 2024


Fram

Book now

Our Polar Outside cabins are situated on lower deck and they all have bathrooms with shower/wc. Most of them offer separate beds where one can be turned into a sofa, and others offer upper and lower berths. Some of the cabins have more facilities than others.

Our Expeditions Suites are the most exquisite cabins on the ship. Situated on upper deck, you can enjoy the most comfortable suites on board. Inside you will find seating areas with TV, bathrooms with shower/wc and most of them have double beds. All of the suites offer cabin kits, which contains bathrobe, slippers and other beauty articles. Some of the suites do have more facilities than others.

Our Polar Inside cabins are situated on lower deck and offer a cosy atmosphere. All cabins include bathrooms with shower/wc. Most of the cabins have separate beds where one can be turned into a sofa, and others offer upper and lower berths. Some of the cabins have more facilities than others.

Our Arctic Superior cabins are comfortable cabins situated on both upper and middle deck, where you can enjoy a relaxing atmosphere. All the cabins have bathrooms with shower/wc. You will also find coffee and tea facilities in these cabins. Most of them have separate beds, where one can be turned into a sofa and some have double beds. Some of the cabins have more facilities than others.
Vessel Type: Expedition
Length: 114m
Passenger Capacity: 276
Built: 2007
MS Fram is designed for sailing in polar waters, holds the highest safety standards and is the perfect size for optimum nautical manoeuverability and guests' comfort. With space for only 276 guests, you are sure to get to know many of your fellow travellers. You will share stunning sights and memories of a lifetime long after returning home. The Norwegian word Fram means 'forward' – lifting expectations of the voyage at hand.
MS Fram was built in 2007 with one mission in mind - to bring her guests closer to nature, wildlife and unforgettable experiences. As well as offering numerous lounges in which to relax, our more active guests can use our well-equipped gym. Meanwhile, on deck, our Jacuzzis guarantee you surreal memories when passing the towering icebergs of Antarctica or Greenland.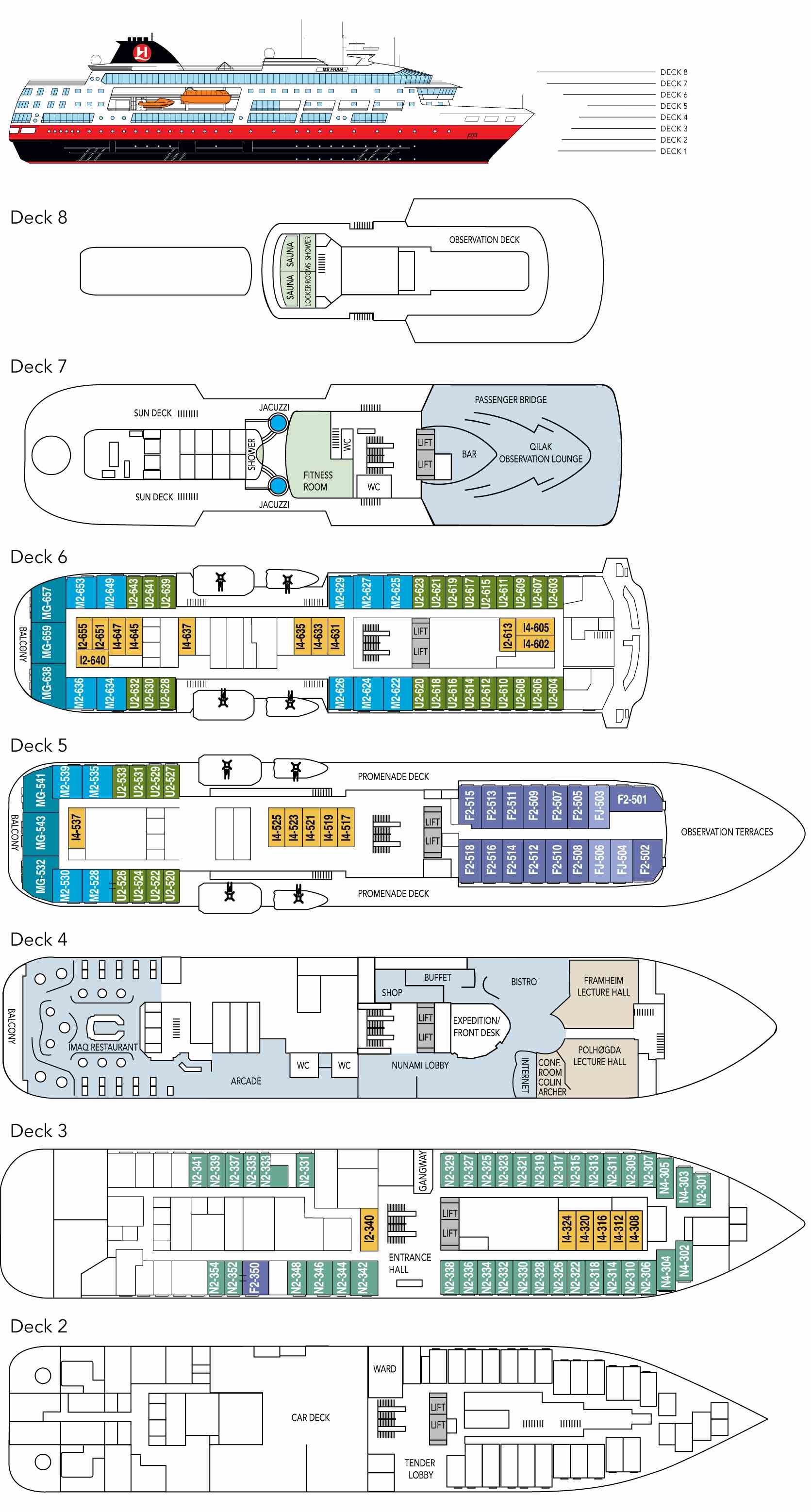 Inclusions

• Voyage on board in selected cabin category
• All meals while on board
• On board lectures
• Overnight in a Longyearbyen hotel before the expedition cruise, including breakfast and lunch.
• Flight in economy class from Oslo to Longyearbyen and back.
• All transfers in Longyearbyen including an excursion before the expedition cruise
---
Exclusions

• International and domestic flights unless otherwise stated
• Passport and visa costs where applicable
• Travel insurance
• Transfers unless otherwise stated
• Optional Excursions
• Pre and Post voyage accommodation
• Beverages on board unless otherwise stated
• Meals while ashore