Discover smoking volcanoes and abundant ocean life in Russia's Far East on our 14-day Sea of Okhotsk Explorer cruise on a boutique ship. This incredible journey starts in Japan among snow-capped peaks and hot springs where snow monkeys bathe, before taking you the world's least visited islands to explore the lush landscape. Here in warm waters heated by geothermal activity we see northern fur seals and steller sea lions with their pups. Birdlife is prolific from tufted puffins to peregrine falcons as well as rarer seabirds. This remarkable journey takes you past World War II strongholds to active fumaroles and hot lagoons for an unforgettable voyage of discovery.

---
Highlights

• Learn more about volcanology from our expert team of on-board specialists

• Keep an eye open for steller sea lions on Urup Island and northern fur seals on Tyuleniy Island

• Watch snow monkeys bathe in the hot springs near Hakodate, Japan

• Wander among World War II remnants on remote islands near the Sea of Okhotsk

• Get up close to one of the world's most active volcanoes, Sarychev Peak on Matua Island



Your adventure begins today in Japan's second-biggest city. Yokohama lies within the greater Tokyo area, but it's an unmissable destination in its own right. If timings allow before you board your luxurious home for the next 14 days, be sure to explore the happening harbour, Minato Mirai 21, which was redeveloped in the 1980s. This neon-lit space includes the Landmark Town, Japan's tallest building when it opened in 1993. Ascend to the 69th floor to visit the 'Sky Garden' for views of the bay, the Cosmo World Ferris Wheel and even Mount Fuji. Also on the waterfront is the Yokohama Cup Noodle Museum. Still, if you don't fancy that, you could opt instead to visit the Kirin Beer Factory or the Shin-Yokohama Ramen Museum. And if all that's whetted your appetite, make your way to Chinatown, reputedly Asia's largest with more than 200 restaurants from which to choose.

As you cruise from Honshu to Hokkaido, spend the day at sea savouring the ship's facilities and learning about Japan's many facets from the knowledgeable onboard experts. Listen to an enriching talk, indulge in a relaxing treatment at the spa, work out in the well-equipped gym, enjoy some down-time in your cabin, share travel reminiscences with newly found friends: the options are numerous.

Disembark and spend time exploring Hakodate, Hokkaido's third-largest city. Located at the island's southern tip, Hakodate is best known for its proximity to Mount Hakodate. Ascend the mountainside to enjoy the magnificent views: you can whizz by cable car to the top from the base station to the summit – it only takes three minutes, or spend an hour walking one of the well-maintained pathways. As one of the first cities to open to foreigners, there are international influences at work in the city's built landscape and culture. Stroll around the Motomachi neighbourhood to see its Western-style churches and other buildings. Visit the star-shaped Goryokaku fort or pop to the top of Goryokaku Tower for a bird's-eye view of the 150-year-old defensive structure. Nearby in the Hakodate City Tropical Botanical Gardens, a troop of some 100 Japanese macaques monkey about and can be seen enjoying a hot spring during colder spells of weather.

As you sail across La Perouse Strait which separates Japan from Russia, discover more about your next destination from your experienced and knowledgeable crew, learn about the ecology of these bountiful waters and observe small seabirds hunting for food in the open ocean from the deck. If you are fortunate, you might spot a seal or even whale: an ancient name for this body of water was 'Sea of Whales'.

Experience new horizons today as you travel into the Okhotsk Sea, the northern reaches of the Pacific Ring of Fire. Bounded by Russian territory on the north, east and west, and Japan to the south, an expedition to the Sea of Okhotsk is exhilarating. Start your journey in Korsakov, located on the southern tip of Sakhalin Island on Aniva Bay. When a Russian general landed here in 1853 to claim it for the empire, he found a fishing village inhabited by the Ainu people as well as some inhabitants from Japan. Though the Russians supposedly abandoned the township quickly, it became part of Russian when the whole of Sakhalin was ceded to Russia under the Treaty of St Petersburg in 1875. The Museum of History and Local Lore is small but well-formed with a collection that narrates the story of the locality pleasingly.

Remote, beautiful and little-visited, the wildlife viewing opportunities in the region are extraordinary – both on land and sea. Land today on wild Tyuleniy Island, with its rocky beaches, abandoned buildings and remarkable northern fur seal colony – one of the rookeries in the Far East. Known by various names such as Robben Island from the Dutch word for seal or Kaihyo from when it was part of the Japanese empire, this enclave is known for its population of these large seals. Once prized for their thick warm pelts, they were hunted to the brink of extinction during the 19th century. Enjoy watching these feisty, flippered creatures waddle around their wind-whipped breeding grounds.

As you cruise across the southern portion of the Sea of Okhotsk, enjoy a full day indulging in the amenities of your ship. You might find your inner calm practising some yoga. Listen to an informative talk. Lounge on the deck and enjoy a cocktail from the bar. Tonight after a delicious dinner in the restaurant, settle in for some light entertainment and a nightcap before heading to your comfortable cabin.

Birthed from a volcano, uninhabited Yankicha Island in the Kuril Archipelago offers hikes on a verdant caldera and an epic landscape of emerald green and sapphire seas. Ascend the crater, and you'll be rewarded by views of the caldera lake and inner islets. More often than not, mists cling to the jutting, jagged peaks. It's easy to see why Yankicha was sacred to the Ainu people, who are indigenous to the Kurils. On this little-known natural wonder of an island, hot springs and fumaroles dot the landscape. A dip in one of these thermal pools will be the most spectacular hydrotherapy experience that you ever enjoy. Explore Yankicha's 'Emerald Grotto' by Zodiac, and observe the island's fauna, which includes Arctic foxes, seals, sea lions and myriad bird species.

Travellers have long been attracted to the power of volcanoes. Today, modern adventurers on board will have the chance to get close to one of the world's most spectacular fire mountains. Named after Vladimir Atlasov, the 17th-century explorer who made Kamchatka Russian territory, Atlasov Island rises from the waves, a near-perfect silhouette of a volcano. The iconic form of the Alaid volcano – which dominated this uninhabited island – has given rise to numerous legends locally. The folktales include the one that says Alaid was once located in nearby Kamchatka; its fellow volcanoes became so jealous of its beauty, they exiled it to the sea. Japanese explorers are supposed to have even said that it's more beautiful than Mount Fuji – high praise indeed. Land on black lava beaches to judge for yourself.

The volcanic peak of Sarychev (also known as Fuyo to the Japanese) covers almost the entirety of Matua Island. It is one of the most active in the Kuril Islands chain, having erupted at least 16 times in the last 250 years. The most frequent eruption was famously caught on camera by the International Space Station. On the sides of this young, symmetrical volcano, birders will be delighted to see Eurasian bullfinches, Siberian rubythroats, eyebrowed thrushes and peregrine falcons. During World War II, Matua was the site of the most extensive Japanese base in the region – relics and ruins from this turbulent period can be spotted in the undergrowth which is slowly obliterating the island's wartime past.

Next stop is Urup Island, whose name is derived from 'salmon trout' in the Ainu language. It was formerly known as Company's Land. Roughly rectangular, it is the fourth largest of the Kuril Islands at 120 kilometres by 20 kilometres. The island's bulk consists of four groups of volcanoes, and thus the island is dotted with craters, ravines and hot springs. Land at black-sanded Natalii Bay in the northwest of the island to come ashore. Keen ornithologists will enjoy spotting the island's winged inhabitants: crested auklets, tufted puffins, and pigeon guillemots all nest on the island. There is also a colony of black-legged kittiwakes.

Today as you sail, you'll bask in the endless comforts of your ship. From the deck, marvel at the dramatic sea views. Relax with a nurturing facial treatment or massage in the spa or delve into the ship's learning resources. Or, simply take refuge in your cabin and enjoy the opportunity to rest.

Return today to Korsakov, which is used as a stop for ships entering and leaving Russia. In addition to being a port of call for these formalities, the city was the site of an Ainu fishing village frequented by traders from Japan and early Russian explorers. Between the end of the Russo-Japanese War and the end of World War II, the town, then called Otamari, was Japanese – although most traces are gone, such as a Shinto shrine and several monuments – a falling-to-ruin Japanese-style bank building remains standing. In nearby Prigorodnoye, several tributes to the Land of the Rising Sun can be seen, including a tribute to fallen soldiers. Be sure to visit the local market on Sovetskaya Street, Korsakov's strawberries are supposed to be delicious.

Arrive once more in Hokkaido, Japan's northernmost island and disembark in Otaru as your 14-day luxury cruise comes to an end today. If there is time before you begin your journey home or onwards, be sure to explore this picturesque city is known for its historic canal, unusual architecture, sake distilleries and impressive views of Mount Tengu. Once a centre of trade between Russia and Japan, Otaru was gripped by a boomtown fever which saw the merchant class investing in the construction of stone and brick, Western-style buildings. Walk alongside the city's canal through an area now populated with informative museums and shops. Visit the Herring Museum, which pays homage to the role that herring fishing played in Otaru's fortunes. Dating from the late 19th century, this hilltop herring mansion (nishin goten) had a dual role as both a processing facility and also a residence for workers. A short distance from the Herring Museum, lies the Aoyama Villa, an impressively crafted mansion and family, which was home to the prominent Aoyama family. Learn the story of the rise and fall of this successful family of fishermen. Venture to Mount Tengu where you can visit the Tengu House with its displays of more than 700 goblin masks.

Itineraries are subject to change.

19 m2 Sleeps 2 Oceanview cabins features 2 single beds, bedroom and living room and a luxurious ensuite bathroom.

28 m2 Sleeps 2 Features 2 single beds, bedroom and living room, a luxurious ensuite bathroom and your own private 6 sq.m. balcony.
44 m2 Sleeps 2 Our Suites features a superking bed and separate living room with and a soothing flame-effect fireplace a luxurious ensuite bathroom and a 12 sq.m. private balcony.

49 m2 Sleeps 2 Our grandest suites features a superking bed and separate living room with and a soothing flame-effect fireplace a luxurious ensuite bathroom, spacious walk in wardrobe and a 12 sq.m private balcony.
Minerva
Vessel Type: Expedition Ship
Length: 115 meters
Passenger Capacity: 152
Built: 2020-2021
Arriving in November 2021, our 5 star elegant Scandi-design boutique ship offers you an intimate setting from which you will be fully immersed in all the sights and scenery of your voyage.
Introducing SH Minerva
Our brand new ship has been designed to journey to off the beaten path destinations and remote polar regions in style and comfort. The ship incorporates a PC5 ice-strengthened hull combined with extra-large stabilisers to make your journey as smooth as possible.
Sophisticated Elegance
We know how important outdoor space is, so our spacious, relaxing public spaces provide wide open, unobstructed views throughout the ship. The destination will always be in view.
Your Wellbeing
The safety & happiness of our guests is paramount to our 120-strong crew on board as well as our passionate expedition team who'll be serving up thrilling shore excursions and lasting memories.
Cabin Types
Our 76 cabins including 6 suites have all the amenities you will need to feel comfortable including dressing gowns, hairdryers, personal safes and minibars. Our stylish cabins all have desks, a dressing area and comfy seating. En suite bathrooms all feature glass-enclosed rain showers.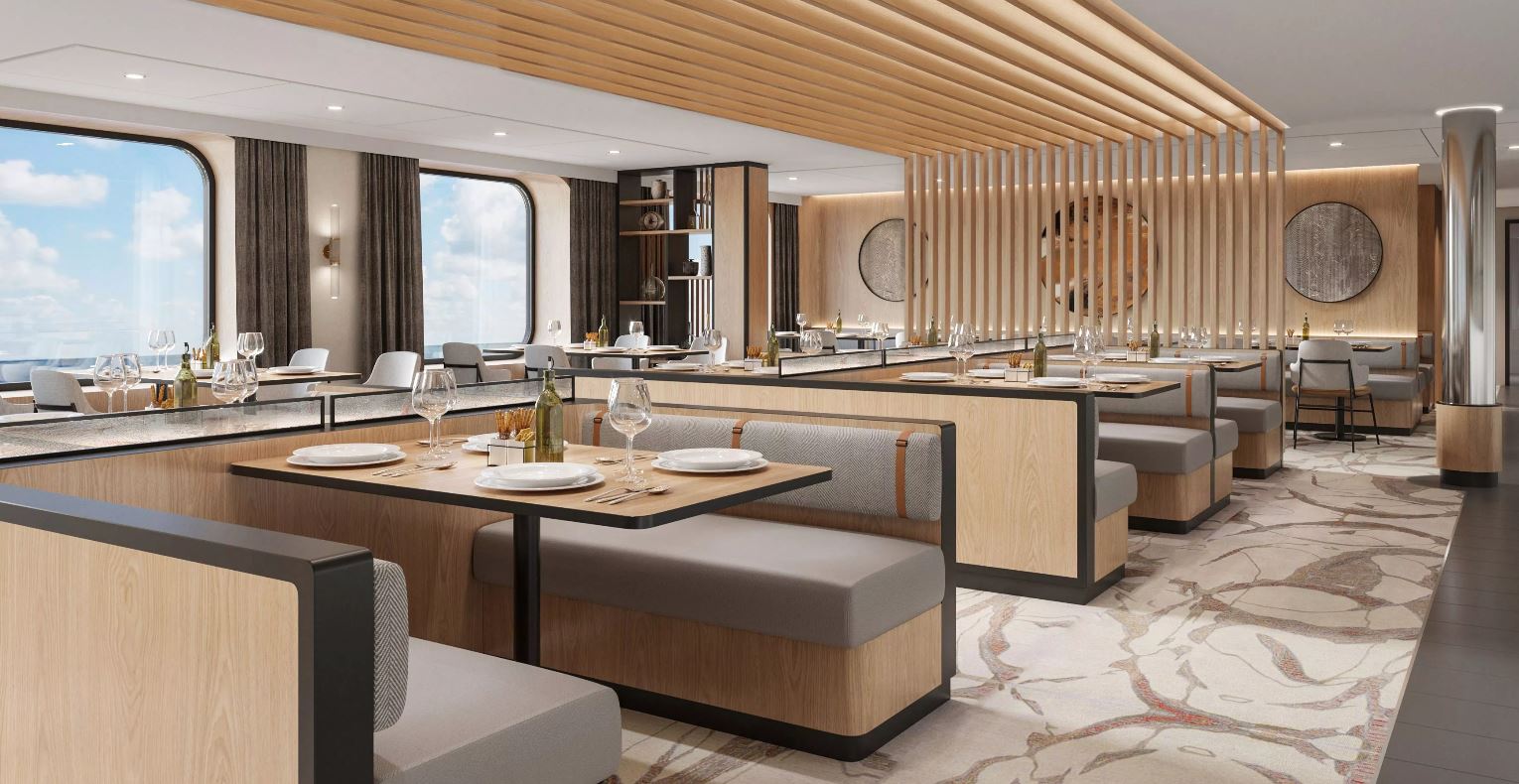 Inclusions

INCLUSIONS FOR ARCTIC & RUSSIA FAR EAST CRUISES
• One night pre-cruise hotel accommodation with breakfast
• Transfer from the airport to the hotel on the day prior to embarkation
• Transfer from the hotel to the port for embarkation
• Transfer from the port to the airport on return
• Onboard accommodation
• All meals onboard including room service 24 hours a day
• Coffee, tea, soft drinks & select alcoholic beverages 24 hours a day
• Lecture programmes by our experienced expedition team and guest speakers
• Shore excursion programme led by our expert expedition team
• Branded Swan Hellenic expedition parka
• Use of rubber boots for shore landings
• Basic WIFI inclusion (Premium WIFI available)
• Onboard gratuities & port taxes

INCLUSIONS FOR ANTARCTICA CRUISES
• Return flights: Buenos Aires to Ushuaia or Santiago to Ushuaia
• One night pre-cruise hotel accommodation with breakfast
• Transfer from the airport to the hotel on the day prior to embarkation
• Transfer from the hotel to the port for embarkation
• Transfer from the port to the airport on return
• Onboard accommodation
• All meals onboard including room service 24 hours a day
• Coffee, tea, soft drinks & select alcoholic beverages 24 hours a day
• Lecture programmes by our experienced expedition team and guest speakers
• Shore excursion programme led by our expert expedition team
• Branded Swan Hellenic expedition parka
• Use of rubber boots for shore landings
• Basic WIFI (Premium WIFI available)
• Onboard gratuities & port taxes

INCLUSIONS FOR REST OF WORLD CRUISES
• One night pre-cruise hotel accommodation with breakfast
• Transfer from the airport to the hotel on the day prior to embarkation
• Transfer from the hotel to the port for embarkation
• Transfer from the port to the airport on return
• Onboard accommodation
• All meals onboard including room service 24 hours a day
• Coffee, tea, soft drinks & select alcoholic beverages 24 hours a day
• Lecture programmes by our experienced expedition team and guest speakers
• On shore transfer per port of call
• Basic WIFI inclusion (Premium WIFI available)
• Onboard gratuities & port taxes

---
Exclusions

• Additional activities such as kayaking, private tours, special arrangements, private Zodiac tours
• Laundry
• Premium wines and spirits
• Purchases in the ship's boutique
• Any spa treatments
• Upgraded WiFi data packages
• Visas where required
• Travel Insurance
• Flights
• Domestic transfers
• Hotel requirements (pre/post cruise) unless otherwise stated in the itinerary description