Go deeper into the otherworldly fjords of Norway on this unique journey through the Norwegian Sea. Discover UNESCO-protected wonders like the Standing Stones of Stennes, the mystical Ring of Brodgar, and archaeological sites, witness the curious clash of cultures in the Shetland Islands, and marvel at the stunning forests and waterfalls that line the fjords. Even after you come home, a part of you will remain here forever.
---
Highlights

• Orkney Islands Ancient Ruins Guided Tour. Take a guided coach tour of the many mystical historical sites on the island. Visit the UNESCO World Heritage site the Ring of Brodgar, the standing stones of Stennes, and the 4500 year old village of Skara Brae.

• Visit Lerwick on the Shetland Islands and discover the unique mix of Scotland Scandinavian culture in the area.

• Visit the famous city of Bergen, the gateway to Norway's fjords. Explore the historical seaport and visit the museum of Edvard Grieg.

• Stretch out your legs on a walk from the Birksdal area to a nearby glacier.

• Geirangerfjord Visit. The fjord is one of Norway's most visited tourist sites and has been listed as a UNESCO World Heritage Site. The fjord is 15 km (9.3 mi) long, surrounded by spectacular mountains, lush green trees, waterfalls, and several farms. Have a camera ready for some spectacular photo opportunities.

• Enjoy a zodiac excursion to Torghatten and the Treana archipelago.



The G Expedition departs in the late afternoon, sailing towards Kirkwall.

Visit historic and mystical sites by coach on this remote island. Explore the Standing Stones of Stenness, the intriguing Ring of Brodgar, and the village of Skara Brae.

Continue northwards to the remote Shetland Islands. Opt to visit Jarlshof or join the Puffin Bus to focus on puffins and seabird photography at Sumbrugh Head (weather dependent). Enjoy additional time to explore Lerwick.

Cross the famous North Sea to reach Norway. Enjoy an afternoon city tour of Bergen, including a stop at the Edvard Grieg Museum, a visit to the historical seaport district and the fish market. Alternatively, opt for a historical walking tour or the city that ends at the Hanseatic Museum, or explore Bergen on your own for the afternoon.

Hop on the Flåm Railway, travelling through valleys and mountain passes to reach the scenic fjord of the Flåm district.

Cruise into the Olden Fjord before a short bus ride to the Birksdal area. Enjoy a moderate walk to Briksdalbreen glacier, or, for an easier option, take a trolley ride with a shorter walk to make it to the glacier lake.

Sail deep into one of Norway's most beautiful, and most visited, fjords. Enjoy a coach tour to Dalnibba, soaking in the views at this UNESCO World Heritage site. For the more adventurous, opt for a 10km mountain hike exploring the area and taking in amazing views of the fjord from above.

Continue on to Trondheim. Choose between hiking in Bymarka Nature Reserve before visiting the Sverresborg Folk Museum, or enjoying a city tour including the Folk Museum and the elaborate Nidaros Cathedral, built between 1070 and 1300. Enjoy a free afternoon to explore the area on your own.

The rugged coastline of central Norway features some of the world's most beautiful scenery. The captain will negotiate with local Norwegian pilots to determine our best Zodiac landing options. Hike up to the famous hole in the mountain, with fantastic views of the region. Keep an eye out for Norway's mythical trolls. In the afternoon, head to the quaint and picturesque Vega Island, a UNESCO site. Wander the fishing villages, go on a guided nature hike, and appreciate the slow pace of life.

Visit Svartisen, Lovund, and Vikingen, to see beautiful glaciers and a globe sculpture which marks Vikingen as a point directly on the Arctic Circle.

The Lofoten archipelago is an enchanting area of picturesque villages by the sea backed with jagged peaks. Go ashore by Zodiac for a day trip of the area. Start by visiting the Tørrfiskmuseum to learn about traditional work of the islands before visiting Nusfjord, one of Norway's oldest and best-preserved fishing villages for lunch at a local restaurant. After, stop in Henningsvær for time to see local art or explore the quaint fishing village. In the evening, stay on deck as you cruise into one of Norway's most famous fjords, the short yet dramatic Trollfjord. Search the cliffs on your continuing quest to spot trolls.

Enjoy a day off the coast with Zodiac excursions to search out the local marine life, including sperm whales.

Head back to the coast and visit Nordkapp in the Finnmark region. Take a scenic drive of this high rugged, coastal plateau, keeping an eye out for wild reindeer. This will be the most northerly point of the trip at 71 º N.

Tromsø, the capital of northern Norway, is known as the "Gateway to the Arctic" as it was the embarkation point for many Arctic expeditions. Disembark in the morning. We recommend booking some extra time in Tromsø to explore.

While it is our intention of adhere to the route described above, there is a certain amount of flexibility built into the itinerary and on occasion it may be necessary, or desirable, to make alterations. On the first day of your tour, your Expedition Leader will give you an expedition overview.
2 Upper, 2 lower berths. Private en-suite facilities with shower, toilet and washbasin. Approx 15m² . Porthole. Located on Deck 2.
2 Upper berths and 1 lower berth. Private en-suite facilities with shower, toilet and washbasin. Approx 15m² . Porthole. Located on Deck 2.
Two lower berths. Private en-suite facilities with shower, toilet and washbasin. Approx 15m² . Larger window. Located on Deck 3.
Two lower berths. Private en-suite facilities with shower, toilet and washbasin. Approx 15m² . Larger window. Located on Deck 4.
Our four suites all feature separate entrances, living and sleeping areas. Each living area includes a 2-seater couch, armchair, coffee table and desk. Each bedroom contains a double bed as well as a vanity area. Located on Deck 4.
Expedition
The MS Expedition provides an intimate small-ship cruising experience. Completely refurbished in 2009, she boasts spacious cabins, each featuring ocean-facing windows or portholes and private en-suite facilities. Large common areas and observation decks provide panoramic views of the distinctive landscapes of some of the world's most remote regions. The Expedition's spacious confines can hold up to 140 passengers.
Fast – spend less time in transit and more time exploring
Sturdy – excellent stability and performance in rough weather
Safe – designed with safety in mind
Responsible – environmental policies that meet and exceed industry regulations
Facilities and Amenities
360° Top Observation Deck
All cabins with private ensuite and outside views
Raised Forward Observation Deck
Large fleet of Zodiacs with four stroke engines
Complimentary Wellington Boots for duration of your cruise
Complimentary destination guides for every passenger
Large headed Mud Room
Lonely Planet Library
Discovery Lounge
Fine dining – international cuisine in one sitting
Large aft deck with barbeque facilities
Polar Bear Pub
Gift Shop
Medical Clinic
Sauna
Computer Room with internet where available
Gym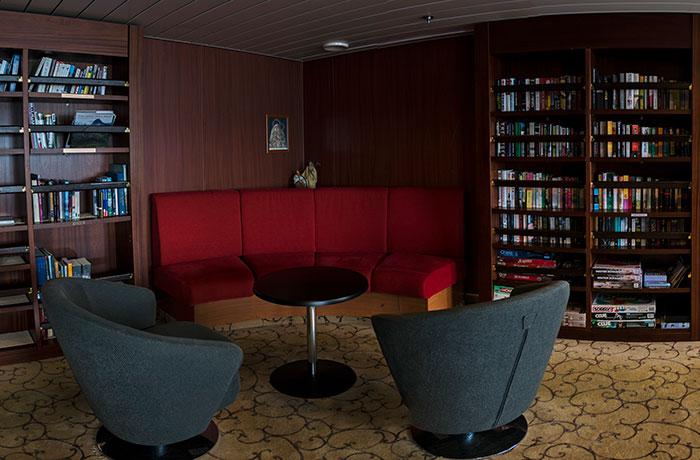 Save 15% on Norwegian Fjords Cruise aboard Expedition
Save 15% on 2019 Departures.
Terms and Conditions apply, special offer is subject to availability, please contact us for more details.