Setting sail from Scotland, cruise in comfort and style to Europe's most remote and remarkable islands: Shetland and the Faroes. Their unrivalled natural beauty will take your breath away, and you'll fall deeply in love with their misty mysticism as you stand at awe-inspiring archaeological ruins. Despite their modernity, these are essentially ancient places where the awesome power of nature is revered, and guests are made incredibly welcome. Revel in this hospitality, while you marvel at the only crowds you're likely to see – nesting seabirds and migratory species. Your final destinations lie in Iceland – a fascinating land forged in the twin crucibles of ice and fire. Visit this country's first and second cities, intriguing places in themselves but also gateways to a diverse collection of landscapes.
---
Highlights

• Explore the culture-crammed cities of Edinburgh, Akureyri and Reykjavík.

• Discover Iceland's out-of-this-world landscape.

• Visit the cosiest capital on Earth, the Faroe Islands' Tórshavn, with its busy harbour, turf-covered churches, handful of museums and rainbow-coloured homes.

• Ardent birders will love the Shetlands, long a mecca for enthusiasts. The observatory on Fair Isle offers a memorable avian experience.

• Explore Viking heritage and a tapestry of treasured traditions in the Shetland Islands and the Faroes.



Your 11-day cruise begins today in Scotland's charming capital, Edinburgh. Make time before you board Vega II to explore the city's historic sites and winding walks. No visit to Edinburgh would be complete without strolling along the Royal Mile from the Queen's official residence in Scotland, Palace of Holyroodhouse, to that lauded landmark, Edinburgh Castle, which sits on Castle Rock, a volcanic hill. Nearby is the contemporary, design-forward Scottish Parliament building and the National Museum of Scotland, which presents a detailed history of the country. Or climb to the top of Calton Hill, it's steep, but the views are worth it. You'll sail from Leith, Edinburgh's port on the Firth of Forth, so make your way down to the waterfront, where you'll find your chic ship waiting.

Aberdeen's ubiquitous grey buildings have given the city its epithet, the Granite City. Located a stone's throw from the North Sea oil reserves, Aberdeen is also known as the UK's petroleum capital. Thanks to this twist of geology, the city benefits from oil-infused affluence as well as multicultural influences. Disembark to explore; the Aberdeen Arts Centre, the Maritime Museum, the Gordon Highlanders Museum and Marischal College are just some of your options. One of the city's biggest draws, however, is its proximity to Scotland's famed castle and whisky trails. Aberdeenshire, that great shoulder of land which pushes into the North Sea, has more castles per hectare (260) than anywhere else in the United Kingdom. There are plenty near Aberdeen itself; you could visit the impressive cliff-top ruins of Dunnottar Castle, the fairytale Crathes Castle or Drum Castle, an elegant Jacobean mansion house. Whisky lovers might be interested to note that also close by are the distilleries of Glenfiddich, Strathisla and Glen Grant.

Romantically ramshackle, the appealing grey-stone town of Stromness may not be as big as the Orkney's capital Kirkwall, but what it lacks in size, it more than makes up for in character. The long-established seaport, with its Norse language-derived name, has changed little since the 18th century. Captain Cook's ships stopped here in 1780 en route back from Hawaii, and Cook's companions would have explored a place not dissimilar to today's Stromness. Walk the narrow, flagstone-paved main street, dive down the tiny alleyways which entice you to explore further. The Stromness Museum is excellent and full of maritime tchotchke. The Pier Arts Centre and its towering collection of modern art have been described as a 'little seaside Tate'. Just 12 kilometres north of the harbour lies extraordinary Skara Brae, one of the world's most evocative prehistoric sites. Predating Stonehenge and the pyramids of Giza, it is northern Europe's best-preserved Neolithic village.

Lying halfway between the Shetland and Orkney archipelagos, Fair Isle is one of the UK's most remote inhabited islands. Even so, Fair Isle is fairly well visited – birders flock here. It has a reputation as one of the best places in Europe to see rare birds as they travel along their migration routes, as well as seabirds nesting and making a cliff-side cacophony. They're monitored by an excellent observatory, which welcomes guests year-round. But Fair Isles doesn't just appeal to birdwatchers, pharologists will enjoy seeing the isle's two lighthouses and design mavens will relish the opportunity to pick up some of the world-renowned patterned knitwear – still produced in three artisanal workshops on the island

Lerwick is the capital – and only real town – of the Shetland Islands, a subarctic archipelago of some 100 islands that is closer to Bergen than Inverness. The Shetlands were Viking ruled until the 15th century, and despite the Norseman ceding control, the culture remained notably Norse-tinged, as can be seen at the Shetland Museum and Archives in Lerwick. More history awaits at Fort Charlotte, a five-sided artillery, and the Böd of Gremista, an 18th-century fishing booth-turned textile museum. If time allows, head for Jarlshof, an hour's drive from Lerwick. This Iron Age broch and Norse settlement have more than 4,000 years of human activity on one site. If venturing outside of Lerwick to Jarlshof, for example, be sure to keep an eye out for world-famous tiny Shetland ponies. Around 1,500 of them roam free throughout the archipelago.

Arrive today at Papa Stour. This five-kilometre-long island west of Shetland is one of the remotest outposts in the British isles. It has a tiny population, and this lack of people is worrisome, with many fearing this island will go the way of St Kilda, where the last 36 residents were evacuated to the mainland in 1930. Still, that's no concern of yours today – it's a beautiful place to visit. A Marine Special Area of Conservation, the island is home to grey and common seals and otters and 18 species of seabirds. Orcas and harbour porpoises can often be sighted if conditions are correct. On the westward side of the island, the Atlantic has carved the coast into beautiful arches, stacks, blowholes and caves – the 360-metre long Hole of Bordie is the fourth-longest sea cave in the world. The Great Island of the Priests, as Papa Stour is known, also boasts some fascinating archaeological ruins.

Disembark in Tórshavn, the port capital of the Faroe Islands. Cut adrift in the Atlantic, halfway between Scotland and Iceland, the Faroes are a self-governing archipelago within the Kingdom of Denmark. Off the radar for most travellers, the Faroes are becoming increasingly well known for their scenic splendour (think New Zealand crossed with Iceland), and the unique cultural heritage. Thanks to a melange of influences, the Faroes has its own flag, saga, dances, traditions and language. Sited on the southern tip of Streymoy, the largest of the 18 islands, the lively little capital, 'Thor's Harbour' will charm with its rainbow-hued clapboard warehouses, grass-roofed wooden churches and the quaint old quarter, Tinganes. You might opt to explore the twin-sited Føroya Fornminnissavn, an excellent museum; the Skansin Fort; the church of Havnar Kirkja, with its distinctive clock tower. Or the shops might tempt you, the fabulous concept store, Öström, or renowned knitwear designer Gudrun & Gudrun is an obvious choice in a place where sheep outnumber people nearly two to one.

Relish in the beauty of being at sea today. Cruising itself is the very definition of leisure, and you'll love this lazy, laissez-faire-type of day. Enjoy the soothing motion of the waves. Breathe deeply while keeping a keen eye out for marine life. Cast adrift from the Faroes, be nurtured by the soul-nourishing powers of the ever-changing colours of the North Atlantic as you sail toward Iceland.

Home to some 18,000 residents, Akureyri stands proud as the Land of Fire and Ice's 'Capital of the North'. It's the gateway to some natural wonders including the Myvatn region, Dettifoss waterfall, Godafoss waterfall and Asbyrgi canyon. But before you rush off, take some time to explore: Iceland's winsome second city is colourful, cosy and utterly enchanting – even the red traffic lights are cute. Instagrammers will adore heart-shaped stop signs. Enjoy the quaint harbourfront; climb the steps to the towering Akureyri Church; stroll around Lystigardurinn, the city's Arctic botanical garden; visit the Laufás Turf Houses; get in the festive spirit early at the Christmas House (Jolahusid); admire the exhibits at the Akureyri Art Museum or the Hof cultural centre; or take a dip in the outdoor, geothermal swimming pool.

Arrive today in the charming, tiny fishing harbour of Ísafjördur. The village's touristic highlights include the Westfjord Heritage Museum and The Museum House (Old Hospital). Located at the heart of the Westfjords peninsula, it's a great jumping-off point for exploration so journey by Zodiac to the island of Vigur – the pearl of the Western Fjords. The second-largest island in the fjord, measuring two kilometres by 400 metres, it's a significant seabird colony, which is home to arctic terns, puffins, black guillemots and eider ducks. As one of only two inhabited islands in the fjord, Vigur is also the site of a single farm, which has been in the same family for generations. During your time on the island, you might see Iceland's only windmill, the country's smallest post office and oldest boat, which was built more than 200 years ago and in regular use until relatively recently.

Your Scotland, Shetland, Faroe Islands and Iceland cruise ends in Reykjavík. Make sure there is sufficient time before you begin your journey home to explore this diminutive but dramatic capital city. Despite its small size, you won't be short of things to see and do. To get your bearings, take the elevator to the top of Hallgrímskirkja. This church, designed by famed Icelandic architect Gudjón Samuelsson is one of the most distinctive buildings in town. When you return to earth, visit the city's other renowned building Harpa Concert Hall, located at the heart of Reykjavík's regenerated harbour – also the home of the Maritime Museum. Speaking of cultural spaces, tour the National Museum to learn the story of Iceland from past to present. The Reykjavík Art Museum houses an impressive contemporary collection including eye-catching pieces by Erró. And, of course, just 50 kilometres outside the city lies Thingvellir National Park, the site of Iceland's original Viking parliament.

Itineraries are subject to change.

19 m2 Sleeps 2 Oceanview cabins features 2 single beds, bedroom and living room and a luxurious ensuite bathroom.

28 m2 Sleeps 2 Features 2 single beds, bedroom and living room, a luxurious ensuite bathroom and your own private 6 sq.m. balcony.

44 m2 Sleeps 2 Our Suites features a superking bed and separate living room with and a soothing flame-effect fireplace a luxurious ensuite bathroom and a 12 sq.m. private balcony.

49 m2 Sleeps 2 Our grandest suites features a superking bed and separate living room with and a soothing flame-effect fireplace a luxurious ensuite bathroom, spacious walk in wardrobe and a 12 sq.m private balcony.
Vega
Vessel Type: Luxury Expedition / Cruise Ship
Length: 115 metres
Passenger Capacity: 152
Built: 2020-2021-2022
Our brand new ship has been designed to journey to off the beaten path destinations and remote polar regions in style and comfort. The ship incorporates a PC5 ice-strengthened hull combined with extra-large stabilisers to make your journey as smooth as possible.
Sophisticated Elegance. We know how important outdoor space is, so our spacious, relaxing public spaces provide wide open, unobstructed views throughout the ship. The destination will always be in view.
Your Wellbeing. The safety & happiness of our guests is paramount to our 120-strong crew on board as well as our passionate expedition team who'll be serving up thrilling shore excursions and lasting memories.
Cabin Types. Our 76 cabins including 6 suites have all the amenities you will need to feel comfortable including dressing gowns, hairdryers, personal safes and minibars. Our stylish cabins all have desks, a dressing area and comfy seating. En suite bathrooms all feature glass-enclosed rain showers.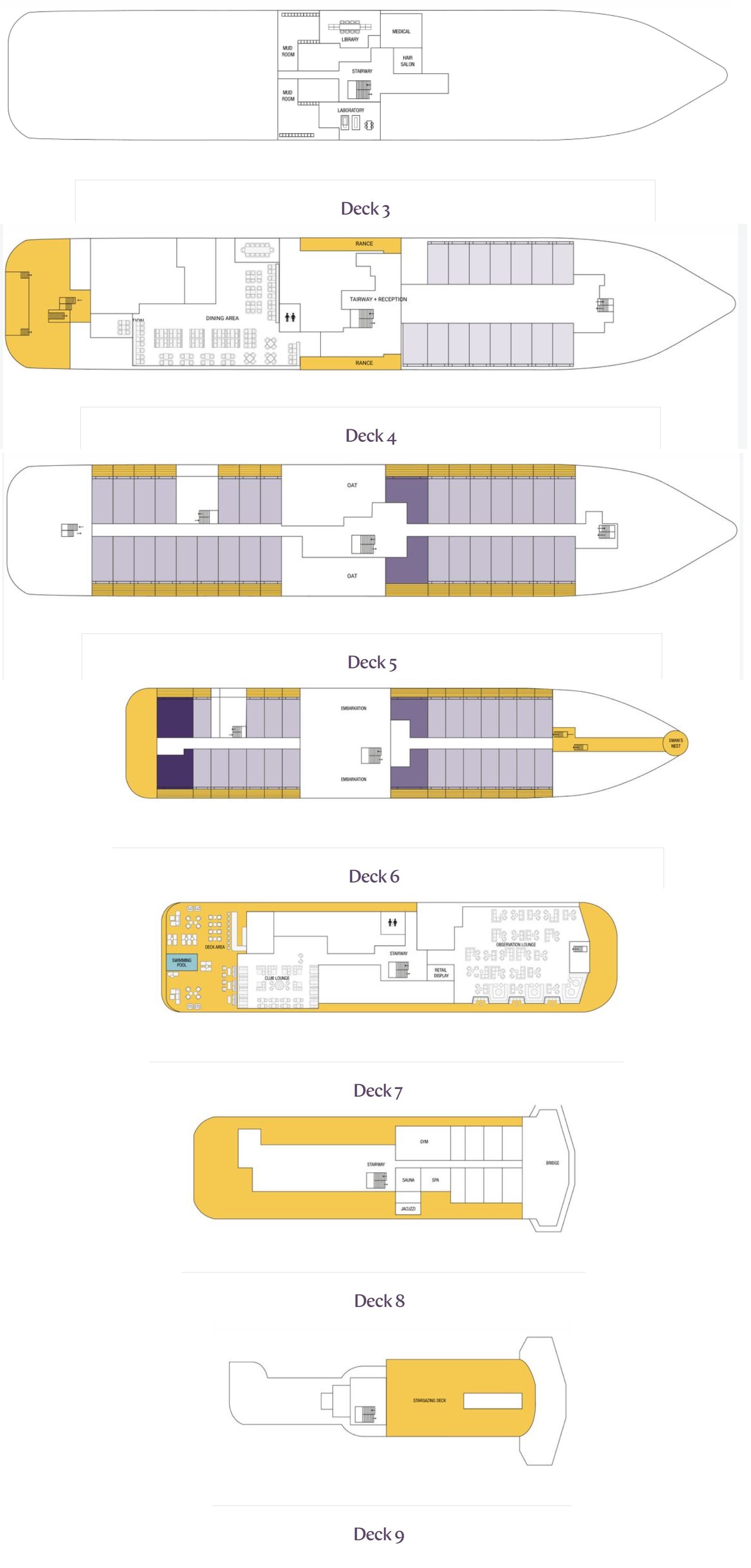 Inclusions

INCLUSIONS FOR ARCTIC & RUSSIA FAR EAST CRUISES
• One night pre-cruise hotel accommodation with breakfast
• Transfer from the airport to the hotel on the day prior to embarkation
• Transfer from the hotel to the port for embarkation
• Transfer from the port to the airport on return
• Onboard accommodation
• All meals onboard including room service 24 hours a day
• Coffee, tea, soft drinks & select alcoholic beverages 24 hours a day
• Lecture programmes by our experienced expedition team and guest speakers
• Shore excursion programme led by our expert expedition team
• Branded Swan Hellenic expedition parka
• Use of rubber boots for shore landings
• Basic WIFI inclusion (Premium WIFI available)
• Onboard gratuities & port taxes

INCLUSIONS FOR ANTARCTICA CRUISES
• Return flights: Buenos Aires to Ushuaia or Santiago to Ushuaia
• One night pre-cruise hotel accommodation with breakfast
• Transfer from the airport to the hotel on the day prior to embarkation
• Transfer from the hotel to the port for embarkation
• Transfer from the port to the airport on return
• Onboard accommodation
• All meals onboard including room service 24 hours a day
• Coffee, tea, soft drinks & select alcoholic beverages 24 hours a day
• Lecture programmes by our experienced expedition team and guest speakers
• Shore excursion programme led by our expert expedition team
• Branded Swan Hellenic expedition parka
• Use of rubber boots for shore landings
• Basic WIFI (Premium WIFI available)
• Onboard gratuities & port taxes

INCLUSIONS FOR REST OF WORLD CRUISES
• One night pre-cruise hotel accommodation with breakfast
• Transfer from the airport to the hotel on the day prior to embarkation
• Transfer from the hotel to the port for embarkation
• Transfer from the port to the airport on return
• Onboard accommodation
• All meals onboard including room service 24 hours a day
• Coffee, tea, soft drinks & select alcoholic beverages 24 hours a day
• Lecture programmes by our experienced expedition team and guest speakers
• On shore transfer per port of call
• Basic WIFI inclusion (Premium WIFI available)
• Onboard gratuities & port taxes

---
Exclusions

• Additional activities such as kayaking, private tours, special arrangements, private Zodiac tours
• Laundry
• Premium wines and spirits
• Purchases in the ship's boutique
• Any spa treatments
• Upgraded WiFi data packages
• Visas where required
• Travel Insurance
• Flights
• Domestic transfers
• Hotel requirements (pre/post cruise) unless otherwise stated in the itinerary description