Cruising the west coast of the Southern Region of Africa from Cape Town up to Luanda on a boutique expedition ship provides a fascinating insight into a continent with so many different aspects. We board our West Coast of Africa - South Africa to Angola cruise in the buzzing, cultural city of Cape Town. Our journey explores the Atlantic coastline of Namibia, the driest country in sub-Saharan Africa, and Angola, a post-colonial country that is slowly emerging from the ravages of war. From the harsh conditions of the Namib desert to unspoilt Angolan coastlines, spotting flamingos, pelicans, whales and dolphins, we get to truly experience these exquisite landscapes before ending our cruise in the Portuguese-influenced city of Luanda.


---
Highlights

• Explore the Kolmanskop ghost town in the barren Namib Desert near Luderitz

• Spot flamingos and pelicans in their thousands at Pelican Point

• Look for the rare (and weird) tree lumbo or Welwitchia mirabilis in Namibe Partial Reserve

• Learn more about Angola's colonial and military history at the Portuguese-built Fortress of São Miguel



Ending our epic transatlantic journey with one of the most spectacular city sceneries in Africa . Domiated by Table Mountain , Cape town is a cosmopolitan city with plenty of nearby splendid vineyards , wonderful harbour fronts and surprising restaurants where one can indulge on the delicious seafood

Sea days are rarely dull. Take the time to sit back and let the world go by. The ship's observation decks provide stunning views of the passing ocean. A day at sea gives you the opportunity to mingle with other passengers and share your experiences of this incredible trip or head to our library which is stocked full of reference books. Get an expert's view in one of our on-board lectures or perhaps perfect your photography skills with invaluable advice from our onboard professional photographers.

Between the weather-beaten South Atlantic coast and the unforgiving Namib Desert, Luderitz is a quaint harbour town with a uniquely West African-German culture. Lavish colonial-style mansions and churches in the German Art Nouveau style reflect a history deeply rooted in the diamond rush of the 1900s. Further afield, the barren Namib Desert stretches along the coast, home to Kolmanskop ghost town, wild horses and incredible stories of survival in a harsh landscape.

The natural harbour of Walvis Bay - literally meaning Bay of Whales - offers a sheltered home to marine life like whales and dolphins, and flamingos and pelicans congregate here in the thousands. Opposite, at Pelican Point sand spit, a Cape fur seal colony hauls out. A wander around the town will introduce you to colonial architecture, local-style silver cob fish dishes and German cuisine. Inland, a dune safari will track desert animals such as lizards, geckos, chameleons and sidewinder adders.

Days at sea are the perfect chance to relax, unwind and do whatever takes your fancy. So whether that is going to the gym, visiting the spa, trying to spot a whale from the deck, reading a chapter or two, or simply topping up your tan, these blue sea days are the perfect balance to the green days spent exploring on land.

Settled by Portuguese in the 19th-century, this port town sits at the gateway to the arid Namibia desert with large sand dunes. The draw for visitors is the Namibe Partial Reserve, where indigenous animals including black rhino, oryx, elephants, ostrich, wildebeest, mountain zebra and meerkats liive. One of the world's oldest living plants thrives in this harsh environment - the rare (and weird) tree lumbo or Welwitchia mirabilis. Along the sandy coast, keep an eye open for dolphins as we sail by.

Today as you sail, you'll bask in the endless comforts of your ship. From the deck, marvel at the dramatic sea views. Relax with a nurturing facial treatment or massage in the spa or delve into the ship's learning resources. Or, simply take refuge in your cabin and enjoy the opportunity to rest.

As Angola emerges from years of colonial rule and a long Civil War, its capital Luanda is fast becoming a forward-looking city with a rich heritage. Delve into its colonial past at the Old City's Portuguese-style buildings and the 16th-century Fortress of São Miguel. Museums across the city offer a glimpse of local culture through their exhibits on traditional art, hunting equipment, and masks. At Ilha do Cabo, chic seaside steak restaurants and bars showcase a modern side of the city.

Itineraries are subject to change.
24 March, 2024 to 04 April, 2024


Vega

Book now

19 m2 Sleeps 2 Oceanview cabins features 2 single beds, bedroom and living room and a luxurious ensuite bathroom.

19 m2 Sleeps 2 Oceanview staterooms features 2 single beds, bedroom and living room and a luxurious ensuite bathroom.

28 m2 Sleeps 2 Features 2 single beds, bedroom and living room, a luxurious ensuite bathroom and your own private 6 sq.m. balcony.

28 m2 Sleeps 2 Located at the centre of the ship, these balcony staterooms feature 2 single beds or double bed bedroom with living room area, a luxurious bathroom and your own private 6m2 balcony

44 m2 Sleeps 2 Our Suites features a superking bed and separate living room with and a soothing flame-effect fireplace a luxurious ensuite bathroom and a 12 sq.m. private balcony.

49 m2 Sleeps 2 Our grandest suites features a superking bed and separate living room with and a soothing flame-effect fireplace a luxurious ensuite bathroom, spacious walk in wardrobe and a 12 sq.m private balcony.
Vessel Type: Luxury Expedition / Cruise Ship
Length: 115 metres
Passenger Capacity: 152
Built: 2020-2021-2022
Our brand new ship has been designed to journey to off the beaten path destinations and remote polar regions in style and comfort. The ship incorporates a PC5 ice-strengthened hull combined with extra-large stabilisers to make your journey as smooth as possible.
Sophisticated Elegance. We know how important outdoor space is, so our spacious, relaxing public spaces provide wide open, unobstructed views throughout the ship. The destination will always be in view.
Your Wellbeing. The safety & happiness of our guests is paramount to our 120-strong crew on board as well as our passionate expedition team who'll be serving up thrilling shore excursions and lasting memories.
Cabin Types. Our 76 cabins including 6 suites have all the amenities you will need to feel comfortable including dressing gowns, hairdryers, personal safes and minibars. Our stylish cabins all have desks, a dressing area and comfy seating. En suite bathrooms all feature glass-enclosed rain showers.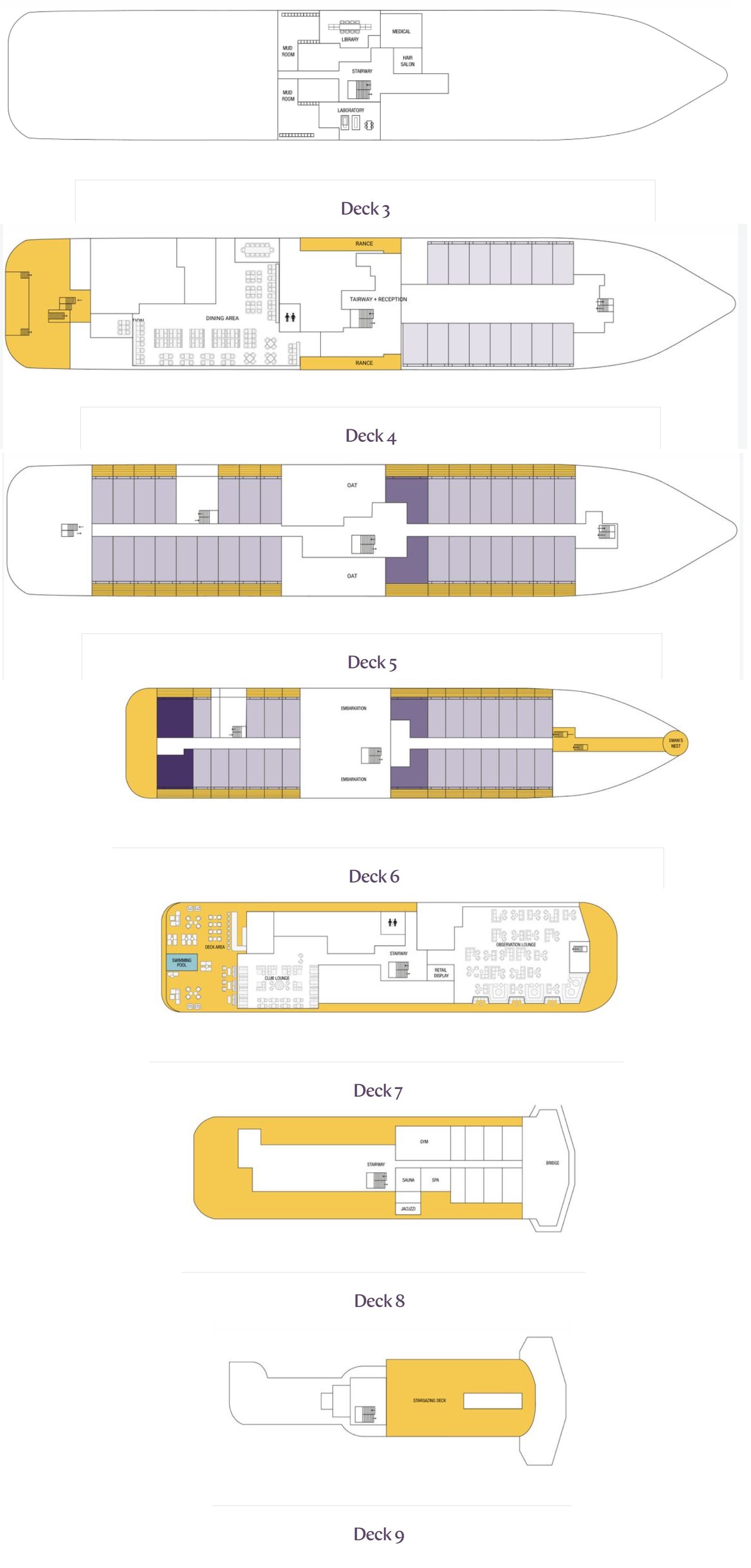 Inclusions

INCLUSIONS FOR ARCTIC
• One night pre-cruise hotel accommodation with breakfast
• Transfer from the airport to the hotel on the day prior to embarkation
• Transfer from the hotel to the port for embarkation
• Transfer from the port to the airport on return
• Onboard accommodation
• All meals onboard including room service 24 hours a day
• Coffee, tea, soft drinks & select alcoholic beverages 24 hours a day
• Lecture programmes by our experienced expedition team and guest speakers
• Shore excursion programme led by our expert expedition team
• Branded Swan Hellenic expedition parka
• Use of rubber boots for shore landings
• Basic WIFI inclusion (Premium WIFI available)
• Onboard gratuities & port taxes

INCLUSIONS FOR ANTARCTICA CRUISES
• Return flights: Buenos Aires to Ushuaia or Santiago to Ushuaia
• One night pre-cruise hotel accommodation with breakfast
• Transfer from the airport to the hotel on the day prior to embarkation
• Transfer from the hotel to the port for embarkation
• Transfer from the port to the airport on return
• Onboard accommodation
• All meals onboard including room service 24 hours a day
• Coffee, tea, soft drinks & select alcoholic beverages 24 hours a day
• Lecture programmes by our experienced expedition team and guest speakers
• Shore excursion programme led by our expert expedition team
• Branded Swan Hellenic expedition parka
• Use of rubber boots for shore landings
• Basic WIFI (Premium WIFI available)
• Onboard gratuities & port taxes

INCLUSIONS FOR REST OF WORLD CRUISES
• One night pre-cruise hotel accommodation with breakfast
• Transfer from the airport to the hotel on the day prior to embarkation
• Transfer from the hotel to the port for embarkation
• Transfer from the port to the airport on return
• Onboard accommodation
• All meals onboard including room service 24 hours a day
• Coffee, tea, soft drinks & select alcoholic beverages 24 hours a day
• Lecture programmes by our experienced expedition team and guest speakers
• On shore transfer per port of call
• Basic WIFI inclusion (Premium WIFI available)
• Onboard gratuities & port taxes

---
Exclusions

• Additional activities such as kayaking, private tours, special arrangements, private Zodiac tours
• Laundry
• Premium wines and spirits
• Purchases in the ship's boutique
• Any spa treatments
• Upgraded WiFi data packages
• Visas where required
• Travel Insurance
• Flights
• Domestic transfers
• Hotel requirements (pre/post cruise) unless otherwise stated in the itinerary description