Explore spectacular Machu Picchu and highlights of the Incan Empire before embarking on an unforgettable expedition cruise along the scenic western coast of South America from Lima, Peru, down to Valparaíso in Chile. Explore the contrasts of modern cities and historic ancient civilisations, and enjoy days at sea at your leisure.

---
Highlights

• Visit Machu Picchu by Hiram Bingham train and stay at a resort in the Sacred Valley

• Combine a land adventure with a cruise to unique cities along the Pacific Coast

• Explore UNESCO World Heritage Sites famous for archaeology or colonial architecture

• Learn more about the fascinating histories and ancient cultures of Peru and Chile



Lima's history predates the Spanish colonial presence in Peru. Present-day Lima was founded by the Spanish conquistadors in 1542 and the ruling Vice Royalty of Peru proceeded to build significant churches, monasteries, and mansions. Today, Lima´s historic centre is a UNESCO World Heritage site. Explore the city on your own before spending the night in a hotel.

In the morning, we will transfer you to your flight from Lima to Cusco. Enjoy lunch before visiting one of the most amazing Incan constructions in the area, the impressive Sacsayhuamán fortress. Sacsayhuamán means 'satisfied falcon', referring to the mythical creature that guarded the capital of the empire. The name also makes sense as it was possible to overlook all of Cusco from the hill where the fortress was built. Construction of the site took more than seven decades and required the labour of 20,000 men to set the foundations, hew the stone, transport materials, and carve and set the stonework. Like many Incan structures, the fortress was built entirely without mortar, yet the enormous stones fit so perfectly that a single blade of grass will not pass between them. The craftsmanship is a stunning example of the Inca's sophisticated construction and architectural skills. In the afternoon, we continue to Tambo del Inka Resort in the Sacred Valley for dinner and an overnight stay.

After breakfast, you're in for some unforgettable highlights. First, we visit to Ollantaytambo, an Incan town that shares its name with the formidable stone fortress that clings to a massive cliff above the community. This fortification was the valley's main defence against the rival Antis people and was the site of the Incas' greatest victory against the Spanish during the wars of conquest. Constructed of rose-coloured granite, this huge structure was once a thriving complex of baths, temples and military barracks. Next, head to the nearby train station to board the deluxe Hiram Bingham train to Machu Picchu. A savoury brunch is served as we enjoy spectacular views on the way to Machu Picchu. At last, we arrive at spectacular Machu Picchu. This hidden city overlooks the raging Urubamba River and was shielded from discovery for centuries by thick tangles of vines and trees. Now one of the great destinations in world travel, the city of Machu Picchu still hides the secret of its rise and fall, as the Incas left behind no written records. Explore the city's ruins, feel its pulse and visualise the lives of the priests, craftsmen, and servants who inhabited this incredible place. Excavations at the site have revealed skeletons, artefacts and woollen clothing. Inspect the famous precision of Incan stonework on display here. After spending an unforgettable day exploring the ruins, you can enjoy tea at Machu Picchu Sanctuary Lodge before we head back by train to Tambo del Inka Resort for another relaxing evening and overnight stay.

After breakfast, we head to Cusco, once the centre of the Inca Empire. Visit the splendid baroque Cusco Cathedral, built in the mid-1500s on the foundations of an Incan palace. Many of the stones used in its construction were looted from the nearby Sacsayhuamán fortress. We continue to Koricancha, to admire the lovely Dominican Convent of Santo Domingo, built atop the Temple of the Sun, the most important temple in the Inca Empire. The curved, mortar-less masonry wall at the west end of the church is one of the greatest existing examples of Incan stonework. After a half day of exploring, we take you to the airport for your flight to Lima and transfer to Callao, where MS Fridtjof Nansen or MS Roald Amundsen is ready to continue the expedition at sea.

From Paracas, we explore the nearby uninhabited Ballestas Islands. The shores here have a range of wildlife, including sea lions, turtles, dolphins, pelicans, Peruvian boobies and Humboldt penguins. Paracas is also the near to Pisco valley, the site of mysterious Nazca lines and geoglyphs, which you can see on an optional excursion.

As we sail further south, enjoy our lecture programme, the fresh salt air, and all the amenities the expedtion ship has to offer.

Matarani is a gateway to Arequipa, an exceptionally beautiful city with hectares of immaculate parks and gardens, and views of the dormant, snow-capped El Misti volcano. The UNESCO-listed historic centre is a treasure trove of impressive colonial architecture built with ashlar volcanic stone, inspiring Arequipa's other name 'The White City'.

Arica enjoys a constant desert climate and is one of the driest cities in the world. Walk along beaches, visit San Marcos Cathedral, or hike El Morro cliff for views over the port city. The local San Miguel de Azapa Archaeological Museum contains artefacts from the Chinchorro culture and some of the world's oldest mummies.

Enjoy two peaceful days at sea as we make our way south to Valparaíso. The Expedition Team recaps our voyage and continues their lecture programme.

Our expedition ends in the seaport of Valparaíso. Built on steep hillsides overlooking the ocean, the UNESCO-protected city is a maze of monuments, churches, historical funicular lifts, cobblestone alleys and charming plazas. Arrange to stay longer to explore more or join a Post-Programme to Easter Island, famous for its mysterious statues of giant heads.

Hurtigruten offers unique expedition cruises to some of the most remote and pristine waters of the world. As with all expeditions; nature prevails. Weather, and ice and sea conditions, sets the final framework for all Hurtigruten's operations. Safety and unparalleled guest experiences are at all times our top priorities. All our indicative itineraries are continuously evaluated for adaptions, whether this is due to constraints the elements unexpectedly presents – or exciting possibilities nature and wildlife offer. That is why we call it an expedition.
| | | |
| --- | --- | --- |
| 23 October, 2021 to 02 November, 2021 | | Book now |

The Polar Outside cabins are primarily on the middle decks with windows, most are spacious, have flexible sleeping arrangements and TV for excellent and high standard accommodation. Can accommodate two to four passengers.

Arctic Superior class cabins are comfortable and roomy accommodation and most have balconies. Flexible sleeping arrangements, sofa beds, TV and other features make this one of our most popular categories. Our Arctic Superior concept includes a kettle, tea and coffee. Can accommodate two to four passengers.

These suites are large, well-appointed cabins with expansive windows and most have balconies. Some have a private outdoor hot tub. The suites feature flexible sleeping arrangements with comfortable sofas, sitting areas and TV. They can accomodate up to four people. Expedition suites are exclusively in upper and mid-deck locations. Our Expedition Suite concept includes a bathrobe, espresso maker, and more. An exciting welcome gift awaits all suite guests in their cabin.
Fridtjof Nansen
Vessel Type: Expedition
Length: 140 m
Passenger Capacity: 530
Built: 2020
MS Fridtjof Nansen is the latest addition to Hurtigruten's fleet of custom built ships – and the next generation expedition ship. She will explore some of the most spectacular corners of the globe. Featuring Hurtigruten's revolutionary battery hybrid powered propulsion system, MS Fridtjof Nansen will be a near identical twin to her sister ship MS Roald Amundsen. Combining state of the art technology and premium on board experience with Hurtigruten's 125 years of experience and unparalleled destinations, the two Norwegian built ships introduces the next generation of adventure travel.
Cabins and public areas
The stunning scenery will be reflected in a rich and comfortable interior design. Scandinavian materials from nature, such as granite, oak, birch and wool will be used to create relaxed and stylish cabins and public areas. All cabins are outside, 50 % will have private balconies, aft suites will feature private outdoor hot tubs with spectacular views.
Science Center
The core of the onboard experience is the Nansen Science Center, an edutainment venue to guests and crew meet to create a deeper understanding of the areas we explore. Nansen Science Center will also be the on board HQ for the Expedition Team.
Restaurants
MS Fridtjof Nansen's three restaurants will host a variety of dining options, with menus drawn from our rich Norwegian and Nordic tradition, as well as international cuisine and local inspiration. Whether enjoying your meal at Aune Main Dining, Fredheim – the informal international meeting place, or the specialty restaurant Lindstrøm, you will indulge in low key yet refined, modern Norwegian Nordic cooking – where our honest and delicious cuisine reflects our destinations.
After a day of exploring new destinations, guests can relax and rejuvenate in the elegant Explorer Lounge, a large gym and Wellness center, or enjoy the scenery and sunsets on the massive in- and outdoor Observation Decks with the aft infinity pool and hot tubs as one of the highlights.
Everything you need for an expedition cruise
Each expedition voyage is accompanied by a hand-picked team of specialists and modern-day explorers. Highly experienced, passionate and knowledgeable, the Expedition Team will be your guides and guardians on your voyage of exploration, instructing you on safety, sustainability and science. MS Fridtjof Nansen will feature a variety of custom built expedition equipment, including kayaks, a fleet of Blueye underwater drones and Expedition Boats for safe landings in remote areas.
In the footsteps of a great explorer
The newest addition to our fleet will honor the heritage of her namesake – the Norwegian explorer, scientist, humanitarian and Nobel Peace Prize laureate Fridtjof Nansen. Known for his innovations in Arctic expeditions, Nansen led the first crossing of Greenland on cross-country skis. He is perhaps most famous for his attempt to reach the geographical North Pole during the Fram Expedition (1893-1896). Interestingly, after Nansen's Fram expedition, the ship was passed on to another great explorer who secretly planned an expedition to the South Pole - Roald Amundsen.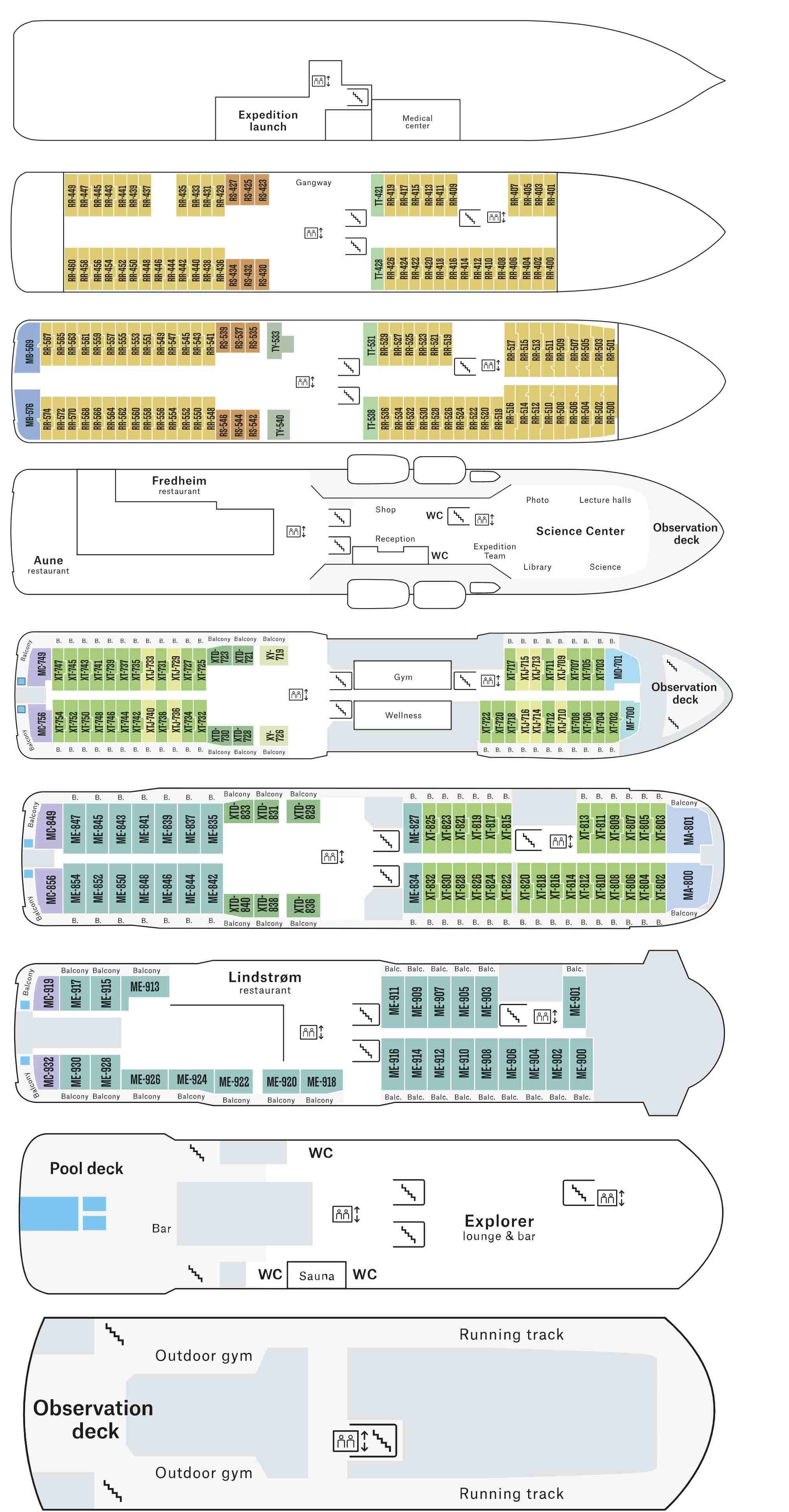 Inclusions

• Voyage on board in selected cabin category
• All meals while on board
• On board lectures

---
Exclusions

• International and domestic flights unless otherwise stated
• Passport and visa costs where applicable
• Travel insurance
• Transfers unless otherwise stated
• Optional Excursions
• Pre and Post voyage accommodation
• Beverages on board unless otherwise stated
• Meals while ashore