The South Pacific is one of the most idyllic places on earth where reality far exceeds anything you can conjure up in your mind. Enjoy 13 days of off-the-beaten-track travel visiting the colourful and cultural islands of Oceania on our Pacific Islands: New Caledonia, Vanuatu & Solomon Islands cruise on board a boutique expedition ship through this paradisiacal region. Imagine sugary, white beaches, swaying palm trees, diving or snorkelling among multicoloured shoals, and encounters with the local cultures and traditions on wildly beautiful islands. Keen photographers, underwater enthusiasts and World War II history buffs (to name but a few) will all enjoy our programme of carefully curated excursions. Join us as we sail across vast expanses of majestic ocean to deserted atolls, pristine lagoons and bustling ports in comfort and style.


---
Highlights

• Follow in the wake of Captain Cook in search of the Southern Continent

• Meet the descendants of The Bounty's famed mutineers still living on the island to which Queen Victoria sent them

• Snorkel or dive among colourful fish in the pristine coral reefs around New Caledonia

• Discover the origins of bungee jumping with the death-defying tradition of land diving on Pentecost Island

• Learn more about the Japanese occupation of the Solomon Islands during World War II



Start your discovery of the adventurous, seamless luxury that expedition cruising with us brings. Today you'll begin your voyage in New Zealand's largest and most populous city, Auckland. It's an unhurried, natural beauty with greenery in spades – parks, rainforests, rolling vineyards, and more. Its culture appeals to visitors too – the Auckland War Memorial Museum has an excellent collection, and a visit to a marae is a must. These sacred Maori meeting places are focal points of Maori communities throughout The Land of the Long White Cloud. Stylish locals extol the virtues of the Britomart Complex, should you wish to shop before you board.

You can spend your day at sea enjoying the many facilities available. Head to the sauna, get in a workout in the state-of-the-art gym or relax in the jacuzzi whilst taking in incredible views along the way. If you prefer to learn a little more about your surroundings, listen to an informative talk or have a chat with one of our knowledgeable on-board experts.

Located roughly halfway between New Zealand and Australia, tiny Norfolk Island is an outlying self-governing Australian territory, where cows still have the right of way. Claimed by Captain James Cook for the British in 1774, the island was first settled as a convict colony. In 1855, Queen Victoria sent the descendants of The Bounty mutineers here. Today the combination of penal history and the association with one of the most famous naval mutinies in modern history attracts tourists to the isle. Many convict ruins and buildings can be explored, and there are four museums which recount the lives and hardships of the early inhabitants. Visitors also enjoy the island's peace, quiet, rugged scenery, towering pines and crowd-free, reef-protected beaches.

Sea days are rarely dull. Take the time to sit back and let the world go by. The ship's observation decks provide stunning views of the passing ocean. A day at sea gives you the opportunity to mingle with other passengers and share your experiences of this incredible trip or head to our library which is stocked full of reference books. Get an expert's view in one of our on-board lectures or perhaps perfect your photography skills with invaluable advice from our onboard professional photographers.

Cruise into the Loyalty Island archipelago to spend time on an island idyll with boats-loads of personality. Thought to be New Caledonia's prettiest place, Lifou is the largest of these three coral islands and equivalent in size to Martinique. Think sheltered bays; clifftop views; sugary, secluded beaches; and limestone caves. Enjoy hiking in the bush, colourful fish-spotting amongst the coral or, for something a little more sedate, shopping for souvenirs in the open-air market. The local Melanesian people live here in harmony with nature – travellers enjoy learning about the native culture that abounds on Lifou with a visit to a traditional hut. Other recommended activities include touring vanilla plantations, seeing the Jokin Cliffs or Notre Dame de Lourdes church, and feeling the sand between your toes on Luengoni Beach.

Today you'll start to explore New Caledonia. Located 110 kilometres southeast of the capital Noumea, L'Ile des Pins (Isle of Pines) was named as such by Captain Cook on his second voyage around the South Pacific in 1774. The southernmost of the New Caledonia islands, it's an unparalleled paradise of white-sand coves, cerulean sea and tropical vegetation. Known as Kunié to the Melanesians (residents are called Kuniés), legend has it that warriors of Tongan descendant from Lifou ruled the island before the arrival of missionaries and traders in the 1840s. The French took possession in 1853, and it quickly became a place to which political exiles were sent. Nowadays, L'Ile des Pins welcomes tourists to its idyllic shores. In the centre of the island, N'ga Peak offers breath-taking views. Kuto and Kanumera Bays are remarkable for their marine life – and sheer gorgeousness. Don't miss out on taking a dip in the natural seawater swimming pool, close to Oro Bay.

Port Vila – or 'Vila' as it's known to the locals – is Vanuatu's capital. It can be found set around a pretty bay on the island of Efate. The site occupied by Vila has been occupied by Melanesian people for thousands of years. In 2004, at a local archaeological dig, pieces of ceramics dating to the 13th century BCE were unearthed. The Portuguese were the Europeans to arrive in the early 1600s, but it was the British and especially the French who held sway in these parts. It's an energetic place that is more down- to-earth than Noumea – visitors love the totem poles, souvenir-packed Mama's Market – a colourful, covered, outdoor market – and waterfront cafes and bars. Recommended experiences include the National Museum of Vanuatu, the Ekasup Cultural Village and the Summit Viewpoint.

Lush, mountainous Pentecost Island is one of the 83 islands that make up Vanuatu. Nearly 120 miles north of Port Vila, Pentecost is known for the ceremony of land diving. Famed as the origin of bungee jumping, land diving first became known to the broader world when David Attenborough and a BBC film crew recorded footage of the ritual during the 1950s. It then aired as part of The People of Paradise documentary series. The death-defying tradition occurs in the southern part of the island, from April to June when boys and men leap off towers of up to 100-feet high with only vines wrapped around their ankles. Land diving is associated with the yam harvest – one year's all-important yield depends on the courage of the previous year's divers. This leap of faith is seen as a rite of passage for the island's young men. Visitors to Pentecost who witnessed the ceremony include Queen Elizabeth II in 1974 and Pope John Paul II in 1986.

Fine, powdery white sand and brilliantly turquoise water make this one of the most exceptional beaches in the South Pacific. Named for the seawater that fizzes and bubbles at low tide (caused by volcanic activity), the crescent-shaped bay is popular for swimming, snorkelling, or simply lounging in the sand. Sip on a refreshing drink and snack on freshly cooked lobster from a simple beach bar and cool off in the shade of coconut palm trees.

Today you'll visit Tegua island, a half-moon-shaped speck of land less than four miles long and 10 miles wide. It's one of five coral atolls in the Torres Group – you've travelled 650 miles north from Efate. Visitors to Tegua are few and far between; life is lived here at a slower pace and in a different way to that which you've seen in Vila, for example. The effects of climate change and rising sea levels can be seen on many islands in Vanuatu. Though gorgeous and tropical, the impact that climate change has had on the Tegua atoll is hard to ignore. It's sobering to be sure, but it's also so important to learn about and to see for yourself.

Days at sea are the perfect chance to relax, unwind and do whatever takes your fancy. So whether that is going to the gym, visiting the spa, trying to spot a whale from the deck, reading a chapter or two, or simply topping up your tan, these blue sea days are the perfect balance to the green days spent exploring on land.

As well as being known for sheer beauty, The Solomons are renowned for their authenticity. Both the people and landscapes are genuinely lovely, as you'll discover today when you visit Santa Ana (or Owaraha or Owa Raha), which is located in the Makira-Ulawa Province. It's a place seemingly out of time where the islanders live in a (relatively) traditional way. See some customs today and meet community members.

The capital of the Solomon Islands, Honiara sits on the northeastern coast of Guadalcanal at the mouth of the Mataniko River. A relatively new city, it grew up around a U.S. military base during and after World War II. In 1952 it superseded Tulagi as the premier city of these islands. It's a laid-back, welcoming place whose main appeal is the tourist-free, real-life atmosphere. Military history buffs love touring the Solomon Islands, and Honiara's U.S. War Memorial provides a comprehensive war-history lesson.

Itineraries are subject to change.
| | | |
| --- | --- | --- |
| 23 March, 2023 to 04 April, 2023 | | Book now |

19 m2 Sleeps 2 Oceanview cabins features 2 single beds, bedroom and living room and a luxurious ensuite bathroom.

19 m2 Sleeps 2 Oceanview staterooms features 2 single beds, bedroom and living room and a luxurious ensuite bathroom.

28 m2 Sleeps 2 Located at the forward and aft of the ship, these balcony staterooms feature 2 single beds or double bed bedroom with living room area, a luxurious bathroom and your own private 6m2 balcony

28 m2 Sleeps 2 Located at the centre of the ship, these balcony staterooms feature 2 single beds or double bed bedroom with living room area, a luxurious bathroom and your own private 6m2 balcony

28 m2 Sleeps 2 Located on deck six, these balcony staterooms feature 2 single beds or double bed bedroom with living room area, a luxurious bathroom and your own private 6m2 balcony

44 m2 Sleeps 2 Our Suites features a superking bed and separate living room with and a soothing flame-effect fireplace a luxurious ensuite bathroom and a 12 sq.m. private balcony.

49 m2 Sleeps 2 Our grandest suites features a superking bed and separate living room with and a soothing flame-effect fireplace a luxurious ensuite bathroom, spacious walk in wardrobe and a 12 sq.m private balcony.
Minerva
Vessel Type: Expedition Ship
Length: 115 meters
Passenger Capacity: 152
Built: 2020-2021
Arriving in November 2021, our 5 star elegant Scandi-design boutique ship offers you an intimate setting from which you will be fully immersed in all the sights and scenery of your voyage.
Introducing SH Minerva
Our brand new ship has been designed to journey to off the beaten path destinations and remote polar regions in style and comfort. The ship incorporates a PC5 ice-strengthened hull combined with extra-large stabilisers to make your journey as smooth as possible.
Sophisticated Elegance
We know how important outdoor space is, so our spacious, relaxing public spaces provide wide open, unobstructed views throughout the ship. The destination will always be in view.
Your Wellbeing
The safety & happiness of our guests is paramount to our 120-strong crew on board as well as our passionate expedition team who'll be serving up thrilling shore excursions and lasting memories.
Cabin Types
Our 76 cabins including 6 suites have all the amenities you will need to feel comfortable including dressing gowns, hairdryers, personal safes and minibars. Our stylish cabins all have desks, a dressing area and comfy seating. En suite bathrooms all feature glass-enclosed rain showers.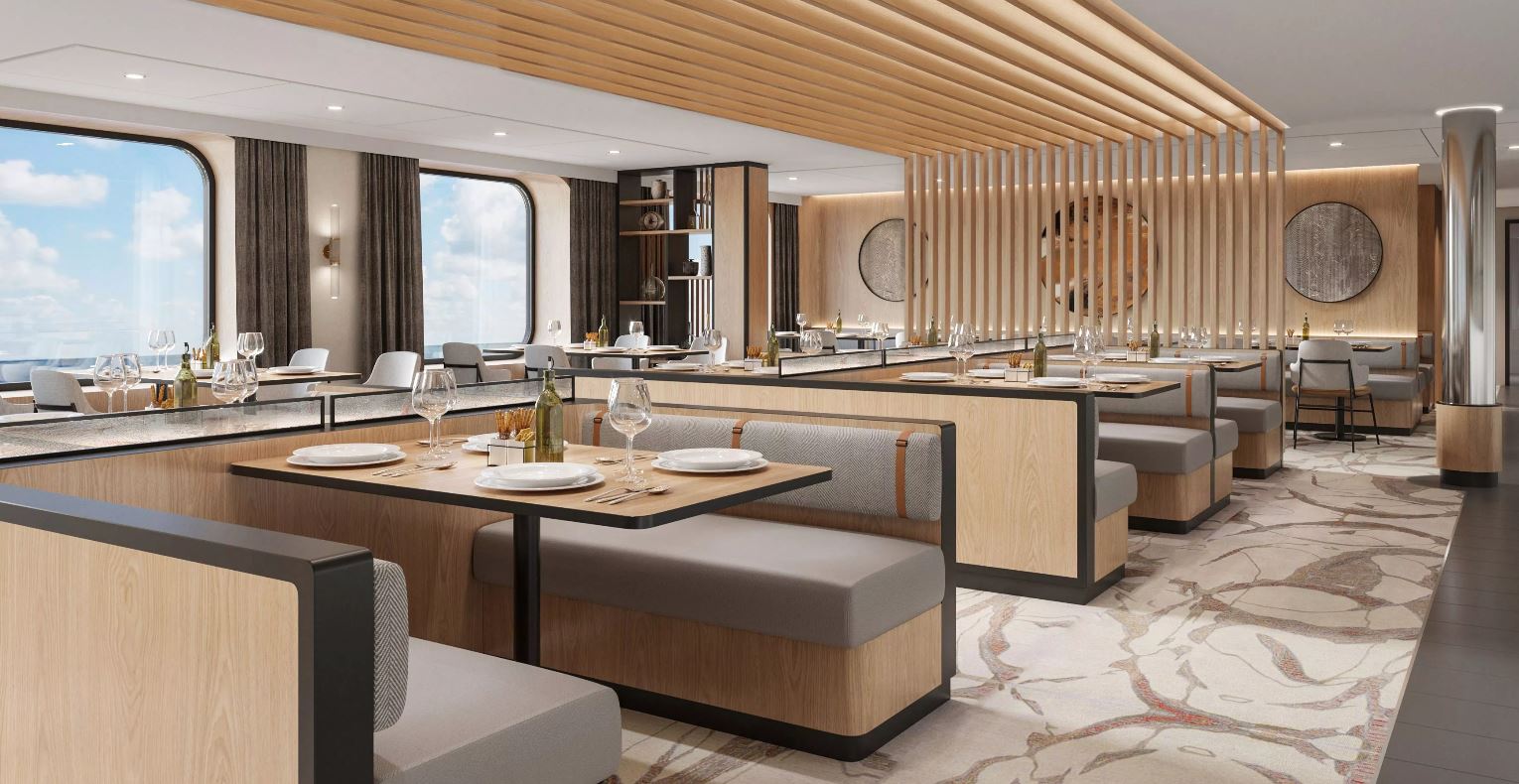 Inclusions

INCLUSIONS FOR ARCTIC & RUSSIA FAR EAST CRUISES
• One night pre-cruise hotel accommodation with breakfast
• Transfer from the airport to the hotel on the day prior to embarkation
• Transfer from the hotel to the port for embarkation
• Transfer from the port to the airport on return
• Onboard accommodation
• All meals onboard including room service 24 hours a day
• Coffee, tea, soft drinks & select alcoholic beverages 24 hours a day
• Lecture programmes by our experienced expedition team and guest speakers
• Shore excursion programme led by our expert expedition team
• Branded Swan Hellenic expedition parka
• Use of rubber boots for shore landings
• Basic WIFI inclusion (Premium WIFI available)
• Onboard gratuities & port taxes

INCLUSIONS FOR ANTARCTICA CRUISES
• Return flights: Buenos Aires to Ushuaia or Santiago to Ushuaia
• One night pre-cruise hotel accommodation with breakfast
• Transfer from the airport to the hotel on the day prior to embarkation
• Transfer from the hotel to the port for embarkation
• Transfer from the port to the airport on return
• Onboard accommodation
• All meals onboard including room service 24 hours a day
• Coffee, tea, soft drinks & select alcoholic beverages 24 hours a day
• Lecture programmes by our experienced expedition team and guest speakers
• Shore excursion programme led by our expert expedition team
• Branded Swan Hellenic expedition parka
• Use of rubber boots for shore landings
• Basic WIFI (Premium WIFI available)
• Onboard gratuities & port taxes

INCLUSIONS FOR REST OF WORLD CRUISES
• One night pre-cruise hotel accommodation with breakfast
• Transfer from the airport to the hotel on the day prior to embarkation
• Transfer from the hotel to the port for embarkation
• Transfer from the port to the airport on return
• Onboard accommodation
• All meals onboard including room service 24 hours a day
• Coffee, tea, soft drinks & select alcoholic beverages 24 hours a day
• Lecture programmes by our experienced expedition team and guest speakers
• On shore transfer per port of call
• Basic WIFI inclusion (Premium WIFI available)
• Onboard gratuities & port taxes

---
Exclusions

• Additional activities such as kayaking, private tours, special arrangements, private Zodiac tours
• Laundry
• Premium wines and spirits
• Purchases in the ship's boutique
• Any spa treatments
• Upgraded WiFi data packages
• Visas where required
• Travel Insurance
• Flights
• Domestic transfers
• Hotel requirements (pre/post cruise) unless otherwise stated in the itinerary description