In the Wake of Great Explorers
On this Northwest Passage expedition, we sail in the wake of the great explorers like Roald Amundsen, the first man to sail the Northwest Passage. Join us to rediscover these remote and beautiful waterways on board MS Fram.

Starting in easily-accessible Reykjavik, we set sail towards Greenland. We aim to visit colourful Inuit settlements and the UNESCO World Heritage site Ilulissat Icefjord before crossing the Davis Strait and venturing into the Canadian Arctic Archipelago of Nunavut.

Heart of the Passage
We explore the heart and history of the Northwest Passage. Subject to favourable conditions, we will attempt to make our way through the icy waters of Arctic Canada, or Nunavut as it is known in Inuit.

Throughout the journey, enjoy views of vast expanses of pristine wilderness from the deck. We hope to visit several sites with traces of earlier expeditions, and some of the world's northernmost communities. We will attempt to explore legendary inlets and channels and take you on exciting small boat cruising and landings.

A True Expedition
Being at the top of the world means sailing through challenging ice conditions. On this voyage, like the voyages of the explorers before us, we will go where the ice allows. No matter where we sail or what we will see, we can promise a safe and thrilling expedition.
---
Highlights

• Explore some of the most spectacular and unspoilt scenery on Earth

• Great wildlife spotting opportunities - including polar bears and walrus

• Trace history as we explore the region of famous expedition vessels of the past

• Discover the Ilulissat Icefjord, an UNESCO World Heritage Site



This itinerary is also available in reverse. Click here for additional dates.

World`s Northernmost Capital Embarkation Reykjavik is the world's northernmost capital city. Norwegian settlers named the place Reykjavik (meaning 'Smoky Bay') after the columns of steam that rose from the hot springs in the area and made a profound impression. The surroundings offer fantastic natural beauty with geysers, mountains, glaciers and geothermal baths that are well worth exploring before embarking on MS Fram.

The Denmark Strait We sail across the Denmark Strait, a crossing used by Vikings to migrate from Iceland to South Greenland some 1,000 years ago. We will spend the days on the crossing preparing you for the upcoming adventure. Enjoy lectures by the Expedition Team and visit our Science Center or just relax with a book, visit the sauna and hot tub or get to know your fellow explorers.

Mountains, Glaciers and Icebergs Exploration Day Prince Christian Sound separates Greenland from Sammisoq and the Cape Farewell Archipelago. If the conditions allow, we will sail through this narrow channel and enjoy the spectacular scenery. The sound itself is around 100 km long and very narrow, sometimes only 500 metres wide. If the channel is blocked with ice, we will sail around Nunap Isua (Cape Farewell).

Kvanefjord Half day Kvanefjord is a 48 km long fjord on the west coast of Greenland. We will spend the day exploring this amazing fjord.

The Capital of Greenland Nuuk is the oldest town in the nation, founded in 1728. The name Nuuk means peninsula, as it is located at the mouth of one of the most spectacular fjord systems in the world. Today Nuuk is a place where old and new traditions meet, from picturesque old buildings in "Kolonihaven" to the modern structure of the Greenland Home Rule building.

Modern Settlement with Ancient Traditions Full day Sisimiut is situated 40 km north of the Arctic Circle and is a modern settlement that maintains ancient traditions. Come ashore to explore the colourful town; visit the small museum, hike in the hills and shop for local handicrafts.

Birth of Icebergs Full day Ilulissat is set in the stunning scenery of the Ilulissat Icefjord, a UNESCO World Heritage Site. Just outside the town you can often see enormous icebergs that originate from the Jakobshavn Glacier, one of the most productive glaciers in the Northern Hemisphere. The icebergs make their way down the 20 km fjord before entering Disko Bay.

Crossing the Davis Strait Named for English explorer John Davis, who led expeditions here searching for a route through the Northwest Passage between 1585 and 1587. Davis was the first to draw attention to seal hunting and whaling possibilities in the area, and to show that the Newfoundland cod fisheries extended this far north.

East Coast of Baffin Island Scenic navigation Sam Ford Fjord is set on the east coast of Baffin Island. The fjord is known for its glaciers and granite cliffs rising steeply from the shores to heights up to 1500 metres above sea level.

Heart of the Northwest Passage Next, we aim to head into the heart of the historic Northwest Passage. The first recorded voyage here was led by John Cabot in 1497. The most famous journey was James Cook's failed attempt to sail the Passage in 1776, and of course the ill-fated Franklin expedition of 1845. The first to conquer the Passage by ship was Norwegian Roald Amundsen on an expedition that lasted from 1903 to 1906. The ice varies from year to year, so we hope to be able to show you some of the following places: Pond Inlet, called 'Mittimatalik' in Inuktitut, is a traditional Inuit community surrounded by mountains, glaciers, fjords, ice caves, geological hoodoos and drifting icebergs. Dundas Harbour is an abandoned settlement with an old Royal Canadian Mounted Police camp and several archaeological sites. Come shore to see the ruins of some of these buildings, along with an impressive Thule site. Radstock Bay is dominated by the striking outcropping of Caswell Tower. The shoreline here is ideal for walks to a pre-historic Inuit dwelling site. Caswell Tower itself features a challenging hike to the summit for great views. Beechey Island is known for the ill-fated Franklin expedition. Two ships sailed into the passage in 1845, but neither were ever seen again. It is known that the Franklin Expedition over-wintered on Beechey Island in 1845-1846. Fort Ross is a trading post established in 1937. There are two small huts ashore that are maintained by the Canadian Coast Guard. Gjøa Haven honours the Norwegian explorer Roald Amundsen, who wintered here from 1903. He was in contact with the local Netsilik Inuit people, and learned a lot from them about survival and travel in polar regions. Throughout the journey, we will be sailing in amazing straits with unique nature and hopefully enough ice to be on the constant look out for wildlife.

A Good Fishing Place Disembarkation & flight In Inuinnaqtun, Cambridge Bay is called 'Iqaluktuuttiaq', meaning a 'good fishing place' for the giant char that is caught nearby. Local wildlife is abundant: seals, geese, muskoxen and caribou. This is where our expedition ends, and you will be transferred to the airport for your flight to Edmonton.

Explore Edmonton Enjoy the city of Edmonton before your flight home or extend your stay with one of our Post-programmes.

Hurtigruten offers unique expedition cruises to some of the most remote and pristine waters of the world. As with all expeditions; nature prevails. Weather, ice and sea conditions set the final framework for all Hurtigruten's operations. Safety and unparalleled guest experiences are at all times our top priorities. All our indicative itineraries are continuously evaluated for adaptions, whether this is due to constraints the elements unexpectedly present – or exciting possibilities nature and wildlife offer. That is why we call it an expedition.

This itinerary is also available in reverse. Click here for additional dates.
| | | |
| --- | --- | --- |
| 14 August, 2020 to 01 September, 2020 | | Book now |

Our Polar Inside cabins are situated on lower deck and offer a cosy atmosphere. All cabins include bathrooms with shower/wc. Most of the cabins have separate beds where one can be turned into a sofa, and others offer upper and lower berths. Some of the cabins have more facilities than others.

Our Polar Outside cabins are situated on lower deck and they all have bathrooms with shower/wc. Most of them offer separate beds where one can be turned into a sofa, and others offer upper and lower berths. Some of the cabins have more facilities than others.

Our Arctic Superior cabins are comfortable cabins situated on both upper and middle deck, where you can enjoy a relaxing atmosphere. All the cabins have bathrooms with shower/wc. You will also find coffee and tea facilities in these cabins. Most of them have separate beds, where one can be turned into a sofa and some have double beds. Some of the cabins have more facilities than others.

Our Expeditions Suites are the most exquisite cabins on the ship. Situated on upper deck, you can enjoy the most comfortable suites on board. Inside you will find seating areas with TV, bathrooms with shower/wc and most of them have double beds. All of the suites offer cabin kits, which contains bathrobe, slippers and other beauty articles. Some of the suites do have more facilities than others.
Fram
Vessel Type: Expedition
Length: 114m
Passenger Capacity: 276
Built: 2007
MS Fram is designed for sailing in polar waters, holds the highest safety standards and is the perfect size for optimum nautical manoeuverability and guests' comfort. With space for only 276 guests, you are sure to get to know many of your fellow travellers. You will share stunning sights and memories of a lifetime long after returning home. The Norwegian word Fram means 'forward' – lifting expectations of the voyage at hand.
MS Fram was built in 2007 with one mission in mind - to bring her guests closer to nature, wildlife and unforgettable experiences. As well as offering numerous lounges in which to relax, our more active guests can use our well-equipped gym. Meanwhile, on deck, our Jacuzzis guarantee you surreal memories when passing the towering icebergs of Antarctica or Greenland.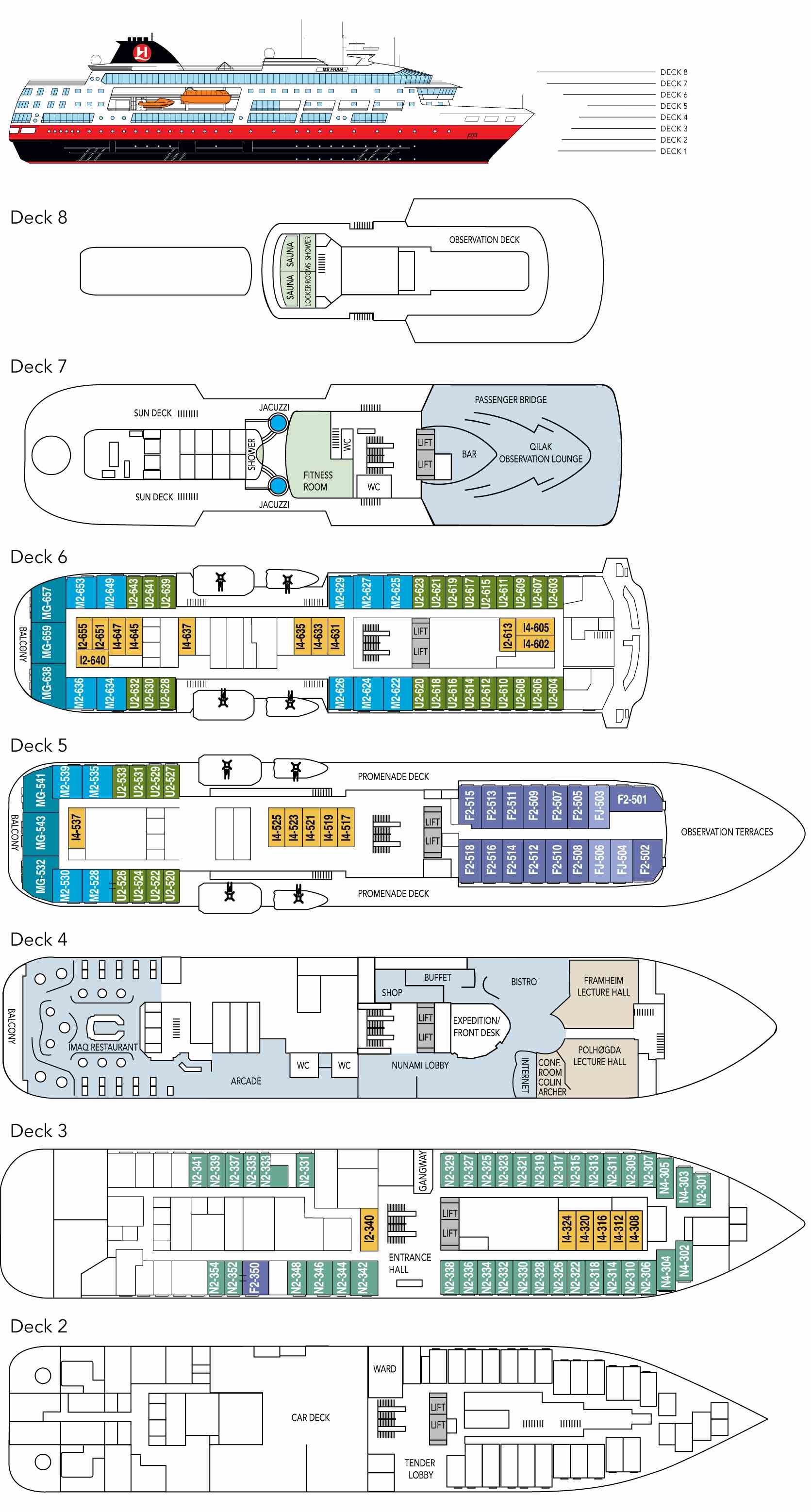 Inclusions

Voyage on board in selected cabin category
All meals while on board
On board lectures


Trip specific inclusions;
One night in Edmonton hotel including breakfast
Flight from Cambridge Bay to Edmonton in Economy Class
Transfer ship to airport in Cambridge Bay and airport to hotel in Edmonton
Expedition parka to keep
Use of boots, trekking poles and other equipment throughout the voyage
Farewell event
All meals while on board
Beverages with meals (House beer and wine, sodas and mineral water)
Coffee and tea at all times throughout the voyage
Free wifi on board (Subject to coverage)


---
Exclusions

International and domestic flights unless otherwise stated
Passport and visa costs where applicable
Travel insurance
Transfers unless otherwise stated
Optional Excursions
Pre and Post voyage accommodation
Beverages on board unless otherwise stated
Meals while ashore

Gratuities not expected