Starting and ending in historic St. John's, we experience Newfoundland's lively culture and dramatic scenery in daily expedition stops. A visit to the French island of Saint-Pierre completes the adventure. The welcome we receive in Newfoundland's outport communities is warm and genuine; the music and stories unforgettable.

Though Newfoundland is Canada's newest province, joining in 1949, it has a human history stretching back almost 6,000 years. At Gros Morne National Park, the planet's mantle frames fjords that would be at home in Norway; on the Avalon Peninsula, a chunk of what was once Africa meets remnants of the Appalachian Mountains. We will visit Red Bay's Basque Whaling Station (a UNESCO World Heritage Centre), learn about the Viking history in North America at L'Anse aux Meadows National Historic Site, and enjoy a taste of the Mi'kmaq culture in Miawpukek First Nation (Conne River).

This sailing is ideally timed for viewing whales, icebergs, and breeding seabirds. Experience the province's legendary music, food, and hospitality the way it was meant to be experienced—by sea.
---
Highlights

• Explore Red Bay's Basque Whaling Station—Canada's 17th UNESCO World Heritage site

• Visit Miawpukek, Newfoundland's Mi'kmaq First Nation community

• Share the warmth of a classic Newfoundland kitchen party

• Explore and hike the phenomenal landscapes of Gros Morne National Park

• Travel with widely respected naturalists, musicians, and culturalists

• Visit the reconstructed Viking settlement at L'Anse aux Meadows, unesco World Heritage Site

• Explore the remote reaches of Newfoundland & Labrador with fall colours in full show



Welcome to St. John's—Newfoundland's historic, vibrant capital. Picturesque and welcoming, with a world-famous harbour, St. John's has been continually fished since 1498, allowing it to boast the designation of North America's oldest European settlement. We will offer an optional afternoon city tour to those interested. Afterwards, we will rendezvous at the docks and board the Ocean Endeavour to begin the adventure proper. Passengers will meet the staff and crew, and prepare to leave the harbour. Sailing out of St. John's has to be experienced to be believed; Signal Hill keeps watch over the world-famous Narrows as we head for open water.

The northeast coast of Newfoundland is known for the dozens of picturesque villages that dot its rocky shores, and we'll find harbour in one of these unique communities today. We look forward to a characteristically warm Newfoundland welcome upon our arrival. Photographers will have their work cut out for them, capturing the special charm of classic island construction.

L'Anse aux Meadows, A UNESCO World Heritage Site, is the only authenticated former Norse settlement in North America. The archaeological remains found here in 1960 date to approximately 1000 AD. Amazingly, the location of the ruins was first established by a close reading of the Viking sagas. Today, a superb interpretive centre and reconstructions of the several Norse-style sod buildings make L'Anse aux Meadows a must-see for any visitor to Newfoundland.

Labrador is home to the Red Bay Basque Whaling Station, Canada's newest UNESCO World Heritage site. Beginning in the 1500s, Basque whalers operated out of the Red Bay harbour, making it at one time the largest whaling station in the world. The site includes six hundred acres of terrestrial and aquatic protected area. Among the important artefacts found at Red Bay is the whaling ship San Juan, lost in a storm in 1565 and found centuries later submerged in the harbour in only ten metres of water. A large number of tools, personal items, and navigational instruments have been recovered from the wreck.

Gros Morne is internationally famed for its geographic diversity and majesty. The park's mountains are both picturesque and highly unusual: the Tablelands, a 600-metre plateau, forms one of the world's best examples of ancient rock exposed from the earth's mantle. The park's fjords are equally stunning, and the town of Woody Point has become widely renowned for its annual Writers' Festival. There will be a choice of walks—catering to all levels of skill and interest—as we explore the surrounding area. The beauty of Bonne Bay will surely be a highlight, as will the subtle charms of Woody Point.

The wild and windswept coast of southern Newfoundland is home to a few remaining outport communities, still largely cut off from mainstream travel. Visits here are often a highlight of our trips. There are many unique bays and coves to explore via Zodiac or land excursions. Again, autumnal hues among the low-lying vegetation will keep photographers and botanists reaching for their cameras!

The First Nations community of Miawpukek (Conne River) has an economically self-sufficient mandate, guided by traditional values. It became a permanent settlement sometime around 1822. Before then, it was one of many semi-permanent camping sites used by the Mi'kmaw people—who had traditionally, travelled nomadically throughout the East Coast. Since its establishment as a reserve in 1987, Miawpukek has often been referenced as a highly successful First Nation. We will receive a formal welcome from local leaders and have a chance to explore this special community.

Explore Saint-Pierre, a last bastion of France's colonial territories in North America. The colourful and charming shops and residences of the town of Saint-Pierre reveal its unique historical character. French food, wine, cars, clothing, and shops are all in evidence here—and the sweets at the local cafes and bakeries are much in demand! Saint-Pierre offers a taste of European living, just a short sail from the coast of Newfoundland!

On the final day of our expedition, we sail though the historic Narrows and into St. John's harbour. We will say our farewells and begin the process of departure. Staff will be on hand to assist you with luggage and transportation arrangements.

The itineraries/programs described are subject to change at the discretion of the ship's master.
Deck 4, Interior Cabin, four lower berths, private bathroom
Deck 4, Interior cabinm three lower berths, private bathroom
Category 3 - Interior Twin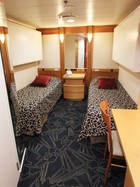 Deck 5, Interior cabin, two lower berths, private bathroom. Available for sole use
Category 4 - Exterior Twin

Deck 4, porthole window, 2 lower berths, private bathroom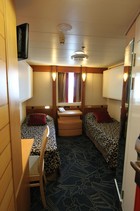 Deck 5, Picture Window, two lower berths, private bathroom
Category 6 - Comfort Twin

Deck 7, Picture windows (partially obstructed) two lower berths, privvate bathroom, refrigerator

Deck 8, large picture windows (partially obstructed) double bedded only, private bathroom, refrigerator
Category 8 - Superior Twin

Deck 5 & 7, picture windows, twin or double bed, private bathroom, refrigerator
Category 9 - Junior Suite

Deck 5 & 7, picture windows, seperate sitting area, sofa, desk, refrigerator, double bed, private bathroom

Deck 7, picture window overlooking the bow, seperate sitting area, sofa, desk, refrigerator, double bed, private bathroom with bath
Additional charges:
Discovery Fund Fee: 250 USD pp
Ocean Endeavour
Vessel Type: Expedition
Length: 137m
Passenger Capacity: 199
Built: 1982 - refurbished 2001, 2004, 2010, 2015, 2016, 2018
Ocean Endeavour is a comfortable, well-appointed small expedition ship expertly engineered to explore the Polar Regions. The ship has an ice-strengthened hull, Zodiacs for exploration and remote landings, and advanced navigation equipment. The newly-refurbished vessel offers a superb guest experience with an expansive choice of cabin categories, large cabins and common areas, a sundeck and observation area, plenty of deck space for polar landscape viewing, and lounges for learning and reflection. The ship's interiors have a contemporary aesthetic that provides a bright and spacious feel throughout.
Endeavour is also the only polar adventure ship in Antarctica focused on health and wellness , and offers a contemporary approach to cuisine and newly-designed health and fitness features. Facilities include a spa serviced by organic spa provider VOYA, His & Hers saunas, a salt water pool, a gym, and a juice and smoothie bar. Complimentary activities include yoga and stretching classes, an exclusive Polar Photography program, the Scientists in Residence program, and more adventure activities than any other Quark vessel. The ship also has a polar library, and a Polar Boutique for gifts and any needed gear.
Features of the Ocean Endeavour
VOYA spa treatments and beauty products, Choice of 13 cabin categories, Bright, spacious cabins and common areas, Plenty of deck space for observation, Lounge with expansive views, Quiet zone for contemplation, Newly-refurbished restaurant, Contemporary dining with complimentary wine with dinner, Juice and smoothie bar, Lecture theater, Polar library, Polar boutique, Health and Wellness, Spa treatments and beauty products by spa provider VOYA - Organic Beauty From The Sea, Spa menu for face, body, hair and nails, including the exclusive Quark Explorer's treatment, and signature VOYA hand and foot rituals, Yoga and stretching classes, His & Hers saunas, gym, and heated salt water pool
Full range of adventure activities including: kayaking, camping, mountaineering, cross-country skiing, stand-up paddleboarding, Zodiac cruising, shore landings and hiking/ walking.
Deck plan varies for the trips to Antarctica

Book Multiple Trips and Save 25% aboard Ocean Endeavour
Combine two or more Ocean Endeavour expeditions in the same calendar year and save 25% off each! Applies to 2020 Expeditions aboard the Ocean Endeavour only and excludes Antarctica. Prices online do not show the discounted rates. Terms and Conditions apply, special offer is subject to availability, please contact us for more details.