Understanding our oceans
As you sail from New England to Panama, you'll be able to take part in an engaging programme of hands-on lectures, workshops and classes that cover topics like marine biology and the history of sea navigation from the Vikings till now.

Learn from enthusiastic Expedition Team members, handpicked for their expertise, and use microscopes in the ship's Science Center to explore the ocean's hidden ecosystem. There will also be Citizen Science projects to participate in, connected to important live research worldwide.

Finding inner peace
It's not all facts and figures though. Rest and relaxation are important too. Take many a moment to just stop, watch the waves, reflect, and enjoy some precious 'me time'.

To help you reset mind, body, and soul, there will be daily yoga and meditation classes on board, run by wellness professionals. These sessions promise to have you feeling refreshed, recharged, and ready for your next adventure.

By the end of your journey, you might find you'll leave the ship a different person to when you first boarded; spirits lifted and a mind bursting with new knowledge.
---
Highlights

• Deepen your knowledge of the oceans on this ten-day, science-focused cruise at sea, and enrich your wellbeing at the same time.



Begin your adventure in the historic city of Boston. Here, you can visit the site of the famous Tea Party and walk the Freedom Trail to discover the city's revolutionary role in shaping modern-day America. You must try the city's culinary classics too – steaming bowls of seafood chowder and fried clams. And if you're looking for a friendly bar, then you'll want to head to Cheers, the bar that inspired the eponymous TV show. Discover colonial-era and revolutionary history in abundance or visit some of the world's most respected and influential universities, before enjoying an overnight in a centrally located hotel.

After breakfast, we'll take you on a sightseeing tour of the city. Boston's rich history is infused into its many districts, with grand colonial-era buildings intermixing with a thoroughly modern city centre. Your expedition ship MS Fram will be waiting for you at the harbour after your tour. Get to know the ship's facilities, and locate the restaurants, lounges, and onboard Science Center. We'll then depart the New England coast for the start of your journey southwards.

It's time to relax and unwind as you settle into the ocean's rhythm and life aboard this cosy ship. Check out the onboard facilities like the hot tub, gym and sauna, relax in the lounge with a book, and get to know your fellow guests. You will meet your Expedition Team, experts in oceanography, marine biology, ornithology, as well as your wellness instructor, who have all been handpicked for this unique expedition cruise. They will introduce you to the range of science, nature, navigation and wellness activities that will be available. Your time at sea will be an opportunity to connect with nature. Increasing our awareness and appreciation of the natural environment around us is an important key to mental and physical wellbeing. Our Expedition Team will be on hand to guide your discovery of nature on this ocean crossing, perhaps by helping you identify the seabirds that sometimes follow the ship from deck or by showing you around the onboard Science Center. In the evenings, you can relax in the lounge and look forward to some fun activities as the Expedition Team host quiz nights, Q&A sessions, put on movie nights, and hold impromptu talks about the area you're sailing in.

Over the next few exciting days, you'll be hands on and happily engaged in a range of activities. Oceanography and science at sea As we sail from the cool Nova Scotian coast to the warm, tropical climate of Panama, you'll study the changes in the sea and the effect of ocean currents, like the Gulf Stream, in lectures and workshops. Learn about the differences between marine life along the continental shelf and the deep ocean with the Expedition Team. This might involve observing seabirds or analysing sea water samples in the Science Center. Navigation old and new You'll explore celestial navigation, astronomy, and how this compares with modern-day electronic instruments. Discover how explorers of old navigated the seas using tools like a sextant, and how the Vikings used Optical Calcite and the stars. Conservation and Citizen Science You'll tackle issues like the plastic pollution blighting our oceans, and what we can do to reduce this. We'll explain our commitment to the environment and the steps we're taking towards becoming a leader in sustainable travel. You can join Citizen Science projects that may include: whale spotting for Happywhale, a global tracker; noting cloud and sky conditions for the GLOBE observer in conjunction with NASA; or taking seabird counts. Science and art Before the invention of micro-photography, scientific researchers on expeditions had to paint their samples. Join a unique art workshop where you can inspect samples under a microscope and try this out for yourself. Or if you prefer, draw your artistic inspiration from the nature around you and paint what you explore. Wellbeing and nature: a virtuous circle Learn about our symbiotic relationship with nature: where our own wellbeing has a direct and positive impact on the health of the planet. Studies show that regularly interacting with nature makes us healthier and happier. Research also shows that people who feel connected to nature are more likely to behave in ways which promote environmental health, for instance through conservation activities. Explore what actions you can take to maintain this virtuous circle. Health and wellbeing You'll have many opportunities to engage in wellness activities and deepen your connection with nature. You can practise daily yoga, learn mantras and meditation techniques, and even join the Expedition Team for a morning mile-long walk on deck. There will also be a range of healthy and delicious vegetarian and plant-based menu options, as well as fresh smoothies, juices and nutritious snacks available on board.

As we sail towards Panama on our last day at sea, we bring our onboard programme to a close. You may want to discuss your data counts and findings from your Citizen Science projects with the Expedition Team, or take a last glimpse at the fascinating ocean life under the microscope in the Science Center. Or maybe you'll simply wish to relax and unwind in the hot tub, sauna or lounge? Take some time to observe and appreciate the wonder of the nature around you. Silently contemplate the majesty of the sea or the shifting of the clouds above. Scan for wildlife out on deck while basking in the warmer weather of the Caribbean. You might catch sight of dolphins, flying fish and rare seabirds. Observe the harmony of their movements and notice the calming effect this has. The Expedition Team will host a presentation recapping your programme highlights and summarise what we've learned along the way. The officers might join you for a farewell dinner and the crew may even put on a talent show for you, if you're lucky.

We end our expedition cruise in the bustling port town of Colón, with enriched minds, healthier bodies and plenty to reflect on. Situated at the Caribbean entrance to the Panama Canal, this is a good jumping off point to further explore Panama, the Caribbean or South America. If you'd like to add some land adventures to your ocean voyage, you can add on three extra nights with our Post-Programme, staying at an exotic jungle lodge nestled in the rainforest next to Chagres River. There, you'll visit a rainforest centre and a farm working with reforestation. You´ll also explore the jungle on a boat safari at night and enjoy views of the area by cable car. Another popular Post-Programme option is a visit to Casco Viejo, arguably the most charismatic neighbourhood in Panama City. Stroll along rustic cobblestone streets and across charming plazas, and admire the architecture of colonial churches, mansions and the Metropolitan Cathedral. Remember to taste some of the local specialities, like coffee and cocoa. You can even book another expedition cruise with us from Colón to explore the fascinating coastline of South America, taking in coastal cities, jungle wildlife, and rural villages. Marvel at an impressive feat of engineering as you sail through the locks of the Panama Canal and out to the Pacific Ocean on the other side. Whatever's next for you, we hope that you'll return home inspired, with a deeper knowledge about our oceans, a greater connection to nature and a better appreciation of how your wellbeing can positively impact the planet. We wish you a safe onward journey and look forward to exploring with you on your next adventure.

Itineraries are subject to change.
18 September, 2023 to 27 September, 2023


Fram

Book now

Our Polar Inside cabins are situated on lower deck and offer a cosy atmosphere. All cabins include bathrooms with shower/wc. Most of the cabins have separate beds where one can be turned into a sofa, and others offer upper and lower berths. Some of the cabins have more facilities than others.

Our Polar Outside cabins are situated on lower deck and they all have bathrooms with shower/wc. Most of them offer separate beds where one can be turned into a sofa, and others offer upper and lower berths. Some of the cabins have more facilities than others.

Our Arctic Superior cabins are comfortable cabins situated on both upper and middle deck, where you can enjoy a relaxing atmosphere. All the cabins have bathrooms with shower/wc. You will also find coffee and tea facilities in these cabins. Most of them have separate beds, where one can be turned into a sofa and some have double beds. Some of the cabins have more facilities than others.

Our Expeditions Suites are the most exquisite cabins on the ship. Situated on upper deck, you can enjoy the most comfortable suites on board. Inside you will find seating areas with TV, bathrooms with shower/wc and most of them have double beds. All of the suites offer cabin kits, which contains bathrobe, slippers and other beauty articles. Some of the suites do have more facilities than others.
Vessel Type: Expedition
Length: 114m
Passenger Capacity: 276
Built: 2007
MS Fram is designed for sailing in polar waters, holds the highest safety standards and is the perfect size for optimum nautical manoeuverability and guests' comfort. With space for only 276 guests, you are sure to get to know many of your fellow travellers. You will share stunning sights and memories of a lifetime long after returning home. The Norwegian word Fram means 'forward' – lifting expectations of the voyage at hand.
MS Fram was built in 2007 with one mission in mind - to bring her guests closer to nature, wildlife and unforgettable experiences. As well as offering numerous lounges in which to relax, our more active guests can use our well-equipped gym. Meanwhile, on deck, our Jacuzzis guarantee you surreal memories when passing the towering icebergs of Antarctica or Greenland.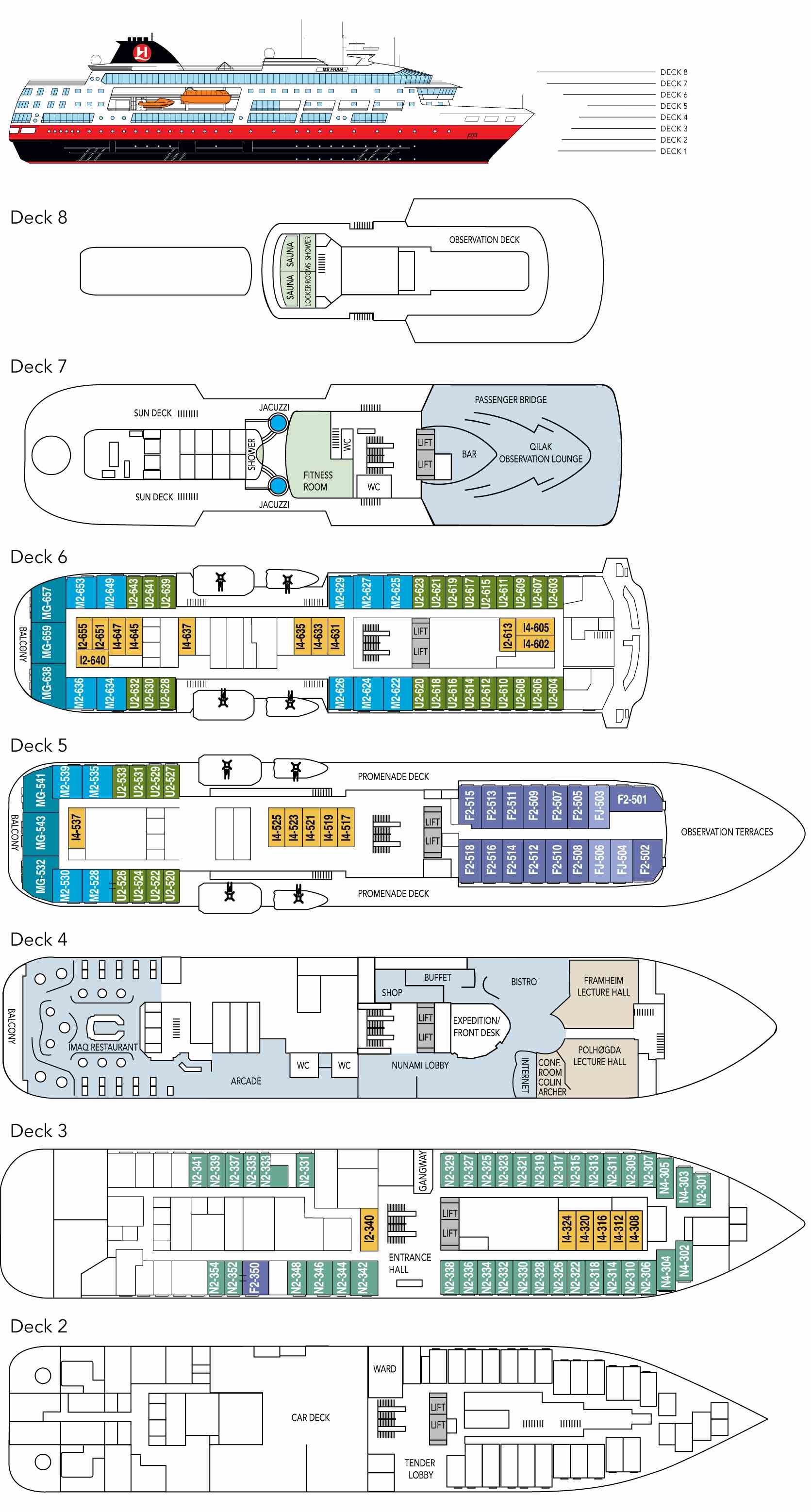 Inclusions

• Voyage on board in selected cabin category
• All meals while on board
• On board lectures
• Hotel  
• Overnight in Boston before the expedition cruise, including breakfast.
• Transfers  
• Transfer from hotel to ship in Boston including an excursion before the expedition cruise.
---
Exclusions

• International and domestic flights unless otherwise stated
• Passport and visa costs where applicable
• Travel insurance
• Transfers unless otherwise stated
• Optional Excursions
• Pre and Post voyage accommodation
• Beverages on board unless otherwise stated
• Meals while ashore