The Gulf of St. Lawrence is Canada's historic gateway. Nature and culture are outstanding. We'll tour four provinces and the French island of Saint-Pierre!

Springtime in the Gulf is brilliant. Birders love the northern gannets, common murres, razorbills, puffins, and more. And we'll all be on the watch for whales—there are thirteen species of cetaceans in the Gulf.

Geological wonders. World-famous Percé Rock. Saguenay Fjord. Newfoundland's south coast.

Layers of culture. Mi'kmaq, Algonquin, Québecois, Acadian, English, and Scots influences. Our multilingual guides love to share—immerse yourself in music, dance, arts, and crafts.

Tour the Gulf of St. Lawrence aboard the Ocean Endeavour. Enjoy the sea breeze from a Zodiac. Feel the beating heart of Canada's history!
---
Highlights

• Discover the rich cultural heritage and stunning red sandstone cliffs of the Magdalen Islands

• Enjoy music, dance, and stories with our bilingual cultural guides

• Visit three provinces and the French island of Saint-Pierre

• Seek the thirteen species of cetaceans found in the Gulf

• Cruise Percé Rock by Zodiac for unbeatable views

• See hundreds of thousands of seabirds nesting at Bonaventure Island

• Explore the unique history of New France



Québec takes its name from the Algonquin word meaning 'where the river narrows.' The city that Champlain founded in 1608 is one of the oldest in North America. The former capital of New France is now the capital of Canada's largest province. Quebec still retains strong European influence in architecture, cuisine and culture. We travel by coach to the charming community of Tadoussac where we will meet the Ocean Endeavour. This pleasantly walkable community is ours to explore. With over four hundred years of history to discover and hospitable hosts to help, we set sail from the St. Lawrence River's first seaport.

At the mouth of Saguenay Fjord, salt water meets freshwater. Fin, minke, blue, and beluga whales are all found in the uniquely rich waters. We'll be on the lookout for marine mammals and birds as we cruise Saguenay Fjord National Park!

Today we will explore the Saint Lawrence River, famed for its incredible whale-watching opportunities, its rich history, and its vibrant culture. Sailing the river that gave rise to Canada's European history is a thrilling experience, and we will set off through its heart for a true expedition day. Any stops are weather-dependent; ideally we will have favourable Zodiac conditions for an excursion.

The Gaspé Peninsula (Gaspésie), separates the mouth of the Saint Lawrence from Baie de Chaleur. Here the remnants of the Appalachian Mountain chain form high cliffs, jutting above the treeline. Views of neighbouring seascapes are outstanding. Forillon is an important bird and marine mammal habitat, with excellent hiking, including a walk to Canada's tallest lighthouse. Grand-Grave National Heritage Site tells the story of the fishing families who once made their homes here.

Awe-inspiring Percé Rock is the most famous feature in Parc National de l'Île-Bonaventure-et-du-Rocher-Percé. Named by Samuel de Champlain, Percé Rock is a huge natural arch within a mass of reddish limestone and sandstone. A second arch collapsed in 1845, leaving a massive column at one end. Fin, minke, humpback, and blue whales, seals and seabirds are among the species we'll be watching for here. Bonaventure Island is home to 50,000 nesting pairs of Northern Gannets!

The Gulf of Saint Lawrence is a diverse and complex marine and estuary ecosystem, one of the largest of its kind in the world. Made of up freshwater from the Canadian Shield, the Great Lakes basin, and the St. Lawrence River, the gulf's waters also combine to cold Labrador Current from the Arctic and the warm Gulf Stream from the tropics. All these currents merge to create the perfect conditions for an incredible diversity of life. People have relied on the Gulf of Saint Lawrence for thousands of years. Indigenous communities, and later European settlers, depended on it for food, transportation, commerce, and a source of cultural significance.

Canada's smallest province in both size and population, Prince Edward Island is known by several other names, including "Garden of the Gulf" (for its lush agricultural lands) and the "Cradle of Confederation" (referring to the Charlottetown Conference in 1864). It is a realm of rolling hills, wooded glades, ocean coves, and famously red soil. The island's landscape has a strong bearing on its inhabitants, and Prince Edward Island—often abbreviated as PEI—retains a slow-paced, old-world flavour in its small, rural settlements. The island was made famous by Lucy Maud Montgomery's Anne of Green Gables (and its sequels)—and to this day the Cavendish farmhouse described in the book is a popular destination for visitors.

Dramatic red sandstone cliffs are among the most striking features of the Magdalen Islands. Though a part of Quebec, the Magdalen Islands (les Îles-de-la-Madeleine) in the Gulf of St. Lawrence are closer to Nova Scotia and Prince Edward Island When the British expelled the Acadians from New Brunswick and Nova Scotia, the Magdalen Islanders remained. Acadian heritage is evident in the culture and cuisine of the islands. Look for handicrafts, seafood, and local wines and beers!

Newfoundland's south coast offers stretches of almost-uninhabited wilderness. We'll be watching for puffins and other seabirds, and of course, keeping a close eye out for whales. We have numerous options here, depending on weather and sea conditions. Fjords, cliffs, and islands offer excellent Zodiac cruising territory—and hiking may be an option as well.

Just off the shores of Newfoundland lie the islands of Saint-Pierre and Miquelon—an official territory of the French Republic. Having traced Canada's French history and culture, it's appropriate that we wind up in France! You will have an opportunity to explore the charming, colourful town of Saint Pierre. French food, wine and shopping await! There you will end your trip by joining our charter flight to St. John's, NL.

This is our proposed itinerary. It is highly probable that weather, sea, and ice conditions will not allow us to travel this exact route. Our Expedition Leader and the Ocean Endeavour's captain will determine our exact route day by day.

Deck 4, Interior Cabin, four lower berths, private bathroom

Deck 4, Interior cabinm three lower berths, private bathroom
Category 3 - Interior Twin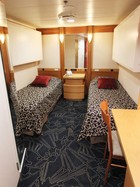 Deck 5, Interior cabin, two lower berths, private bathroom. Available for sole use
Category 4 - Exterior Twin

Deck 4, porthole window, 2 lower berths, private bathroom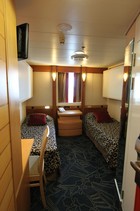 Deck 5, Picture Window, two lower berths, private bathroom
Category 6 - Comfort Twin

Deck 7, Picture windows (partially obstructed) two lower berths, privvate bathroom, refrigerator

Deck 5 and 8, large picture windows (partially obstructed) double bedded only, private bathroom, refrigerator
Category 8 - Superior Twin
Deck 5 & 7, picture windows, twin or double bed, private bathroom, refrigerator
Category 9 - Junior Suite

Deck 5 & 7, picture windows, seperate sitting area, sofa, desk, refrigerator, double bed, private bathroom

Deck 7, picture window overlooking the bow, seperate sitting area, sofa, desk, refrigerator, double bed, private bathroom with bath
Additional charges:
Discovery Fund Fee: 250 USD pp
Ocean Endeavour
Vessel Type: Expedition
Length: 137m
Passenger Capacity: 199
Built: 1982 - refurbished 2010, 2014 & 2017
Ocean Endeavour is a comfortable, well-appointed small expedition ship expertly engineered to explore the Polar Regions. The ship has an ice-strengthened hull, Zodiacs for exploration and remote landings, and advanced navigation equipment. The newly-refurbished vessel offers a superb guest experience with an expansive choice of cabin categories, large cabins and common areas, a sundeck and observation area, plenty of deck space for polar landscape viewing, and lounges for learning and reflection. The ship's interiors have a contemporary aesthetic that provides a bright and spacious feel throughout.
Endeavour is also the only polar adventure ship in Antarctica focused on health and wellness , and offers a contemporary approach to cuisine and newly-designed health and fitness features. Facilities include a spa serviced by organic spa provider VOYA, His & Hers saunas, a salt water pool, a gym, and a juice and smoothie bar. Complimentary activities include yoga and stretching classes, an exclusive Polar Photography program, the Scientists in Residence program, and more adventure activities than any other Quark vessel. The ship also has a polar library, and a Polar Boutique for gifts and any needed gear.
Features of the Ocean Endeavour
VOYA spa treatments and beauty products, Choice of 13 cabin categories, Bright, spacious cabins and common areas, Plenty of deck space for observation, Lounge with expansive views, Quiet zone for contemplation, Newly-refurbished restaurant, Contemporary dining with complimentary wine with dinner, Juice and smoothie bar, Lecture theater, Polar library, Polar boutique, Health and Wellness, Spa treatments and beauty products by spa provider VOYA - Organic Beauty From The Sea, Spa menu for face, body, hair and nails, including the exclusive Quark Explorer's treatment, and signature VOYA hand and foot rituals, Yoga and stretching classes, His & Hers saunas, gym, and heated salt water pool
Full range of adventure activities including: kayaking, camping, mountaineering, cross-country skiing, stand-up paddleboarding, Zodiac cruising, shore landings and hiking/ walking.
Deck plan varies for the trips to Antarctica
Save 15% on Voyages aboard Ocean Endeavour
SAVE 15% Book now and take advantage of early bird savings for the 2020 Ocean Endeavour season. Bookings must be made by October 31, 2019. The early bird savings applies to 2020 Ocean Endeavour expeditions only. Prices online do not show the discounted rates. Terms and Conditions apply, special offer is subject to availability, please contact us for more details.