Follow in the footsteps of early arctic explorers on the Jewels of the Russian Arctic: Franz Josef Land and Novaya Zemlya expedition, voyaging to two of the most isolated, icy archipelagoes in the Russian High Arctic. From the mountains of Novaya Zemlya to the wildlife sanctuary of Franz Josef Land, these are rugged and essentially uninhabited landscapes that few have ever experienced. There's no shortage of amazing adventures in these remote regions, where ice-capped peaks soar majestically out of the water and polar bears wander in their natural environment.

The Arctic has been inspiring explorers for centuries, and our expeditions offer the chance for you to discover why. We're excited to host you on your unforgettable adventure! Feel free to reach out to our team of Polar Travel Advisers or your travel professional, who can answer your questions and provide assistance at any time.
---
Highlights

• Explore this rarely visited region of the Russian Arctic

• Encounter iconic arctic wildlife, such as polar bears, walrus and seabirds

• Explore glaciated Novaya Zemlya, where the earliest Arctic explorers overwintered

• Visit significant sites at Franz Josef Land and learn about the region's storied history



Your Arctic adventure begins in Helsinki, renowned for its extraordinary architecture and intriguing mix of eastern and western influences. If you arrive early, explore the many museums, galleries and restaurants, relax at a Finnish sauna or wander the vibrant Design District before retiring at your included hotel.

After breakfast, we will transfer to the airport and board our private charter flight to Murmansk, Russia. Once aboard, get acquainted with the ship and crew and settle in for your voyage north.

As we sail through the Barents Sea, your Expedition Team will prepare you for the adventures that await. Learn about the storied history and politics of the region, its fascinating wildlife, geology, ecology and climate, and the incredible sights you will soon explore. Staff will keep a lookout for seabirds, such as kittiwakes, skuas and fulmars soaring above your ship. Whale and seal sightings may also be possible in this biologically diverse sea.

The largest of the Eurasian arctic archipelagoes, the rarely visited Novaya Zemlya ("New Land") is the third-largest wilderness area in Europe. This seemingly long, narrow island actually consists of two main islands, Severny (northern) and Yuzhny (southern), separated by the imposing Matochkin Strait. As we explore Novaya Zemlya, expect a new adventure every day. Each expedition will be unique, depending on the weather and ice, but a few landing sites we strive to visit include Inostrantseva Bay, the Oransky Islands, Cape Zhelaniya, Cape Spory Navalok and Russkaya Gavan. Boasting one of the most picturesque glaciers in the entire archipelago, Inostrantseva Bay provides breathtaking panoramic views of pristine arctic wilderness. If conditions allow, we may explore ashore, or Zodiac cruise along the face of the glacier, at a safe distance, possibly witnessing the wonders of calving ice. Encounters with Brünnich's guillemots (thick-billed murres) are likely, owing to a small colony in the coastal cliffs. To the northwest side of Severny Island are the Oransky Islands. Wildlife abounds here, with a variety of animal and plant life to be discovered, Walrus have been sighted here on many previous expeditions. Coming across a walrus haul-out is unforgettable. These giant pinnipeds of the Arctic create a raucous as each walrus vies for a choice spot of coastline. Encounters with whales and seabirds are possible, as well as polar bears, a genetically distinct subpopulation here. A significant site in polar exploration, Novaya Zemlya also offers a number of opportunities for you to trace the footsteps of famous explorers and reflect on the region's history.

Bid farewell to Novaya Zemlya as we cruise farther north to Franz Josef Land. There are several activities to keep you engaged while at sea. Attend presentations by your Expedition Team, relax in our polar library or simply spend some time on deck, admiring the sea.

This remote group of 191 islands, many covered in ice, forms the most northerly archipelago in Eurasia and lies entirely within the Arctic Circle. A nature reserve, it is part of the Russian Arctic National Park. Weather and ice conditions will shape our exploration, but we do hope to explore historical sites, remote seabird colonies and walrus haul-out at some notable destinations, such as Cape Flora, Cape Norway, Bell Island and Tikhaya Bukta. Polar bear encounters are also possible. On Jackson Island, Cape Norway is where Norwegian explorers Fridtjof Nansen and Hjalmar Johansen wintered from 1895 to 1896. The conditions were astonishingly difficult, but they survived until the summer and continued their journey south. The remains of their small hut are still here today, along with a memorial marking the event. Exploring Tikhaya Bukta (Calm Bay), the site of an abandoned weather station on Hooker Island, will feel like stepping back in time. There is plenty to discover as you wander the ruins, immersed in Russian polar history, and you may even be able to send a postcard from the post office! The Stolichky and Appolonov Islands offer plentiful walrus encounters, as the lumbering giants can be found hauled out here. If ice and weather are in our favor, we'll explore the area by Zodiac, at a safe distance, to view these pinnipeds of the Arctic in their natural habitat.

As your Arctic expedition winds down you have a couple of days to sail through this wildlife-rich sea, where whales of various species are often seen. Take in a presentation, reminisce about your incredible journey with your shipmates, relax in the lounge while swapping stories and photos or enjoy the solitude of the sea. Expedition staff will be on hand to answer any remaining questions and spot wildlife.

Returning to Russia's most northerly city, you'll have time to bid farewell to your Expedition Team and crew before catching our group charter flight back to Helsinki, where you will have one more night in this exquisite city.

After breakfast, spend time exploring more of the Finnish capital or catch your homeward-bound flight.

Embracing the unexpected is part of the legacy – and excitement – of expedition travel. There are no guarantees that we can achieve everything we set out to accomplish. A measure of flexibility is something all of us must bring to a voyage. There are nearly 200 recognized sites in the Antarctic Peninsula and South Shetlands and the places mentioned above may be changed to others equally as interesting.
| | | |
| --- | --- | --- |
| 22 July, 2022 to 06 August, 2022 | | Book now |

A Triple Cabin has two lower berths and one upper berth, private facilities, and a porthole with exterior views.

A Lower Deck Twin cabin has two lower berths, private facilities, and a porthole with exterior views.

A Main Deck Twin Porthole cabin has two lower berths, private facilities, and a porthole with exterior views.

A Main Deck Twin Window cabin has two lower berths, private facilities, and two windows with exterior views.

A Superior cabin has two lower berths, private facilities, and windows with exterior views. Note: this cabin has either corner or parallel bed configuration.

A Deluxe Cabin has two lower berths, private facilities, and windows with exterior views.

A Suite has a double bed, windows with exterior views, private facilities. Cabin 403 has a bathtub; other Suites have showers.

An Owner's Suite has a double bed and private sitting room. One features a large panoramic window facing aft, and the other two suites face port and starboard.
Additional charges:
MANDATORY TRANSFER PACKAGE: 1995 USD pp
Ocean Adventurer
Vessel Type: Comfortable Expedition
Length: 90 metres
Passenger Capacity: 118
Built / refurbished: 1975 / 1998 / 2017 - re-named to the Ocean Adventurer in June 2017
Ocean Adventurer is designed to carry 132 travelers in comfort to the most remote corners of the world. Originally built in Yugoslavia in 1976, this nimble, ice-strengthened ship has become a passenger favourite over the years and underwent refurbishments in 1999 and 2002 with the most significant being in 2017.
With the latest rounds of refurbishments guests will enjoy:
• A refreshed, contemporary new look and feel throughout the ship.
• The addition of six new twin cabins and three new suites.
• All existing cabins will be furnished with all new soft furnishings and brand new bathrooms.
• Main common areas such as the Lounge and Dining Room will be remodeled as well as the Bar.
• Major technical enhancements – include two new Rolls Royce engines, which will significantly increase fuel efficiency and minimized carbon footprint.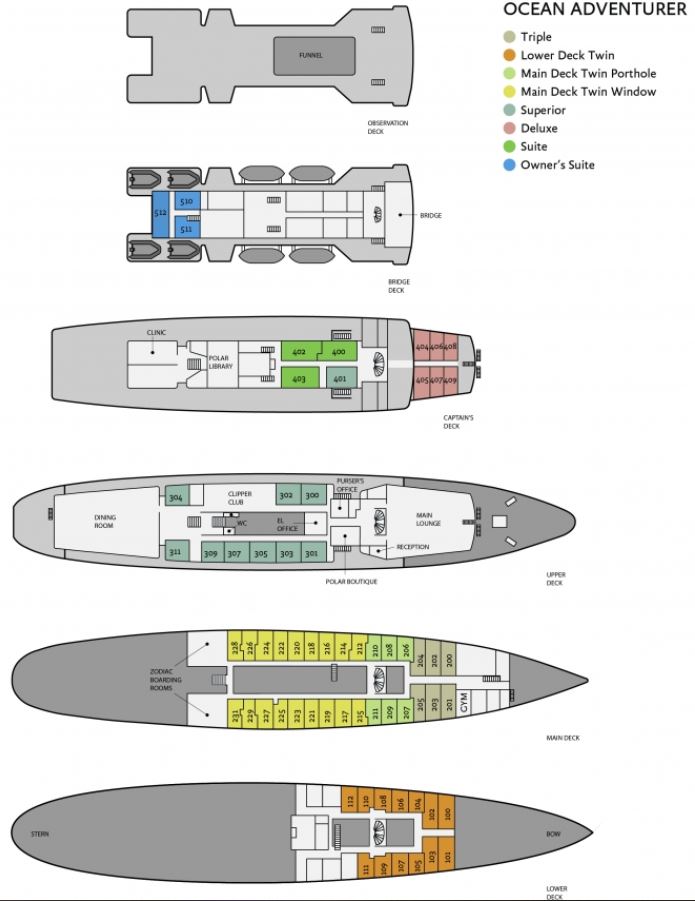 Inclusions

• Voyage in selected cabin category
• Rubber boots for use throughout the voyage
• Expedition Parka to keep
• Experience Expedition leader and team
• All shore landings and zodiac cruises as specified in the itinerary
• All meals while on board the ship
• Soft Drinks, Juice, Tea and Coffee while on board the ship
• Beer and Wine with dinner
• Lectures and presentations on board held by Expedition team and guest speakers as scheduled
• Photographic journal of the expedtion
• Luggage handling on board the ship
• Emergency Evacuation insurance up to a maximum of USD$500,000.00 per person
• All port charges/taxes
• Russian invitation letter for visa application (provided after final payment)
---
Exclusions

• International and Domestic airfares unless specified
• Passport and Visa costs if applicable
• Meals ashore unless specified
• Travel insurance including cancellation insurance
• Mandatory waterproof pants - required for zodiac cruises and landings
• Any items of a personal nature including medical costs incurred on board
• Phone and Internet charges incurred on board
• Gratuities
• Transfers other than those specified in inclusions
• Pre and post voyage accommodation unless stated in the itinerary
• Optional excursions (Eg kayaking where available)
• Arrival and departure transfers in Helsinki
• Mandatory transfer package. Includes: One night's pre- and post-expedition hotel accommodation in Helsinki, Round-trip flights from Helsinki to Murmansk, Transfers to and from the ship in Murmansk, Transfers between the airport and hotel in Helsinki in conjunction with charter flight
PACKAGE PRICE: USD$1,995.00 per person.
• Gratuities or tips are always at your discretion. We recommend that you budget $10 to $15 per person per day, if you are pleased with the service on board. Gratuities are collected anonymously at the end of each voyage. They are distributed among staff and crew. Payment can be made in cash or charged to your shipboard account.