Neon-lit cities, jagged skyscrapers; paths running under vermilion torii gates that lead to sublime Shinto shrines; ancient forests; smoking volcanoes; centuries-old Buddhist temples hidden within a maze of alleyways: it's no wonder that Japan tops a travel wish list. Explore this intriguing country on a luxurious 12-day cruise to spectacular locales, including Kobe, Takamatsu, Hiroshima, Kagoshima and Yokohama. As if all that wasn't enough, dip into South Korea with its tea plantations, ancient temples, trendy neighbourhoods and idyllic off-shore islands. Experience both countries in style and comfort, aboard a luxurious ship crewed by a passionate and knowledgeable team.
---
Highlights

• Pay homage to Kumano Hayatama Taisha, one of the three Kumano Sanzan shrines connected by the famed Kumano Kodo.

• Visit Busan in South Korea to get to know Seoul's languid little-sister of a town, and explore Jeju, a Korean tropical paradise.

• Savour a visit to Shimonoseki, Japan's fugu-focussed city.

• Reflect on Japan's history and witness a heartfelt commitment to world peace in Hiroshima.

• Explore a monument to a bygone age at Himeji Castle, one of Japan's remaining feudal castles.



Your 12-day luxury expedition cruise starts in Kobe on Osaka Bay. It's famed for its beef, but there's so much more to discover about this buoyant port city: a vibrant music scene, memorable museums, a laid- back atmosphere and, of course, an urban waterfall. The Takenaka Carpentry Tools Museum, which narrates the story of Japanese architecture and woodworking, is excellent. For an art fix, visit the Tadao Ando-designed Hyogo Prefectural Museum of Art and the Yokoo Tadanori Museum of Contemporary Art. The Great Hanshin-Awaji Earthquake Memorial Museum is moving. And for views of, firstly, the Nunobiki Falls, and then the urban sprawl and even the Seto Inland Sea (on a good day), ride the Shin- Kobe Ropeway to the mountain-top observation deck, then wander downhill through the Nunobiki Herb Garden. Having explored if timings allow, board your ship and settle into your cabin or stateroom. Take time to explore your home from home's luxurious facilities.

Castles have a timeless allure for travellers. They allow visitors to live out their fairytale fantasies, but also showcase staggering architecture and show off stunning locations. Himeji Castle is easily one of the most recognisable castles in Japan, and it's the primary reason that this city in the Hyogo Prefecture is on the tourist trail. UNESCO-listed Himeji-jo is the finest surviving example of early 17th-century Japanese castle architecture. A fortification on the hilltop site was initially built in 1346 by Akamatsu Sadanori. Then in 1601, Ikeda Terumasa was handed control of the site, and following a nine-year remodelling programme, Himeji took on its present form. Unlike many other Japanese castles, it was never destroyed by war, earthquake or fire and survives today as one of the country's twelve original castles. Also called Shirasagi-jo (White Heron Castle), due to its white outer walls, this place is a national treasure and serves a monument to the glories of an earlier age.

Arrive this morning in Takamatsu, the capital of Kagawa Prefecture, on the island of Shikoku. The city offers a refreshing small-city perspective on Japanese urban life. A day in Takamatsu wouldn't be complete without a trip to Ritsurin Park, one of Japan's most exquisite gardens. An expansive space, Ritsurin was begun by a feudal lord in the 17th century and took 100 years to establish. Visitors should dedicate several hours to these immaculately maintained gardens, where shaded clearings give way to sun-dappled paths, which wind around pretty ponds and lead to bright red bridges over gentle streams. Enclosed within the garden are the Sanuki Folkcraft Museum and several lovely teahouses in which visitors can sip matcha. Another park, Tamamo-koen, contains the ruins of the city's 16th-century castle Takamatsu-jo. Like many of Japan's castles, it was decommissioned in 1869 following the Meiji Restoration, and nowadays only several original turrets, some walls and a moat survive.

Disembark for a poignant day of memorials and shrines. Your first port of call is the tranquil Miyajima Island, site of the iconic red floating torii gate of the Itsukushima Shinto shrine, and the Daisho-in Buddhist shrine. Ascend sacred Mount Misen by cable car for the island's most beautiful walk, amidst a primaeval forest. Take a moment to admire the views of the torii gate and the Shinto shrine from above. Then it's off to Hiroshima when you might like to visit Hiroshima Peace Park and Museum, a UNESCO World Heritage Site which was designed by Kenzo Tange and inaugurated in 1955. The museum is now a national and international symbol for peace. Reflect on the bombing as you gaze at the sombre cenotaph containing the names of the victims. See the Flame of Peace lit in 1964, and the iconic Genbaku Dome, the only structure left standing at the blast site. Or you might opt to discover Japan's breath-taking architecture at the reconstruction of feudal Hiroshima Castle, also known as Carp Castle.

This beautiful historic city, located at the southwestern tip of Honsho, is more than just a feast for the eyes. Surrounded on three sides by ocean, the Seto Inland Sea, the Hibiki-nada Sea, and the Sea of Japan, Shimonoseki is famous for its fugu (also known as puffer or blowfish). This Japanese delicacy is so poisonous that even a small mistake in preparation could be fatal – and Shimonoseki is Japan's 'pufferfish capital'. Visit the Karato Ichiba fish market to see this fish being sold, prepared and even eaten. Other attractions in and around the city include The Kaikyokan Shimonoseki Marine Science Museum; Akama-jingu Shinto shrine; Kozan-ji Buddhist temple, a designated 'National Treasure of Japan' that dates from 1327; the 1,780-metre-long Tsunoshima Bridge, which connects the island of Tsunoshima (part of Shimonoseki city) with Honshu.

Disembark and spend a day exploring Busan, South Korea's second city. Seoul's languid little sister, Busan is home to miles of beaches, rugged mountains, and delicious seafood. Moreover, there's also kinetic energy here that can be enjoyed in its cafes, boutiques and arts scene. Where to start in this dynamic city? How about from above? From the 120-metre Busan Tower, you can really get a sense of the cityscape. Head to the beach, there are six to choose from, including Haeundae and Gwangalli. Gamcheon Culture Village, once a slum, is a colourful haven of art. The Haedong Yonggungsa Temple is a beautiful beachside Buddhist temple. And Jagalchi is the largest fish market in the country. All that and so much more besides.

Spend today exploring the island that is known as the 'Hawaii of Korea'. Jeju, located in the Korea Strait just off the southern tip of the peninsula, is the country's largest island. An incredibly popular vacation spot for Koreans, there are white sandy beaches and crystal-clear waters to admire, the world's most extensive lava tube cave system to explore, and Hallasan, the island's dormant volcano and Korea's highest mountain to climb. Aside from the natural beauty, there are also other delights to be enjoyed including drinking in the Osulloc Tea Museum, seeing the dol hareubang (basalt grandfather statues) and exploration of the culture of the haenyeo. These female free divers dive up to 10 metres underwater to gather shellfish such as abalone or sea urchins.

Disembark to explore Sasebo's international charms. The second-largest city in the Nagasaki Prefecture, Sasebo is the site of a large U.S. military base. Savour the American influence as you tuck into an eponymous hamburger. Then it's off to the Huis Ten Bosch, a Dutch-themed park which celebrates historical relations between the Netherlands and Japan dating back to 1609 when the Dutch opened a trading post in Hirado, not far from Sasebo. Despite all that, today's essential exploration is of the Kujukushima island, located in Sakai National Park. Though called the '99 Islands', there are 208, mostly uninhabited. As you cove-hop, you may recognise the views from The Last Samurai movie, in which they had a starring role.

Spend today in Kagoshima – Japan's friendliest city, located on the southwest tip of Japan's Kyushu Island. Visitors enjoy the hospitable welcome, but also wandering the palm-lined streets and enjoying the mild climate. Beyond this small city's mix of classic Japanese architecture and modern high-rise structures, Kagoshima also has a notable spattering of Art Deco buildings, which celebrate this architectural period's optimism and hope. Look beyond the building tops, and you'll see Mount Sakurajima, an active volcano on an island just three miles away that dominates the skyline here. It regularly smokes – visit one of the observation points for dramatic views. You can get there by ferry. Other good volcano-viewing spots are mountain-top Shiroyama park's look-out point and Sengan-en Garden, a coastal garden that includes ponds, streams, shrines and a bamboo grove.

Day 10 gives you the chance to relax and watch the world go by, as you cruise from Kagoshima to Shingu. Spend the day at sea savouring the ship's facilities and learning about Japan's many facets from the knowledgeable onboard experts. Listen to an enriching talk, indulge in a relaxing treatment at the spa, work out in the well-equipped gym, enjoy some down-time in your cabin, share travel reminiscences with newly found friends: the options are numerous.

Disembark today in a small city of about 30,000 residents on the southeast coast of the Kii Peninsula. Shingu, which is synonymous with shrines, is home to Kumano Hayatama Taisha Shrine. Together with Kumano Hongu Taisha and Kumano Nachi Taisha, it's one of the three Kumano Sanzan Shrines connected by the Kumano Kodo. This ancient pilgrimage route has been designated a world heritage site by UNESCO, and it's been twinned with the Camino de Santiago. Hayatama Taisha is dedicated to Hayatama-no-Okami, the god said to rule the workings of nature and, by extension, all life. The current building is a reconstruction, but the site on the Kumano Riverbank dates to at least the 12th century. While paying homage at this renowned place, you'll notice a massive Asian bayberry tree, believed to be eight centuries old.

Your Japan In Depth cruise ends today in Yokohama. Having disembarked after breakfast, be sure to explore if you have time before beginning your journey home or onwards. Japan's second-biggest city, Yokohama lies within the greater Tokyo area, but it's an unmissable destination in its own right. Its happening harbour, Minato Mirai 21, was redeveloped in the 1980s. This neon-lit space includes the Landmark Town, Japan's tallest building when it opened in 1993. Ascend to the 69th floor to visit the 'Sky Garden' for views of the bay, the Cosmo World Ferris Wheel and even Mount Fuji. Also on the waterfront is the Yokohama Cup Noodle Museum. Still, if you don't fancy that, you could opt instead to visit the Kirin Beer Factory or the Shin-Yokohama Ramen Museum. And if all that's whetted your appetite, make your way to Chinatown, reputedly Asia's largest with more than 200 restaurants from which to choose.

Itineraries are subject to change.

19 m2 Sleeps 2 Oceanview cabins features 2 single beds, bedroom and living room and a luxurious ensuite bathroom.

28 m2 Sleeps 2 Features 2 single beds, bedroom and living room, a luxurious ensuite bathroom and your own private 6 sq.m. balcony.
44 m2 Sleeps 2 Our Suites features a superking bed and separate living room with and a soothing flame-effect fireplace a luxurious ensuite bathroom and a 12 sq.m. private balcony.

49 m2 Sleeps 2 Our grandest suites features a superking bed and separate living room with and a soothing flame-effect fireplace a luxurious ensuite bathroom, spacious walk in wardrobe and a 12 sq.m private balcony.
Minerva
Vessel Type: Expedition Ship
Length: 115 meters
Passenger Capacity: 152
Built: 2020-2021
Arriving in November 2021, our 5 star elegant Scandi-design boutique ship offers you an intimate setting from which you will be fully immersed in all the sights and scenery of your voyage.
Introducing SH Minerva
Our brand new ship has been designed to journey to off the beaten path destinations and remote polar regions in style and comfort. The ship incorporates a PC5 ice-strengthened hull combined with extra-large stabilisers to make your journey as smooth as possible.
Sophisticated Elegance
We know how important outdoor space is, so our spacious, relaxing public spaces provide wide open, unobstructed views throughout the ship. The destination will always be in view.
Your Wellbeing
The safety & happiness of our guests is paramount to our 120-strong crew on board as well as our passionate expedition team who'll be serving up thrilling shore excursions and lasting memories.
Cabin Types
Our 76 cabins including 6 suites have all the amenities you will need to feel comfortable including dressing gowns, hairdryers, personal safes and minibars. Our stylish cabins all have desks, a dressing area and comfy seating. En suite bathrooms all feature glass-enclosed rain showers.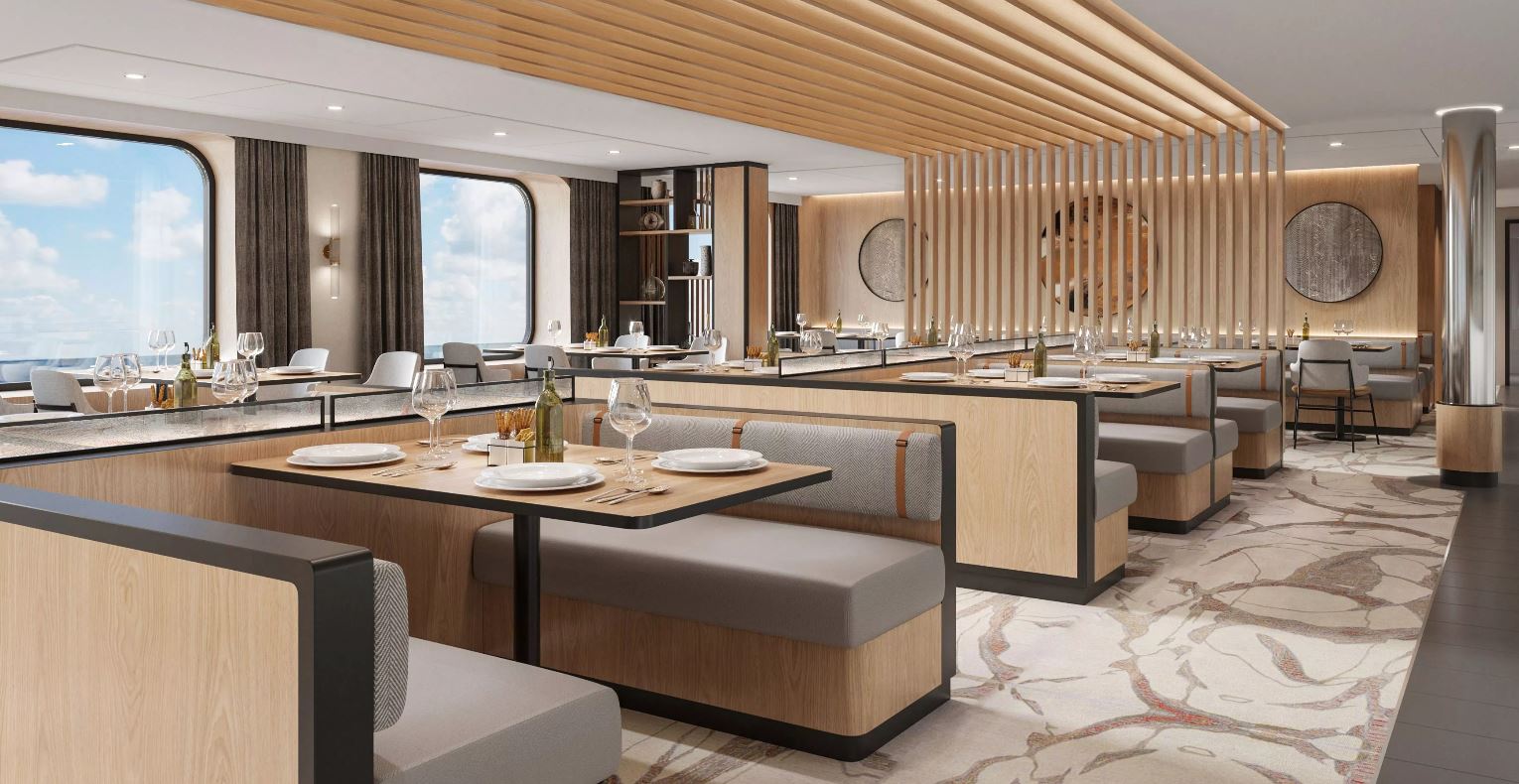 Inclusions

INCLUSIONS FOR ARCTIC & RUSSIA FAR EAST CRUISES
• One night pre-cruise hotel accommodation with breakfast
• Transfer from the airport to the hotel on the day prior to embarkation
• Transfer from the hotel to the port for embarkation
• Transfer from the port to the airport on return
• Onboard accommodation
• All meals onboard including room service 24 hours a day
• Coffee, tea, soft drinks & select alcoholic beverages 24 hours a day
• Lecture programmes by our experienced expedition team and guest speakers
• Shore excursion programme led by our expert expedition team
• Branded Swan Hellenic expedition parka
• Use of rubber boots for shore landings
• Basic WIFI inclusion (Premium WIFI available)
• Onboard gratuities & port taxes

INCLUSIONS FOR ANTARCTICA CRUISES
• Return flights: Buenos Aires to Ushuaia or Santiago to Ushuaia
• One night pre-cruise hotel accommodation with breakfast
• Transfer from the airport to the hotel on the day prior to embarkation
• Transfer from the hotel to the port for embarkation
• Transfer from the port to the airport on return
• Onboard accommodation
• All meals onboard including room service 24 hours a day
• Coffee, tea, soft drinks & select alcoholic beverages 24 hours a day
• Lecture programmes by our experienced expedition team and guest speakers
• Shore excursion programme led by our expert expedition team
• Branded Swan Hellenic expedition parka
• Use of rubber boots for shore landings
• Basic WIFI (Premium WIFI available)
• Onboard gratuities & port taxes

INCLUSIONS FOR REST OF WORLD CRUISES
• One night pre-cruise hotel accommodation with breakfast
• Transfer from the airport to the hotel on the day prior to embarkation
• Transfer from the hotel to the port for embarkation
• Transfer from the port to the airport on return
• Onboard accommodation
• All meals onboard including room service 24 hours a day
• Coffee, tea, soft drinks & select alcoholic beverages 24 hours a day
• Lecture programmes by our experienced expedition team and guest speakers
• On shore transfer per port of call
• Basic WIFI inclusion (Premium WIFI available)
• Onboard gratuities & port taxes

---
Exclusions

• Additional activities such as kayaking, private tours, special arrangements, private Zodiac tours
• Laundry
• Premium wines and spirits
• Purchases in the ship's boutique
• Any spa treatments
• Upgraded WiFi data packages
• Visas where required
• Travel Insurance
• Flights
• Domestic transfers
• Hotel requirements (pre/post cruise) unless otherwise stated in the itinerary description