Explore a mystical land shaped by fire and ice on this excursion to the ancient Viking stronghold of Iceland. Voyaging aboard the Ocean Endeavour, you'll see Iceland at its best and most diverse. Marvel at the geological wonders of this island at the edge of the Arctic Circle, exploring its unforgettable culture, history, and people—from small fishing communities, to the ancient and modern capital, Reykjavík.

First settled in 874 AD, Iceland today is the most sparsely populated country in Europe—yet it may also be the most dramatic. Volcanically and geologically active, Iceland is famed for its awe-inspiring lava fields, mountains, glaciers, and glacial rivers. Natural wonders and a stirring history await on Iceland's rugged shores. Join us as we set sail in the wake of the sagas of old.
---
Highlights

• Search for whales in the rich, productive waters of Húsavík

• Visit traditional fishing villages dating back more than eight hundred years

• Explore pristine fjords and volcanic landscapes unlike any on Earth

• Marvel at bird colonies up to a million strong

• Soak up the culture in Reykjavík, one of the cleanest and greenest cities in the world

• Trace the routes of the Icelandic sagas' heroes



Reykjavik, or "steamy bay" is a cosmopolitan capital city and as much a part of the Icelandic experience as volcanoes, glaciers, and the midnight sun. Entirely powered by geothermal energy harnessed from the Earth, the city boast crisp, clean, and pollution free air, as well as thermally heated streets and sidewalks. It is among the cleanest, greenest, and safest cities in the world, and is believed to be the location of the first permanent settlement in Iceland, established in AD 874. The Culture House, which opened in 1909, was originally built to house the National Library and National Archives of Iceland; in 2000, it was remodeled to promote Icelandic national heritage, including treasures like the Poetic Edda, and the Norse Sagas in their original manuscripts. Here, we embark the Ocean Endeavour. We depart Reykjavik in the evening.

This area is often called "Iceland in Miniature" because of its diverse landscapes. These include bird-rich Breidafjördur Bay and the Snaefellsjökull glacier, sitting atop the dormant volcano that was featured in Jules Verne's Journey to the Center of the Earth. Stykkishólmur is the region's namesake community, home to a natural harbour ideal for fishing. The first trading post here was established in the late sixteenth century. The nearby mountain of Helgafell is the burial place of Guðrún Ósvífursdóttir, heroine of the Icelandic saga. The area was featured in the 2013 film The Secret Life of Walter Mitty.

Isafjördur (meaning "ice fjord or fjord of ice") is an idyllic town in the Westfjords region. Connected to the Icelandic mainland only by a narrow strip of land, this secluded peninsula includes many roadless areas. The landscape includes jaw-dropping views of dramatic fjords carved by ancient glaciers, and sheer table mountains that plunge into the sea. Thousands of puffins inhabit tiny Vigur Island, and the splendid Dynjandi waterfall is renowned for its beauty. Fishing has always been Isafjördur'smain industry. It has one of the largest fisheries in Iceland, and is home to the University Centre of the Westfjords, which offers two master's degree programs: one in Coastal & Marine Management, and the other in Marine Innovation. The local folk museum contains the oldest house in Iceland, built in 1734.

Iceland Circumnavigation June 30- July 10, 2018Iceland Circumnavigation June 30- July 10, 2018Iceland Circumnavigation June 30- July 10, 2018Iceland Circumnavigation June 30- July 10, 2018Iceland Circumnavigation June 30- July 10, 2018 12345Iceland Circumnavigation June 30- July 10, 2018June 30, 2018 - July 10, 2018FROM$2,995VIEW THE BROCHUREGET MORE INFOOVERVIEWITINERARYDATES & PRICESVESSELLEADERSDETAILSHIGHLIGHTSBROCHURE DAY5 Siglufjördur & Grimsey DAY6 Akureyri DAY7 Húsavík DAY8 Seydisfjördur DAY9 Djupivogur DAY10 Vestmannaeyjar (Westman Islands) DAY1-2 Reykjavík DAY3 Stykkishólmur DAY4 Isafjördur prev nextThe fjord town of Siglufjördur was once the hub of the global herring industry and is now enjoying a rebirth in popularity. The award-winning Herring Era Museum, located on the vibrant harbourfront, celebrates the golden age of the herring fishery. The town remains dependent on fishing, although the herring population has been depleted. The old mountain road to Siglufjördur—the only connection to the rest of the country before the construction of a tunnel system—is open during the summer. The highest-elevated road in Iceland, it is used today for hiking, horseback riding, and driving. About forty kilometres off the mainland, Grimsey Island lies on the Artic Circle, which means that it experiences midnight sun in the summer. With a stunning population of nearly a million seabirds, including puffins, guillemots, and gulls, the island experiences a cacophony of bird calls around the clock as well. Grimsey's hundred or so inhabitants are served by a ferry three times a week.

Iceland's second-largest urban area, Akureyri is nicknamed the Capital of North Iceland. The relatively mild climate and ice-free harbour have played a significant role in the town's history since its settlement in the ninth century—including offering a base for Allied units during the Second World War. The town is surrounded by mountains, which shield it from strong winds. Nearby Lake Myvatn offers stunning contrasts: one side of the lake features rugged volcanic remnants, while the other side is blessed with lush vegetation and varied bird life.

On the shores of Skjalfandi Bay lies the town of Húsavík. Often called the "Whale Capital" of Iceland, the local waters are home to fifteen different whale species, as well as dolphins and thirty varieties of birds. The Húsavík Museum is located by the harbour. There are numerous other museums, including the Exploration Museum, which includes artifacts from Apollo astronaut training in the area, as well as a transportation museum, and a turf house museum.

The picturesque port of Seydisfjördur is nestled between the sea and steep mountains at the tip of its namesake fjord. The town of seven hundred or so is known among other things for its flourishing art scene. Connected to the Icelandic Ring Road, Seydisfjördur welcomes car ferries from Denmark and the Faroes. The fjord itself is quite remote, and is home to a booming puffin colony and ruins of a former church at nearby Vestdallseyri. Local activities include seal-spotting, horseback riding, kayaking, and guided hikes of the Vestadalur area, which features numerous waterfalls.

By the early-nineteenth century, Djúpivogur fishing village in southeast Iceland was a tiny port with a Danish colonial trading base. Hans Jonatan, who had been a slave in Copenhagen, escaped there and became one of Iceland's first people of colour. The village is the starting point for an optional excursion to Vatnajökull glacier. The nearby coastline is defined by three fjords— Berufjörður, Hamarsfjörður, and Álftafjörður. Approximately a kilometre west of the town is a work of art named "Eggin í Gleðivík" (The Eggs of Merry Bay) by Sigurður Guðmundsson, a series of thirty-four large stone replicas of the eggs of local birds.

Vestmannaeyjar lies off the south coast of Iceland and comprises fourteen islands in addition to a number of rocks and skerries. Only the archipelago's largest island, Heimaey, is inhabited, though several of the outlying islands have small cabins used during bird-hunting season. Since the early days of Heimaey's occupation, fishing has been the principal way of life for its inhabitants. Today, the island is home to two large processing plants and a robust freezing and shipping industry, which supplies fish to European markets. Numerous species of seabirds nest in the steep rock faces along the ocean cliffs and high on the bluffs surrounding the island. Highly volcanically active, the area has seen two major eruptions in recent times: the formation of the island of Surtsey in 1963, and the Eldfell eruption ten years later that destroyed much of Heimaey and nearly choked off the harbour with lava.

The itineraries/programs described are subject to change at the discretion of the ship's master.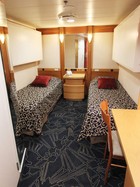 Deck 4, Interior Cabin, four lower berths, private bathroom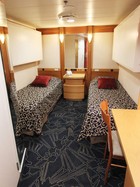 Deck 4, Interior cabinm three lower berths, private bathroom
Category 3 - Interior Twin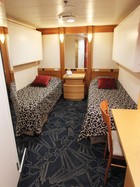 Deck 5, Interior cabin, two lower berths, private bathroom. Available for sole use
Category 4 - Exterior Twin

Deck 4, porthole window, 2 lower berths, private bathroom
Deck 5, Picture Window, two lower berths, private bathroom
Category 6 - Comfort Twin
Deck 7, Picture windows (partially obstructed) two lower berths, privvate bathroom, refrigerator

Deck 8, large picture windows (partially obstructed) double bedded only, private bathroom, refrigerator
Category 8 - Superior Twin

Deck 5 & 7, picture windows, twin or double bed, private bathroom, refrigerator
Category 9 - Junior Suite

Deck 5 & 7, picture windows, seperate sitting area, sofa, desk, refrigerator, double bed, private bathroom

Deck 7, picture window overlooking the bow, seperate sitting area, sofa, desk, refrigerator, double bed, private bathroom with bath
Additional charges:
Discovery Fund Fee: 250 USD pp
Ocean Endeavour
Vessel Type: Expedition
Length: 137m
Passenger Capacity: 199
Built: 1982 - refurbished 2010, 2014 & 2017
Ocean Endeavour is a comfortable, well-appointed small expedition ship expertly engineered to explore the Polar Regions. The ship has an ice-strengthened hull, Zodiacs for exploration and remote landings, and advanced navigation equipment. The newly-refurbished vessel offers a superb guest experience with an expansive choice of cabin categories, large cabins and common areas, a sundeck and observation area, plenty of deck space for polar landscape viewing, and lounges for learning and reflection. The ship's interiors have a contemporary aesthetic that provides a bright and spacious feel throughout.
Endeavour is also the only polar adventure ship in Antarctica focused on health and wellness , and offers a contemporary approach to cuisine and newly-designed health and fitness features. Facilities include a spa serviced by organic spa provider VOYA, His & Hers saunas, a salt water pool, a gym, and a juice and smoothie bar. Complimentary activities include yoga and stretching classes, an exclusive Polar Photography program, the Scientists in Residence program, and more adventure activities than any other Quark vessel. The ship also has a polar library, and a Polar Boutique for gifts and any needed gear.
Features of the Ocean Endeavour
VOYA spa treatments and beauty products, Choice of 13 cabin categories, Bright, spacious cabins and common areas, Plenty of deck space for observation, Lounge with expansive views, Quiet zone for contemplation, Newly-refurbished restaurant, Contemporary dining with complimentary wine with dinner, Juice and smoothie bar, Lecture theater, Polar library, Polar boutique, Health and Wellness, Spa treatments and beauty products by spa provider VOYA - Organic Beauty From The Sea, Spa menu for face, body, hair and nails, including the exclusive Quark Explorer's treatment, and signature VOYA hand and foot rituals, Yoga and stretching classes, His & Hers saunas, gym, and heated salt water pool
Full range of adventure activities including: kayaking, camping, mountaineering, cross-country skiing, stand-up paddleboarding, Zodiac cruising, shore landings and hiking/ walking.
Deck plan varies for the trips to Antarctica