On this voyage, we experience the raw natural beauty of Greenland's western and southern coasts before exploring how Inuit culture and communities have spread to eastern Canada, intertwined with the history of Canada's early Settlers. Naturally, you can also expect there to be beautiful landscapes and plenty of wildlife-spotting opportunities.

Included in your voyage

Flights
Flight in economy class from Copenhagen to Kangerlussuaq

Transfers
Transfer in Kangerlussuaq from airport to the ship
---
Highlights

• Discover stunning landscapes, including the UNESCO Ilulissat Icefjord in Greenland

• Meet local Inuit during visits to remote yet welcoming communities in Greenland and Canada

• Fascinating in-depth look at the cultures and histories of Greenland and Canada

• Opportunities to see wildlife such as whales and a variety of seabird species



Starting with a flight from Copenhagen, you arrive late in the evening at the international airport in Kangerlussuaq. After a transfer to the port and embarkation on your expedition ship MS Fridtjof Nansen, we will sail almost the entire length of the fjord (190km) before reaching the open sea.

Sisimiut is the second largest town in Greenland, situated 40 km north of the Arctic Circle. It is a modern, growing settlement with a history that goes back 4,500 years. For example, its name means `The People Living in a Place of Fox Dens´. Visit the museum, shop for handicrafts, or hike in the hills.

The stunning scenery of the Ilulissat Icefjord has earned it the designation as a UNESCO World Heritage Site. At the mouth of the fjord you can see enormous icebergs that have run aground. These ice masses originate from the Jakobshavn Glacier, one of the fastest-moving and productive glaciers in the world.

We now arrive at the northernmost point in our itinerary. There are several excellent landing sites in Vaigat Sound offering breathtaking landscape and Arctic flora. Our experienced captain and Expedition Leader will take advantage of the current weather and ice conditions to identify our activity for the day.

On one side of the meandering Evighed Fjord is an ice cap that often crashes massive chunks of ice into the water. Around us are the highest mountains in West Greenland with peaks, up to 2,000 m (6,600 ft.) in height, sometimes swirling with mist. Conditions on the day will determine the final programme and the range of activities on offer by the Expedition Team.

Nuuk is the oldest town in the nation, founded in 1728. It has a beautiful setting, at the mouth of one of most spectacular fjord systems in the world. This is a place where old and new traditions meet, from picturesque old buildings in "Kolonihaven" to the modern architecture of the Greenland Home Rule structure.

We leave Greenland and head for open sea. We will cross the southern part of the Labrador Sea, sailing towards Newfoundland and Labrador in Canada. Wind down and watch the waves aboard the ship, or enjoy a lecture from the Expedition Team.

Our first call in Canada is this welcoming town in northern Labrador made up of 360 people from diverse backgrounds and heritage. Visit the White Elephant Museum and learn more about the mixed history here, stroll through the inspiring Poet's Path, or hike along the boardwalk for stunning views of icebergs and the Atlantic Ocean.

Located on Hamilton Inlet and nestled in a sheltered cove at the entrance to Lake Melville, this picturesque town is the southernmost officially recognised Inuit community in the world and we will learn about its unique traditions and history. Minke (known locally as 'grumpus') and humpback whales are also commonly observed in the nearby waters.

Preserved in the ice-cold waters, the remains of several 17th century Basque whaling ships have led to the town being designated a UNESCO World Heritage Site. Visit the local museum that documents this interesting history or take the trail up to Tracey Hill for scenic views, and where, legends say, pirate captain Kidd buried treasure.

Located at the mouth of the Bay of Islands and Humber River, Corner Brook is the second largest city in the province and local to the core. Explore the city centre or enjoy its many walking trails along the Humber River, decorated at this time of year with vibrant autumn leaves.

The adventure is drawing to an end. Spend time with the other guests and the Expedition Team reviewing the many exciting experiences you shared during our voyage together.

Your journey comes to an end in Halifax, capital of Nova Scotia. There are red-brick heritage buildings, parks, a landmark citadel, some world-class museums, and a 4km seafront boardwalk. If you can, we definitely recommend spending extra time exploring here with our Post-Programme before you head home.

Hurtigruten offers unique expedition cruises to some of the most remote and pristine waters of the world. As with all expeditions; nature prevails. Weather, and ice and sea conditions, sets the final framework for all Hurtigruten's operations. Safety and unparalleled guest experiences are at all times our top priorities. All our indicative itineraries are continuously evaluated for adaptions, whether this is due to constraints the elements unexpectedly presents – or exciting possibilities nature and wildlife offer. That is why we call it an expedition.
| | | |
| --- | --- | --- |
| 07 September, 2021 to 19 September, 2021 | | Book now |

The Polar Outside cabins are primarily on the middle decks with windows, most are spacious, have flexible sleeping arrangements and TV for excellent and high standard accommodation. Can accommodate two to four passengers.

Arctic Superior class cabins are comfortable and roomy accommodation and most have balconies. Flexible sleeping arrangements, sofa beds, TV and other features make this one of our most popular categories. Our Arctic Superior concept includes a kettle, tea and coffee. Can accommodate two to four passengers.

These suites are large, well-appointed cabins with expansive windows and most have balconies. Some have a private outdoor hot tub. The suites feature flexible sleeping arrangements with comfortable sofas, sitting areas and TV. They can accomodate up to four people. Expedition suites are exclusively in upper and mid-deck locations. Our Expedition Suite concept includes a bathrobe, espresso maker, and more. An exciting welcome gift awaits all suite guests in their cabin.
Fridtjof Nansen
Vessel Type: Expedition
Length: 140 m
Passenger Capacity: 530
Built: 2020
MS Fridtjof Nansen is the latest addition to Hurtigruten's fleet of custom built ships – and the next generation expedition ship. She will explore some of the most spectacular corners of the globe. Featuring Hurtigruten's revolutionary battery hybrid powered propulsion system, MS Fridtjof Nansen will be a near identical twin to her sister ship MS Roald Amundsen. Combining state of the art technology and premium on board experience with Hurtigruten's 125 years of experience and unparalleled destinations, the two Norwegian built ships introduces the next generation of adventure travel.
Cabins and public areas
The stunning scenery will be reflected in a rich and comfortable interior design. Scandinavian materials from nature, such as granite, oak, birch and wool will be used to create relaxed and stylish cabins and public areas. All cabins are outside, 50 % will have private balconies, aft suites will feature private outdoor hot tubs with spectacular views.
Science Center
The core of the onboard experience is the Nansen Science Center, an edutainment venue to guests and crew meet to create a deeper understanding of the areas we explore. Nansen Science Center will also be the on board HQ for the Expedition Team.
Restaurants
MS Fridtjof Nansen's three restaurants will host a variety of dining options, with menus drawn from our rich Norwegian and Nordic tradition, as well as international cuisine and local inspiration. Whether enjoying your meal at Aune Main Dining, Fredheim – the informal international meeting place, or the specialty restaurant Lindstrøm, you will indulge in low key yet refined, modern Norwegian Nordic cooking – where our honest and delicious cuisine reflects our destinations.
After a day of exploring new destinations, guests can relax and rejuvenate in the elegant Explorer Lounge, a large gym and Wellness center, or enjoy the scenery and sunsets on the massive in- and outdoor Observation Decks with the aft infinity pool and hot tubs as one of the highlights.
Everything you need for an expedition cruise
Each expedition voyage is accompanied by a hand-picked team of specialists and modern-day explorers. Highly experienced, passionate and knowledgeable, the Expedition Team will be your guides and guardians on your voyage of exploration, instructing you on safety, sustainability and science. MS Fridtjof Nansen will feature a variety of custom built expedition equipment, including kayaks, a fleet of Blueye underwater drones and Expedition Boats for safe landings in remote areas.
In the footsteps of a great explorer
The newest addition to our fleet will honor the heritage of her namesake – the Norwegian explorer, scientist, humanitarian and Nobel Peace Prize laureate Fridtjof Nansen. Known for his innovations in Arctic expeditions, Nansen led the first crossing of Greenland on cross-country skis. He is perhaps most famous for his attempt to reach the geographical North Pole during the Fram Expedition (1893-1896). Interestingly, after Nansen's Fram expedition, the ship was passed on to another great explorer who secretly planned an expedition to the South Pole - Roald Amundsen.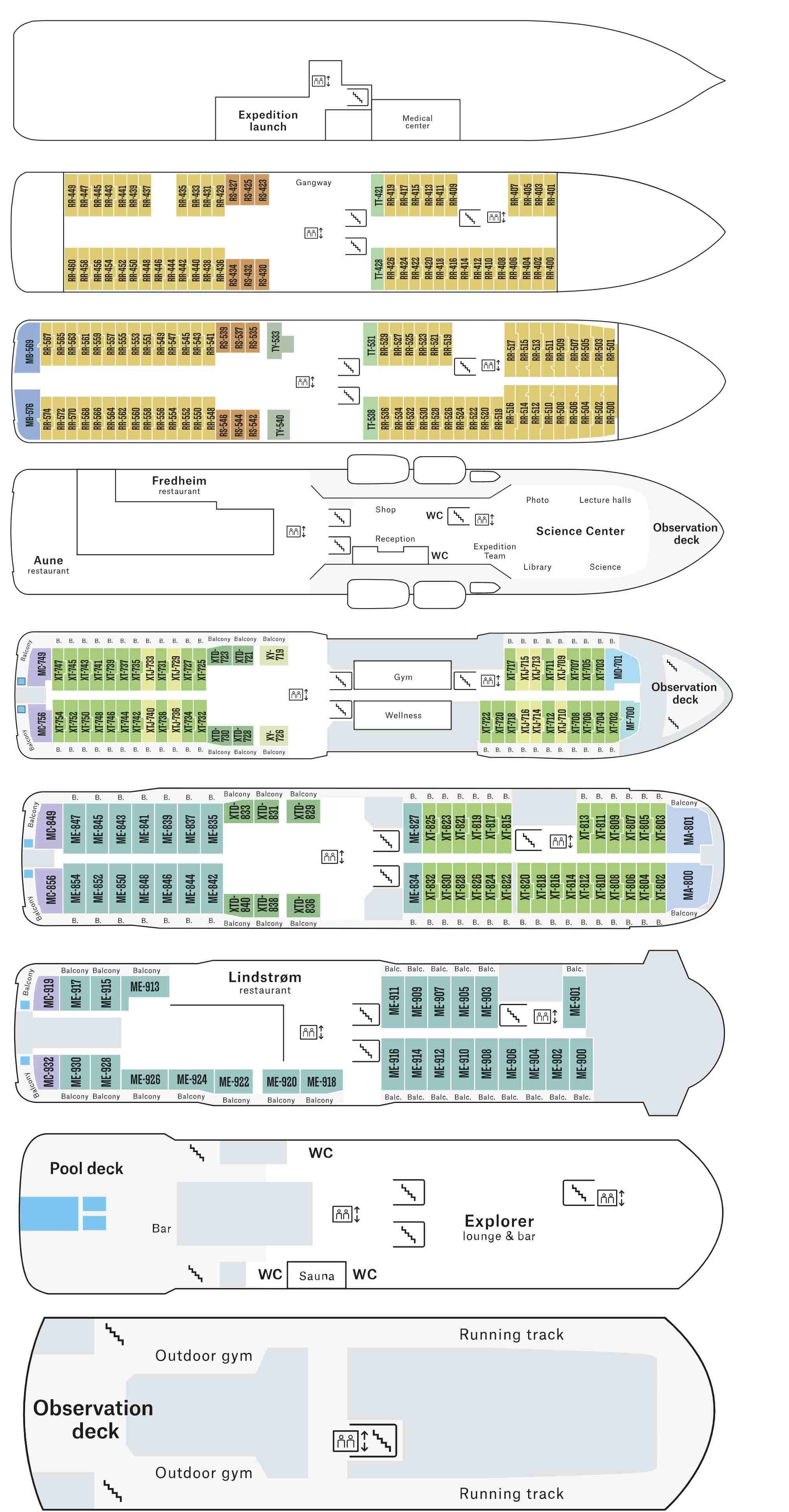 Inclusions

Voyage on board in selected cabin category
All meals while on board
On board lectures



---
Exclusions

International and domestic flights unless otherwise stated
Passport and visa costs where applicable
Travel insurance
Transfers unless otherwise stated
Optional Excursions
Pre and Post voyage accommodation
Beverages on board unless otherwise stated
Meals while ashore