We begin this epic journey from Iceland and head into the extremely remote eastern coast of Greenland which is almost uninhabited. Here, we explore the largest national park and the largest fjord in the world. From these massive landscapes empty of humans, we then voyage to the historical sites, culture, and charming cities of eastern Canada.

---
Highlights

• Join an epic voyage from Iceland, to Greenland, and to the eastern Canadian coast

• Explore the rarely-visited eastern coastline of Greenland and meet the locals here

• See spectacular scenery in the largest national park and the largest fjord in the world

• Contrast your journey with a visit to Canadian towns and cities for culture and history




Reykjavik is the northernmost capital city in the world. The name means 'Smokey Bay', so called because of the columns of steam that rise from the many hot springs in the area. It is well worth booking a Pre-programme to explore the surrounding geysers, mountains, glaciers and geothermal baths before embarking MS Fram.

Learn how to protect the great wilderness, both during our expedition and in the future, as part of the mandatory safety and sustainability briefing. Check out the onboard Science Center to learn more about the wildlife and ecosystems of the Arctic.

Located on a stunning peninsula that is encased by sea ice for nine months of the year, Ittoqqortoormiit is the most remote inhabited community in the western hemisphere. Less than 500 hardy souls call this home and they'll be proud to show you around the community, including a museum, church and even a photo exhibition.

We begin our exploration of the largest national park in the world, which is also the least visited national park in the world. Only a small number of expeditions are permitted to visit the park over its very short summer season. Thanks to our expertise and experience here, we are always one of them. Apart from trapper huts, some science research stations, and two military outposts, there are no traces of human life here. The only others we might be lucky to meet are the Sirius Patrol park rangers who supervise the area on dogsleds. Once inside the park, there are large fjords, giant icebergs, alpine landscapes, hanging glaciers, and vertical granite cliffs reaching as far as the eye can see. The likes of hares, muskoxen and Arctic foxes roam the coasts and tundra in the summertime. They are usually spread out across this enormous region, making it a real highlight if we do manage to spot one or more of them. The captain and Expedition Leader will assess the ice conditions and choose the best locations for landings accordingly. You can also participate in exciting optional activities such as kayaking and long guided hikes.

Heading south, we will attempt a landing at the entrance to the Scoresbysund fjord. This is the world's largest fjord system which extends 350 km inland and 600 m deep. The fjord's steep basalt mountains provide a haven for an unusual abundance of Greenlandic wildlife including various species of seabird, seal, and whale.

Take some time just relaxing on board and allowing the experiences of the past few days to sink in. Lectures by the Expedition Team will also prepare you for the next days to come, including a bit of history about Norwegian explorer Fridtjof Nansen's crossing over the Greenland Ice Cap.

The gentle bay at Umivik is fringed by many glaciers which calve their icebergs into the sea. This is the place where Fridtjof Nansen launched his legendary journey across the Greenland Ice Cap in August 1888. Once ashore yourself, you'll see the remains of the small Inuit community that welcomed Nansen way back then.

Skjoldungen is a large coastal island in southeastern Greenland and located between two deep fjords. Danish Arctic explorer W.A Graah described the area as "paradise on earth" when he came here in 1829 to look for a lost Norse settlement. Humpback whales are also known to visit the area in the summertime.

This long fjord is surrounded by mountains that reach over 1,200 metres (3,900 ft), and up to 2,220 metres (7,280 ft) high. Many glaciers go straight into its waters where they calve icebergs of all shapes, shades, and sizes. If the channel is blocked with ice, we will sail around Nunap Isua (Cape Farewell) instead.

After exploring exhilarating Greenland, we set course for Canada. Spend the days at sea recapping your experiences, having fun in the Science Center or just relaxing out on deck, looking at the sea birds which follow our ship or maybe even engaging in some whale-spotting.

Preserved in the ice-cold waters, the remains of several 17th century Basque whaling ships have led to the town being designated a UNESCO World Heritage Site. Visit the local museum that documents this interesting history or take the trail up to Tracey Hill for scenic views, and where, legends say, pirate captain Kidd buried treasure.

Located at the mouth of the Bay of Islands and Humber River, Corner Brook is the second largest city in the province and local to the core. Explore the city centre or enjoy its many walking trails along the Humber River, decorated at this time of year with vibrant autumn leaves.

Spend a tranquil day at sea, sharing experiences and exchanging stories with your fellow adventurers. Enjoy the amenities of our innovative expedition ship and look out for wildlife from the outer decks. In the Science Center, observe the tiniest creatures and samples taken during this voyage up close with our state-of-the-art microscopes.

Our incredible journey beginning in Iceland, exploring the extremes of Greenland, across to the coasts and culture of Canada, comes to an end in Halifax, capital of Nova Scotia. If you can, we definitely recommend spending an extra day or two here on one of our Post-Programmes before you head home.

Hurtigruten offers unique expedition cruises to some of the most remote and pristine waters of the world. As with all expeditions; nature prevails. Weather, and ice and sea conditions, sets the final framework for all Hurtigruten's operations. Safety and unparalleled guest experiences are at all times our top priorities. All our indicative itineraries are continuously evaluated for adaptions, whether this is due to constraints the elements unexpectedly presents – or exciting possibilities nature and wildlife offer. That is why we call it an expedition.
| | | |
| --- | --- | --- |
| 19 August, 2021 to 04 September, 2021 | | Book now |

Our Polar Inside cabins are situated on lower deck and offer a cosy atmosphere. All cabins include bathrooms with shower/wc. Most of the cabins have separate beds where one can be turned into a sofa, and others offer upper and lower berths. Some of the cabins have more facilities than others.

Our Polar Outside cabins are situated on lower deck and they all have bathrooms with shower/wc. Most of them offer separate beds where one can be turned into a sofa, and others offer upper and lower berths. Some of the cabins have more facilities than others.

Our Arctic Superior cabins are comfortable cabins situated on both upper and middle deck, where you can enjoy a relaxing atmosphere. All the cabins have bathrooms with shower/wc. You will also find coffee and tea facilities in these cabins. Most of them have separate beds, where one can be turned into a sofa and some have double beds. Some of the cabins have more facilities than others.

Our Expeditions Suites are the most exquisite cabins on the ship. Situated on upper deck, you can enjoy the most comfortable suites on board. Inside you will find seating areas with TV, bathrooms with shower/wc and most of them have double beds. All of the suites offer cabin kits, which contains bathrobe, slippers and other beauty articles. Some of the suites do have more facilities than others.
Fram
Vessel Type: Expedition
Length: 114m
Passenger Capacity: 276
Built: 2007
MS Fram is designed for sailing in polar waters, holds the highest safety standards and is the perfect size for optimum nautical manoeuverability and guests' comfort. With space for only 276 guests, you are sure to get to know many of your fellow travellers. You will share stunning sights and memories of a lifetime long after returning home. The Norwegian word Fram means 'forward' – lifting expectations of the voyage at hand.
MS Fram was built in 2007 with one mission in mind - to bring her guests closer to nature, wildlife and unforgettable experiences. As well as offering numerous lounges in which to relax, our more active guests can use our well-equipped gym. Meanwhile, on deck, our Jacuzzis guarantee you surreal memories when passing the towering icebergs of Antarctica or Greenland.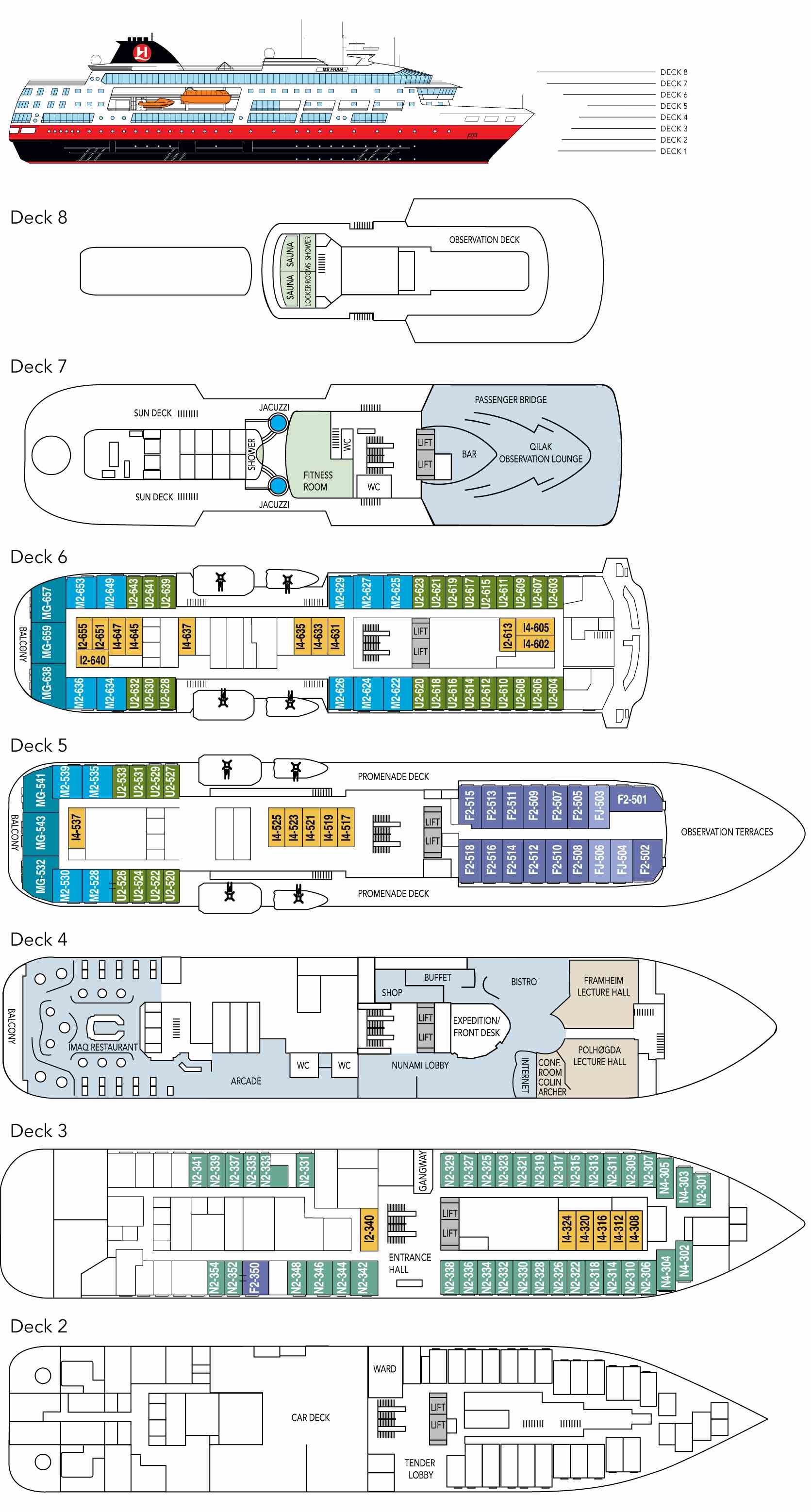 Inclusions

• Voyage on board in selected cabin category
• All meals while on board
• On board lectures

---
Exclusions

• International and domestic flights unless otherwise stated
• Passport and visa costs where applicable
• Travel insurance
• Transfers unless otherwise stated
• Optional Excursions
• Pre and Post voyage accommodation
• Beverages on board unless otherwise stated
• Meals while ashore