Leaving Athens and its iconic Acropolis behind us, we embark on a captivating voyage through time. Aboard our small 5-star cultural cruising ship, explore some of Greece's most historically significant and beautiful islands, as well as the Turkish, Italian and Albanian coastlines and the vibrant culture of Sicily's characterful islands. Our final port of call is vibrant, multicultural Palermo, a fitting place to conclude this horizon-broadening adventure. 


---
Highlights

• Walk to the top of Lindos' ancient Acropolis for some of the best views in Greece

• Uncover Rethymno's multicultural past and explore its picturesque lanes

• Explore the ancient city of Butrint, one of the most important archaeological sites in Albania

• Visit the medieval ruins of the 13th-century citadel of Mystras, a former Byzantine capital

• Take a seat in Taormina's 3rd-century Greek-Roman theatre, overlooking the smoking Mount Etna



Greece's buzzing cosmopolitan capital is served by Piraeus port and is an exciting mix of ancient and modern. Walk the Grand Promenade that winds beneath the city's most famous landmark, the Acropolis. This walkway, built during the 2004 Olympic Games, links the city's main archaeological sites. No visit to Athens is complete without seeing the Acropolis itself of course. Start with the Acropolis Museum for some informative context and then walk the marble path up Filopappou Hill for majestic views of the 'high city' with the iconic Parthenon perched on top (a temple dedicated to the goddess Athena, patron of the city).

Filming location of the famous French movie, 'Le Grand Bleu' with Jean Reno in 1988, Amorgos Island offers impressive views from its cliffside roads and walking paths. One of the most visually impressive islands in the Cyclades with its secluded beaches, hidden caves and ancient settlements, Amorgos Island remains a true hidden gem. Whilst Katapola is the island's sleepy port town, Chora is the island's capital and one of the most stunning villages in the Cyclades. Stroll around this quaint settlement as you admire the whitewashed homes and beautiful churches. Stop off at a traditional tavern for a shot of homemade 'psimeni raki', a local alcoholic beverage. Or sample some of the local delicacies including 'ladotyri' (local cheese) and 'kserotigana' (fried pies).

Rhodes' archeologic crown jewel, is dominated by its remarkable Acropolis. The Apostle Paul landed in St Paul's Bay, located at the foot of the Acropolis. Further below old, whitewashed buildings line a warren of alleyways where the mansions of long-vanished sea captains now house tavernas, bars and cafes.

First inhabited by the Minoans, the Venetians and then the Turks, this romantic port has seen many styles of occupation through the ages. The city's multicultural history is immediately evident as you begin exploring its enchanting lanes. Venetian fortifications intersperse orthodox and catholic churches and mosques. Ancient mansions with floral canopies and ornate monuments adorn the charming Venetian-Ottoman quarter. The harbour area offers an atmospheric setting for an evening meal, and just above the imposing Fortezza castle stands guard over the town. If you are feeling energic, take a walk to the castle up Palekastro Hill for spectacular views of the sparkling Mediterranean below.

Thanks to a 4th-century earthquake destroying much of Gythion's ancient town, the island's main draw today is its incredible natural environment. Located on the southern side of the Peloponnese, Gythion is home to tranquil beaches, turquoise waters and lots of breeding turtles. Of course, in this part of the world, the distant past is never far away. The island of Cranae is just a causeway's walk away from Gythion and is allegedly where Paris of Troy and Helen from Sparta spent their first night together. Further out of town, you can visit the 13th century Byzantine citadel of Mystras, a UNESCO World Heritage Site.

The capital of Kefalonia, Greece's largest island, Argostoli was once known for its impressive Venetian-era architecture. Unfortunately, most of it was destroyed by an earthquake in 1953. The rebuilt city cultivates more of a modern, cosmopolitan feel with a palm tree-lined promenade and a pretty ferry quay. Along the pedestrianised Plateia Valianou you'll find friendly locals meeting and chatting at the many cafes, bars and restaurants. In the summer, musicians serenade onlookers with kantades (traditional songs accompanied by a guitar and mandolin). For those missing their dose of antiquity, the Archaeological Museum of Kefalonia is worth visiting. The museum houses a collection of artefacts from the Mycenaean, Hellenistic and Roman periods.

Located at the mouth of Amvrakikos Gulf in Western Greece, Preveza is a charming city with bundles of character. The yacht-filled marina and carless seafront offer the perfect setting for a pleasant stroll. Sit and watch the world go by at the many restaurants and tavernas, or indulge in some retail therapy in the many interesting shops. Further afield you'll find the ancient city of Nikopolis, founded by the Roman Emperor Octavian. During the Roman and early Byzantine periods, the city flourished as the capital of Old Epirus. Today visitors can explore the ruins of the Roman city walls, odeum, theatre and many other preserved archaeological features.

The Albanian Riviera stretches along a beautiful section of the Ionian coastline, packed with stunning beaches and ancient history. Once overlooked as a result of Albania's political isolation from the rest of Europe, the area is now being rediscovered. Sarandë is its unofficial capital, whose original settlers were said to be the descendants of the ancient Greek hero Achilles. Today crowds flock to Sarandë in the summer months to enjoy the beaches and bustling nightlife. Just outside the city a plethora of ancient ruins, including several UNESCO World Heritage Sites await. This includes the Ancient City of Butrint, which is considered one of the most important archaeological sites in Albania.

Gallipoli is a southern Italian town and comune in the province of Lecce, in Apulia. The town is located by the Ionian Sea, on the west coast of the Salento Peninsula. The town of Gallipoli is divided into two parts, the modern and the old city. The new town includes all the newest buildings including a skyscraper. The old town is located on a limestone island, linked to the mainland by a bridge built in the 16th century. According to a legend, the city was founded in ancient times by Idomeneus of Crete. Pliny the Elder attributes the foundation to the Senones Gauls, while more likely it was a Messapic settlement. Historically, what is known is that Gallipoli was a city of the Greater Greece, ruling over a large territory including today's Porto Cesareo. In 265 BC it sided with Pyrrhus and Taranto against ancient Rome, suffering a defeat which relegated it to a Roman colony (later a municipium). After the unification of Italy (1861), Gallipoli was capital of a circondario, together with Lecce and Taranto.

Once the biggest city in the ancient world, Siracusa wears its history proudly on just about every street corner. Ancient Greek ruins rise out of heavenly citrus orchards, traditional cafes tumble onto baroque piazzas and ancient lanes lead down to the sparkling Mediterranean, as they have for millennia. The city was founded in 734 BC by Corinthian colonists, and the ruins of the original city can be explored at the Parco Archeologico della Neapolis, one of Sicily's greatest archaeological sites. Nearby you can also visit the macabre yet fascinating necropolis, housing some of the region's most renowned historical figures, including the famed mathematician Archimedes.

Indulge in some Sicilian dolce vita in glamorous Taormina. Perched on the side of a mountain, Taormina has been Sicily's most popular tourist destination for several hundred years. The beautifully restored medieval buildings, incredible views and winding streets crammed with vibrant bars, fashionable shops and lively restaurants make it easy to see why. However, the biggest draw is the Greek-Roman theatre, built in the 3rd century BC and still going strong. Home to plays, fashion shows, concerts and festivals, the iconic venue offers spectacular views of the smoking Mount Edna and the Bay of Naxos below.

The largest of the Aeolian Islands, Lipari is typically Mediterranean in its landscape. The island's lava quarries, low-lying shrubbery and precipitous cliffs feel familiar yet unchartered. Lipari Town is a busy little port with pretty pastel-coloured buildings lining the harbour and plenty of cafes and restaurants where visitors can watch the world go by. Above the harbour is the fortified citadel and castle, built by the Spaniards in the 16th century. The fascinating citadel houses archaeological findings that span aeons and empires, some thought to be as much as 6,000 years old.

A feast for the senses, Sicily's capital is an intoxicating and chaotic melting pot. Bustling street markets, ancient buildings, opulent palaces and millennia of history await those ready to embrace Palmero for all that it offers. Palmero's history is complex, to say the least. Middle Eastern, Northern African and European influences are all melded together here. The Greeks, Romans, Carthaginians, Arabs, Goths and Vandals have come and gone through the ages, leaving countless treasures in their wake. The 12th-century Arab-Norman cathedral, built over a 9th-century mosque, houses the tombs of the Norman rulers and is a fitting manifestation of the city's convoluted past. The opulent Palazzo de Normanni, once the seat of power for the kings of Sicily during Norman rule, is a dazzling display of the opulence that the city's rulers once enjoyed.

Itineraries are subject to change.
| | | |
| --- | --- | --- |
| 26 March, 2023 to 07 April, 2023 | | Book now |

Oceanview staterooms features 2 single beds, bedroom and living room and a luxurious ensuite bathroom. 20 m2 Sleeps 2

Oceanview staterooms features 2 single beds, bedroom and living room and a luxurious ensuite bathroom. 20 m2 Sleeps 2

Located on decks 5, these balcony staterooms feature 2 single beds or a double bed, distinct bedroom and living room areas, a luxurious bathroom and your own private 6 sq. m balcony. 28 m2 Sleeps 2
Located on decks 5, these balcony staterooms feature 2 single beds or a double bed, distinct bedroom and living room areas, a luxurious bathroom and your own private 6 sq. m balcony. 28 m2 Sleeps 2

Located on decks 6, these balcony staterooms feature 2 single beds or a double bed, distinct bedroom and living room areas, a luxurious bathroom and your own private 6 sq. m balcony. 28 m2 Sleeps 2

SH Diana's Junior Suites features a Super King Size bed, separate living room area with homely flame-effect fireplace, private kitchen, luxurious en-suite bathroom and a 7 sq. m private balcony. 35 m2 Sleeps 2

Our Suites features a superking bed and separate living room with and a soothing flame-effect fireplace a luxurious ensuite bathroom and a 12 sq.m. private balcony. 44 m2 Sleeps 2
SH Diana's Premium Suites feature a Super King Size bed, separate living room with homely flame-effect fireplace, luxurious en-suite bathroom, spacious walk-in wardrobe and a 12 sq. m private balcony. 47 m2 Sleeps 2
Diana
Vessel Type: Expedition Ship
Length: 125 meters
Passenger Capacity: 192
Built: 2022-2023
Arriving in early 2023, SH Diana will be the largest ship in our fleet, providing elegant and spacious 5-star accommodation for 192 guests in 96 spacious staterooms and suites, the vast majority with large balconies. Operated by an onboard team of 140 she will provide the highest levels of personal service and take Swan Hellenic back to its roots when she launches, exploring the Mediterranean and its famous sites of antiquity.
Now sit back, relax and take a moment to get to know this amazing new ship, purpose-designed for our unique cultural expedition cruises.
Named after the Ancient Roman goddess of light, the moon, hunting and the wilderness, SH Diana been specially designed for worldwide cruising to explore the most inspiring and inaccessible places on earth. Building on the outstanding amenities of her sister ships, she adds a dedicated Multifunctional Room next to the Observation Lounge, a Private Dining Room for special occasions, and two tenders which bring guests a comfortable alternative to Zodiacs for expedition landings. A Polar Class 6 ice-strengthened hull combines with extra-large stabilisers to make your journey as comfortable as possible.
SH Diana has been designed for immersive experiences, with extensive outside deck areas, multiple observation points and bright, open and relaxing public spaces with unobstructed views.
The pleasure and safety of our guests is paramount at all times, cared for by our attentive crew and seasoned expedition leaders. Cutting edge hygiene technology protects the health of all on board to the highest standards and includes air conditioning with UV sanitisation systems.
SH Diana's 96 staterooms , including 11 suites, are each a superbly comfortable home from home and all feature panoramic sea views, a flame-effect fireplace, original works of art, plush couches, premium pocket sprung mattresses, en-suite bathrooms with glass-enclosed rain showers, and Egyptian cotton towels, bathrobes and sheets. A pillow menu offers customised head and neck comfort during rest, while a large flat screen TV, espresso machine with Illy premium coffee, tea making facilities with the finest Kusmi teas, and a minibar with refreshments enhance relaxation at any time. In-room dining is of course available at all hours.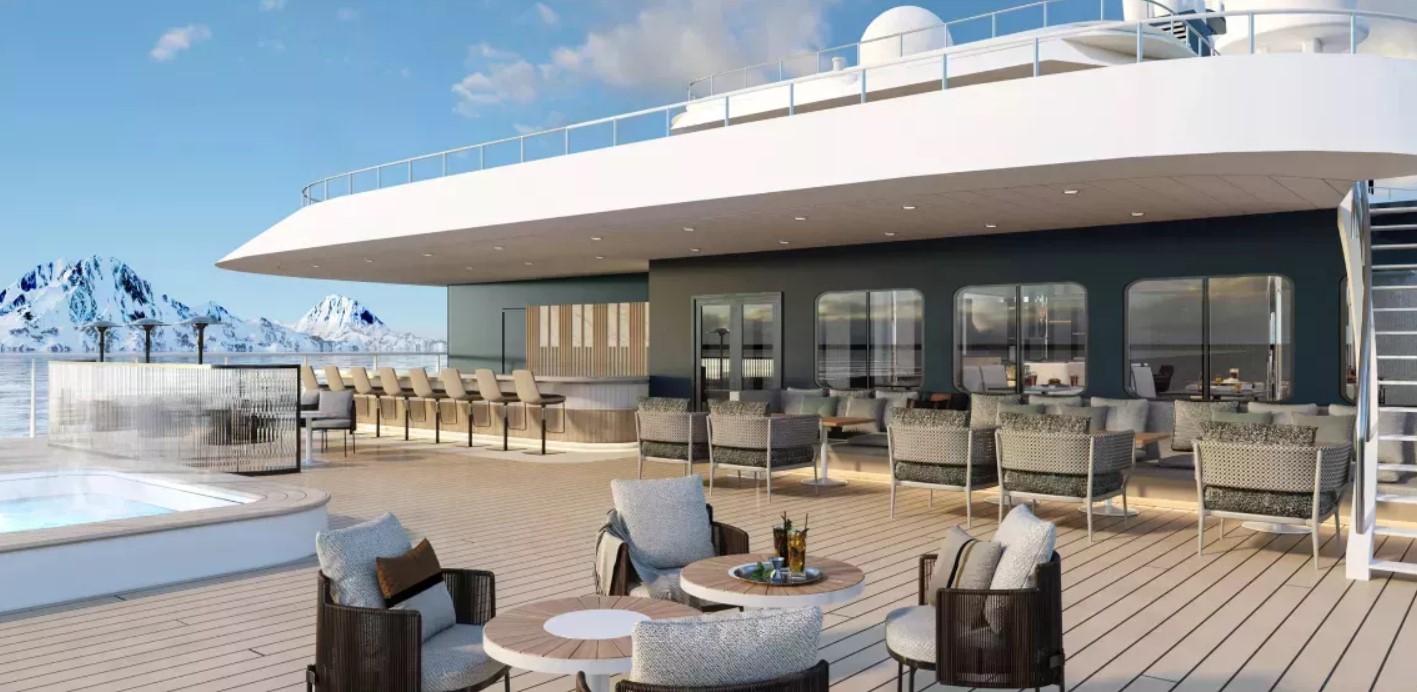 Inclusions

INCLUSIONS FOR ARCTIC
• One night pre-cruise hotel accommodation with breakfast
• Transfer from the airport to the hotel on the day prior to embarkation
• Transfer from the hotel to the port for embarkation
• Transfer from the port to the airport on return
• Onboard accommodation
• All meals onboard including room service 24 hours a day
• Coffee, tea, soft drinks & select alcoholic beverages 24 hours a day
• Lecture programmes by our experienced expedition team and guest speakers
• Shore excursion programme led by our expert expedition team
• Branded Swan Hellenic expedition parka
• Use of rubber boots for shore landings
• Basic WIFI inclusion (Premium WIFI available)
• Onboard gratuities & port taxes

INCLUSIONS FOR ANTARCTICA CRUISES
• Return flights: Buenos Aires to Ushuaia or Santiago to Ushuaia
• One night pre-cruise hotel accommodation with breakfast
• Transfer from the airport to the hotel on the day prior to embarkation
• Transfer from the hotel to the port for embarkation
• Transfer from the port to the airport on return
• Onboard accommodation
• All meals onboard including room service 24 hours a day
• Coffee, tea, soft drinks & select alcoholic beverages 24 hours a day
• Lecture programmes by our experienced expedition team and guest speakers
• Shore excursion programme led by our expert expedition team
• Branded Swan Hellenic expedition parka
• Use of rubber boots for shore landings
• Basic WIFI (Premium WIFI available)
• Onboard gratuities & port taxes

INCLUSIONS FOR REST OF WORLD CRUISES
• One night pre-cruise hotel accommodation with breakfast
• Transfer from the airport to the hotel on the day prior to embarkation
• Transfer from the hotel to the port for embarkation
• Transfer from the port to the airport on return
• Onboard accommodation
• All meals onboard including room service 24 hours a day
• Coffee, tea, soft drinks & select alcoholic beverages 24 hours a day
• Lecture programmes by our experienced expedition team and guest speakers
• On shore transfer per port of call
• Basic WIFI inclusion (Premium WIFI available)
• Onboard gratuities & port taxes

---
Exclusions

• Additional activities such as kayaking, private tours, special arrangements, private Zodiac tours
• Laundry
• Premium wines and spirits
• Purchases in the ship's boutique
• Any spa treatments
• Upgraded WiFi data packages
• Visas where required
• Travel Insurance
• Flights
• Domestic transfers
• Hotel requirements (pre/post cruise) unless otherwise stated in the itinerary description