This is an expedition through rich European history, fascinating culture and natural beauty. We visit charming towns, UNESCO World Heritage Sites and remote islands at nine locations in five countries: Portugal, Spain, France, Belgium and the Netherlands.

---
Highlights

• See UNESCO World Heritage sites along the European coast

• Enjoy charming towns and beautiful islands on this expedition cruise

• Learn about the history, culture and natural world of the places we visit

• Visit nine fascinating places in five European countries




Built on seven hills along the shores of the scenic River Tejo, Lisbon is a legendary city with centuries of history. Take some time to explore the city and visit world famous sites like Tower of Belém before embarkation.

UNESCO´s World Heritage list says this about lovely Porto: `An outstanding urban landscape with a 2,000-year history. Its continuous growth...can be seen in the many monuments, from the cathedral with its Romanesque choir, to the neoclassical Stock Exchange and the typically Portuguese Church of Santa Clara.

We will pass the 55m/180ft high Hercules Tower, the oldest Roman lighthouse in use today, on our way into the harbour. Stroll through reminders of the historic city´s golden age in the 14th century, when it became wealthy as the main port for pilgrims on their way to Santiago de Compostela.

Gijon is steeped in history and the surrounding area is known for fine cheeses and cider. The Old Quarter boasts the baroque Revillagigedo Palace, beautiful churches and interesting museums to explore. Enjoy a hike to Santa Catalina for spectacular views, or a leisurely stroll in the ancient fishing village of Cimavilla.

The heart of Basque country is sophisticated and humming with action, while maintaining a relaxed pace of life. The Casco Viejo, Bilbao's atmospheric old quarter, is full of charming streets dating as far back as 1400's and features a fine market and plenty of unique shops, while other parts of the city are cutting-edge contemporary, symbolised by the Guggenheim museum.

Today, we sail in the Bay of Biscay; a wide inlet of the North Atlantic Ocean bordered by France and Spain. During the day, you can enjoy interesting lectures given by our expert Expedition Team.

This city incorporates the modern and the ancient effortlessly. Bordeaux's Old City is a designated UNESCO World Heritage Site and spans nearly 5,000 acres, with 350 listed monuments and churches. Nearby, magnificent chateaux sit grandly amongst vineyards.

Belle Île is one of France's most beautiful islands with stunning cliffs, quaint seaside hamlets, pastel houses, lush countryside and rocky coastlines. The town´s beauty has inspired writers like Dumas and painters like Monét. Join our Expedition Team for hikes and outings, or discover the markets, shops and sights independently.

Saint Malo from the sea is quite a sight, fringed by impenetrable bastions and shallow beaches. Since Roman times, it has been a prized fortification for empires. Tour the Château Saint Malo town museum, and visit the Privateers House built in 1725, where you can learn about local pirate heritage.

Enjoy time out on deck with a view of the English Channel, or join our experts, who will invite you to take part in lectures and talks about our next destinations.

There´s a wide choice of sights in Ostend: browse the fish market or take a tour in the footsteps of the singer Marvin Gaye. Perhaps you would enjoy a moment of tranquility in the beautiful Japanese Garden or at the Ostend Art Museum. History buffs can wander through the fortifications in the infamous German Atlantikwall.

We'll be docked just a short drive outside Amsterdam which has grown from a village in the 13th century to one of the most charming and vital cities in the world today, Amsterdam blends fascinating history with modern energy. Tour the famed Canal District and enjoy world class art at the Rijksmuseum, the Rembrandt House or the van Gogh Museum.

Our expedition cruise comes to an end in as we arrive in Hamburg. The second-largest city in Germany is one of the greenest urban areas in Europe – boasting large parks, botanical gardens and nature reserves. Extend your stay by booking our post program with an overnight in the Westin hotel, located in the famous Elbphiharmonie.

Hurtigruten offers unique expedition cruises to some of the most remote and pristine waters of the world. As with all expeditions; nature prevails. Weather, and ice and sea conditions, sets the final framework for all Hurtigruten's operations. Safety and unparalleled guest experiences are at all times our top priorities. All our indicative itineraries are continuously evaluated for adaptions, whether this is due to constraints the elements unexpectedly presents – or exciting possibilities nature and wildlife offer. That is why we call it an expedition.

The Polar Outside cabins are primarily on the middle decks with windows, most are spacious, have flexible sleeping arrangements and TV for excellent and high standard accommodation. Can accommodate two to four passengers.

Arctic Superior class cabins are comfortable and roomy accommodation and most have balconies. Flexible sleeping arrangements, sofa beds, TV and other features make this one of our most popular categories. Our Arctic Superior concept includes a kettle, tea and coffee. Can accommodate two to four passengers.

These suites are large, well-appointed cabins with expansive windows and most have balconies. Some have a private outdoor hot tub. The suites feature flexible sleeping arrangements with comfortable sofas, sitting areas and TV. They can accomodate up to four people. Expedition suites are exclusively in upper and mid-deck locations. Our Expedition Suite concept includes a bathrobe, espresso maker, and more. An exciting welcome gift awaits all suite guests in their cabin.
Fridtjof Nansen
Vessel Type: Expedition
Length: 140 m
Passenger Capacity: 530
Built: 2020
MS Fridtjof Nansen is the latest addition to Hurtigruten's fleet of custom built ships – and the next generation expedition ship. She will explore some of the most spectacular corners of the globe. Featuring Hurtigruten's revolutionary battery hybrid powered propulsion system, MS Fridtjof Nansen will be a near identical twin to her sister ship MS Roald Amundsen. Combining state of the art technology and premium on board experience with Hurtigruten's 125 years of experience and unparalleled destinations, the two Norwegian built ships introduces the next generation of adventure travel.
Cabins and public areas
The stunning scenery will be reflected in a rich and comfortable interior design. Scandinavian materials from nature, such as granite, oak, birch and wool will be used to create relaxed and stylish cabins and public areas. All cabins are outside, 50 % will have private balconies, aft suites will feature private outdoor hot tubs with spectacular views.
Science Center
The core of the onboard experience is the Nansen Science Center, an edutainment venue to guests and crew meet to create a deeper understanding of the areas we explore. Nansen Science Center will also be the on board HQ for the Expedition Team.
Restaurants
MS Fridtjof Nansen's three restaurants will host a variety of dining options, with menus drawn from our rich Norwegian and Nordic tradition, as well as international cuisine and local inspiration. Whether enjoying your meal at Aune Main Dining, Fredheim – the informal international meeting place, or the specialty restaurant Lindstrøm, you will indulge in low key yet refined, modern Norwegian Nordic cooking – where our honest and delicious cuisine reflects our destinations.
After a day of exploring new destinations, guests can relax and rejuvenate in the elegant Explorer Lounge, a large gym and Wellness center, or enjoy the scenery and sunsets on the massive in- and outdoor Observation Decks with the aft infinity pool and hot tubs as one of the highlights.
Everything you need for an expedition cruise
Each expedition voyage is accompanied by a hand-picked team of specialists and modern-day explorers. Highly experienced, passionate and knowledgeable, the Expedition Team will be your guides and guardians on your voyage of exploration, instructing you on safety, sustainability and science. MS Fridtjof Nansen will feature a variety of custom built expedition equipment, including kayaks, a fleet of Blueye underwater drones and Expedition Boats for safe landings in remote areas.
In the footsteps of a great explorer
The newest addition to our fleet will honor the heritage of her namesake – the Norwegian explorer, scientist, humanitarian and Nobel Peace Prize laureate Fridtjof Nansen. Known for his innovations in Arctic expeditions, Nansen led the first crossing of Greenland on cross-country skis. He is perhaps most famous for his attempt to reach the geographical North Pole during the Fram Expedition (1893-1896). Interestingly, after Nansen's Fram expedition, the ship was passed on to another great explorer who secretly planned an expedition to the South Pole - Roald Amundsen.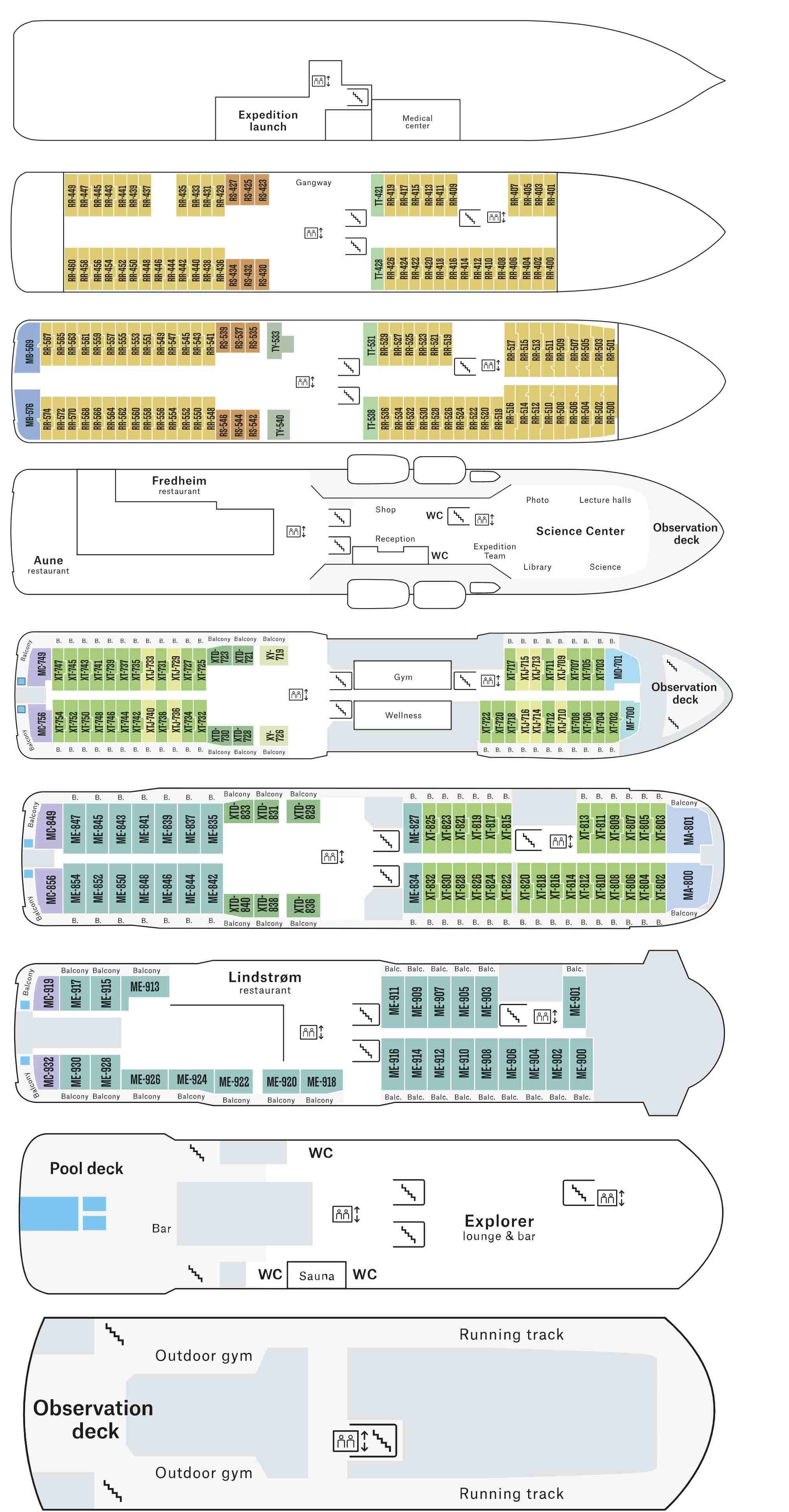 Inclusions

• Voyage on board in selected cabin category
• All meals while on board
• On board lectures

---
Exclusions

• International and domestic flights unless otherwise stated
• Passport and visa costs where applicable
• Travel insurance
• Transfers unless otherwise stated
• Optional Excursions
• Pre and Post voyage accommodation
• Beverages on board unless otherwise stated
• Meals while ashore