Enjoy an in-depth exploration of one of Greenland's most remote regions with the Essential Greenland: Southern Coasts and Disko Bay expedition. As you cruise around this enchanting island, sailing from the icy waters of the little-visited east coast, down to the lush southern tip and up to the charming communities and glaciers of the west coast, spectacular, unspoiled wonders await wherever you go. Each visit to the picturesque villages and Norse ruins that dot the shoreline will immerse you in Greenland's distinct culture and history, while the rugged landscape—dominated by dramatic fjords, imposing glaciers, towering mountains and verdant valleys—will leave you breathless.

The Arctic has been inspiring explorers for centuries, and our expeditions offer the chance for you to discover why. We're excited to host you on your unforgettable adventure! Feel free to reach out to our team of Polar Travel Advisers or your travel professional, who can answer your questions and provide assistance at any time.
---
Highlights

• Search for iconic arctic wildlife, such as whales, seals and seabirds

• Explore the Ilulissat Icefjord and Kujataa farming communities, both UNESCO World Heritage Sites

• Meet locals and experience traditional Inuit settlements

• Visit Norse historical sites and learn about this fascinating culture

• Cruise in a Zodiac to explore icebergs, glaciers, fjords and more

• Immerse yourself in the icy realm of the Arctic with optional kayaking adventures



Arrive in the Icelandic capital and make your way to your included hotel. You will have the day to explore the city on your own.

This afternoon, you'll board your vessel and begin your expedition. Get ready for a great adventure ahead!

As we cruise across the Denmark Strait, your Expedition Team will teach you about the wildlife and storied history of Greenland, its fascinating geology, ecology and climate, and the incredible sights you will soon explore. Staff will also keep watch for the seabirds you'll likely see soaring above your ship, as well as the whales that can be encountered here.

Your exploration of Greenland begins with East Greenland, one of the least visited and most remote parts of the island. Your days sailing along the coast will be guided by weather and ice conditions, with each day and each excursion presenting new adventures. The region is a sight to behold, boasting a mesmerizing maze of vast glaciers, steep mountains and breathtaking fjords. One location we hope to visit if conditions allow is Skjoldungen, where you'll cruise between the mountains to view glaciers deep within the fjords surrounding this island. The narrow part of the fjord provides an ideal place to put our Zodiacs in the water for a more in-depth exploration. If conditions allow, you may also visit the site of an abandoned Inuit settlement, whose inhabitants were relocated to larger, more accessible towns around 1961. Exploring ashore, you'll experience a true arctic ghost town, complete with abandoned buildings, furniture and even shoes! Hiking the rugged terrain rewards with impressive views of snow-capped mountains, deep green waters and the surprisingly colorful arctic tundra. This site is prone to insects, however, so have your spray or netting at the ready. If you're feeling even more adventurous, perhaps you'll treat yourself to an optional paddling excursion (extra cost), an unforgettable opportunity to glide past icebergs and glaciers and capture some photographs from a unique perspective. Another possible destination is Lindenow Fjord, a great spot for Zodiac cruising, if conditions are favorable. This rarely visited deep fjord is fed by a number of glaciers and offers ample opportunities for your camera to get a workout. You'll also want to keep watch for bearded seals, as they're known to haul out on the ice floes.

Sailing on, we'll explore Greenland's fertile southern coast. Nicknamed Arctic Patagonia, this region is as rich in spectacular scenery as it is in history and culture. Here, it's easy to see why Erik the Red gave Greenland its name: everywhere you look rewards with vistas of icy waters set against a backdrop of soaring mountains, crystal-clear waterfalls and unbelievably lush, green valleys. Scattered around the shores of the fjord systems that dominate the area are several small settlements, both ancient and present day, making South Greenland an ideal place to explore. The magical Prins Christian Sund, a complex maze of narrow fjords and channels, is a great place for cruising. You'll explore this stunning sound, home to calving glaciers, jagged mountains and sheer cliffs that plunge dramatically into the water. Sailing this coastline from the vantage point of your ship or a Zodiac is an exhilarating experience. If conditions allow, venturing ashore provides opportunities for all levels of hiking. Steeped in Norse history, the southern coast of Greenland provides plenty of places to learn about this ancient culture. One such landing we hope to make is at Hvalsey, the site of Greenland's largest and best-preserved Norse ruins. Exploring the remains of the circa 14th-century church will feel like stepping back in time, as the building appears much as it did when it was abandoned in the 15th century and the surrounding fells and fjord remain similarly untouched. The little village of Igaliku, home to about 30 inhabitants, is Greenland's oldest sheep-farming settlement. It's a charming place to go ashore, as sheep peacefully graze on the grass, surrounded by bloom-covered rolling valleys and snow-capped mountains. The area is also known for its storied past, as evidenced by the remarkable red sandstone ruins of the Gardar cathedral (the largest church in Greenland in the Middle Ages) and bishop's residence, which date back to the early 12th century, when Greenland's first bishop was appointed. Wandering the foundations, excavated in 1926, you'll get to see a bit of history firsthand as you learn about this interesting relic of the Viking period. Together with four other historic farming communities, Igaliku is part of a newly established UNESCO World Heritage Site.

Boasting spectacular glaciers, mountainous landscapes, and vibrant communities, the west coast of Greenland will leave you awestruck. Heading north, each day we hope to take Zodiac excursions from the ship to explore local bays, channels and landing sites, discovering some of the quaint villages dotting the islands and fjords in the region and cruising in some of Greenland's most picturesque places. The west coast is home to Nuuk, the charming Greenlandic capital. You'll have time to wander the streets of the historic Old Nuuk neighborhood and see the Hans Egede Church and Hans Egede statue near the waterfront, both named after the missionary who founded the settlement. History buffs will want to visit the national museum to view the famous Greenlandic mummies, found under a rock outcrop in 1972 by two brothers who were grouse hunting. Sisimiut is another interesting place to go ashore, as there are more dogsleds here than humans. You'll have time to wander the town's historic area, where several 18th-century colonial buildings still stand, including Greenland's oldest surviving church. You'll also be treated to a traditional kayaking demonstration. The kayak is Greenland's national symbol and can be traced back over 4,000 years to the Inuit, who used the vessels for hunting and transportation. Another beautiful locale, and one of west Greenland's highlights is the Ilulissat Icefjord, a UNESCO World Heritage Site. Home to one of the world's most active glaciers, Jakobshavn Glacier or Sermeq Kujalleq in Greenlandic, this is a great place to enjoy a Zodiac excursion to experience icebergs from a unique perspective not afforded by land. Venturing ashore at the nearby town, Ilulissat (which means "iceberg"), rewards with its own spectacle: young bergs floating out to Disko Bay. A hike from the town to the icefjord will allow you to view this unforgettable river of ice from the rocky shore. Given that it's known for having more sled dogs than people, it's not surprising that Ilulissat is the birthplace of the first European to traverse the Northwest Passage by dogsled, explorer Knud Rasmussen. Surrounded by sea and mountains, the fishing community of Itilleq (meaning "crossing place") is situated in a scenic hollow on a small island, about a mile (2 km) above the Arctic Circle. Explore traditional wooden houses painted in a rainbow of colors, chat with the locals and join a customary football (soccer) match between visitors and residents, and you'll be experiencing Itilleq's famous friendly vibe in no time.

Enjoy one more Zodiac ride to shore, where you'll board your charter flight back to Reykjavik, Iceland. Upon arrival in Reykjavik, we will transfer you to your included hotel.

Today, you can make your way home at your leisure or spend some time exploring this artistic city.

Embracing the unexpected is part of the legacy – and excitement – of expedition travel. There are no guarantees that we can achieve everything we set out to accomplish. A measure of flexibility is something all of us must bring to a voyage. There are nearly 200 recognized sites in the Antarctic Peninsula and South Shetlands and the places mentioned above may be changed to others equally as interesting.
| | | |
| --- | --- | --- |
| 29 August, 2020 to 12 September, 2020 | | Book now |

A Triple Cabin has two lower berths and one upper berth, private facilities, and a porthole with exterior views.

A Lower Deck Twin cabin has two lower berths, private facilities, and a porthole with exterior views.

A Main Deck Twin Porthole cabin has two lower berths, private facilities, and a porthole with exterior views.

A Main Deck Twin Window cabin has two lower berths, private facilities, and two windows with exterior views.

A Superior cabin has two lower berths, private facilities, and windows with exterior views.

There will be 6 new, deluxe cabins built forward on Captain's deck. Averaging 182 sq. ft., a Deluxe Cabin has two lower berths, private facilities, and windows with exterior views.

A Suite has two lower berths, windows with exterior views, private facilities. Cabin 403 has a bathtub other Suites have showers.

Approximately 289 sq. ft. in size (27 sq. m), these cabins all feature a private sitting room. One features a large panoramic window facing aft, and the other two suites face port and starboard.
Additional charges:
2020 MANDATORY TRANSFER PACKAGE. Price TBC: USD pp
Ocean Adventurer
Vessel Type: Comfortable Expedition
Length: 90 metres
Passenger Capacity: 118
Built / refurbished: 1975 / 1998 / 2017 - re-named to the Ocean Adventurer in June 2017
Ocean Adventurer is designed to carry 132 travelers in comfort to the most remote corners of the world. Originally built in Yugoslavia in 1976, this nimble, ice-strengthened ship has become a passenger favourite over the years and underwent refurbishments in 1999 and 2002 with the most significant being in 2017.
With the latest rounds of refurbishments guests will enjoy:
• A refreshed, contemporary new look and feel throughout the ship.
• The addition of six new twin cabins and three new suites.
• All existing cabins will be furnished with all new soft furnishings and brand new bathrooms.
• Main common areas such as the Lounge and Dining Room will be remodeled as well as the Bar.
• Major technical enhancements – include two new Rolls Royce engines, which will significantly increase fuel efficiency and minimized carbon footprint.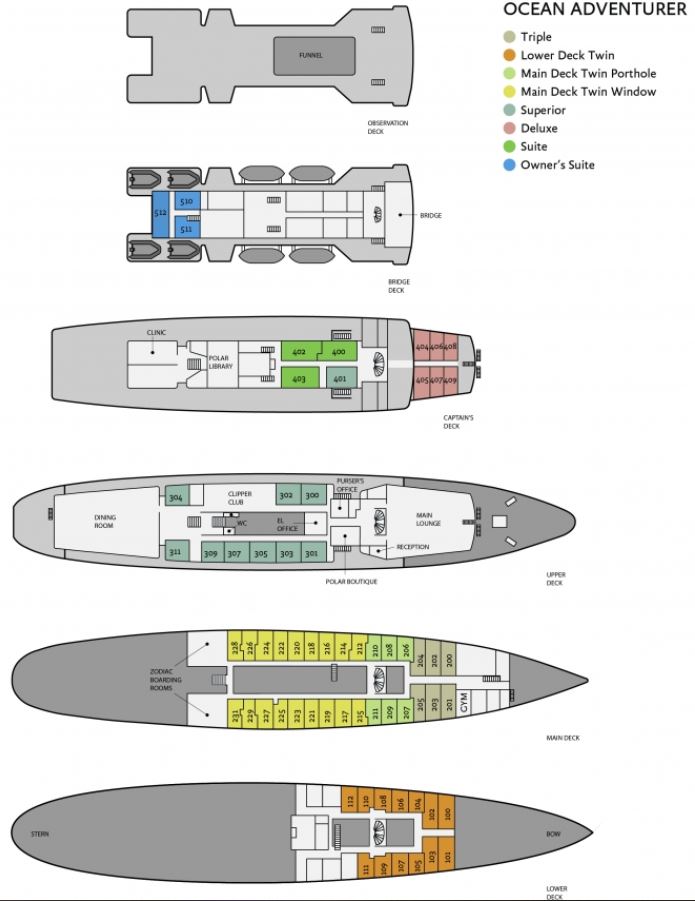 Inclusions

Voyage in selected cabin category
Rubber boots for use throughout the voyage
Expedition Parka to keep
Experience Expedition leader and team
All shore landings and zodiac cruises as specified in the itinerary
All meals while on board the ship
Soft Drinks, Juice, Tea and Coffee while on board the ship
Beer and Wine with dinner
Lectures and presentations on board held by Expedition team and guest speakers as scheduled
Photographic journal of the expedtion
Luggage handling on board the ship
Emergency Evacuation insurance up to a maximum of USD$500,000.00 per person
All port charges/taxes

Trip specific inclusions;
Complimentary reusable water bottle
Greenland voyages cruise passenger tax

---
Exclusions

International and Domestic airfares unless specified
Passport and Visa costs if applicable
Meals ashore unless specified
Travel insurance including cancellation insurance
Mandatory waterproof pants - required for zodiac cruises and landings
Any items of a personal nature including medical costs incurred on board
Phone and Internet charges incurred on board
Gratuities
Transfers other than those specified in inclusions
Pre and post voyage accommodation unless stated in the itinerary
Optional excursions (Eg kayaking where available)

Trip specific exclusions;
Mandatory Transfer Package*

*2020 Mandatory transfer package includes:
One night pre-voyage hotel accommodation in Reykjavik
Group transfer from the Reykjavik hotel to the ship on embarkation day
Group transfer from the ship to the Kangerlussuaq airport on disembarkation day
Charter flight from Kangerlussuaq to Reykjavik
Group transfer from Reykjavik airport to airport hotel
One night's post-expedition hotel accommodation in Reykjavik
Shuttle transfer to Keflavik airport on last day of itinerary
PACKAGE PRICE: USD$1,295.00 per person (Correct as at April 2020 - Subject to change)

GRATUITIES
Gratuities or tips are always at your discretion. We recommend that you budget $10 to $15 per person per day, if you are pleased with the service on board. Gratuities are collected anonymously at the end of each voyage. They are distributed among staff and crew. Payment can be made in cash or charged to your shipboard account.