Get ready for this voyage along North America's Eastern seaboard, offering a striking contrast between vibrant coastal cities and laid-back small towns, from Miami in the south all the way up to Canada. We visit charming Charleston, pass the Statue of Liberty as we sail in to explore The Big Apple, then through Nantucket Sound, up to Yarmouth, and finally Halifax.
---
Highlights

• See North America's eastern coastline from Miami all the way up to Canada

• Experience small town life in Nova Scotia, and explore cities like Charleston and New York

• Many highlights, including sailing into New York Harbor past the Statue of Liberty

• Experience the East Coast in full bloom during spring



Our voyage starts in Miami, a cocktail of cultures from South Beach to Little Havana. The architecture here is also part of the greatest collection of art deco buildings in the world. Before embarking on MS Fram, enjoy an overnight in this vibrant city to sample the tropical gardens, lively arts scene and exceptional cuisine.

The Expedition Team will deliver their lecture programme, covering a range of topics related to the areas we sail to. The onboard photographer will also run small workshops teaching you the basics of expedition photography. Or, you can use the time just to relax and chat with your fellow explorers.

Charleston is considered one of America's greatest historic treasures. With cobblestone streets, an elegant French Quarter, the magnificent Battery promenade, and Waterfront Park, the city is ideal to stroll around on foot or even by horse-drawn carriage. Explore the city's historic sites at your leisure or join one of our optional excursions.

A day at sea means you can join the lectures presented by the Expedition Team or spend time on deck or in the panorama lounge with fellow travelers. Enjoy a refreshing workout in our well-equipped fitness room with a panoramic ocean view or let your muscles relax in one of the outdoor whirlpools.

We sail into Manhattan, passing by the stunning Statue of Liberty. MS Fram will dock in New York overnight while you take a bite out of the Big Apple. Marvel at the skyline of this iconic metropolis, stroll through beautifully lush Central Park in full spring bloom, see one of the many Broadway shows, gaze at the city lights from atop the Empire State Building, or visit the famed Times Square. New York has so much to offer it's impossible to fit everything in in just two days, but it's certainly great fun to try. Explore the city on your own or on one of our optional excursions.

Visitors are drawn to this colorful town for the beautiful beaches, restaurants, and charming shops. Artists began frequenting Provincetown a century ago and it is one of the oldest continuous art colonies in the country. Nearby Stellwagen Bank National Marine Sanctuary attracts 17 species of whale, including humpbacks and rare North Atlantic right whales.

Welcome to this historic town at the intersection of traditional Anglo-Scottish and Acadian French cultures. Situated in the world's largest lobster fishing grounds, Yarmouth boasts the largest fishing fleet in Atlantic Canada. View the grand sea captain homes built in 1850 or enjoy the picturesque views and hiking trails at Cape Forchu Lightstation.

Your journey ends in Halifax. There are red-brick heritage buildings, parks, the landmark Citadel Hill National Historic Site, top-quality museums, Alexander Keith's original 1820 brewery, and a 4km seafront boardwalk. We definitely recommend spending an extra day or two here on a Post-Programme before you head back home.

Hurtigruten offers unique expedition cruises to some of the most remote and pristine waters of the world. As with all expeditions; nature prevails. Weather, and ice and sea conditions, sets the final framework for all Hurtigruten's operations. Safety and unparalleled guest experiences are at all times our top priorities. All our indicative itineraries are continuously evaluated for adaptions, whether this is due to constraints the elements unexpectedly presents – or exciting possibilities nature and wildlife offer. That is why we call it an expedition.

Our Polar Inside cabins are situated on lower deck and offer a cosy atmosphere. All cabins include bathrooms with shower/wc. Most of the cabins have separate beds where one can be turned into a sofa, and others offer upper and lower berths. Some of the cabins have more facilities than others.

Our Polar Outside cabins are situated on lower deck and they all have bathrooms with shower/wc. Most of them offer separate beds where one can be turned into a sofa, and others offer upper and lower berths. Some of the cabins have more facilities than others.

Our Arctic Superior cabins are comfortable cabins situated on both upper and middle deck, where you can enjoy a relaxing atmosphere. All the cabins have bathrooms with shower/wc. You will also find coffee and tea facilities in these cabins. Most of them have separate beds, where one can be turned into a sofa and some have double beds. Some of the cabins have more facilities than others.

Our Expeditions Suites are the most exquisite cabins on the ship. Situated on upper deck, you can enjoy the most comfortable suites on board. Inside you will find seating areas with TV, bathrooms with shower/wc and most of them have double beds. All of the suites offer cabin kits, which contains bathrobe, slippers and other beauty articles. Some of the suites do have more facilities than others.
Fram
Vessel Type: Expedition
Length: 114m
Passenger Capacity: 276
Built: 2007
MS Fram is designed for sailing in polar waters, holds the highest safety standards and is the perfect size for optimum nautical manoeuverability and guests' comfort. With space for only 276 guests, you are sure to get to know many of your fellow travellers. You will share stunning sights and memories of a lifetime long after returning home. The Norwegian word Fram means 'forward' – lifting expectations of the voyage at hand.
MS Fram was built in 2007 with one mission in mind - to bring her guests closer to nature, wildlife and unforgettable experiences. As well as offering numerous lounges in which to relax, our more active guests can use our well-equipped gym. Meanwhile, on deck, our Jacuzzis guarantee you surreal memories when passing the towering icebergs of Antarctica or Greenland.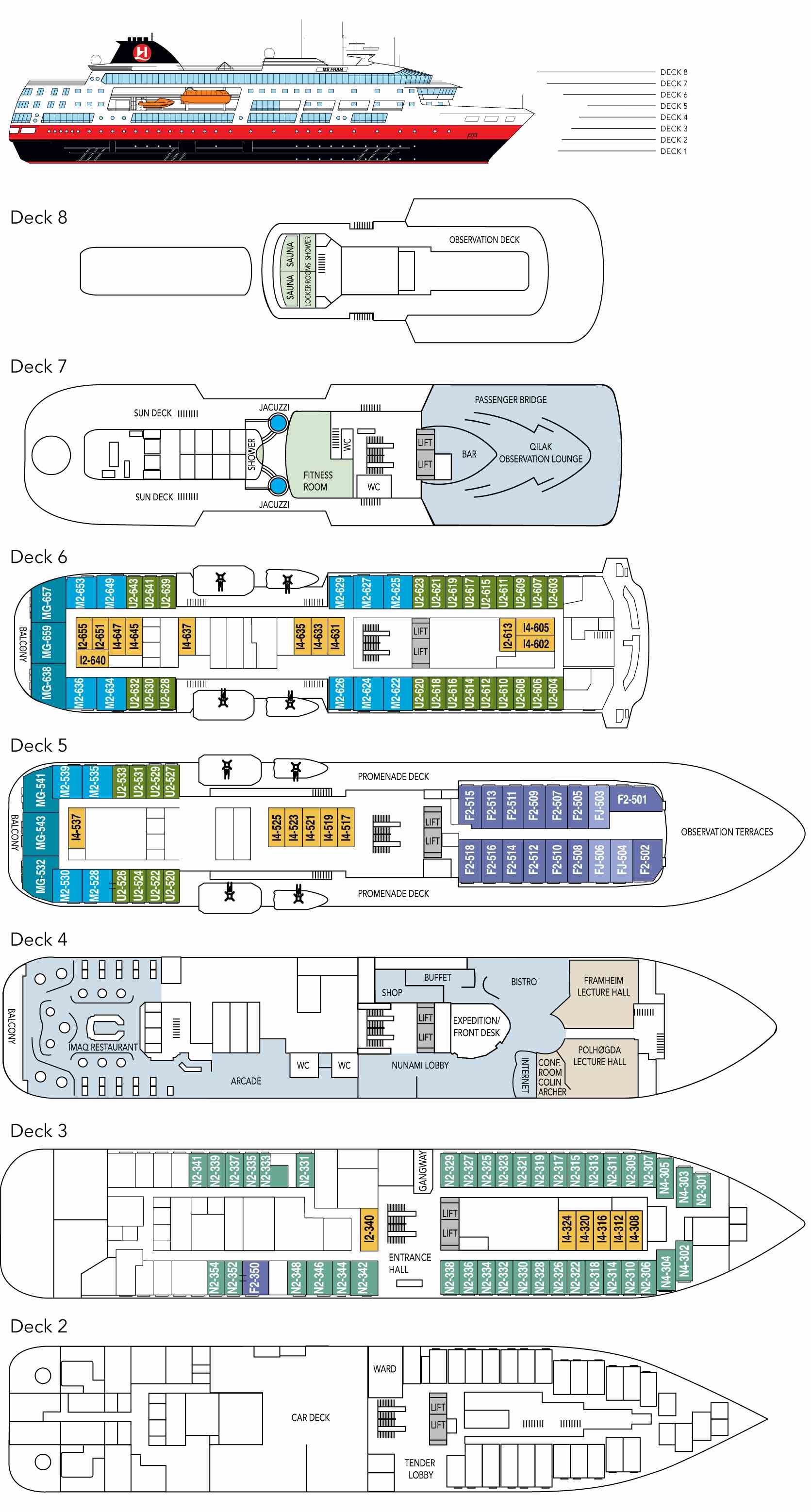 Inclusions

Voyage on board in selected cabin category
All meals while on board
On board lectures



---
Exclusions

International and domestic flights unless otherwise stated
Passport and visa costs where applicable
Travel insurance
Transfers unless otherwise stated
Optional Excursions
Pre and Post voyage accommodation
Beverages on board unless otherwise stated
Meals while ashore