Starting from Panama, we call on some of the Caribbean's most remote and scenic islands in Nicaragua, Honduras and Belize. Enjoy strolling the pristine beaches, swimming in the warm and impossibly blue waters, and getting to know the friendly local communities. We'll also spot a range of exotic wildlife before ending the voyage in Miami.

---
Highlights

• See a mixture of colourful cities and beautiful remote islands around the Caribbean

• Spot wildlife such as turtles, dolphins, sharks, monkeys and iguanas

• Get to know the region's rich indigenous culture plus its colonial and pirate history

• Enjoy onboard yoga and meditation classes with a professional instructor




Panama City is much more than just the entrance to its famous canal. Visit the ruins of Old Panama City, devastated by pirate Henry Morgan. Hike to Ancón Hill and enjoy views of the skyscraper-lined cityscape and of the Casco Antiguo district which boasts a real mix of architectural styles. Spend the night in your centrally located hotel.

After breakfast at your hotel, you'll go on a guided city tour. Colón's Canal Expansion Observation Center has viewing platforms over the locks and Gatún Lake. After that we will visit Gaboa Rainforest resort for a fun adventure. At the end of the tour, we embark on MS Fram.

Most of the Creole population live in colourful wooden houses on Great Corn, engaging in lobster fishing. Hike up Mount Pleasant Hill for views of the coves and stunning horseshoe bays. Pristine coral reefs surround both islands, tantalising snorkelers with the likes of barracudas, nurse sharks, hammerheads, green sea turtles, and spotted eagle rays.

This tiny Colombian island in the Spanish Caribbean is a rare and unspoiled find off the grid. Tour the deserted golden beaches by buggy cart or go in search of pirate Henry Morgan's hidden treasure. The diverse coral reefs are the centre point of UNESCO's Seaflower Biosphere Reserve, and kaleidoscopic marine life inspires the above nickname.

Days at sea are yours to enjoy. The Expedition Team will continue the series of lectures about history and biology. Spend time out on deck enjoying the Caribbean breeze and spotting marine wildlife and sea birds. We may also make the most of the warm weather for outdoor yoga and meditation sessions.

At just 13km long and 5km wide, Utila is the smallest of the Bay Islands. The town of Utila is the island´s only settlement, set on a curving bay with two short beaches. The island forms part of the second-largest barrier reef system in the world and is home to gentle whale sharks up to six-metres long.

The cityscape here features handsome colonial houses, seaside parks, and busy shopping areas. Cross the Belize City Swing Bridge, browse art shops, or visit the museum to learn more about the country's Mayan legacy. Join an excursion to the Lamanai temple in the surrounding jungle and maybe sight crocodiles, fruit bats, spider monkeys, and herons.

We land at the uninhabited Half Moon Caye island in the Lighthouse Reef, the most remote of the atolls. The island is Belize's oldest bird sanctuary and the only nesting site in the region for red-footed boobies. It is also the country's first marine protected area, home to endangered loggerhead, hawksbill and green turtles.

Join the Expedition Team for interesting lectures, learn the basics of expedition photography, and spend time out on deck enjoying the fresh sea air as you scout for wildlife. In the Science Center, use microscopes to observe the tiniest creatures in samples taken during the voyage. Continue your yoga routine and unwind with guided meditation.

Your expedition ends in Miami's cocktail of cultures that blends vibes from Latin America, the Caribbean, Asia and Europe. The architecture is also part of the greatest collection of art deco buildings in the world. Extend your trip and visit nearby Everglades National Park where you can spot Florida alligators, egrets, and herons.

Hurtigruten offers unique expedition cruises to some of the most remote and pristine waters of the world. As with all expeditions; nature prevails. Weather, and ice and sea conditions, sets the final framework for all Hurtigruten's operations. Safety and unparalleled guest experiences are at all times our top priorities. All our indicative itineraries are continuously evaluated for adaptions, whether this is due to constraints the elements unexpectedly presents – or exciting possibilities nature and wildlife offer. That is why we call it an expedition.

Our Polar Inside cabins are situated on lower deck and offer a cosy atmosphere. All cabins include bathrooms with shower/wc. Most of the cabins have separate beds where one can be turned into a sofa, and others offer upper and lower berths. Some of the cabins have more facilities than others.

Our Polar Outside cabins are situated on lower deck and they all have bathrooms with shower/wc. Most of them offer separate beds where one can be turned into a sofa, and others offer upper and lower berths. Some of the cabins have more facilities than others.

Our Arctic Superior cabins are comfortable cabins situated on both upper and middle deck, where you can enjoy a relaxing atmosphere. All the cabins have bathrooms with shower/wc. You will also find coffee and tea facilities in these cabins. Most of them have separate beds, where one can be turned into a sofa and some have double beds. Some of the cabins have more facilities than others.

Our Expeditions Suites are the most exquisite cabins on the ship. Situated on upper deck, you can enjoy the most comfortable suites on board. Inside you will find seating areas with TV, bathrooms with shower/wc and most of them have double beds. All of the suites offer cabin kits, which contains bathrobe, slippers and other beauty articles. Some of the suites do have more facilities than others.
Fram
Vessel Type: Expedition
Length: 114m
Passenger Capacity: 276
Built: 2007
MS Fram is designed for sailing in polar waters, holds the highest safety standards and is the perfect size for optimum nautical manoeuverability and guests' comfort. With space for only 276 guests, you are sure to get to know many of your fellow travellers. You will share stunning sights and memories of a lifetime long after returning home. The Norwegian word Fram means 'forward' – lifting expectations of the voyage at hand.
MS Fram was built in 2007 with one mission in mind - to bring her guests closer to nature, wildlife and unforgettable experiences. As well as offering numerous lounges in which to relax, our more active guests can use our well-equipped gym. Meanwhile, on deck, our Jacuzzis guarantee you surreal memories when passing the towering icebergs of Antarctica or Greenland.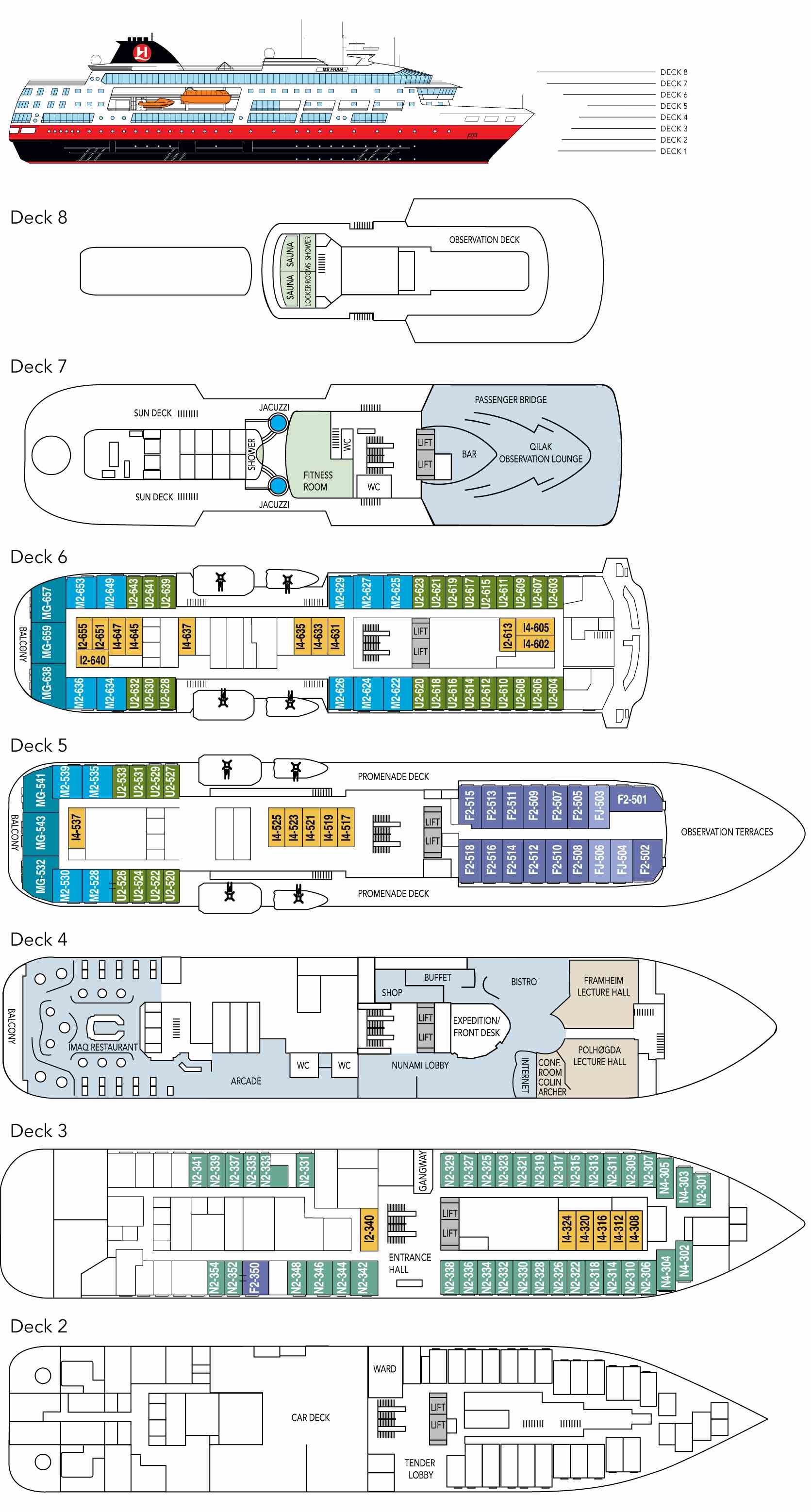 Inclusions

Voyage on board in selected cabin category
All meals while on board
On board lectures



---
Exclusions

International and domestic flights unless otherwise stated
Passport and visa costs where applicable
Travel insurance
Transfers unless otherwise stated
Optional Excursions
Pre and Post voyage accommodation
Beverages on board unless otherwise stated
Meals while ashore