From culture-crammed cities and wild, UNESCO-listed atolls to candy-coloured ports and towering cliffs, the coastline of the British Isles is strewn with underrated treasures that are just waiting to be discovered. Explore the idyllic outline of England, Ireland, Scotland and Wales – as well as the semi-autonomous island that sits at their juncture, the Isle of Man. Across the channel on Northern France's coast, visit places so beautiful that the Impressionists committed them to canvas, and lively fishing ports. Travel in style and comfort, aboard a luxurious, brand-new ship crewed by a passionate and knowledgeable team.
---
Highlights

• Follow in the footsteps of Monet and Boudin in picturesque Honfleur.

• Revel in the Scillies' Caribbean-esque sand-rimmed isles and turquoise waters.

• Marvel at the staggering Pembrokeshire coast, then explore the town of Pembroke and its king-making castle.

• Seek spiritual sustenance in the Inner Hebrides' intriguing islands.

• See the County Antrim's Causeway Coast and a unique stretch of British seaboard, the Giant's Causeway.

• Delve into Dublin's legendary culture and craic



Your 11-day cruise begins today in vibrant, electric London in the shadow of iconic Tower Bridge. Arrive at your elegant boutique ship, which is moored up near to HMS Belfast and check into your cabin . Tower Bridge has been one of London's leading landmarks for more than a century. It instantly transports all who see it to Victorian London and a time when the Thames was one of Europe's leading commercial waterways. If time allows before your ship sails, you could ascend the bridge to watch city life unfold from its high-level Walkway and Glass Floor. Or there are innumerable other attractions to be enjoyed. London is practically sunk under the weight of its museums, galleries and theatres.

After a short hop across the channel, arrive in Boulogne-sur-Mer on the Côte d'Opale, the stretch of the coast of northern France between Calais and Normandy. With its jangling fishing boats and lively local markets, there's an air of activity in Boulogne. And that's been the case since Roman times when it was the harbour of Gesoriacum. Julius Caesar launched his first expedition to Britain in 55 BCE from here, and it was due to be Napoleon's port of embarkation for his planned invasion. During World War II, Boulogne was a German submarine base. Nowadays, it's known as the fishing capital of France. Having disembarked, be sure to soak up the buzz and make a beeline to sample some fresh seafood or explore the city's markets and old town. Visit the ramparts, the UNESCO-listed old belfry and the castle museum. The 19th-century Basilica of Notre Dame sits atop a sizable medieval crypt. A more contemporary attraction is the manta ray-shaped Nausicaa, one of the largest aquariums in Europe.

Your port of call today is Honfleur, Normandy's most charming port town. If it looks familiar, that's because Honfleur was a favourite subject of Monet and many other artists too, including Boudin, Corot, Courbet, Dubourg, Sisley, Bazille and Daubigny. Thanks to landscapes by these masters, the town's timber-framed houses and the appealing Vieux Bassin (Old Harbour) are part of our collective consciousness. Before the city became a refuge for 19th-century artists escaping Paris, in the 16th and 17th centuries, Honfleur was one of France's most important ports. It was from here that, in 1608, Samuel de Champlain set sail to found Québec. Some of the city's unmissable attractions include Les Maisons Satie Musée d'Ethnographie et d'Art Populaire Normand, Musée de la Marine and Musée Eugène Boudin. The Eglise Ste-Catherine is an extraordinary wooden church. Constructed in the late 15th and early 16th centuries, it contains maritime motifs.

The adage of good things coming in small packages is particularly appropriate when it comes to St Peter Port, the capital of Guernsey, the second-largest of the Channel Islands. It bills itself as being "tiny in size but huge in charm", and you'll soon agree. Home to some 18,000 islanders and known colloquially as 'town', St Peter Port possesses a distinctly Mediterranean feel with a maze of venelles (narrow passageways) leading from the port, and cobbled streets snaking their way up the steep hillside. Castle Cornet has protected the town since King John lost Normandy to France, and the nearby French coast became suddenly unfriendly. It's one of the most intriguing fortresses that you could hope to visit. Literary (and musical theatre) fans will enjoy seeing Hauteville House, Victor Hugo – the famed 19th-century French writer – lived and wrote part of Les Misérables here from 1856 to 1870.

Reach one of Britain's most peaceful and beautiful places today. The Isles of Scilly are a low-lying archipelago that lies 45 kilometres off Cornwall. Made up of around 140 rocky islets and five inhabited islands, St Mary's is the largest, followed by Tresco, Bryher, St Martin's and St Agnes. Bryher is the last inhabited place before America. On these islands, it seems like another, gentler world: uncrowded, unspoilt, with little or no car traffic. The Gulf Stream provides a mild climate in which flowers and other flora thrive and the Isles' white-sand beaches and lapping translucent green sea could easily be mistaken for the Caribbean. From the world-famous Tresco Abbey Garden with its 20,000 species from all over the globe and Elizabethan castles to fortresses to Bronze age sites and illuminating lighthouses, the Isles of Scilly boasts several outstanding attractions to be enjoyed.

Marvel at the untamed beauty of Wales' Cardigan Bay and its gorse-clad southwestern jutty, Pembrokeshire, en route to your destination today, Pembroke. It's reputedly some of the most breath-taking coastline in all Britain – comprised of rugged purple cliffs lashed by the sometimes riotous Irish Sea, golden coves and sheltered beaches. Disembark to explore the medieval town of Pembroke. It was the birthplace of Henry Tudor (VII) and is one of the oldest boroughs in Wales. The city is dominated by its magnificent castle that was founded in 1093 by Arnulf de Montgomery. Pembroke grew prosperous through its sea trade – and though its fortunes have ebbed and flowed, in the 18th century, it was described by Daniel Defoe as "the largest, richest, and at this time the most flourishing town in all of South Wales".

Alight today in Port St Mary, sited on the southwestern tip of the Isle of Man. This beautiful island nation sits roughly equidistant from England, Ireland, Scotland and Wales. Just under 50 kilometres long and 15 kilometres wide, the Isle of Man is one of the best places in the world to explore the outdoors according to UNESCO, which says it is a "special place for people and nature". The agency has designated the entire island a Biosphere Reserve – it's the first 'entire jurisdiction' in the world to receive the award. What sealed the deal for the Isle of Man? UNESCO praises its peat reserves, the grasslands, pools and wetlands as well as its coastline of cliffs, stacks, islets and long beaches – all of which you might see today. Some of the island's other delights include the ancient meeting place of Tynwald Hill, the world's oldest continuous parliament; and Peel Castle, once a Viking stronghold.

No matter your belief system, spending time on Iona is good for the soul. This isle, located in the Inner Hebrides which hug close to the western coast of Scotland, has more than a millennium of spiritual connections. Barely 100 people reside in the spot where St Columba brought Christianity to Scotland, so it's mostly untouched and untamed. Iona is famed for its abbey, which was founded by Columba and his Irish followers in 563 CE. It was in these contemplative cloisters that the sacred treasure, the Book of Kells, was created. The illuminated manuscript was taken to Ireland in 807 CE in an attempt to keep it safe from marauding Vikings. Very little of the gorgeous granite sacred structure you see dates from these times, a Benedictine building was built on the original site in around 1200. Just north of Iona, is uninhabited Lunga, the largest of the Treshnish Isles. Enjoy visiting to see its colonies of playful puffins, guillemots and seals.

Sail into Mull's capital Tobermory and admire the striking colours of the harbourside village. The town was built in the 1780s, is based on a design by Thomas Telford, and is home to a distillery, art gallery and a Marine Visitor Centre. Sample the fresh seafood and visit the local shops and boutique, before venturing out of town to explore the Inner Hebridean island further. Head north to see Glengorm Castle, which is dramatically sited on the high ground at the northernmost tip of Mull, overlooking the isle's Sound. Or to one of the island's sandy beaches which face scattered rocky outcrops and small islands. Mull's highest peak Ben More overlooks sea lochs where Britain's largest birds of prey, white-tailed eagles (often called sea eagles), can be seen. Birders take note, the UK's second-largest bird, the golden eagle, can also be spotted soaring over Mull's glens. There's a reason Mull's other name is Eagle Island.

Disembark in the small Northern Ireland town of Portrush (Port Rois), which is located in County Antrim. It's one of the island of Ireland's most popular staycation destinations – indeed, generations have happy memories of visiting this peninsula, with its family-friendly amusements, attractions and beaches. It is also the gateway to the UNESCO World Heritage-listed Giant's Causeway and Causeway Coast. Flanked by the Atlantic and towering cliffs, the Giant's Causeway is Northern Ireland's number-one attraction. Visit and decide for yourself if the basalt formations are the handiwork of prehistoric volcanic activity – or two legendary Celtic giants.

Your 11-day cruise comes to an end today in Dublin, the Republic of Ireland's capital. It's at times gritty and in places, gorgeous – Georgian squares, hidden parks and tree-lined canals. It's lively, complex, cosmopolitan and eminently walkable. So bid farewell to Vega II and start exploring, if time allows before your flight home. Come full circle and visit The Long Room in the Old Library in stately Trinity College to inspect the Book of Kells, which was produced on Iona. The Long Room itself is much lauded for its beauty – it's a stunning, two-storey, barrel-vaulted space that houses 200,000 of Trinity's oldest books and manuscripts. Elsewhere the new Museum of Literature Ireland, the National Museum of Ireland, Christ Church and St Patrick's Cathedrals, the Guinness Storehouse, Kilmainham Gaol, Glasnevin Cemetery entice visitors – just be sure to stop into a snug somewhere for a pint.

Itineraries are subject to change.
| | | |
| --- | --- | --- |
| 16 April, 2022 to 26 April, 2022 | | Book now |

19 m2 Sleeps 2 Oceanview cabins features 2 single beds, bedroom and living room and a luxurious ensuite bathroom.

28 m2 Sleeps 2 Features 2 single beds, bedroom and living room, a luxurious ensuite bathroom and your own private 6 sq.m. balcony.

44 m2 Sleeps 2 Our Suites features a superking bed and separate living room with and a soothing flame-effect fireplace a luxurious ensuite bathroom and a 12 sq.m. private balcony.

49 m2 Sleeps 2 Our grandest suites features a superking bed and separate living room with and a soothing flame-effect fireplace a luxurious ensuite bathroom, spacious walk in wardrobe and a 12 sq.m private balcony.
Vega
Vessel Type: Luxury Expedition / Cruise Ship
Length: 115 metres
Passenger Capacity: 152
Built: 2020-2021-2022
Our brand new ship has been designed to journey to off the beaten path destinations and remote polar regions in style and comfort. The ship incorporates a PC5 ice-strengthened hull combined with extra-large stabilisers to make your journey as smooth as possible.
Sophisticated Elegance. We know how important outdoor space is, so our spacious, relaxing public spaces provide wide open, unobstructed views throughout the ship. The destination will always be in view.
Your Wellbeing. The safety & happiness of our guests is paramount to our 120-strong crew on board as well as our passionate expedition team who'll be serving up thrilling shore excursions and lasting memories.
Cabin Types. Our 76 cabins including 6 suites have all the amenities you will need to feel comfortable including dressing gowns, hairdryers, personal safes and minibars. Our stylish cabins all have desks, a dressing area and comfy seating. En suite bathrooms all feature glass-enclosed rain showers.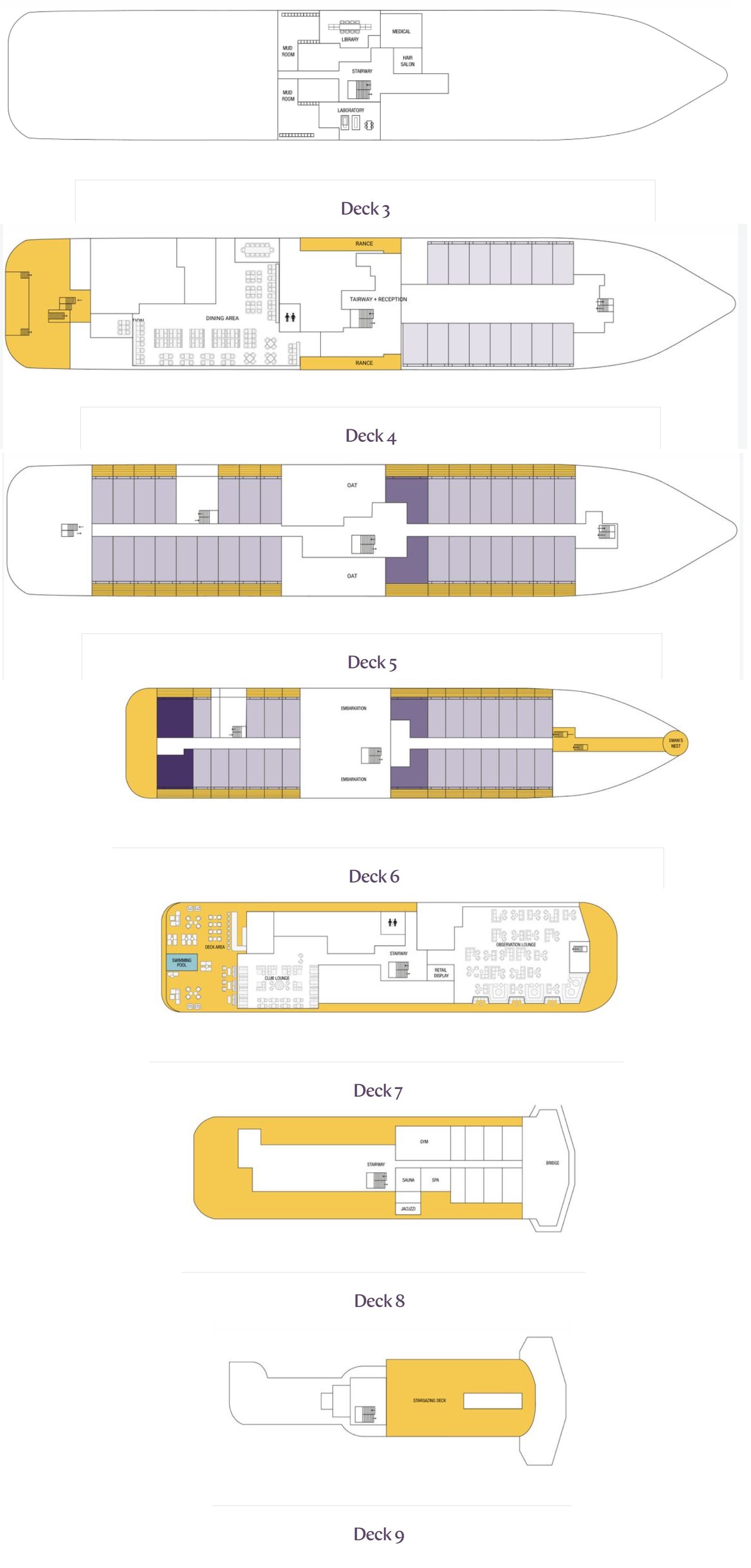 Inclusions

INCLUSIONS FOR ARCTIC & RUSSIA FAR EAST CRUISES
• One night pre-cruise hotel accommodation with breakfast
• Transfer from the airport to the hotel on the day prior to embarkation
• Transfer from the hotel to the port for embarkation
• Transfer from the port to the airport on return
• Onboard accommodation
• All meals onboard including room service 24 hours a day
• Coffee, tea, soft drinks & select alcoholic beverages 24 hours a day
• Lecture programmes by our experienced expedition team and guest speakers
• Shore excursion programme led by our expert expedition team
• Branded Swan Hellenic expedition parka
• Use of rubber boots for shore landings
• Basic WIFI inclusion (Premium WIFI available)
• Onboard gratuities & port taxes

INCLUSIONS FOR ANTARCTICA CRUISES
• Return flights: Buenos Aires to Ushuaia or Santiago to Ushuaia
• One night pre-cruise hotel accommodation with breakfast
• Transfer from the airport to the hotel on the day prior to embarkation
• Transfer from the hotel to the port for embarkation
• Transfer from the port to the airport on return
• Onboard accommodation
• All meals onboard including room service 24 hours a day
• Coffee, tea, soft drinks & select alcoholic beverages 24 hours a day
• Lecture programmes by our experienced expedition team and guest speakers
• Shore excursion programme led by our expert expedition team
• Branded Swan Hellenic expedition parka
• Use of rubber boots for shore landings
• Basic WIFI (Premium WIFI available)
• Onboard gratuities & port taxes

INCLUSIONS FOR REST OF WORLD CRUISES
• One night pre-cruise hotel accommodation with breakfast
• Transfer from the airport to the hotel on the day prior to embarkation
• Transfer from the hotel to the port for embarkation
• Transfer from the port to the airport on return
• Onboard accommodation
• All meals onboard including room service 24 hours a day
• Coffee, tea, soft drinks & select alcoholic beverages 24 hours a day
• Lecture programmes by our experienced expedition team and guest speakers
• On shore transfer per port of call
• Basic WIFI inclusion (Premium WIFI available)
• Onboard gratuities & port taxes

---
Exclusions

• Additional activities such as kayaking, private tours, special arrangements, private Zodiac tours
• Laundry
• Premium wines and spirits
• Purchases in the ship's boutique
• Any spa treatments
• Upgraded WiFi data packages
• Visas where required
• Travel Insurance
• Flights
• Domestic transfers
• Hotel requirements (pre/post cruise) unless otherwise stated in the itinerary description