Sail on a remarkable cruise to the Republic of Ireland, Northern Ireland and Scotland. Explore culture-crammed cities, fascinating ruins and natural marvels from aboard the luxurious Vega II. Visit both iconic sites and lesser-known gems bookended by Dublin's street scenes and Edinburgh's city views. In-between experience Hebridean tranquillity, the Norse traditions of the Shetlands, Scotland's castle country and prehistoric places that predate Giza's pyramids and Stonehenge. Sample Islay's celebrated single malts. Enjoy seeing the British Isles' exciting flora and fauna – observe seals and colonies of puffins and guillemots. All accompanied by an expert team, who know these places like few others.
---
Highlights

• Observe UNESCO-listed St Kilda's internationally lauded bird colonies.

• See the County Antrim's Causeway Coast and a unique stretch of British seaboard, the Giant's Causeway.

• Weave your way through Scotland's wild isles: Shetland, Orkney and the Inner and Outer Hebrides.

• Feel the spellbinding magic of standing stones near Stornoway and Stromness.

• Seek spiritual succour on Iona and the Holy Island of Lindisfarne.



Your 11-day cruise begins today in Dublin, the Republic of Ireland's capital. It's at times gritty and in places, gorgeous – Georgian squares, hidden parks and tree-lined canals. It's lively, complex, cosmopolitan and eminently walkable. So make time to explore before you board Vega II. Visit The Long Room in the Old Library in stately Trinity College to inspect the Book of Kells. The illuminated manuscript was produced on Iona, which you'll visit on Day 4. The Long Room itself is much lauded for its beauty – it's a stunning, two-storey, barrel-vaulted space that houses 200,000 of Trinity's oldest books and manuscripts. Elsewhere the new Museum of Literature Ireland, the National Museum of Ireland, Christ Church and St Patrick's Cathedrals, the Guinness Storehouse, Kilmainham Gaol, Glasnevin Cemetery entice visitors – just be sure to stop into a snug somewhere for a pint.

Disembark in the small Northern Ireland town of Portrush (Port Rois), which is located in County Antrim. It's one of the island of Ireland's most popular staycation destinations – indeed, generations have happy memories of visiting this peninsula, with its family-friendly amusements, attractions and beaches. It is also the gateway to the UNESCO World Heritage-listed Giant's Causeway and Causeway Coast. Flanked by the Atlantic and towering cliffs, the Giant's Causeway is Northern Ireland's number-one attraction. Visit and decide for yourself if the basalt formations are the handiwork of prehistoric volcanic activity – or two legendary Celtic giants.

Arrive on Scottish shores today. The Isle of Gigha – or simply Gigha – is sited off the west coast of Kintyre. At just under 10 kilometres long, this island is tiny and often overlooked by Scottish-island-hoppers, who favour its more famous neighbours such as Jura or Islay. However, this underrated place – known as 'God's Island' in Viking times – is utterly divine. It's been continually inhabited since prehistoric times, and it's easy to see why – it's unusually lush thanks to its mild climate. You might like to visit Achamore Gardens to see its renowned rhododendron and camellia collection and then the ruined church at Kilchattan. West of Gigha is Islay. Land and drink in the island's great beauty: rugged mountains with white sandy beaches and misty glens. But there's more to Islay than meets the eye; it's home to seven world-class distilleries, making the island the perfect place to find the best single malt in Scotland.

No matter your belief system, spending time on Iona is good for the soul. This isle, located in the Inner Hebrides which hug close to the western coast of Scotland, has more than a millennium of spiritual connections. Barely 100 people reside in the spot where St Columba brought Christianity to Scotland, so it's mostly untouched and untamed. Iona is famed for its abbey, which was found by Columba and his Irish followers in 563 CE. It was in these contemplative cloisters that the sacred treasure, the Book of Kells, was created. The illuminated manuscript was taken to Ireland in 807 CE in an attempt to keep it safe from marauding Vikings. Very little of the gorgeous granite sacred structure you see dates from these times, a Benedictine building was built on the original site in around 1200. Just north of Iona, is uninhabited Lunga, the largest of the Treshnish Isles. Enjoy visiting to see its colonies of playful puffins, guillemots and seals.

The westernmost islands of the Outer Hebrides, St Kilda, is a remote cluster of islands that rise dramatically from the storm-lashed North Atlantic. Located west-northwest of North Uist, St Kilda has been named one of the most beautiful places in Europe by Condé Nast Traveller, who hailed the UNESCO World Heritage Site's "unforgettable ocean views and unique ecosystem". Come ashore to tour a ghostly village on Hirta, which was permanently inhabited until the evacuation in 1930. Walk along the spectacular coastline, see the highest sea stacks and cliffs in Britain and one of Europe's most significant gannet colonies, as well as one of the UK's most crucial puffin rookeries.

Sail to Stornoway, the capital of the most populous island in the Outer Hebrides. Lewis is a windswept, rugged place that's famed for its weavers, who make world-famous Harris Tweed. Named after the neighbouring island – despite the majority of registered weavers living and working on Lewis – Harris Tweed is the only fabric guarded and protected by an Act of Parliament. Discover the spellbinding Callanish Stones (or Calanais Stones) on the island's west coast, a collection of standing stones in a cruciform pattern with a central stone circle. Erected in 3,000 BCE, this ritualistic site is thought to have been built some 500 years before Stonehenge making this circle and the one on Orkney, the UK's oldest. No one knows the purpose of these circles, but there's new evidence that a massive lightning strike may have inspired the ancient island dwellers to build the stone circles.

Romantically ramshackle, the appealing grey-stone town of Stromness may not be as big as the Orkney's capital Kirkwall, but what it lacks in size, it more than makes up for in character. The long-established seaport, with its Norse language-derived name, has changed little since the 18th century. Captain Cook's ships stopped here in 1780 en route back from Hawaii, and Cook's companions would have explored a place not dissimilar to today's Stromness. Walk the narrow, flagstone-paved main street, dive down the tiny alleyways which entice you to explore further. The Stromness Museum is excellent and full of maritime tchotchke. The Pier Arts Centre and its towering collection of modern art have been described as a 'little seaside Tate'. Just 12 kilometres north of the harbour lies extraordinary Skara Brae, one of the world's most evocative prehistoric sites. Predating Stonehenge and the pyramids of Giza, it's northern Europe's best-preserved Neolithic village.

Lerwick is the capital – and only real town – of the Shetland Islands, a subarctic archipelago of some 100 islands that is closer to Bergen than Inverness. The Shetlands were Viking ruled until the 15th century, and despite the Norseman ceding control, the culture remained notably Norse-tinged as can be seen at the Shetland Museum and Archives in Lerwick. More history awaits at Fort Charlotte, a five-sided artillery, and the Bod of Gremista, an 18th-century fishing booth-turned textile museum. If time allows, head for Jarlshof, an hour's drive from Lerwick. This Iron Age broch and Norse settlement have more than 4,000 years of human activity on one site. If venturing outside of Lerwick to Jarlshof for example, be sure to keep an eye out for world-famous tiny Shetland ponies. Around 1,500 of them roam free throughout the archipelago.

Disembark today in the port of Peterhead, also known as Blue Town, in Aberdeenshire at Scotland's easternmost point. Located on the outskirts of town, the Peterhead Prison Museum is highly rated if you feel like a small stretch behind bars. This port is located on the edge of 'Scotland's Castle Trail'. Aberdeenshire, that great shoulder of land which pushes into the North Sea, has more castles per hectare (260) than anywhere else in the United Kingdom. Among the agricultural plains, heather-covered craggy hills and forests, you'll find everything from Pictish and Roman forts through medieval strongholds and the turreted fairy-tale fantasies or dramatic Gothic Revival delights of the 17th and 18th centuries. Whisky lovers might be interested to note that the distilleries of Glenfiddich, Strathisla and Glen Grant are also close by. Aberdeen – the multicultural Granite City and the UK's Oil Capital – is only 45 minutes away. You might opt to visit the Aberdeen Arts Centre, the Maritime Museum and the Gordon Highlanders Museum or see Marischal College.

Holy places have undisputed magic, no matter your faith. This is undoubtedly aided by early Christian saints having a knack for choosing riotously beautiful spots. The Holy Island of Lindisfarne is a tiny tidal island that is connected to Northumberland by a narrow causeway at low tide. It was an important centre of Christianity under Saints Aidan and Cuthbert – the former having been sent from Iona to establish a priory on the isle in 635. Vikings continually sacked the monastery until it was abandoned in 875. A castle was built on the island in 1550 and extended by architect Edwin Lutyens – known for New Delhi – at the turn of the 20th century. Once you have finished your Lindisfarne pilgrimage, take a moment (or several) to marvel at the Farne Islands, where you'll have an unprecedented chance to see inquisitive grey seals who'll stare right back at you. Stroll about, and you'll spot kittiwakes, guillemots and puffins.

Your 11-day cruise comes to a close today in Scotland's charming capital, Edinburgh. Sail into Leith, Edinburgh's port of the Firth of Forth. Once you have bid farewell to Vega II and her excellent crew, head away from the waterfront to explore the city's historic sites and winding walks. No visit to Edinburgh would be complete without walking the Royal Mile from the Queen's official residence in Scotland, the Palace of Holyroodhouse, to that lauded landmark, Edinburgh Castle, which sits on Castle Rock, a volcanic hill. Nearby is the contemporary, design-forward Scottish Parliament building and the National Museum of Scotland, which presents a detailed history of Scotland. Or climb to the top of Calton Hill, it's steep, but the views are worth it.

Itineraries are subject to change.

19 m2 Sleeps 2 Oceanview cabins features 2 single beds, bedroom and living room and a luxurious ensuite bathroom.

28 m2 Sleeps 2 Features 2 single beds, bedroom and living room, a luxurious ensuite bathroom and your own private 6 sq.m. balcony.

44 m2 Sleeps 2 Our Suites features a superking bed and separate living room with and a soothing flame-effect fireplace a luxurious ensuite bathroom and a 12 sq.m. private balcony.

49 m2 Sleeps 2 Our grandest suites features a superking bed and separate living room with and a soothing flame-effect fireplace a luxurious ensuite bathroom, spacious walk in wardrobe and a 12 sq.m private balcony.
Vega
Vessel Type: Luxury Expedition / Cruise Ship
Length: 115 metres
Passenger Capacity: 152
Built: 2020-2021-2022
Our brand new ship has been designed to journey to off the beaten path destinations and remote polar regions in style and comfort. The ship incorporates a PC5 ice-strengthened hull combined with extra-large stabilisers to make your journey as smooth as possible.
Sophisticated Elegance. We know how important outdoor space is, so our spacious, relaxing public spaces provide wide open, unobstructed views throughout the ship. The destination will always be in view.
Your Wellbeing. The safety & happiness of our guests is paramount to our 120-strong crew on board as well as our passionate expedition team who'll be serving up thrilling shore excursions and lasting memories.
Cabin Types. Our 76 cabins including 6 suites have all the amenities you will need to feel comfortable including dressing gowns, hairdryers, personal safes and minibars. Our stylish cabins all have desks, a dressing area and comfy seating. En suite bathrooms all feature glass-enclosed rain showers.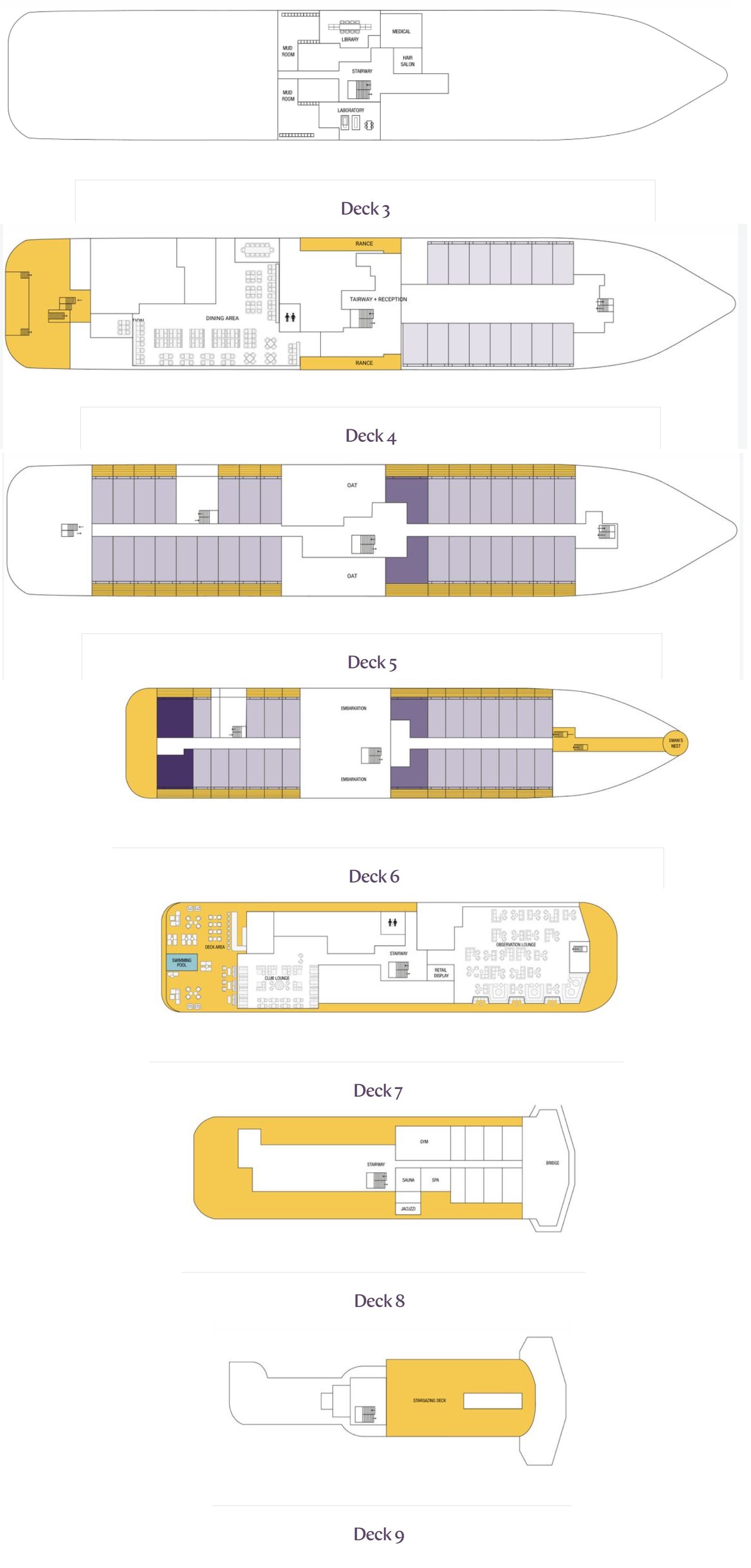 Inclusions

INCLUSIONS FOR ARCTIC & RUSSIA FAR EAST CRUISES
• One night pre-cruise hotel accommodation with breakfast
• Transfer from the airport to the hotel on the day prior to embarkation
• Transfer from the hotel to the port for embarkation
• Transfer from the port to the airport on return
• Onboard accommodation
• All meals onboard including room service 24 hours a day
• Coffee, tea, soft drinks & select alcoholic beverages 24 hours a day
• Lecture programmes by our experienced expedition team and guest speakers
• Shore excursion programme led by our expert expedition team
• Branded Swan Hellenic expedition parka
• Use of rubber boots for shore landings
• Basic WIFI inclusion (Premium WIFI available)
• Onboard gratuities & port taxes

INCLUSIONS FOR ANTARCTICA CRUISES
• Return flights: Buenos Aires to Ushuaia or Santiago to Ushuaia
• One night pre-cruise hotel accommodation with breakfast
• Transfer from the airport to the hotel on the day prior to embarkation
• Transfer from the hotel to the port for embarkation
• Transfer from the port to the airport on return
• Onboard accommodation
• All meals onboard including room service 24 hours a day
• Coffee, tea, soft drinks & select alcoholic beverages 24 hours a day
• Lecture programmes by our experienced expedition team and guest speakers
• Shore excursion programme led by our expert expedition team
• Branded Swan Hellenic expedition parka
• Use of rubber boots for shore landings
• Basic WIFI (Premium WIFI available)
• Onboard gratuities & port taxes

INCLUSIONS FOR REST OF WORLD CRUISES
• One night pre-cruise hotel accommodation with breakfast
• Transfer from the airport to the hotel on the day prior to embarkation
• Transfer from the hotel to the port for embarkation
• Transfer from the port to the airport on return
• Onboard accommodation
• All meals onboard including room service 24 hours a day
• Coffee, tea, soft drinks & select alcoholic beverages 24 hours a day
• Lecture programmes by our experienced expedition team and guest speakers
• On shore transfer per port of call
• Basic WIFI inclusion (Premium WIFI available)
• Onboard gratuities & port taxes

---
Exclusions

• Additional activities such as kayaking, private tours, special arrangements, private Zodiac tours
• Laundry
• Premium wines and spirits
• Purchases in the ship's boutique
• Any spa treatments
• Upgraded WiFi data packages
• Visas where required
• Travel Insurance
• Flights
• Domestic transfers
• Hotel requirements (pre/post cruise) unless otherwise stated in the itinerary description