Starting from Hamburg, we sail the picturesque coasts of England, Northern Ireland, Scotland, and the Faroe Islands before arriving in Iceland. You'll see beautiful English cliffs and countryside, stunning Scottish islands, and vibrant capital cities. This is also a journey into the past as we visit the ancient ruins of castles, abbeys, and former Viking settlements.

---
Highlights

• Visit the coasts of England, Northern Ireland, Scotland, the Faroe Islands and Iceland

• Enjoy scenery such as Cornwall's Isles of Scilly and Isle of Man, a Biosphere Reserve

• Learn about Viking history on the Isle of Man and in the Western Scottish Isles

• Watch for rich marine and bird life along the coast and around the islands



The second-largest city in Germany is also one of the greenest urban areas in Europe – boasting large parks, botanical gardens and nature reserves. Before embarking on your ship, you may want to enjoy a tour on a harbour barge to explore some of the city´s canals.

Enjoy a relaxing day at sea, sailing to Dartmouth. Scout for wildlife from the observation deck or the Explorer lounge, spend time in the Science Center, soak in the hot tubs and the pool, and listen as the Expedition Team briefs you on the days to come.

Set on the banks of the River Dart, the enchanting town of Dartmouth is steeped in maritime history and boasts Britain's largest Naval College along with a rich cultural history. Buckfast Abbey, castles, steam trains and magnificent walking trails are just a few of the compelling attractions waiting to be explored during our visit. We will be anchored in the centre of the town with a short tender ride ashore, allowing you easy access to visit the town on your own. Or join one of our impressive excursions to learn more about this fascinating town.

This enchanting archipelago off the coast of Cornwall is home to outstandingly beautiful, uncrowded and unspoilt islands. Ideal for exploring on foot, the town of Tresco is home to the world famous Tresco Abbey Garden with its 20,000 plants from 80 different countries. You can also explore the castle ruins or stroll along the tropical-like white beaches. You may also visit St. Mary's – the largest of the islands – with its rocky coves, archaeological sites and charming Hugh Town. Alternatively, join one of our optional excursions for a trip around the islands, visiting shipwreck sites, spotting seals basking on the rocks and cruising around the bird sanctuary of Annet to observe the puffins and numerous other breeding seabirds.

With a rural landscape and rugged coastline, the Isle of Man became a designated Biosphere Reserve in recognition of its marine and coastal ecosystems. Our location in Douglas enables us to explore the island which has a strong Celtic and Viking heritage. Explore a spectacular landscape of rolling hills, pebble-dash beaches and coastal paths. Visit magnificent castles and Viking museums, board a historic steam train, or just enjoy strolling through the town at your leisure.

A city of industry and elegance, Belfast is the birthplace of the Titanic, as well as being the capital and largest city of Northern Ireland. It is a gateway to a glorious countryside of pretty villages and a beautiful rugged coast with pristine beaches and breathtaking clifftop walks. Experience Giants Causeway, hike through spectacular scenery or explore what this impressive city has to offer.

Originally a Viking settlement, Stornoway is the main town of the Western Isles and the capital of the Isle of Lewis, which is the largest and most northerly of the Outer Hebrides. A bustling harbour and waterfront with museums and art galleries are overlooked by the handsome Lews Castle which we invite you to explore with us. Further afield are mills and cottages where hard-wearing Harris Tweed is woven. There are tiny folk museums, the world-famous Callanish Standing Stones, and the mysterious Carloway Broch - the best preserved fort in Scotland dating back more than 2,000 years.

The Faroe Islands are a group of 18 isles that lie in the middle of the North Atlantic, halfway between the Shetland Islands and Iceland. Tórshavn is one of the smallest capitals in the world, with just 15,000 inhabitants. It was founded in the 10th century, and might very well be the oldest capital in northern Europe. Since the turn of the 20th century, Tórshavn has grown rapidly, and is today the economic, cultural and administrative centre of the Faroes. The town is a charming blend of old and new with small houses in nearly every colour.

The Expedition Team will host interesting talks and useful workshops in the onboard Science Center. You can also hit the gym, relax in the sauna, or soak in the outdoor hot tubs. Why not watch the world go by in the explorer lounge or from one of the outside observation decks.

Our voyage ends in Iceland's trendy capital of Reykjavik. Its name means 'Smokey Bay', so called because of the columns of steam that rise from its many hot springs. We highly recommend booking a Post-Programme to explore the surrounding geysers, mountains, glaciers and geothermal baths on offer near to the city.

Hurtigruten offers unique expedition cruises to some of the most remote and pristine waters of the world. As with all expeditions; nature prevails. Weather, and ice and sea conditions, sets the final framework for all Hurtigruten's operations. Safety and unparalleled guest experiences are at all times our top priorities. All our indicative itineraries are continuously evaluated for adaptions, whether this is due to constraints the elements unexpectedly presents – or exciting possibilities nature and wildlife offer. That is why we call it an expedition.

The Polar Outside cabins are primarily on the middle decks with windows, most are spacious, have flexible sleeping arrangements and TV for excellent and high standard accommodation. Can accommodate two to four passengers.

Arctic Superior class cabins are comfortable and roomy accommodation and most have balconies. Flexible sleeping arrangements, sofa beds, TV and other features make this one of our most popular categories. Our Arctic Superior concept includes a kettle, tea and coffee. Can accommodate two to four passengers.

These suites are large, well-appointed cabins with expansive windows and most have balconies. Some have a private outdoor hot tub. The suites feature flexible sleeping arrangements with comfortable sofas, sitting areas and TV. They can accomodate up to four people. Expedition suites are exclusively in upper and mid-deck locations. Our Expedition Suite concept includes a bathrobe, espresso maker, and more. An exciting welcome gift awaits all suite guests in their cabin.
Fridtjof Nansen
Vessel Type: Expedition
Length: 140 m
Passenger Capacity: 530
Built: 2020
MS Fridtjof Nansen is the latest addition to Hurtigruten's fleet of custom built ships – and the next generation expedition ship. She will explore some of the most spectacular corners of the globe. Featuring Hurtigruten's revolutionary battery hybrid powered propulsion system, MS Fridtjof Nansen will be a near identical twin to her sister ship MS Roald Amundsen. Combining state of the art technology and premium on board experience with Hurtigruten's 125 years of experience and unparalleled destinations, the two Norwegian built ships introduces the next generation of adventure travel.
Cabins and public areas
The stunning scenery will be reflected in a rich and comfortable interior design. Scandinavian materials from nature, such as granite, oak, birch and wool will be used to create relaxed and stylish cabins and public areas. All cabins are outside, 50 % will have private balconies, aft suites will feature private outdoor hot tubs with spectacular views.
Science Center
The core of the onboard experience is the Nansen Science Center, an edutainment venue to guests and crew meet to create a deeper understanding of the areas we explore. Nansen Science Center will also be the on board HQ for the Expedition Team.
Restaurants
MS Fridtjof Nansen's three restaurants will host a variety of dining options, with menus drawn from our rich Norwegian and Nordic tradition, as well as international cuisine and local inspiration. Whether enjoying your meal at Aune Main Dining, Fredheim – the informal international meeting place, or the specialty restaurant Lindstrøm, you will indulge in low key yet refined, modern Norwegian Nordic cooking – where our honest and delicious cuisine reflects our destinations.
After a day of exploring new destinations, guests can relax and rejuvenate in the elegant Explorer Lounge, a large gym and Wellness center, or enjoy the scenery and sunsets on the massive in- and outdoor Observation Decks with the aft infinity pool and hot tubs as one of the highlights.
Everything you need for an expedition cruise
Each expedition voyage is accompanied by a hand-picked team of specialists and modern-day explorers. Highly experienced, passionate and knowledgeable, the Expedition Team will be your guides and guardians on your voyage of exploration, instructing you on safety, sustainability and science. MS Fridtjof Nansen will feature a variety of custom built expedition equipment, including kayaks, a fleet of Blueye underwater drones and Expedition Boats for safe landings in remote areas.
In the footsteps of a great explorer
The newest addition to our fleet will honor the heritage of her namesake – the Norwegian explorer, scientist, humanitarian and Nobel Peace Prize laureate Fridtjof Nansen. Known for his innovations in Arctic expeditions, Nansen led the first crossing of Greenland on cross-country skis. He is perhaps most famous for his attempt to reach the geographical North Pole during the Fram Expedition (1893-1896). Interestingly, after Nansen's Fram expedition, the ship was passed on to another great explorer who secretly planned an expedition to the South Pole - Roald Amundsen.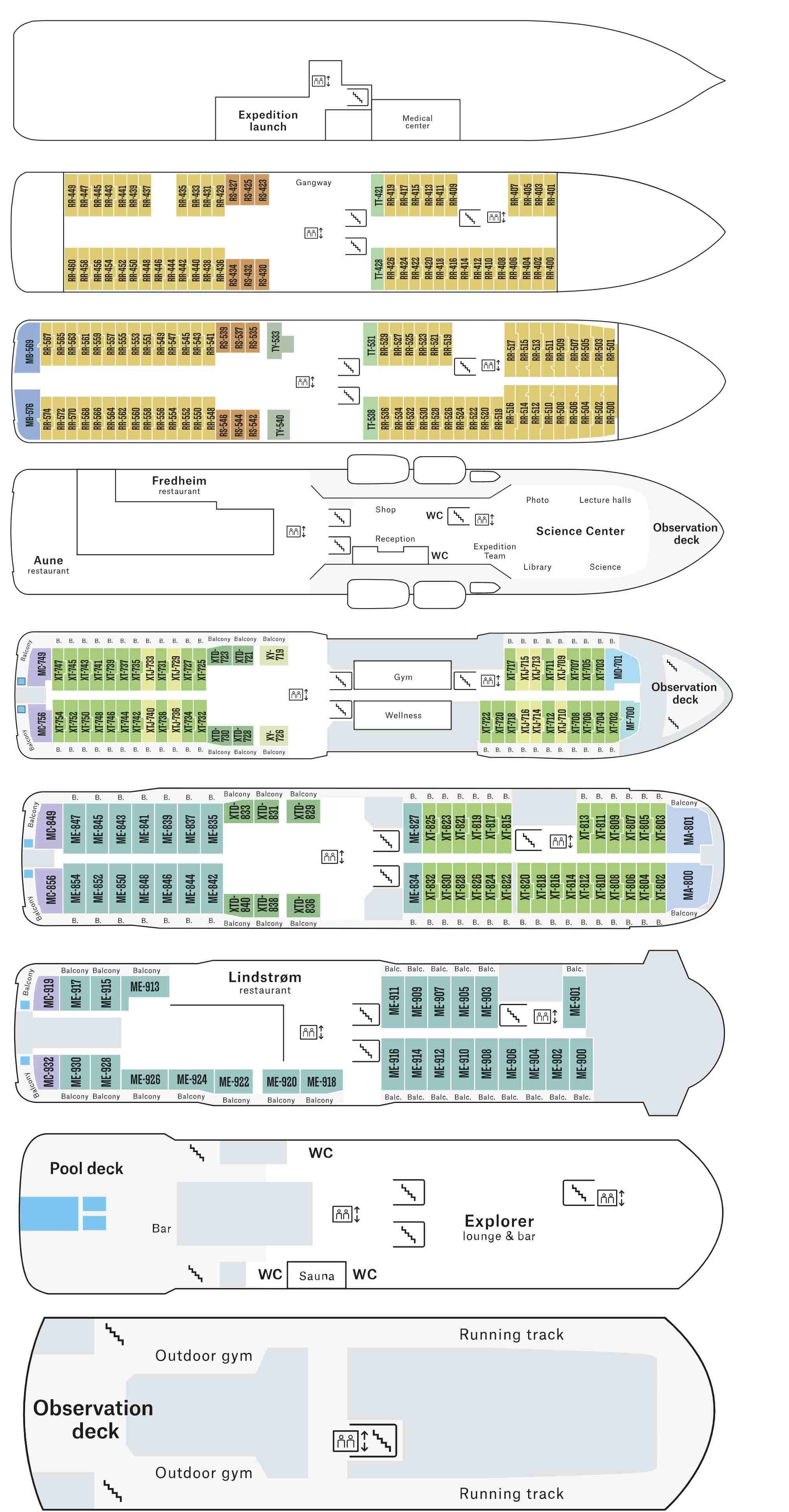 Inclusions

• Voyage on board in selected cabin category
• All meals while on board
• On board lectures

---
Exclusions

• International and domestic flights unless otherwise stated
• Passport and visa costs where applicable
• Travel insurance
• Transfers unless otherwise stated
• Optional Excursions
• Pre and Post voyage accommodation
• Beverages on board unless otherwise stated
• Meals while ashore