Before your journey across the Atlantic begins, we'll visit the picturesque island of Dominica, with its mountainous, volcanic landscapes.

Understanding our oceans
As you sail from Bridgetown to Reykjavik, you'll be able to take part in an engaging programme of hands-on lectures, workshops and classes that cover topics like marine biology and the history of sea navigation from the Vikings till now.

Learn from enthusiastic Expedition Team members, handpicked for their expertise, and use microscopes in the ship's Science Center to explore the ocean's hidden ecosystem. There will also be Citizen Science projects to sink your teeth into, connected to important live research worldwide.

Finding inner peace
It's not all facts and figures though. Rest and relaxation are important too. Take many a moment to just stop, watch the waves, reflect, and enjoy some precious 'me time'.

You'll also have the chance to reset your mind, body and soul through yoga, meditation, and movement practices, guided by a wellness team of specialised instructors. If you find the arts more soothing, you can channel your inner artists in one of our arts & crafts classes.

By the end of your journey, you might find you'll leave the ship a different person to when you first boarded; spirits lifted and a mind bursting with new knowledge.
---
Highlights

• Deepen your knowledge of the oceans on a 14-day, science-focused expedition cruise at sea, and discover how this journey can also enrich your wellbeing.



Your expedition begins in Barbados, the easternmost island in the Caribbean. Fully independent since 1966, Barbados is a young, English-speaking country which a colourful history. Settled first by the Arawaks, then the Caribs, it was invaded by the Spanish, named by the Portuguese, and eventually colonised by British emigrants and West African slaves.   Our ship will dock at Bridgetown, the island's capital, known affectionately by the locals as 'Town'. With an attractive mix of old and new, Bridgetown's historical centre is compact enough to be enjoyed on foot. It features outstanding examples of British colonial architecture from the 17th to the 19th centuries, and UNESCO-listed buildings worthy of exploration.   If you have time before embarking, explore Old Bridgetown. Stroll around the inner harbour of the Careenage and take in the UNESCO-listed Parliament

There are more mountains, more volcanoes, and more jungles in Dominica than anywhere else on the Lesser Antillas. This is, in short, our call for today. If looking for a mountain paradise by the sea, Dominica is the place!  The officially English speaking Commonwealth of Dominica is located in the Windward Islands group, between the French islands of Guadeloupe and Martinique. As part of the volcanic islands chain of the Lesser Antillas, Dominica is fairly active, with the last important eruptions as recently as 1997, and such volcanic wonders as Boiling Lake, the world's second largest thermally active lake, Morne Diablotins, the highest volcano on the island at 1.447m, and Morne Trois Pitons, an active volcano 1.387m high nowadays the main feature of a National Park listed as UNESCO World Heritage Site.   The rugged landscapes of the island are Dominica's true jewel. But second only to basaltic rocks, thermal lakes, sulfurous fumaroles and high volcanoes, come the jungles. Dominica is green and luxuriant, with two thirds of the island wild and densely forested, covered by lush mountain rainforests, and home for many endemic plants, animals, and bird species.   We will call for the day at Portsmouth, the second most important town in Dominica. Located inside Prince Rupert Bay, at the northwestern corner of the island, Portsmouth is ideally located to explore the natural wonders of the island. Closest to our landing site is the headland of La Pointe and the historical remains of 18th century Fort Shirley, both part of Cabrits National Park and located just a couple of kilometers away from our landing area. The tropical forest, swamps, sandy beaches, and coral reefs of Cabrits National Park are one of the highlights of the northern half of Dominica and an excellent place for nature walks and birdwatching.   To tour the island and explore other highlights, join one of our optional excursions. We will take you to the great mountain landscapes of inner Dominica, see lakes and waterfalls, stop at mountain village, drive through the rainforest, and learn about the traditions of the islanders. Dominica still has a pre-Columbian population of Caribs, most of whom live in the eastern side of the island, in the so-called Kalinago Territory.

It's time to relax and unwind as you settle into the ocean's rhythm and life aboard this cosy ship. Check out the onboard facilities like the hot tub, gym and sauna, relax in the lounge with a book, and get to know your fellow guests. You will meet your Expedition Team, experts in oceanography, marine biology, ornithology, as well as your wellness instructors, who have all been handpicked for this unique expedition cruise. They will introduce you to the range of science, nature, navigation and wellness activities that will be available. Your time at sea will be an opportunity to connect with nature. Increasing our awareness and appreciation of the natural environment around us is an important key to mental and physical wellbeing. Our Expedition Team will be on hand to guide your discovery of nature on this ocean crossing, perhaps by helping you identify the seabirds that sometimes follow the ship from deck or by showing you around the onboard Science Center. In the evenings, you can relax in the lounge and look forward to some fun activities as the Expedition Team host quiz nights, Q&A sessions, put on movie nights, and hold impromptu talks about the area you're sailing in.

Over the next few exciting days, you'll be hands on and happily engaged in a range of activities. Oceanography and science at sea As we sail from the cool Nova Scotian coast to the warm, tropical climate of Panama, you'll study the changes in the sea and the effect of ocean currents, like the Gulf Stream, in lectures and workshops. Learn about the differences between marine life along the continental shelf and the deep ocean with the Expedition Team. This might involve observing seabirds or analysing sea water samples in the Science Center. Navigation old and new You'll explore celestial navigation, astronomy, and how this compares with modern-day electronic instruments. Discover how explorers of old navigated the seas using tools like a sextant, and how the Vikings used Optical Calcite and the stars. Conservation and Citizen Science You'll tackle issues like the plastic pollution blighting our oceans, and what we can do to reduce this. We'll explain our commitment to the environment and the steps we're taking towards becoming a leader in sustainable travel. You can join Citizen Science projects that may include: whale spotting for Happywhale, a global tracker; noting cloud and sky conditions for the GLOBE observer in conjunction with NASA; or taking seabird counts. Science and art Before the invention of micro-photography, scientific researchers on expeditions had to paint their samples. Join a unique art workshop where you can inspect samples under a microscope and try this out for yourself. Or if you prefer, draw your artistic inspiration from the nature around you and paint what you explore. Wellbeing and nature: a virtuous circle Learn about our symbiotic relationship with nature: where our own wellbeing has a direct and positive impact on the health of the planet. Studies show that regularly interacting with nature makes us healthier and happier. Research also shows that people who feel connected to nature are more likely to behave in ways which promote environmental health, for instance through conservation activities. Explore what actions you can take to maintain this virtuous circle. Health and wellbeing You'll have many opportunities to engage in wellness activities and deepen your connection with nature. You can practise daily yoga, learn mindfulness and meditation techniques, and even join the Expedition Team for a morning mile-long walk on deck. There will also be a range of healthy and delicious vegetarian and plant-based menu options, as well as fresh smoothies, juices and nutritious snacks available on board. Arts & crafts One of the best ways to disconnect from the stress of modern life and reconnect with yourself is through our arts and crafts workshops. Craft-based activities have been proven to promote relaxation, reduce anxiety, improve cognitive abilities, as well as enhance overall happiness. You can put that to the test for yourself during your cruise with us.

As we sail towards Iceland on our last day at sea, we bring our onboard programme to a close. You may want to discuss your data counts and findings from your Citizen Science projects with the Expedition Team, or take a last glimpse at the fascinating ocean life under the microscope in the Science Center. Or maybe you'll simply wish to relax and unwind in the hot tub, sauna or lounge? Take some time to observe and appreciate the wonder of the nature around you. Silently contemplate the majesty of the sea or the shifting of the clouds above. Scan for wildlife out on deck while basking in the warmer weather of the Caribbean. You might catch sight of dolphins, flying fish and rare seabirds. Observe the harmony of their movements and notice the calming effect this has. The Expedition Team will host a presentation recapping your programme highlights and summarise what we've learned along the way. The officers might join you for a farewell dinner and the crew may even put on a talent show for you, if you're lucky.

We say a fond farewell to our ship as we end our journey in Reykjavik, the northernmost capital in the world. If you have time, this small city is the perfect size for a walking tour, packed full of art, culture and history.   Take a stroll along Laugavegur, the main shopping street, with its boutiques and outdoor shops. If you're an art lover, you'll enjoy the Reykjavik Art Museum, National Gallery and the many smaller galleries and museums dotting the city. From the comprehensive National Museum to the delightful Icelandic Punk Museum, you're bound to find one or more to engage you.  Named by the first Viking settlers, who saw rising steam from the surrounding geothermal features, Reykjavik means 'Smoky Bay' in English. The city lies only a few hours away from Iceland's fabled lagoons, geysers, hot springs and waterfalls.  Iceland's abundance of geothermal energy sources has forged a strong tradition of public bathing in swimming pools and hot tubs known as "heittur pottur" in Icelandic. They're what pubs are to the British - a perfect way of catching up with friends and unwinding after a long day. Bring your swimsuit if you fancy a dip in one of the city's 18 swimming pools, many of them have saunas and heitur pottur.  Blue Lagoon is probably Iceland's most famous heittur pottur. Situated in a vast 800-year-old lava field, the water's blend of silica, algae and minerals have helped this magical location earn its place on National Geographic's Top 25 Wonders of the World. As a way of signing off your adventure, few things would top soaking yourself in relaxing volcanic water with a beverage of your choice surrounded by beauty.   Post-Programme We recommend extending your stay with our Post-Programme which brings you to explore more of Iceland's natural wonders. Whatever's next for you, we wish you a safe onward journey and we look forward to seeing you for your next adventure!

Itineraries are subject to change.
25 April, 2023 to 08 May, 2023


Fram

Book now

Our Polar Inside cabins are situated on lower deck and offer a cosy atmosphere. All cabins include bathrooms with shower/wc. Most of the cabins have separate beds where one can be turned into a sofa, and others offer upper and lower berths. Some of the cabins have more facilities than others.

Our Polar Outside cabins are situated on lower deck and they all have bathrooms with shower/wc. Most of them offer separate beds where one can be turned into a sofa, and others offer upper and lower berths. Some of the cabins have more facilities than others.

Our Arctic Superior cabins are comfortable cabins situated on both upper and middle deck, where you can enjoy a relaxing atmosphere. All the cabins have bathrooms with shower/wc. You will also find coffee and tea facilities in these cabins. Most of them have separate beds, where one can be turned into a sofa and some have double beds. Some of the cabins have more facilities than others.

Our Expeditions Suites are the most exquisite cabins on the ship. Situated on upper deck, you can enjoy the most comfortable suites on board. Inside you will find seating areas with TV, bathrooms with shower/wc and most of them have double beds. All of the suites offer cabin kits, which contains bathrobe, slippers and other beauty articles. Some of the suites do have more facilities than others.
Vessel Type: Expedition
Length: 114m
Passenger Capacity: 276
Built: 2007
MS Fram is designed for sailing in polar waters, holds the highest safety standards and is the perfect size for optimum nautical manoeuverability and guests' comfort. With space for only 276 guests, you are sure to get to know many of your fellow travellers. You will share stunning sights and memories of a lifetime long after returning home. The Norwegian word Fram means 'forward' – lifting expectations of the voyage at hand.
MS Fram was built in 2007 with one mission in mind - to bring her guests closer to nature, wildlife and unforgettable experiences. As well as offering numerous lounges in which to relax, our more active guests can use our well-equipped gym. Meanwhile, on deck, our Jacuzzis guarantee you surreal memories when passing the towering icebergs of Antarctica or Greenland.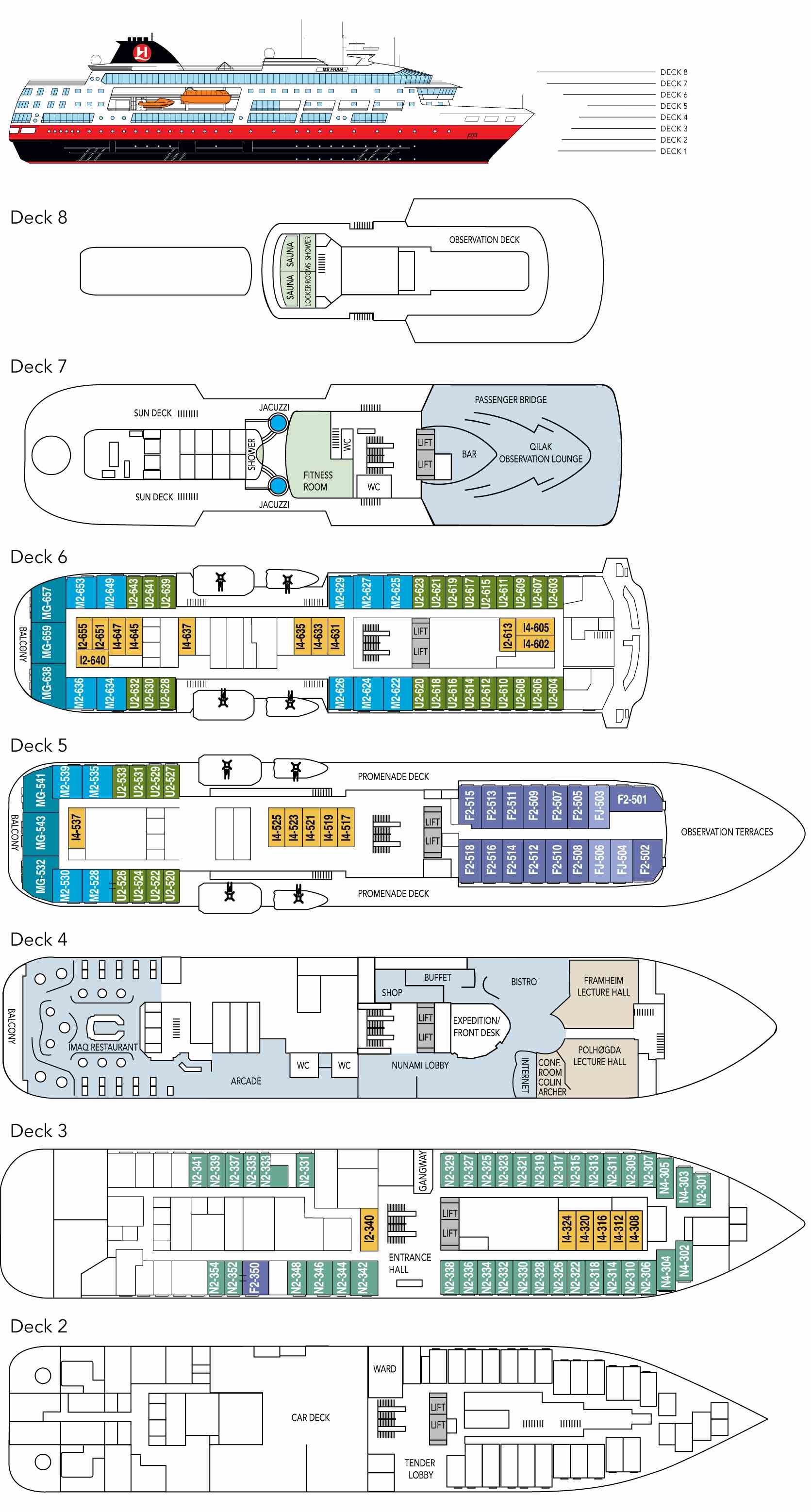 Inclusions

• Voyage on board in selected cabin category
• All meals while on board
• On board lectures

---
Exclusions

• International and domestic flights unless otherwise stated
• Passport and visa costs where applicable
• Travel insurance
• Transfers unless otherwise stated
• Optional Excursions
• Pre and Post voyage accommodation
• Beverages on board unless otherwise stated
• Meals while ashore