Trace the southeastern coast of South America on a captivating cruise that spans three countries, eight ports and one coral-fringed atoll. Cruise aboard your über-elegant ship first along the shoreline of Brazil, where one of the most vibrant ecosystems on the planet, the Atlantic Forest biome, hugs the seaboard. This verdant region is home to Salvador, Rio de Janeiro, Paraty, Santos and Itajaí – all of which you'll explore. Offshore, experience the biodiversity of the Abrolhos Archipelago, a humpback whale hotspot. Venture from gigantic Brazil to South America's second-smallest country, Uruguay. Enjoy visiting its affable, unaffected capital city, Montevideo, before moving onto the other side of the River Plate to your final destination: Argentina's Buenos Aires. Queen of the Plate, the Paris of the South, Tangopolis – Buenos Aires' romantic monikers reveal this pampas-encircled city's passion, rhythm and romance. You'll quickly understand why B.A. is South America's leading city destination.
---
Highlights

● Observe marine life in the Abrolhos Archipelago, located in one of the most biodiverse areas in the South Atlantic.

● Come face-to-face with Rio de Janeiro's icons from Christ the Redeemer and Copacabana to the Sugarloaf and Ipanema.

● Fall in love with one of the most charming little towns in all of Latin America, Paraty.

● Check out one of the world's most chilled-out and cool capitals, Montevideo, with its colonial architecture and thriving cultural scene.

● Experience the romance of elegant Buenos Aires with all its faded grandeur and Latin passion.



Your 14-day cruise aboard über-elegant Vega II begins today in Salvador, the capital of the state of Bahia. This multi-ethnic city is imbued with a youthful energy that's hard to resist. More than anywhere else in Brazil, this is where Africa meets South America, and from capoeira to Candomblé, the culture reflects a deep and rich Afro-Brazilian heritage. Be sure to make time to explore the city before boarding your home-from-home for the next two weeks. A visit to Pelourinho, the historic centre with its coil of cobblestone streets and brightly painted colonial buildings, is unmissable. Salvador was Brazil's first capital from 1549 to 1763, and its old town is UNESCO-listed. Elsewhere there are myriad places to explore. Still, lovers of the literary works by Jorge Amado, one of the city's favourite sons, shouldn't miss out on exploring his former house, now a museum, A Casa do Rio Vermelho.

The resort town of Porto Seguro – your port of call – is one of southern Bahia's most popular destinations for homegrown travellers who visit to relax on the area's superb beaches. This heavyweight tourist town is also a big-hitter historically: this is where a European first 'discovered' Brazil. Portuguese nobleman Pedro Álvares Cabral and his fleet, on its way to India, landed on what he called 'True Cross Island' in April 1500. The Discovery Memorial (Memorial da Epopéia do Descobrimento) makes this momentous event. The town's historic core – Cidade Alta – with its numerous churches has been protected by the National Historic and Artistic Heritage Institute (IPHAN) since 1973, and it's worth a visit. Having explored Porto Seguro, you might opt to turn your attention to nearby Arraial d'Ajuda, a deliciously languid former fishing village turned boho holiday hotspot. Sitting atop a bluff overlooking a picturesque stretch of the Discovery Coast, Arraial d'Ajuda came to light in the 1970s, and it's been enticing stylish travellers with its considerable charm and quirky shops ever since.

Observing marine life in its natural habitat is high on the wish lists of many wildlife enthusiasts, and today you will have that opportunity as you explore the Abrolhos Archipelago. This archipelago is made up of five islands that sit within the Abrolhos Marine National Park, located off the coast of Bahia state. Considered to be the most biodiverse area in the South Atlantic, this reserve contains one of the world's most extensive coral reefs. It's home to at least 28 different species of mammals, birds, reptiles and fish that are threatened with extinction. It's a breeding site for humpback whales and is home to colonies of leatherback and loggerhead sea turtles. Enjoy diving and snorkelling today in this unique environment that Charles Darwin once explored. Only one of the islands – Siriba – can be visited and as you walk here, you might see masked and brown boobies, frigatebirds, red-billed tropicbirds, sooty terns and brown noddies, all of which nest here.

Relish in the beauty of being at sea today. Cruising itself is the very definition of leisure, and you'll love this lazy, laissez-faire-type of day. Enjoy the soothing motion of the waves. Breathe deeply while keeping a keen eye out for marine life. Be nurtured by the soul-nourishing powers of the ever-changing colours of the South Atlantic as you sail towards Rio de Janeiro – your next port of call.

Rio de Janeiro, Brazil's second most populated city, is coastal cool brought to life. Located along a stretch of famous Atlantic coastline, around Guanabara Bay, and surrounded by tropical forest-covered peaks, ridges and hills, the city was originally founded in 1565 by the Portuguese. It was the colonial capital from 1763, the capital of the independent country from 1822 until 1960 when it moved to the brand-new city of Brasília. Still, it continued to symbolise Brazil to the rest of the world and remained the country's cultural capital. From museums to markets, beaches to churches, favelas to festivals, you'll spend the next two days getting to know the Cidade maravilhosa. Where to even start? You can't visit Rio without gaping at the scenery. After all, as the local's say, on the eighth day, God created Rio. Head to the Sugarloaf Mountain or the art-deco statue of Christ the Redeemer on Corcovado Mountain in the Tijuca Forest national park for the world-famous views.

Enjoy digging deeper into Rio today at some of the city's cultural hotspots. The Santiago Calatrava-designed Museum of Tomorrow's exterior is impressive, so take time to stroll around the reflection pool that gives visitors the impression the museum is floating. The dynamic Museu de Arte do Rio (MAR) is just across the plaza. Take the elevator to the sixth floor for the views and start from the top down. UNESCO-listed Valongo Wharf, Rio's 'slave harbour' was the most significant arrival point for slaves in Brazil. Nearly a million slaves from West and Central Africa landed here. Only rediscovered due to preparations for the 2016 Olympics, this unique memorial is the "most important physical trace" of the devastating trade on the American continent, according to UNESCO. You can't visit Rio without seeing some of starchitect Oscar Niemeyer's work. Located in nearby Niterói, the Niterói Contemporary Art Museum opened in 1996 and is considered one of the last great buildings by the Brazilian Modernist. End your stay in Rio with a visit to famous Copacabana. It might seem cliched, but it's still a must. Copacabana is arguably the best urban beach in the world. Soak up the good-time vibes with a caipirinha in hand bought from a beachside quiosque (kiosk).

Hidden behind a curtain of rainforest – the lush Mata Atlântica – the tiny coastal town of Paraty is a joy to explore. Arrive at the pink and red harbour and disembark to explore the charming village, which was the centre of a gold rush in the 18th century. Stroll around the cobblestoned streets of the historical centre, recognised as a National Historic Site by IPHAN since 1966. It's dotted with artisanal shops and independent galleries and lined with white-washed buildings made distinctive by their brightly coloured doors, jambs and latticework. The mustard-yellow, 17th-century Our Lady of the Remedies church, is located in Paraty's main square and is purported to have been financed by pirate treasure. If you wish to venture beyond the town, the Serra da Bocaina National Park is chock full of tumbling waterfalls and a 'Gold Trail'; or the Saco do Mamanguá fjord is a picturesque snorkel-friendly paradise.

Dock today in Santos, Latin America's largest port and the closest cruise port for the powerhouse that is São Paulo. Your options are numerous today: whether you're exploring its long beach gardens, the coffee or football museum, usually off-the-tourist-radar Santos delivers more than sunny vibes and a coffee buzz. Founded in 1546, Santos grew into a major port on the back of the black gold boom. The city's dedicated coffee museum is housed in a grand building from the 1920s. Sports fans will love visiting Pelé and Neymar's former club Santos Futebol Clube and its excellent museum. For those who don't mind more of an expedition, the megacity of São Paulo is 70 kilometres inland. With its world-class arts and food scene, must-visit destinations in Sampa, as it's known, include: MASP (Museu de Arte the São Paulo), the Avenida Paulista, the Pinacoteca art museum, the cathedral, and the Pátio do Colégio, where the Jesuits founded the city in 1554.

Brazil possesses some 7,500 kilometres of continuous coastline, continue your exploration of it today. Arrive in Itajaí, a seaport in the southern state of Santa Catarina – one of the smallest and wealthiest regions in Brazil. It's situated on the right bank of the mouth of the Itajaí-Açu river and is part of the Vale do Itajaí or Vale Europeu ('European Valley') region. A little piece of Deutschland in South America, the city and broader area reveals the acute influence of thousands of German migrants that settled in the area in the 1800s. Explore the town today to spot Teutonic architectural touches. Itajaí is also famed for its beaches. There's a Brazilian expression "é minha Praia" ("that's my beach") –it's equivalent to the English idiom "just my cup of tea". Find your beach today from strips of sand including Molhe, Atalaia, Geremias, Cabeçudas, Morcego, Brava and Solidão.

As you cruise southwards to your next port of call in Uruguay, spend the day savouring your ship's amenities. Indulge in a relaxing spa treatment, hit the running machine or weights in the gym, listen to an enriching lecture, watch a documentary, or gaze at the passing ocean. It's your day to enjoy your way.

Arrive in Uruguay. Barely-known by the majority of travellers, this progressive little country has been emerging from its larger neighbours' shadow over the past decade. Disembark today in the enchanting capital, Montevideo. Located on the opposite side of the Río de la Plata to Buenos Aires, it's languidly authentic, and you'll rarely find it crowded. Prepare to be charmed by the timeless fin-de-siècle architecture, leafy plazas, sandy beaches (some of the best in South America) and promenades where laid-back residents stroll. Montevideo is also a city that every bookworm should visit: it's home to many renowned writers including Mario Benedetti, Juan Carlos Onetti, and Cristina Peri Rossi. Often referred to as the 'Athens of the Rio de la Plata', Montevideo thrums with a bookish appeal, it's the cradle of Gaucho literature and the only UNESCO City of Literature in Latin America. Make room in your suitcase for a souvenir tome.

Continue your exploration of the city today. Enjoy a bird's-eye view of the city from the observation deck of the Intendencia Municipal de Montevideo. Keen shoppers might like to browse the stalls in the Mercado de los Artesanos on Sarandí Street or visit the food market at Mercado Agrícola or the port market, Mercado Del Puerto. Or you could opt to begin in the Plaza Independencia. It's home to a 17-metre bronze statue of Uruguay's founding father, José Gervasio Artigas, and On the east side of the square, is 26-storey Palacio Salvo, the continent's tallest building when it opened in 1927. Art lovers can view the artworks of Uruguayan painters in the Blanes Museum. Or if you want more, Uruguay's most extensive collection is housed at the unmissable Museo Nacional de Artes Visuales. Other recommended cultural experiences include the excellent Museo del Carnaval; Museo del Fútbol; the former home of architect Julio Vilamajó, now a delightful museum; or the superb Museo del Gaucho in the Palacio Heber.

We might just have saved the best until last. Disembark in Buenos Aires, the capital and largest city of Argentina. This gracefully elegant and attractive city is wedged between the Río de la Plata and fabled Pampas. Known as 'the Paris of the South', it's known for its belle époque grandeur rooted in European influences, and contemporary cosmopolitan verve fuelled by passionately creative Portenos, as residents are called. Delve straight into the city's history at the famous Recoleta Cemetery, where presidents, generals, poets and captains of industry rest in some 6,400 above-ground mausoleums. The Duarte Family crypt is Eva Perón's final resting place. Observe as locals lay flowers for Evita. Near the necropolis, you'll find one of the city's oldest cafes, La Biela. Pop in for a drink to toast to your 14-day cruise; you'll be in good company. Afterwards, be sure to visit a parrilla (steakhouse) leaving room for dulce de leche and time to watch some tango. Today is the final day of your exploration of South America's coastline. Having overnighted aboard Vega II, say 'hasta luego' to your chic ship and its excellent crew. If time allows before you begin your journey home, continue your Buenos Aires experience in Plaza de Mayo, which is lined with the Casa Rosada, the Cabildo and the main cathedral and centred around the Piramid de Mayo, a white obelisk built to commemorate the first anniversary of Argentina's independence from Spain. If you didn't delve into the city's irresistibly vivacious cultural scene yesterday, today is the day. Explore the National Museum of Decorative Arts – it's a testimony to the lives of Argentinian high society at the start of the 20th century. From there, visit the sleek and modern Latin American Art Museum of Buenos Aires (Malba), which makes a big statement. Hit a high cultural note, at the city's famed opera house, Teatro Colón, where a tour will reveal its grandeur.

Itineraries are subject to change.
| | | |
| --- | --- | --- |
| 03 November, 2022 to 16 November, 2022 | | Book now |

19 m2 Sleeps 2 Oceanview cabins features 2 single beds, bedroom and living room and a luxurious ensuite bathroom.

28 m2 Sleeps 2 Features 2 single beds, bedroom and living room, a luxurious ensuite bathroom and your own private 6 sq.m. balcony.

44 m2 Sleeps 2 Our Suites features a superking bed and separate living room with and a soothing flame-effect fireplace a luxurious ensuite bathroom and a 12 sq.m. private balcony.

49 m2 Sleeps 2 Our grandest suites features a superking bed and separate living room with and a soothing flame-effect fireplace a luxurious ensuite bathroom, spacious walk in wardrobe and a 12 sq.m private balcony.
Vega
Vessel Type: Luxury Expedition / Cruise Ship
Length: 115 metres
Passenger Capacity: 152
Built: 2020-2021-2022
Our brand new ship has been designed to journey to off the beaten path destinations and remote polar regions in style and comfort. The ship incorporates a PC5 ice-strengthened hull combined with extra-large stabilisers to make your journey as smooth as possible.
Sophisticated Elegance. We know how important outdoor space is, so our spacious, relaxing public spaces provide wide open, unobstructed views throughout the ship. The destination will always be in view.
Your Wellbeing. The safety & happiness of our guests is paramount to our 120-strong crew on board as well as our passionate expedition team who'll be serving up thrilling shore excursions and lasting memories.
Cabin Types. Our 76 cabins including 6 suites have all the amenities you will need to feel comfortable including dressing gowns, hairdryers, personal safes and minibars. Our stylish cabins all have desks, a dressing area and comfy seating. En suite bathrooms all feature glass-enclosed rain showers.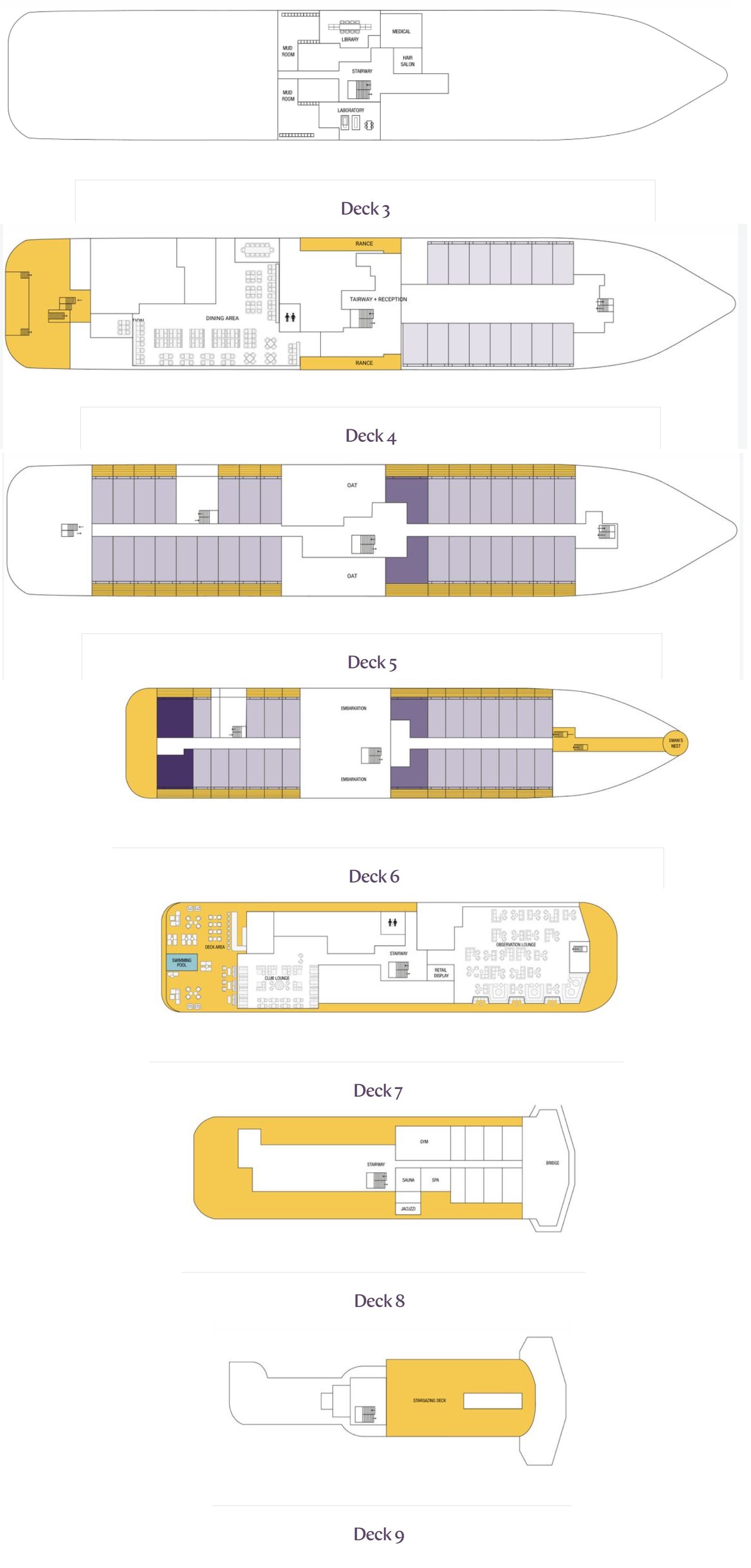 Inclusions

INCLUSIONS FOR ARCTIC & RUSSIA FAR EAST CRUISES
• One night pre-cruise hotel accommodation with breakfast
• Transfer from the airport to the hotel on the day prior to embarkation
• Transfer from the hotel to the port for embarkation
• Transfer from the port to the airport on return
• Onboard accommodation
• All meals onboard including room service 24 hours a day
• Coffee, tea, soft drinks & select alcoholic beverages 24 hours a day
• Lecture programmes by our experienced expedition team and guest speakers
• Shore excursion programme led by our expert expedition team
• Branded Swan Hellenic expedition parka
• Use of rubber boots for shore landings
• Basic WIFI inclusion (Premium WIFI available)
• Onboard gratuities & port taxes

INCLUSIONS FOR ANTARCTICA CRUISES
• Return flights: Buenos Aires to Ushuaia or Santiago to Ushuaia
• One night pre-cruise hotel accommodation with breakfast
• Transfer from the airport to the hotel on the day prior to embarkation
• Transfer from the hotel to the port for embarkation
• Transfer from the port to the airport on return
• Onboard accommodation
• All meals onboard including room service 24 hours a day
• Coffee, tea, soft drinks & select alcoholic beverages 24 hours a day
• Lecture programmes by our experienced expedition team and guest speakers
• Shore excursion programme led by our expert expedition team
• Branded Swan Hellenic expedition parka
• Use of rubber boots for shore landings
• Basic WIFI (Premium WIFI available)
• Onboard gratuities & port taxes

INCLUSIONS FOR REST OF WORLD CRUISES
• One night pre-cruise hotel accommodation with breakfast
• Transfer from the airport to the hotel on the day prior to embarkation
• Transfer from the hotel to the port for embarkation
• Transfer from the port to the airport on return
• Onboard accommodation
• All meals onboard including room service 24 hours a day
• Coffee, tea, soft drinks & select alcoholic beverages 24 hours a day
• Lecture programmes by our experienced expedition team and guest speakers
• On shore transfer per port of call
• Basic WIFI inclusion (Premium WIFI available)
• Onboard gratuities & port taxes

---
Exclusions

• Additional activities such as kayaking, private tours, special arrangements, private Zodiac tours
• Laundry
• Premium wines and spirits
• Purchases in the ship's boutique
• Any spa treatments
• Upgraded WiFi data packages
• Visas where required
• Travel Insurance
• Flights
• Domestic transfers
• Hotel requirements (pre/post cruise) unless otherwise stated in the itinerary description