Join Coral Expeditions and partners onboard expedition vessel Coral Discoverer on a 13–night expedition voyage through the autonomous regions of Bougainville, Solomon Islands and Vanuatu to commemorate the 75th Anniversary of the end of WWII in May 1945. This journey will be conducted in partnership with the Australian Geographic Society and recognises the sacrifices and honours the legacy of Allied and Axis Forces that fought in the theatre of the Pacific War.

These battles were fierce confrontations between the Imperial Japanese Navy and the United States Navy with combined forces of Allied nations including Australia, New Zealand, Canada and the United Kingdom forces. Many significant battles took place in the South Western Pacific countries of Solomon Islands and Vanuatu as well as Bougainville, and this expedition visits battle sites where relics remain either on land or below the sea.

Pacific Islanders were greatly impacted by the war on their doorstep with some playing crucial roles, like the scouts who found John F Kennedy after his patrol boat was sunk. This expedition explores the history of the period and will also offer guests an immersion into the idyllic island landscapes, strong cultural traditions of Pacific Islanders and the renowned warmth and hospitality of the peoples of the Pacific. Special guest lecturer Rear Admiral Allan du Toit will join you on board to share his knowledge.
---
Highlights

• Informative, insightful commentary and presentations by special guest lecturers and wartime historians

• Visit Torokina in Bougainville, site of the Japanese surrender in 1945

• Walk in the footsteps of John F Kennedy on Kennedy Island and learn about his crews' rescue

• Cruise Iron Bottom Sound and pause to pay tribute to Allied troops at wreck sites like the HMAS Canberra

• Snorkel and scuba dive over WWII wrecks, now vibrant marine habitats, at Million Dollar Point, Tulagi and Havannah Harbour

• Cruise into the caldera of a sunken volcano at Ureparapara



Honiara South Pacific Cruise Coral Expeditions At midday join an included pre-cruise tour in Honiara to gain an overview of the Guadalcanal Campaign including the Guadalcanal American Memorial at Skyline Ridge, the Battle of Edson's Ridge and the Henderson Field. Board your Coral Expeditions ship, Coral Discoverer, at 4:00pm where there is time to settle into your cabin before our 5:00pm departure. Join our Expedition Team for an insightful introduction to the Pacific Theatre of War in the 1940's and meet your fellow travellers, the Master and crew for the Captain's Welcome Drinks.

We visit Rendova Island, where United States forces wrested control of the island from Japanese forces. Rendova Island is significant after John F Kennedy – US Navy lieutenant and 35th US President-to-be – swam ashore with his crew after their PT-109 patrol boat was rammed by the Japanese destroyer Amagiri. Two Solomon Islanders found JFK's shipwrecked crew who had been surviving on coconuts, and delivered a message inscribed into a coconut by JFK, to the Allied base on Rendova Island, which resulted in their rescue. Rendova Island was the base for a series of land and sea battles between Allied and Japanese forces known as the New Georgia campaign. The island is home to several small villages while the south coast is a nesting site for endangered leatherback turtles. We visit Roviana Lagoon where there is an opportunity to swim and snorkel in tropical waters.

We cruise through the narrow pass of Blackett Strait where the Battle of Blackett Strait took place in 1943, after a successful Guadalcanal campaign, with the sinking of two Japanese destroyers. It was in the aftermath of a later Blackett Strait engagement that Kennedy's PT-109 was rammed and sunk. There is an opportunity to visit Kennedy Island to relax on the beach and swim in the tropical waters where JFK and his crew made a rudimentary raft from the wreckage to assist the injured swim ashore after their vessel was rammed. Later, we go ashore at Ghizo town, the second largest town in the Solomons, which was established as an administrative base partly to stop the now defunct practice of tribal head hunting. We are welcomed ashore with a cultural performance and are able to wander through Gizo and its waterfront market. There is an option for scuba diving over the wreck of Toa Maru, a Japanese transport ship sunk by American submarine USS Searaven.

Today offers a true expedition-style excursion as we venture ashore at Kangu Beach near the little-visited town of Buin deep in the jungle on Bougainville Island. During WWII this coast was occupied by Japanese forces who fortified the area against US attacks with bunkers, tunnels, coastal guns and anti-aircraft defences. If conditions are suitable, we plan to spend time relaxing on the beach and swimming in tropical waters.

Cape Torokina is where the Japanese Imperial Navy surrendered aboard Royal Australian Navy vessel HMAS Diamantina in 1945. Earlier, at the beginning of the Bougainville campaign during Operation Cherry Blossom, amphibious landings were undertaken by US forces as part of Allied efforts advancing towards the Japanese stronghold around Rabaul in Papua New Guinea. We take a guided tour of a local village and visit the former airfield where Japanese aircraft dropped bombs, forcing the Allies to relocate squadrons elsewhere to avoid aircraft damage.

Wildlife viewing opportunities abound at Tetepare Island, a rugged, rainforest-clad uninhabited island which was mysteriously abandoned by its residents in the mid-19th century. The island's traditional landowners have formed a conservation project to protect the entire island as a wilderness region of archaeological and conservation significance. The island's dense jungle lures approx. 80 bird species including rare and endemic birds, which in turn attract birdwatchers. Tetapare Island is an important nesting site for green and hawksbill turtles as well as the highly endangered Pacific leatherback turtle. A robust population of dugongs and dolphins inhabit the surrounding sea and we may be lucky enough to see these creatures while snorkelling in the lagoon or by joining rangers on a turtle tagging program. There will be an opportunity to purchase artefacts from carvers who come from nearby islands.

The Battle of Tassafaronga was a night time battle whereby US Forces intercepted eight Japanese destroyers delivering food and supplies to their troops on Guadalcanal, with the resultant loss of a Japanese destroyer and a US cruiser. There may an opportunity to scuba dive or snorkel at the site of this shipwreck or visit local villages. Later, we learn more about the Solomon's and Guadalcanal campaigns as we pause to pay tribute above WWII wrecks in Iron Bottom Sound including HMAS Canberra.

During the Guadalcanal campaign, Japanese ships in Tulagi Harbour were raided by aircraft launched from USS Yorktown in a prelude to the Battle of the Coral Sea. Under the code name of Operation Watchtower, in an extended battle US Forces landed and captured Tulagi, which was then the Capital of the Solomon Islands. With Tulagi sustaining extensive damage, after WWII ended the Capital was relocated to Honiara. We go ashore at Vanita Jetty where we are welcomed with a traditional Solomon Islander warrior welcome followed by music and dance performances. We take a guided walking tour around Tulagi township and visit the cut through the hill, the cricket pitch, former Commissioners Residence and the Tulagi Market. We explore the harbour by Xplorer tender vessels visiting Tanambogho and Ghavutu. There may be an opportunity to dive or snorkel the waters around Tulagi which are well-known for magnificent wreck diving.

The Mboli Passage is a narrow waterway that dissects the Ngela Islands (also known as the Florida Islands). The lushly vegetated pass is the location of a fresh water station where Allied warships replenished water supplies by a pipeline fed from limestone caves high on the hill. The Mboli Passage is the final resting point for WWII wrecks such as a Japanese destroyer and we take the opportunity to explore the passage by Xplorer tender vessels.

One of the most geographically spectacular islands in the South Pacific, Ureparapara is an extinct stratovolcano rising 764m above sea level. Accessible only be sea and landlocked on three sides, we cruise into the cone of the volcano which evolved through eruptions and cascading molten lava. We go ashore in Xplorer tender vessels to be welcomed by traditional 'water music' which involves women splashing rhythmically in the shallows of the sea.

Luganville, on the island of Espiritu Santo was the location of a large WWII Allied base with the huts used by troops still evident today. We enjoy a guided tour of the waterfront city. Some of the South Pacific's most extraordinary dive and snorkel sites are in the waters surrounding Luganville. Million Dollar Point is so named after Allied forces dumped unwanted tanks, trucks and other machinery in the sea as WWII ended. These relics have become significant habitats for vibrant coral gardens and extensive fish species, some in water shallow enough for snorkellers to view. SS President Coolidge was a luxury liner that was commandeered into military service to help with pre-war evacuations, then later as a troop carrier. Coolidge's staterooms were reconfigured to accommodate up to 5,000 troops and guns were mounted on her decks. Sailing into a mine field at Espirito Santo harbour, the Captain ran the foundering ship aground on a beach, with all but two crew surviving before the hulk slipped into deeper water and sunk. There is an opportunity for scuba divers to explore this significant shipwreck.

Havannah Harbour was utilised as a Naval and seaplane base by US and Allied forces with a fleet of flying boats moored in the harbour. The seabed near the town of Port Havannah remains dotted with WWII artefacts and antiquities like downed seaplanes, artillery shells and other jettisoned equipment making for fascinating diving and snorkelling. As our incredible South Pacific adventures draw to a close, on our last evening aboard we enjoy the Captain's farewell drinks amongst new-found friends.

This morning we arrive in Port Vila and disembark at 8:00am. Post-cruise transfers can be arranged on board (additional cost).

This itinerary is an indication of the destinations we visit and activities on offer. Throughout the expedition we may make changes to the itinerary as necessary to maximise your expeditionary experience. Allowances may be made for seasonal variations, weather, tidal conditions and any other event that may affect the operation of the vessel.
| | | |
| --- | --- | --- |
| 23 October, 2020 to 05 November, 2020 | | Book now |

Located close to the Dining Room, our six spacious Main Deck (Category B) staterooms are 18sqm (195 square feet) in size and feature twin portholes for expansive ocean views, along with a desk, sofa, telephone and your choice of Junior King or twin bedding.

Located close to the Dining Room, our six spacious Main Deck (Category A) staterooms are 18sqm (195 square feet) in size and feature large, twin porthole windows for expansive ocean views, along with a desk, sofa, telephone and your choice of Junior King or twin bedding.

Encircled by a full-ship promenade, our twenty spacious Promenade Deck (Category A) staterooms are 18sqm (195 square feet) in size and feature picture windows for expansive ocean views, along with a sofa, desk, telephone and your choice of Junior King or twin bedding.

Located on the exclusive Bridge Deck close to the Lounge and Bridge, our five spacious Bridge Deck Balcony staterooms are 18sqm (195 square feet) in size and feature private balconies opening out from french windows providing comfortable indoor outdoor living, along with a sofa, desk, telephone and your choice of Junior King or twin bedding.

Located in the bow of the ship and encircled by a full-ship promenade, our two Promenade Deck (Category B) staterooms are 15sqm (160 square feet) in size and feature picture windows for expansive ocean views, along with a desk, telephone and Junior King bedding.
Coral Discoverer
Vessel Type: Luxury Expedition
Length: 63 metres
Passenger Capacity: 72 (in 36 rooms)
Built: 2005 / Refurbished: 2016
Launched in 2005, Coral Discoverer set a new benchmark standard for small ship cruising in Australia. Refurbished in November 2016, she continues to raise the bar to new levels of sophistication in expedition cruising in the Southern Hemisphere.
The 1800-tonne Coral Discoverer is the grand vision of Coral Expeditions, pioneers in expedition and adventure cruises around Australia, Papua New Guinea and South East Asia. Her shallow draught and manoeuvrability allow her to go where larger vessels cannot. Her tender vessel, Xplorer, can seat all 72 passengers for excursions to beaches and rivers. Coral Discoverer is equipped with latest technology active stabilisers to ensure comfortable cruising in open waters and is fitted with modern safety and navigation equipment and wireless internet facilities.
Coral Discoverer was built to the exacting international SOLAS (Safety of Life at Sea) standards and specifications in Cairns, Australia, with one aim in mind; to create the ultimate small ship cruising experience. Australian flagged, and staffed entirely by an Australian and New Zealand crew, your experience aboard Coral Discoverer will be unique.
After the refurbishment, the Sun Deck has evolved to become a new social space and the hub of on board community living. This area has been converted into an undercover deck area complete with round 'Explorer Bar' with bar stools and sun deck with lounges and an area for outdoor exercise equipment.
Guest accommodation has also received a substantial upgrade with the addition of six Bridge Deck Balcony Staterooms providing coveted inside/outside living quarters. Each of our other Stateroom grades has also received a full upgrade with updated bathroom fixtures, soft furnishings and artwork making for an even more comfortable stay on board Coral Discoverer.
The Coral Discoverer offers five different grades of staterooms, ranging from Bridge Deck Balcony Staterooms to Main Deck Staterooms. Bridge Deck Balcony Staterooms are on the top deck and have private balconies opening out from french windows. All rooms are furnished with contemporary flair and feature original artwork, a small private en-suite, individually-controlled air-conditioning, an iPod dock, ample storage and Australian toiletries. All staterooms are serviced daily. Each stateroom is spacious, sized between 15sqm (161 square feet) to 20 sqm (215 square feet) and has either a balcony, feature picture windows or porthole windows. Most staterooms can be configured to either junior king or twin bedding.
FACILITIES ON BOARD
> Sun Deck with undercover area, sun lounges and ample seating
> Three fully stocked cocktail bars, including brand new round Explorer Bar on Sun Deck
> Spacious, modern dining room, recently refurbished
> Forward lounge
> Reference library
> Gift shop
> Open bridge
> Workout Area
> Wireless internet available for laptops, mobile devices or via onboard guest computer
> Limited laundry facilities available
> SCUBA diving department (selected itineraries)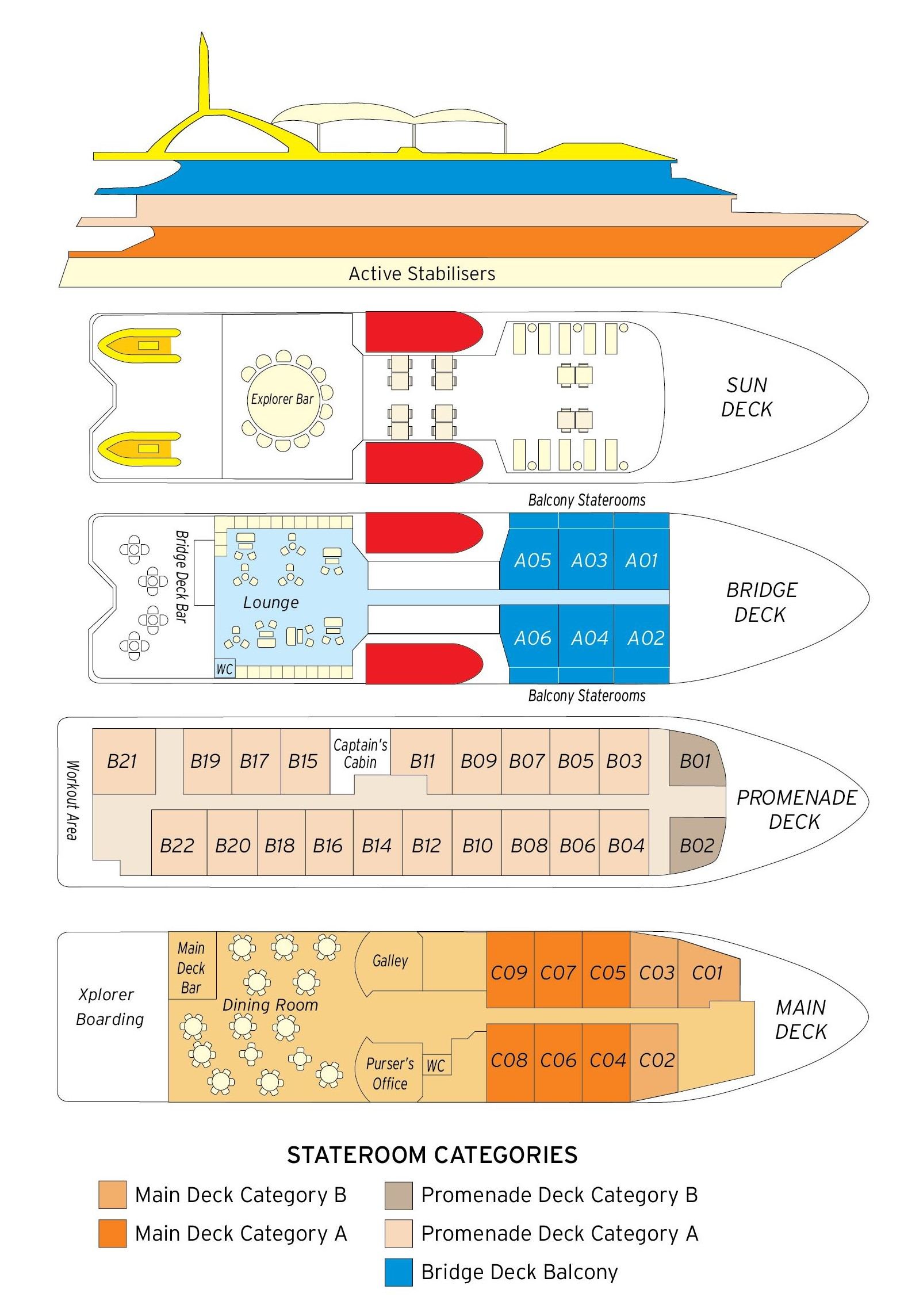 Inclusions

Voyage on board in selected cabin category
Expert expedition leader and team
All meals while on board
Coffee and Tea while on board
All daily guided excursions
Selected wine and beer with lunch and dinner
Port charges/taxes

Trip specific inclusions;
Guest Lecturer
Daily guided excursions on the Xplorer and Zodiac tender vessels, and kayaks where conditions allow
Captain's Welcome and Farewell Events, and Open Bridge Access with the Captain
Comprehensive and fully guided sightseeing in each destination
All entrance fees to National Parks and Ports

---
Exclusions

International and domestic flights unless otherwise stated
Travel Insurance
Passport and visa costs where applicable
Alcoholic drinks outside of those stated in inclusions
Transfers unless otherwise stated
Internet on board (Available at cost)
Any items of a personal nature


Tipping not required