Springtime on Canada's east coast is a time of bloom and bounty. Explore highlights of Newfoundland, Nova Scotia, New Brunswick, and Saint-Pierre—expedition style!

Warmed by the waters of the Gulf Stream, Canada's east coast comes alive in springtime. Trees and flowers burst into bloom, marine mammals are on the move, and seabirds flock in the thousands.

Centuries of overlapping culture—Mi'kmaq, Acadian, English, Scottish, Irish, and French—have left their mark on the landscapes here. Rugged forts, quaint towns, rustic villages, and remote islands dot the coastlines.

With expedition stops in Newfoundland, Cape Breton, Nova Scotia's south coast, the Fundy Isles, and more, this tour includes lesser-known and hard-to-reach gems of Canada's glorious east coast—and every stop is a highlight!
---
Highlights

• Set foot on remote Sable Island, home of the world's largest colony of grey seals and a legendary herd of wild horses

• Visit three provinces and the French island of Saint-Pierre

• Hike the Skyline trail in Cape Breton Highlands National Park

• Visit beautiful Lunenburg, a UNESCO World Heritage SiteImmerse yourself in history at Fortress Louisbourg

• Visit New Brunswick's historic and beautiful Fundy Isles



Just off the shores of Newfoundland lie the islands of Saint-Pierre and Miquelon—an official territory of the French Republic. The colourful town of Saint-Pierre makes a charming beginning to our trip. Winding streets lined with shops, houses, and cafes bring a taste of Europe to the east coast of North America. You will arrive in Saint-Pierre from our charter flight, where you will be transferred to the Ocean Endeavour.

Today we call in at Cape Breton Island—a fiercely independent region of the province of Nova Scotia. Our destination is the fishing village of Chéticamp. The busy harbour rug-hooking museum, local shops and restaurants offer a taste of Acadian heritage in a thoroughly bilingual town. Nearby Cape Breton Highlands National Park is world-renowned for scenery and wildlife. We'll be hoping for favourable conditions to hike the magnificent Skyline Trail.

In the struggle between English, and French colonial powers for control of what is now Canada, the French Fortress of Louisbourg on Cape Breton Island played a pivotal role. Established in 1720, the fortifications were captured by the British in 1745, returned to the French, captured again in 1758 and then destroyed. Reconstructed in the 1960s and 1970s, the Fortress of Louisbourg is a National Historic Site, offering a fascinating glimpse into military colonial Canada.

Nova Scotia's southwestern coast provides habitat for seabirds and marine mammals in abundance. We'll be seeking opportune sea and weather conditions to observe the wildlife in this region.

The rugged coastline of the Bay of Fundy is world-famous for its world-record high tides; here the waters of three rivers join the Fundy tides. Along the southeastern shore of the bay lie peninsulas, mountains, and picturesque inlets. It is also home to some of the highest tides in the world, and is famed for marine mammals and seabirds. The area borders Nova Scotia's French shore, where Acadian influence is strong. the founding of Port-Royal in 1605 by the French and their Mi'kmaq allies, and the conquest of Acadia by England in 1713, the region was hotly contested. The Fundy Isles—Campobello, Grand Manan, and Deer Island—are an archipelago at the mouth of the Bay of Fundy. Their only land connection is via bridge to Lubec, Maine. Island residents can reach Canada without crossing the border only in summer— by two ferries. The islands feature historic sites, including a park jointly run by Canada and the US. Birdwatching, marine mammals, and scenery—as well as the famous Fundy tides—round out the attractions.

The port of Lunenburg once harboured a fleet of sailing vessels, including the famous Bluenose. Old Town Lunenburg was declared a UNESCO World Heritage Site in 1995. British colonial town plans ignored topography, making for several very steep streets. St. John's Anglican Church, the Lunenburg Academy, the Fisheries Museum of the Atlantic, and dozens of shops, cafes, and galleries line the hilly streets of the splendid harbour town. We'll spend the afternoon exploring its treasures!

A sandbar as long as Manhattan—but only about a kilometre wide—Sable Island is home to many varieties of birds, including the endemic Ispwich sparrow, hundreds of grey seals, and the world-famous Sable Island horses. Unique weather conditions prevail at Sable Island. Our scheduled two days here allow us to maximize opportunities to explore the dunes, cruise the shores and view the wildlife. We'll also learn firsthand about Sable Island's fascinating human history.

En route to Newfoundland, join our wildlife spotters on deck, watching for seabirds and marine mammals. We will be crossing The Gully, a Marine Protected Area where the sea floor suddenly drops a dizzying two and a half kilometres into a submarine valley. The Gully is one of the most prominent undersea features in eastern Canada and its unique ecology has attracted the interest of many agencies, such as Parks Canada and Environment Canada. This is due to its significant coral communities, its diversity of both shallow and deep-water fish, and its many whales and dolphins. Our resource staff, scientists, historians, musicians, and artists will continue to engage us with workshops, presentations and entertainment. We'll be immersed in the spirit of the East Coast all the way to St. John's!

Welcome to St. John's—Newfoundland's historic, vibrant capital. St. John's has been continually fished since 1498, making it North America's oldest European settlement. Architecture, shopping, night life and cultural attractions make St. John's a sightseer's delight. Make sure to be on deck as we sail through the Narrows to conclude our voyage by sea! We will say goodbye in the port of St. John's, disembark the Ocean Endeavour, and head onward to our next journeys.

This is our proposed itinerary. It is highly probable that weather, sea, and ice conditions will not allow us to travel this exact route. Our Expedition Leader and the Ocean Endeavour's captain will determine our exact route day by day.

Deck 4, Interior Cabin, four lower berths, private bathroom

Deck 4, Interior cabinm three lower berths, private bathroom
Category 3 - Interior Twin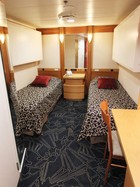 Deck 5, Interior cabin, two lower berths, private bathroom. Available for sole use
Category 4 - Exterior Twin

Deck 4, porthole window, 2 lower berths, private bathroom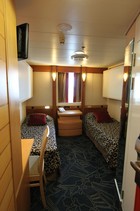 Deck 5, Picture Window, two lower berths, private bathroom
Category 6 - Comfort Twin

Deck 7, Picture windows (partially obstructed) two lower berths, privvate bathroom, refrigerator

Deck 5 and 8, large picture windows (partially obstructed) double bedded only, private bathroom, refrigerator
Category 8 - Superior Twin
Deck 5 & 7, picture windows, twin or double bed, private bathroom, refrigerator
Category 9 - Junior Suite

Deck 5 & 7, picture windows, seperate sitting area, sofa, desk, refrigerator, double bed, private bathroom

Deck 7, picture window overlooking the bow, seperate sitting area, sofa, desk, refrigerator, double bed, private bathroom with bath
Additional charges:
Discovery Fund Fee: 250 USD pp
Ocean Endeavour
Vessel Type: Expedition
Length: 137m
Passenger Capacity: 199
Built: 1982 - refurbished 2001, 2004, 2010, 2015, 2016, 2018
Ocean Endeavour is a comfortable, well-appointed small expedition ship expertly engineered to explore the Polar Regions. The ship has an ice-strengthened hull, Zodiacs for exploration and remote landings, and advanced navigation equipment. The newly-refurbished vessel offers a superb guest experience with an expansive choice of cabin categories, large cabins and common areas, a sundeck and observation area, plenty of deck space for polar landscape viewing, and lounges for learning and reflection. The ship's interiors have a contemporary aesthetic that provides a bright and spacious feel throughout.
Endeavour is also the only polar adventure ship in Antarctica focused on health and wellness , and offers a contemporary approach to cuisine and newly-designed health and fitness features. Facilities include a spa serviced by organic spa provider VOYA, His & Hers saunas, a salt water pool, a gym, and a juice and smoothie bar. Complimentary activities include yoga and stretching classes, an exclusive Polar Photography program, the Scientists in Residence program, and more adventure activities than any other Quark vessel. The ship also has a polar library, and a Polar Boutique for gifts and any needed gear.
Features of the Ocean Endeavour
VOYA spa treatments and beauty products, Choice of 13 cabin categories, Bright, spacious cabins and common areas, Plenty of deck space for observation, Lounge with expansive views, Quiet zone for contemplation, Newly-refurbished restaurant, Contemporary dining with complimentary wine with dinner, Juice and smoothie bar, Lecture theater, Polar library, Polar boutique, Health and Wellness, Spa treatments and beauty products by spa provider VOYA - Organic Beauty From The Sea, Spa menu for face, body, hair and nails, including the exclusive Quark Explorer's treatment, and signature VOYA hand and foot rituals, Yoga and stretching classes, His & Hers saunas, gym, and heated salt water pool
Full range of adventure activities including: kayaking, camping, mountaineering, cross-country skiing, stand-up paddleboarding, Zodiac cruising, shore landings and hiking/ walking.
Deck plan varies for the trips to Antarctica

Book Multiple Trips and Save 25% aboard Ocean Endeavour
Combine two or more Ocean Endeavour expeditions in the same calendar year and save 25% off each! Applies to 2020 Expeditions aboard the Ocean Endeavour only and excludes Antarctica. Prices online do not show the discounted rates. Terms and Conditions apply, special offer is subject to availability, please contact us for more details.