On this trip, we seek the wilds and the wonders of the Arctic, in the welcoming company of those who call it home! Beginning in Qausuittuq (Resolute Bay), we'll enter expedition mode as we seek polar bears, whales, birds, and muskoxen throughout Lancaster Sound. At Beechey Island, we'll pay our respects at the graves of three of Sir John Franklin's men; at Dundas Harbour, we'll explore the abandoned HBC and RCMP posts that once guarded the gateway to the Northwest Passage.

Mittimatalik (Pond Inlet) with its stunning views of Bylot Island is a dynamic contemporary Inuit community; we'll spend the day getting to know the place before striking out across Baffin Bay for Greenland. Towering mountains, pristine fjords, and colourful communities are among the attractions of this mighty Arctic island. The modern Greenlandic center of Illulissat offers museums, shopping, and cafés with a European flair. The Jakobshavn Icefjord, a unesco World Heritage Site and source of the majority of the icebergs in the North Atlantic, provides a dramatic climax to a northern journey unlike any other.
---
Highlights

• Seek belugas and narwhals in Lancaster Sound, a proposed National Marine Conservation AreaMeet the

• Tununiq Arsarniit Theatre Group of Mittimatalik during a cultural exchange

• Zodiac cruise the Disko Bay at the mouth of the Ilulissat Icefjord—unesco World Heritage Site and home to the world's fastest-moving glacier

• Cross the Arctic Circle by sea—twice!

• Visit the Franklin Expedition gravesites at Beechey Island

• Photograph exquisite Arctic flowers at the height of summer bloom

• View the magnificent fjords of Greenland's coast

• Search for bears, whales, and walrus in their Arctic feeding grounds



Qausuittuq, or "place with no dawn" is truly the land of the midnight sun—daylight persists constantly from about April 29 to August 13 each year. The community's English name, Resolute Bay, honours the hms Resolute, one of the ships in the Franklin search expedition commanded by Captain H.T. Austin. "Resolute" also describes locals who survived being relocated, in 1953, Inuit from Inukjuak, Québec, and Mittimatalik by the Canadian government. Our early morning charter flight will bring us to Qausuittuq, where we will embark the Ocean Endeavour.

In 1845, Sir John Franklin set out from England on an attempt to sail through the Northwest Passage for the first time. Not a soul returned from the fateful expedition. The three graves found at Beechey Island left no indication as to the fate of the rest of the British party. With the discovery of Franklin's flagship, HMS Erebus in 2014, and Terror in 2016, the graves at Beechey Island and nearby ruins of Northumberland House are bound to be a haunting highlight.

Devon Island is the largest uninhabited island on Earth, comprising over fifty thousand square kilometres. The island's geology consists of reddish Precambrian gneiss and Paeleozoic siltstones and shales; these, combined with its harsh climate, have led NASA to test its Mars rovers on Devon Island! Devon's finest features include massive landforms, shining glaciers and long-abandoned ruins—and undisturbed habitats for Arctic wildlife.

We will spend the day exploring the ocean wilderness of Lancaster Sound, which is a proposed Marine Protected Area. Large populations of marine mammals, including narwhal, beluga and bowhead whales transit and feed in this area. There is a great selection of landing sites available, depending on weather, wildlife, and sea conditions.

Today will be an expedition day in the truest sense as we navigate the waterways surrounding Northern Baffin Island. Wildlife will be on our minds—the region is habitat for thick-billed murres and kittiwakes, among other seabirds. Baffin's mountains are striking, affording stunning perspectives on geological processes. Weather, ice, and opportunity will determine our route, and our team will be on deck for the duration, searching for wildlife and contextualizing the mighty landscape through which we travel.

Mittimatalik is a bustling Arctic community surrounded by one of the most beautiful landscapes in the eastern Arctic. We will have a chance to explore the town, including its excellent library and other facilities, and meet many local citizens who will gladly share their culture. A cultural presentation at the Community Hall is not to be missed—arts and crafts may be available here, too. The Northern and Co-op stores offer unique perspective on daily life in the Arctic, and sometimes have carvings as well.

Our presentation series will continue as we steam across Davis Strait towards Greenland. While out on deck, keep your eyes peeled for minke and humpback whales amid potential pack ice, as well as the seabirds that are sure to mark our passage.

Today we will cruise one of Greenland's most spectacular fjords, known for plentiful marine life and awe-inspiring landscapes. The rocky peaks of Karrat Fjord tower over a seascape littered with icebergs produced by the glaciers that extend from Greenland's vast ice cap. Time spent on deck today should result in some good wildlife sightings, not to mention unbeatable photographic opportunities of icebergs against the majestic rock faces.

Uummannaq Fjord in northwest Greenland is the country's second-largest system of fjords, characterized by its developed coastline and various bays, islands, and peninsulas. It is considered to be the sunniest spot in Greenland, and favourable weather—coupled with proximity to coastal travel routes—has made the fjord system a popular destination for Greenlandic Inuit. It has been settled and re-settled continually for the last 4,500 years. Expect another day of extraordinary photographic opportunities!

Ilulissat translates literally into "iceberg", and there couldn't be a more fitting name for this remarkable place. Here, we will cruise in our fleet of Zodiacs at the mouth the Ilulissat Icefjord—a UNESCO World Heritage Site. The icefjord is the outlet of the Sermeq Kujalleq Glacier, one of the most active and fastest moving in the world at nineteen metres per day—calving more than thirty-five square kilometres of ice annually, and creating the majority of the icebergs in the North Atlantic in the process. The bustling town of Ilulissat, with its museums, cafes, craft shops, and busy fishing harbour, offers items of interest for every visitor.

Warmed by the West Greenland current, the waters around Sisimiut are free of sea ice, making the area an important fishing and shipping centre as well as a habitat for marine mammals. The fish market and folk museum in Sisimuit offer an opportunity to experience modern, and historic Greenland side by side.

Sondre Stromfjord is one of the longest fjords in the world and boasts 168 kilometres of superb scenery. We end our adventure by sailing up this dramatic fjord as the sun rises to greet us. Kangerlussuaq, the town at its eastern head, is a former US Air Force base and Greenland's only international flight hub. Here we will disembark the Ocean Endeavour and transfer to the airport for our return charter flight.

This is our proposed itinerary. It is highly probable that weather, sea, and ice conditions will not allow us to travel this exact route. Our Expedition Leader and the Ocean Endeavour's captain will determine our exact route day by day.

Deck 4, Interior Cabin, four lower berths, private bathroom

Deck 4, Interior cabinm three lower berths, private bathroom
Category 3 - Interior Twin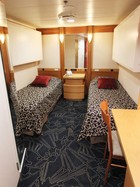 Deck 5, Interior cabin, two lower berths, private bathroom. Available for sole use
Category 4 - Exterior Twin

Deck 4, porthole window, 2 lower berths, private bathroom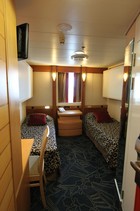 Deck 5, Picture Window, two lower berths, private bathroom
Category 6 - Comfort Twin

Deck 7, Picture windows (partially obstructed) two lower berths, privvate bathroom, refrigerator

Deck 5 and 8, large picture windows (partially obstructed) double bedded only, private bathroom, refrigerator
Category 8 - Superior Twin
Deck 5 & 7, picture windows, twin or double bed, private bathroom, refrigerator
Category 9 - Junior Suite

Deck 5 & 7, picture windows, seperate sitting area, sofa, desk, refrigerator, double bed, private bathroom

Deck 7, picture window overlooking the bow, seperate sitting area, sofa, desk, refrigerator, double bed, private bathroom with bath
Additional charges:
Discovery Fund Fee: 250 USD pp
Ocean Endeavour
Vessel Type: Expedition
Length: 137m
Passenger Capacity: 199
Built: 1982 - refurbished 2010, 2014 & 2017
Ocean Endeavour is a comfortable, well-appointed small expedition ship expertly engineered to explore the Polar Regions. The ship has an ice-strengthened hull, Zodiacs for exploration and remote landings, and advanced navigation equipment. The newly-refurbished vessel offers a superb guest experience with an expansive choice of cabin categories, large cabins and common areas, a sundeck and observation area, plenty of deck space for polar landscape viewing, and lounges for learning and reflection. The ship's interiors have a contemporary aesthetic that provides a bright and spacious feel throughout.
Endeavour is also the only polar adventure ship in Antarctica focused on health and wellness , and offers a contemporary approach to cuisine and newly-designed health and fitness features. Facilities include a spa serviced by organic spa provider VOYA, His & Hers saunas, a salt water pool, a gym, and a juice and smoothie bar. Complimentary activities include yoga and stretching classes, an exclusive Polar Photography program, the Scientists in Residence program, and more adventure activities than any other Quark vessel. The ship also has a polar library, and a Polar Boutique for gifts and any needed gear.
Features of the Ocean Endeavour
VOYA spa treatments and beauty products, Choice of 13 cabin categories, Bright, spacious cabins and common areas, Plenty of deck space for observation, Lounge with expansive views, Quiet zone for contemplation, Newly-refurbished restaurant, Contemporary dining with complimentary wine with dinner, Juice and smoothie bar, Lecture theater, Polar library, Polar boutique, Health and Wellness, Spa treatments and beauty products by spa provider VOYA - Organic Beauty From The Sea, Spa menu for face, body, hair and nails, including the exclusive Quark Explorer's treatment, and signature VOYA hand and foot rituals, Yoga and stretching classes, His & Hers saunas, gym, and heated salt water pool
Full range of adventure activities including: kayaking, camping, mountaineering, cross-country skiing, stand-up paddleboarding, Zodiac cruising, shore landings and hiking/ walking.
Deck plan varies for the trips to Antarctica