Get away from it all on our 19-day Arctic Explorer cruise from Norway to Iceland via the remote Russian archipelago of Franz Josef Land in the Russian High Arctic where pioneers and scientists stepped ashore. This remarkable journey takes you past Spitsbergen's towering glaciers calving spectacular icebergs across the Greenland Sea to Iceland, the land of fire and ice. Watch polar bears carrying their cubs and fluking whales in the icy waters. Join us on our voyage of discovery as we sail from ice-bound islands to hot springs, spouting geysers and gushing waterfalls.
---
Highlights

• Listen out for gigantic glaciers calving magnificent icebergs into the icy fjords of Spitsbergen

• Get your binoculars ready at the large seabird colony at Rubini Rock off Hooker Island in Franz Josef Land

• Learn more about Russian history from our on-board team of experts

• Explore the remote island of Jan Mayen in the middle of the Greenland Sea

• Witness thousands of Atlantic puffins, bubbling hot springs and gushing waterfalls in Iceland


| | | |
| --- | --- | --- |
| 12 August, 2022 to 30 August, 2022 | | Book now |

19 m2 Sleeps 2 Oceanview cabins features 2 single beds, bedroom and living room and a luxurious ensuite bathroom.

28 m2 Sleeps 2 Features 2 single beds, bedroom and living room, a luxurious ensuite bathroom and your own private 6 sq.m. balcony.

44 m2 Sleeps 2 Our Suites features a superking bed and separate living room with and a soothing flame-effect fireplace a luxurious ensuite bathroom and a 12 sq.m. private balcony.

49 m2 Sleeps 2 Our grandest suites features a superking bed and separate living room with and a soothing flame-effect fireplace a luxurious ensuite bathroom, spacious walk in wardrobe and a 12 sq.m private balcony.
Vega
Vessel Type: Luxury Expedition / Cruise Ship
Length: 115 metres
Passenger Capacity: 152
Built: 2020-2021-2022
Our brand new ship has been designed to journey to off the beaten path destinations and remote polar regions in style and comfort. The ship incorporates a PC5 ice-strengthened hull combined with extra-large stabilisers to make your journey as smooth as possible.
Sophisticated Elegance. We know how important outdoor space is, so our spacious, relaxing public spaces provide wide open, unobstructed views throughout the ship. The destination will always be in view.
Your Wellbeing. The safety & happiness of our guests is paramount to our 120-strong crew on board as well as our passionate expedition team who'll be serving up thrilling shore excursions and lasting memories.
Cabin Types. Our 76 cabins including 6 suites have all the amenities you will need to feel comfortable including dressing gowns, hairdryers, personal safes and minibars. Our stylish cabins all have desks, a dressing area and comfy seating. En suite bathrooms all feature glass-enclosed rain showers.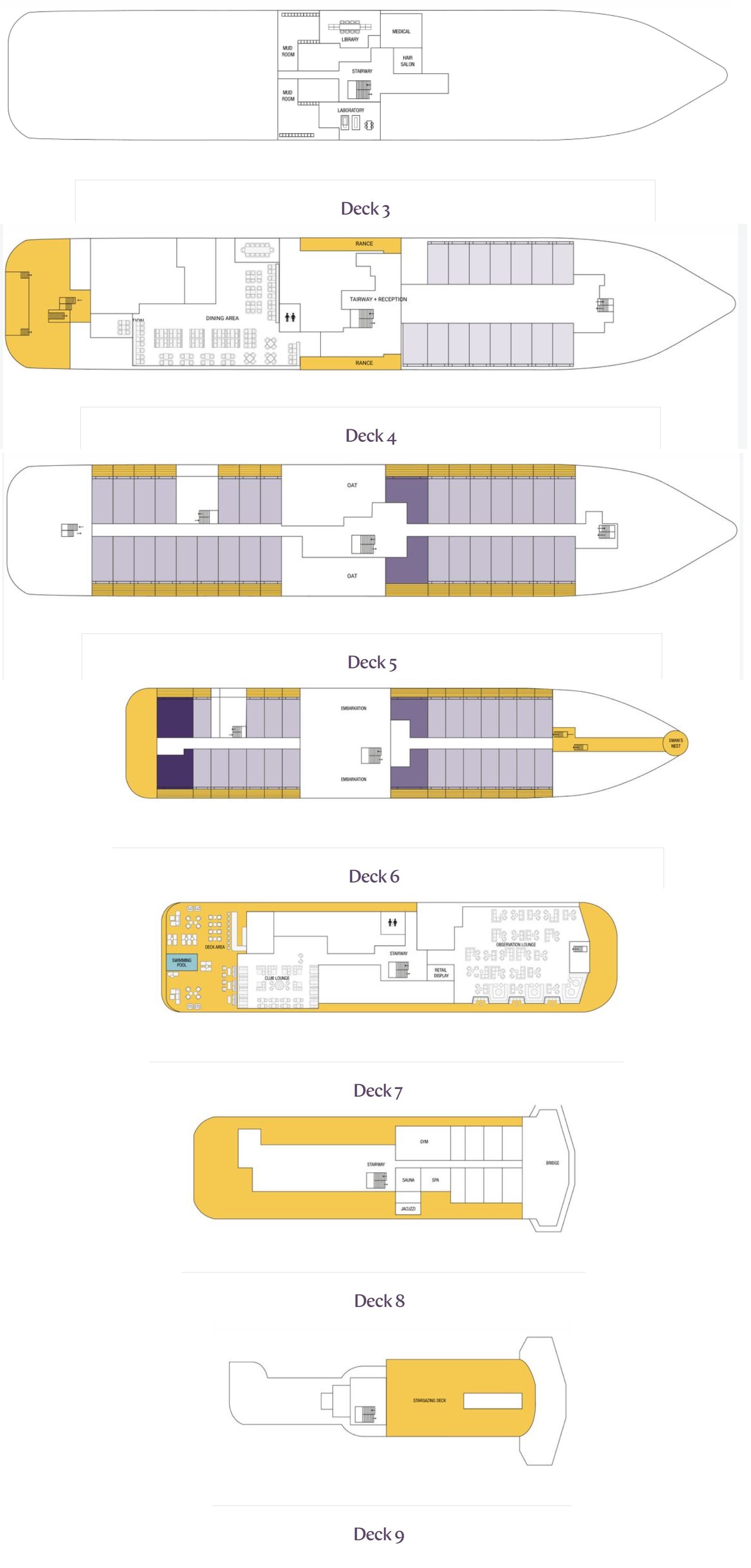 Inclusions

INCLUSIONS FOR ARCTIC & RUSSIA FAR EAST CRUISES
• One night pre-cruise hotel accommodation with breakfast
• Transfer from the airport to the hotel on the day prior to embarkation
• Transfer from the hotel to the port for embarkation
• Transfer from the port to the airport on return
• Onboard accommodation
• All meals onboard including room service 24 hours a day
• Coffee, tea, soft drinks & select alcoholic beverages 24 hours a day
• Lecture programmes by our experienced expedition team and guest speakers
• Shore excursion programme led by our expert expedition team
• Branded Swan Hellenic expedition parka
• Use of rubber boots for shore landings
• Basic WIFI inclusion (Premium WIFI available)
• Onboard gratuities & port taxes

INCLUSIONS FOR ANTARCTICA CRUISES
• Return flights: Buenos Aires to Ushuaia or Santiago to Ushuaia
• One night pre-cruise hotel accommodation with breakfast
• Transfer from the airport to the hotel on the day prior to embarkation
• Transfer from the hotel to the port for embarkation
• Transfer from the port to the airport on return
• Onboard accommodation
• All meals onboard including room service 24 hours a day
• Coffee, tea, soft drinks & select alcoholic beverages 24 hours a day
• Lecture programmes by our experienced expedition team and guest speakers
• Shore excursion programme led by our expert expedition team
• Branded Swan Hellenic expedition parka
• Use of rubber boots for shore landings
• Basic WIFI (Premium WIFI available)
• Onboard gratuities & port taxes

INCLUSIONS FOR REST OF WORLD CRUISES
• One night pre-cruise hotel accommodation with breakfast
• Transfer from the airport to the hotel on the day prior to embarkation
• Transfer from the hotel to the port for embarkation
• Transfer from the port to the airport on return
• Onboard accommodation
• All meals onboard including room service 24 hours a day
• Coffee, tea, soft drinks & select alcoholic beverages 24 hours a day
• Lecture programmes by our experienced expedition team and guest speakers
• On shore transfer per port of call
• Basic WIFI inclusion (Premium WIFI available)
• Onboard gratuities & port taxes

---
Exclusions

• Additional activities such as kayaking, private tours, special arrangements, private Zodiac tours
• Laundry
• Premium wines and spirits
• Purchases in the ship's boutique
• Any spa treatments
• Upgraded WiFi data packages
• Visas where required
• Travel Insurance
• Flights
• Domestic transfers
• Hotel requirements (pre/post cruise) unless otherwise stated in the itinerary description