Embark on a captivating voyage through time on our 8-night Highlights of Ancient Greece cruise. Minoans, Ancient Greeks, Carthaginians, Romans, Venetians, Turks have all laid claim to these lands leaving behind a rich legacy of history and architecture. Aboard our small 5-star cultural cruising ship, you'll begin your historical journey in the vibrant, multicultural city of Palermo in Sicily and discover some of the best-preserved Ancient Greek ruins in the world outside of Greece. From there, we explore part of the Peloponnese region of southern Greece and learn more about the birthplace of the Olympic Games in Olympia. We finally conclude our voyage on board our boutique ship at the Acropolis in Athens, the most famous Ancient Greek remains in the world.


---
Highlights

• Munch your way around the Palermo's bustling street markets

• Learn more about Archimedes while searching for his tomb in the necropolis at Siracusa

• Sit among the ruins at Olympia, home of the first Olympic Games in 775 B.C.

• Uncover Rethymno's multicultural past and explore its picturesque lanes

• Wander medieval alleyways in the 6th-century castle town of Monemvasia



A feast for the senses, Sicily's capital is an intoxicating and chaotic melting pot. Bustling street markets, ancient buildings, opulent palaces and millennia of history await those ready to embrace Palmero for all that it offers. Palmero's history is complex, to say the least. Middle Eastern, Northern African and European influences are all melded together here. The Greeks, Romans, Carthaginians, Arabs, Goths and Vandals have come and gone through the ages, leaving countless treasures in their wake. The 12th-century Arab-Norman cathedral, built over a 9th-century mosque, houses the tombs of the Norman rulers and is a fitting manifestation of the city's convoluted past. The opulent Palazzo de Normanni, once the seat of power for the kings of Sicily during Norman rule, is a dazzling display of the opulence that the city's rulers once enjoyed.

Situated on the south-western coast of Sicily, Porto Empedocles was named after the philosopher Empedocles who lived in the region in the 5th century BC. The marina town serves as a gateway to the highlights of Sicily's Agrigento region, including the archaeological Valley of the Temples. This UNESCO World Heritage site dates back to the 5th century BC and houses some of the best-preserved Ancient Greek ruins in the world outside of Greece. The nearby town of Agrigento has a medieval core and several interesting archaeological sites. Wander through its narrow, winding alleyways and explore the smart shops, lively restaurants and friendly bars.

Once the biggest city in the ancient world, Siracusa wears its history proudly on just about every street corner. Ancient Greek ruins rise out of heavenly citrus orchards, traditional cafes tumble onto baroque piazzas and ancient lanes lead down to the sparkling Mediterranean, as they have for millennia. The city was founded in 734 BC by Corinthian colonists, and the ruins of the original city can be explored at the Parco Archeologico della Neapolis, one of Sicily's greatest archaeological sites. Nearby you can also visit the macabre yet fascinating necropolis, housing some of the region's most renowned historical figures, including the famed mathematician Archimedes.

Cruise along the Calabrian coast and enjoy the scenery of rugged cliffs and sandy beaches. As we pull into the port town of Crotone, notice the 16th-century fortress, Castle of Charles V. Inside its museum is a golden tiara, found nearby in the Capo Colonna Archaeological Park named for its column that stands proud on a promontory. Crotone itself is a delightful mix of old and new, from the ancient city walls to the cathedral notable for its icon of the Black Madonna alongside Calabrese restaurants serving traditional pasta and sausage dishes.

Olympia, the birthplace of the Olympic Games is a short drive away from this pretty Greek harbour town. Take time to explore the ancient stadium that sat 45,000 at the first Olympics in 776 BC, and then every four years, to honour the god Zeus. Look out for the marble starting blocks and the ruins of the Temple of Zeus, where once stood a 12m-tall gold statue of Zeus, one of the Seven Wonders of the ancient world. North of Katakolon, explore wineries or stop for lunch at the harbour and sample some of their produce.

The island's main draw today is its incredible natural environment. Sitting on the southern side of the Peloponnese, Gythion is blessed with tranquil beaches and turquoise waters where turtles breed. The island of Cranae is just a causeway's walk away from Gythion and is allegedly where Paris of Troy and Helen from Sparta spent their first night together. Further out of town, you can visit the 13th-century Byzantine citadel of Mystras, a UNESCO World Heritage Site. On a small islet attached to the mainland, the preserved 6th-century medieval castle town of Monemvasia sits under a cliff at the edge of the sea. Ramble around the cobblestone alleys of this storied castle, before stopping for a rooftop lunch at one of the houses.

First inhabited by the Minoans, the Venetians and then the Turks, this romantic port has seen many styles of occupation through the ages. The city's multicultural history is immediately evident as you begin exploring its enchanting lanes. Venetian fortifications intersperse orthodox and catholic churches and mosques. Ancient mansions with floral canopies and ornate monuments adorn the charming Venetian-Ottoman quarter. The harbour area offers an atmospheric setting for an evening meal, and just above the imposing Fortezza castle stands guard over the town. If you are feeling energic, take a walk to the castle up Palekastro Hill for spectacular views of the sparkling Mediterranean below.

Considered one of the romantic cities in Greece, Nafplio, believed to have been founded by Poseidon's son, Nafplios, was the first modern Greek capital from 1823–34. From ancient fortresses, such as the Acronafplia dating back to the Bronze Age and Romans, to an attractive coastline with pebble beaches and a waterfront promenade lined with cafes and shops, it's a picture-perfect spot for a bit of downtime. After our quick stop in Nafplio, we sail through the Corinth Canal. Only small ships can safely navigate this steep-sided narrow canal - only 21 m wide. Sit up on deck as we squeeze through this precarious waterway and admire the feat of Victorian engineering.

Greece's buzzing cosmopolitan capital is served by Piraeus port and is an exciting mix of ancient and modern. Walk the Grand Promenade that winds beneath the city's most famous landmark, the Acropolis. This walkway, built during the 2004 Olympic Games, links the city's main archaeological sites. No visit to Athens is complete without seeing the Acropolis itself of course. Start with the Acropolis Museum for some informative context and then walk the marble path up Filopappou Hill for majestic views of the 'high city' with the iconic Parthenon perched on top (a temple dedicated to the goddess Athena, patron of the city).

Itineraries are subject to change.
| | | |
| --- | --- | --- |
| 04 September, 2023 to 12 September, 2023 | | Book now |

Oceanview staterooms features 2 single beds, bedroom and living room and a luxurious ensuite bathroom. 20 m2 Sleeps 2

Oceanview staterooms features 2 single beds, bedroom and living room and a luxurious ensuite bathroom. 20 m2 Sleeps 2

Located on decks 5, these balcony staterooms feature 2 single beds or a double bed, distinct bedroom and living room areas, a luxurious bathroom and your own private 6 sq. m balcony. 28 m2 Sleeps 2
Located on decks 5, these balcony staterooms feature 2 single beds or a double bed, distinct bedroom and living room areas, a luxurious bathroom and your own private 6 sq. m balcony. 28 m2 Sleeps 2

Located on decks 6, these balcony staterooms feature 2 single beds or a double bed, distinct bedroom and living room areas, a luxurious bathroom and your own private 6 sq. m balcony. 28 m2 Sleeps 2

SH Diana's Junior Suites features a Super King Size bed, separate living room area with homely flame-effect fireplace, private kitchen, luxurious en-suite bathroom and a 7 sq. m private balcony. 35 m2 Sleeps 2

Our Suites features a superking bed and separate living room with and a soothing flame-effect fireplace a luxurious ensuite bathroom and a 12 sq.m. private balcony. 44 m2 Sleeps 2
SH Diana's Premium Suites feature a Super King Size bed, separate living room with homely flame-effect fireplace, luxurious en-suite bathroom, spacious walk-in wardrobe and a 12 sq. m private balcony. 47 m2 Sleeps 2
Diana
Vessel Type: Expedition Ship
Length: 125 meters
Passenger Capacity: 192
Built: 2022-2023
Arriving in early 2023, SH Diana will be the largest ship in our fleet, providing elegant and spacious 5-star accommodation for 192 guests in 96 spacious staterooms and suites, the vast majority with large balconies. Operated by an onboard team of 140 she will provide the highest levels of personal service and take Swan Hellenic back to its roots when she launches, exploring the Mediterranean and its famous sites of antiquity.
Now sit back, relax and take a moment to get to know this amazing new ship, purpose-designed for our unique cultural expedition cruises.
Named after the Ancient Roman goddess of light, the moon, hunting and the wilderness, SH Diana been specially designed for worldwide cruising to explore the most inspiring and inaccessible places on earth. Building on the outstanding amenities of her sister ships, she adds a dedicated Multifunctional Room next to the Observation Lounge, a Private Dining Room for special occasions, and two tenders which bring guests a comfortable alternative to Zodiacs for expedition landings. A Polar Class 6 ice-strengthened hull combines with extra-large stabilisers to make your journey as comfortable as possible.
SH Diana has been designed for immersive experiences, with extensive outside deck areas, multiple observation points and bright, open and relaxing public spaces with unobstructed views.
The pleasure and safety of our guests is paramount at all times, cared for by our attentive crew and seasoned expedition leaders. Cutting edge hygiene technology protects the health of all on board to the highest standards and includes air conditioning with UV sanitisation systems.
SH Diana's 96 staterooms , including 11 suites, are each a superbly comfortable home from home and all feature panoramic sea views, a flame-effect fireplace, original works of art, plush couches, premium pocket sprung mattresses, en-suite bathrooms with glass-enclosed rain showers, and Egyptian cotton towels, bathrobes and sheets. A pillow menu offers customised head and neck comfort during rest, while a large flat screen TV, espresso machine with Illy premium coffee, tea making facilities with the finest Kusmi teas, and a minibar with refreshments enhance relaxation at any time. In-room dining is of course available at all hours.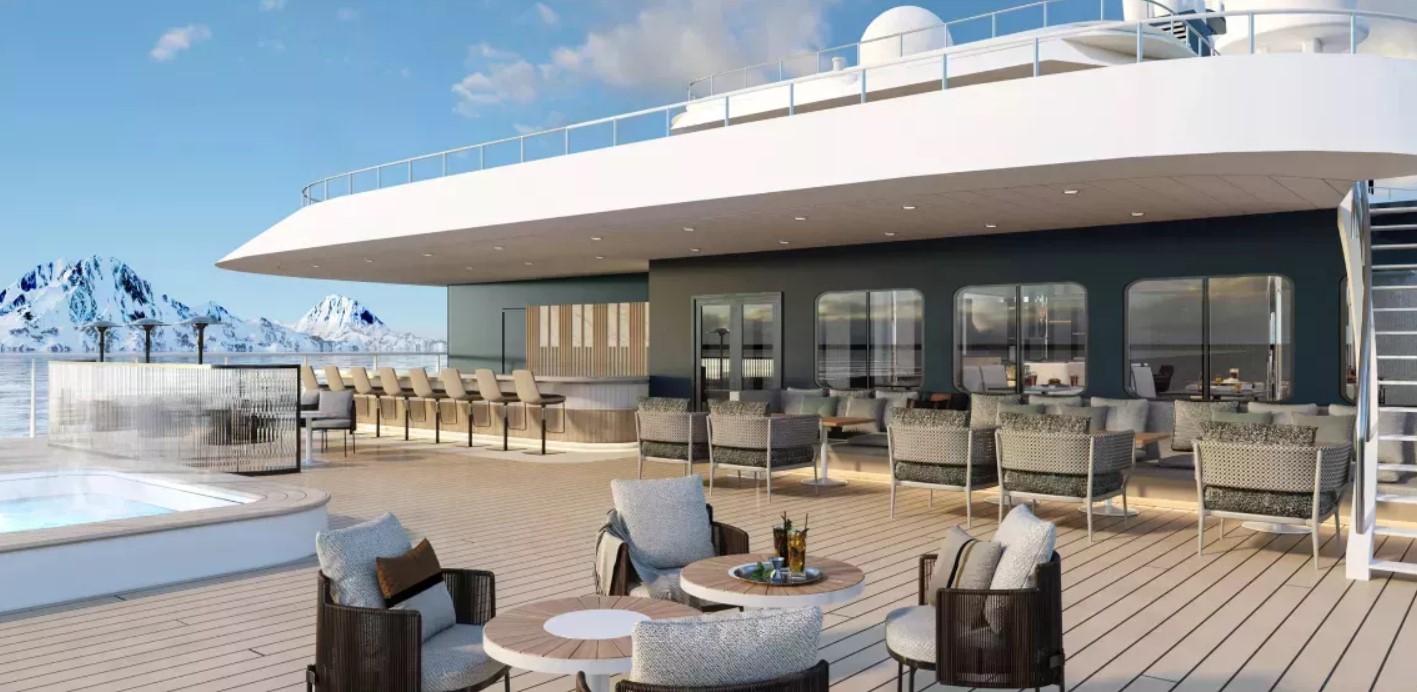 Inclusions

INCLUSIONS FOR ARCTIC
• One night pre-cruise hotel accommodation with breakfast
• Transfer from the airport to the hotel on the day prior to embarkation
• Transfer from the hotel to the port for embarkation
• Transfer from the port to the airport on return
• Onboard accommodation
• All meals onboard including room service 24 hours a day
• Coffee, tea, soft drinks & select alcoholic beverages 24 hours a day
• Lecture programmes by our experienced expedition team and guest speakers
• Shore excursion programme led by our expert expedition team
• Branded Swan Hellenic expedition parka
• Use of rubber boots for shore landings
• Basic WIFI inclusion (Premium WIFI available)
• Onboard gratuities & port taxes

INCLUSIONS FOR ANTARCTICA CRUISES
• Return flights: Buenos Aires to Ushuaia or Santiago to Ushuaia
• One night pre-cruise hotel accommodation with breakfast
• Transfer from the airport to the hotel on the day prior to embarkation
• Transfer from the hotel to the port for embarkation
• Transfer from the port to the airport on return
• Onboard accommodation
• All meals onboard including room service 24 hours a day
• Coffee, tea, soft drinks & select alcoholic beverages 24 hours a day
• Lecture programmes by our experienced expedition team and guest speakers
• Shore excursion programme led by our expert expedition team
• Branded Swan Hellenic expedition parka
• Use of rubber boots for shore landings
• Basic WIFI (Premium WIFI available)
• Onboard gratuities & port taxes

INCLUSIONS FOR REST OF WORLD CRUISES
• One night pre-cruise hotel accommodation with breakfast
• Transfer from the airport to the hotel on the day prior to embarkation
• Transfer from the hotel to the port for embarkation
• Transfer from the port to the airport on return
• Onboard accommodation
• All meals onboard including room service 24 hours a day
• Coffee, tea, soft drinks & select alcoholic beverages 24 hours a day
• Lecture programmes by our experienced expedition team and guest speakers
• On shore transfer per port of call
• Basic WIFI inclusion (Premium WIFI available)
• Onboard gratuities & port taxes

---
Exclusions

• Additional activities such as kayaking, private tours, special arrangements, private Zodiac tours
• Laundry
• Premium wines and spirits
• Purchases in the ship's boutique
• Any spa treatments
• Upgraded WiFi data packages
• Visas where required
• Travel Insurance
• Flights
• Domestic transfers
• Hotel requirements (pre/post cruise) unless otherwise stated in the itinerary description