This expedition cruise starts in the colourful city of of Valparaíso and sails south along the Chilean coast through the wonderful waterways of Patagonia. We'll stop at the rustic city of Castro, isolated Puerto Edén and Puerto Natales, the hub for hikers exploring Torres del Paine National Park. Should sea and weather conditions favour the attempt, we might be able to go ashore at Cape Horn before crossing the Drake Passage towards Antarctica.

We'll spend four fascinating days exploring the immense, pristine icescapes of springtime Antarctica. As wind, weather, wildlife, and sea ice might affect our daily programme, there is no fixed itinerary while we're here. It's just pure adventure according to the elements and opportunities that arise. Whenever and wherever possible, the Expedition Team will take you on ice-cruises among awe-inspiring icebergs and maybe to glacier walls. You'll also go on landings ashore to visit penguin rookeries where courting penguins will be busy charming each other and probably you too! Take part in your choice of Citizen Science projects or put your name down for exciting optional activities like kayaking, snowshoeing and possibly even camping.

---
Highlights

• Start in the colourful city of of Valparaíso


• Stop at the rustic city of Castro, isolated Puerto Edén and Puerto Natales, the hub for hikers exploring Torres del Paine National Park


• Spend four fascinating days exploring the immense, pristine icescapes of springtime Antarctica



A Wonderful Mess Estimated time of departure is 11:00 PM Lonely Planet describes this romantic World Heritage city as 'a wonderful mess', and they aren't wrong. Welcome to a maze of barrios and alleyways spread across several hills overlooking the Pacific. As a contrast to what you'll experience in Antarctica, you'll find Valparaíso to be warm, bursting with colour, exciting smells, sounds and people. To really breathe in the atmosphere, you can wander the winding streets of colourful houses, visit some of the local produce mercados or take a funicular up to cerros Alegre and Concepción for sweeping views. Plaza Aduana is the city's historic core while the port district has crumbing colonial buildings and old-fashioned bars. If you plan ahead and come a few days early, you can also join an exciting optional Pre-Programme adventure to the beautiful Atacama Desert. Once you've embarked MS Fridtjof Nansen, you'll be able to check-in and relax in your cabin. There's also an important health and safety briefing where you will also meet the Expedition Team. Afterwards, we hope you'll be hungry, as it'll be time for a welcome dinner.

Enhance your knowledge Two days at sea means two days of relaxation and engaging learning. Context is key to your exploration and adventure. The more you understand about what you see and experience along the way, the more you'll be able to appreciate nuances of culture and intricacies of nature. The Expedition Team are experts in different fields ranging from biology, volcanism, oceanography, geology, ornithology, glaciology, history, photography and many others. You'll listen with rapt attention as they deliver a series of lectures that might touch on any one or more of those topics. There will also be hands-on presentations in the Science Center involving microscopes, rock samples, anatomical replicas and observations out on deck whenever possible. While your mind is certain to be well fed, we don't neglect your body either. The three onboard restaurants serve up sumptuous buffets and international dishes to keep you and your tastebuds delighted. To get your blood pumping, the ship offers indoor training facilities, an infinity pool, outdoor running track and outdoor gym. And then, if all this mental and physical activity has worn you out, recharge with a wellness treatment in the spa, free your pores in the sauna, or soak away in one of the outdoor hot tubs

Chilote Capital Time to stretch those sea legs and go ashore in Chile's third oldest city. It is the largest on the island of Chiloé, which is thought to have first been settled more than 7,000 years ago. The main attraction of this rustic city are the colourful palafitos, wooden houses mounted on stilts along the water's edge. Aspiring photographers can get good angles of these neighbourhoods from the opposite shore or from atop nearby hills. The two UNESCO World Heritage Sites Iglesia San Francisco and Iglesia de Señora de Gracia de Nercón are also worth seeing. If you are interested in archaeology and ethnography, the regional museum of Castro is a good idea, and the Chiloé Museum of Modern art houses an important collection of contemporary art.

Fabled waters of Patagonia We sail south through the fabled waters of Patagonia and to one of the world's most remote and beautiful places: the province of Ultima Esperanza, meaning Last Hope. It was named by the sailor Juan Ladrillero who was seeking the Strait of Magellan in 1557. This was his "last hope" to find the Strait after exploring the maze of channels between the Pacific and the mainland. As we sail through iconic Andean seascapes, we recommend some zen time; find yourself a comfortable chair with a view and let your eyes rest on vast expanses of undisturbed nature. The lectures on board will be brimming with fascinating

Isolated paradise As we head south, the areas we visit will - with a few exceptions - be less and less populated. The village of Puerto Edén is a great example of this. This tiny and charming village is known for its geographical isolation at the end of a deep fjord, surrounded by mountains and only accessible by sea. Once a month, the inhabitants can take a ferry to the nearest coastal city, Tortel, located almost 100 km away. Due to the region's large tidewater glaciers, it also rains here. A lot. With the secluded nature and wet conditions, there are no roads in the village, only pedestrian boardwalks connecting the houses and shops. The population of 250 includes the 15 remaining members of the indigenous Kawéskar people.

Hikers haven The city was originally founded in 1911 by Scottish and German immigrants who came to export lamb and wool back to Europe. Today, the city has around 20,000 inhabitants and receives a regular influx of adventure travellers from all over the world on their way to the world-renowned Torres del Paine National Park. Sign up to our excursion to the park or spend time hanging out in Puerto Natales itself. The city has seen a rise of trendy eateries, Bohemian-type bars and stores selling all sorts of outdoor gear. Gin lovers can take a tour of the Last Hope Distillery, which may be the southernmost distillery in the world, or head to Etherh Aike, an artisan village selling various crafts and gifts. The waterfront in particular has many photogenic sites, such as the old pier with its wooden posts weaving into the fjord and snow-topped mountains in the background. The fingers of the Hand Monument and the dancing figures of the Wind Monument make for worthy holiday snaps too.

Exploring a fjord-filled paradise We leave civilisation behind now as we explore the deep fjords of Chile. One thing you'll enjoy is seeing the high mountains plunging into the icy water from deck. Depending on the weather and available time, we might launch our small explorer boats to take you on a scenic cruise around the beautiful fjords. . You might even join the Expedition Team on a hike ashore and see first-hand how the glacial ice has scoured its way between the mountains, creating the lovely isolated islands and hidden bays. We may take samples of the ice found in the region, studying them under the microscopes in the onboard Science Center.

Cape Horn and the Drake Passage After we have sailed through the scenic Beagle Channel, we will start going fully south towards Antarctica. As we do, we will pass the southernmost tip of South America, Cape Horn. Famous for being a key point on round-the-world sailings, it is equally notorious for the strong winds and wild waves that whip around the cliffs. These conditions make any landings here difficult to say the least and a feat not for the faint-hearted. The Captain and the Expedition Team will carefully consider the conditions on the day and decide whether or not it will be safe enough to make a shore attempt. But should the weather be kind enough, you might just be among an elite few to set foot on this dramatic island. From Cape Horn, it is down into the legendary Drake Passage which leads right to the Seventh Continent's doorstep. During the days spent making this crossing, you'll join lectures with the Expedition Team and learn about exploring Antarctica according to IAATO's sustainability guidelines. Learn fascinating facts about the different wildlife species, how to observe them without disturbing, what to do if a penguin approaches you, and what not to do. We want to make the landings safe for you, for the wildlife and for this pristine environment – leaving nothing behind, and taking nothing but moments.

The most remote and beautiful place on Earth Have you ever felt completely stunned by nature? That might exactly be your feeling as we reach Antarctica. So amazed by the immense size and overwhelmed by its stark beauty, some have burst into tears of joy and sheer awe. To make the whole experience even greater, you'll be here in the late spring period when many sculpted icebergs will be floating in the straits. Wildlife will also be in a romantic mood as gentoo and chinstrap penguins engage in courtship and mating. These clumsy yet charming creatures will melt your heart as they waddle around flirting with their partners and building their nests. Up above, look for a variety of seabirds like gulls, terns, herons which could ranging across as many as 45 different species. Over the course of the four days you are here, you will join the Expedition Team on a range of landings and ice-cruises that will bring you to scenic locations and penguin colonies on and around the Antarctic Peninsula and surrounding islands. You may also get a chance to go snowshoeing in an optional activity, if the snow conditions allow. Or how about kayaking among the giant icebergs, also an optional activity. You never know what penguin or seal might turn up in the water right next to you. To engage even more with Antarctica's unique environment, you can join different Citizen Science projects like photographing whales, seabirds and leopard seals, phytoplankton sampling or cloud and sea ice observation. Participating in these research projects not only helps scientists all over the world, you'll also get an even better understanding of the fragile ecosystem of Antarctica. The lectures on board will enhance your experience, and analysing samples taken during the day will let you see another kind of 'wildlife' at a cellular level.

Returning north After spending four days in Antarctica, it'll be time to head back. Your mind will be full of lasting sights and sounds and your camera's memory cards loaded with impressive images as well. Recapping the days in Antarctica with the Expedition Team and other guests over at the Science Center might keep the experience going a little longer. You can also unwind from all the excitement with some pampering in the Wellness Centre.

As one adventure ends, another begins Estimated time of arrival is 7:00 AM The expedition cruise ends as we reach Ushuaia in Tierra del Fuego, Argentina's southernmost province. While this is the end of your adventure to Antarctica, it merely marks the beginning of your next one. We transfer you to the airport for your flight to Buenos Aires from where you can spend some extra days or head home. With museums, theatres, and plenty of tango shows, it is well worth taking the opportunity to explore the capital. If you still hunger for adventure and beautiful scenery, we absolutely recommend joining an optional Post-Programme to the magnificent Iguazu Falls. We hope that the time you have spent exploring Antarctica will stand out in your memory as special for decades to come. May the experiences on this expedition inspire you to go on many more adventures like this one, where sustainability and nature go hand in hand.

Itineraries are subject to change.
| | | |
| --- | --- | --- |
| 27 October, 2023 to 13 November, 2023 | | Book now |

The Polar Outside cabins are primarily on the middle decks with windows, most are spacious, have flexible sleeping arrangements and TV for excellent and high standard accommodation. Can accommodate two to four passengers.

Arctic Superior class cabins are comfortable and roomy accommodation and most have balconies. Flexible sleeping arrangements, sofa beds, TV and other features make this one of our most popular categories. Our Arctic Superior concept includes a kettle, tea and coffee. Can accommodate two to four passengers.

These suites are large, well-appointed cabins with expansive windows and most have balconies. Some have a private outdoor hot tub. The suites feature flexible sleeping arrangements with comfortable sofas, sitting areas and TV. They can accomodate up to four people. Expedition suites are exclusively in upper and mid-deck locations. Our Expedition Suite concept includes a bathrobe, espresso maker, and more. An exciting welcome gift awaits all suite guests in their cabin.
Fridtjof Nansen
Vessel Type: Expedition
Length: 140 m
Passenger Capacity: 530
Built: 2020
MS Fridtjof Nansen is the latest addition to Hurtigruten's fleet of custom built ships – and the next generation expedition ship. She will explore some of the most spectacular corners of the globe. Featuring Hurtigruten's revolutionary battery hybrid powered propulsion system, MS Fridtjof Nansen will be a near identical twin to her sister ship MS Roald Amundsen. Combining state of the art technology and premium on board experience with Hurtigruten's 125 years of experience and unparalleled destinations, the two Norwegian built ships introduces the next generation of adventure travel.
Cabins and public areas
The stunning scenery will be reflected in a rich and comfortable interior design. Scandinavian materials from nature, such as granite, oak, birch and wool will be used to create relaxed and stylish cabins and public areas. All cabins are outside, 50 % will have private balconies, aft suites will feature private outdoor hot tubs with spectacular views.
Science Center
The core of the onboard experience is the Nansen Science Center, an edutainment venue to guests and crew meet to create a deeper understanding of the areas we explore. Nansen Science Center will also be the on board HQ for the Expedition Team.
Restaurants
MS Fridtjof Nansen's three restaurants will host a variety of dining options, with menus drawn from our rich Norwegian and Nordic tradition, as well as international cuisine and local inspiration. Whether enjoying your meal at Aune Main Dining, Fredheim – the informal international meeting place, or the specialty restaurant Lindstrøm, you will indulge in low key yet refined, modern Norwegian Nordic cooking – where our honest and delicious cuisine reflects our destinations.
After a day of exploring new destinations, guests can relax and rejuvenate in the elegant Explorer Lounge, a large gym and Wellness center, or enjoy the scenery and sunsets on the massive in- and outdoor Observation Decks with the aft infinity pool and hot tubs as one of the highlights.
Everything you need for an expedition cruise
Each expedition voyage is accompanied by a hand-picked team of specialists and modern-day explorers. Highly experienced, passionate and knowledgeable, the Expedition Team will be your guides and guardians on your voyage of exploration, instructing you on safety, sustainability and science. MS Fridtjof Nansen will feature a variety of custom built expedition equipment, including kayaks, a fleet of Blueye underwater drones and Expedition Boats for safe landings in remote areas.
In the footsteps of a great explorer
The newest addition to our fleet will honor the heritage of her namesake – the Norwegian explorer, scientist, humanitarian and Nobel Peace Prize laureate Fridtjof Nansen. Known for his innovations in Arctic expeditions, Nansen led the first crossing of Greenland on cross-country skis. He is perhaps most famous for his attempt to reach the geographical North Pole during the Fram Expedition (1893-1896). Interestingly, after Nansen's Fram expedition, the ship was passed on to another great explorer who secretly planned an expedition to the South Pole - Roald Amundsen.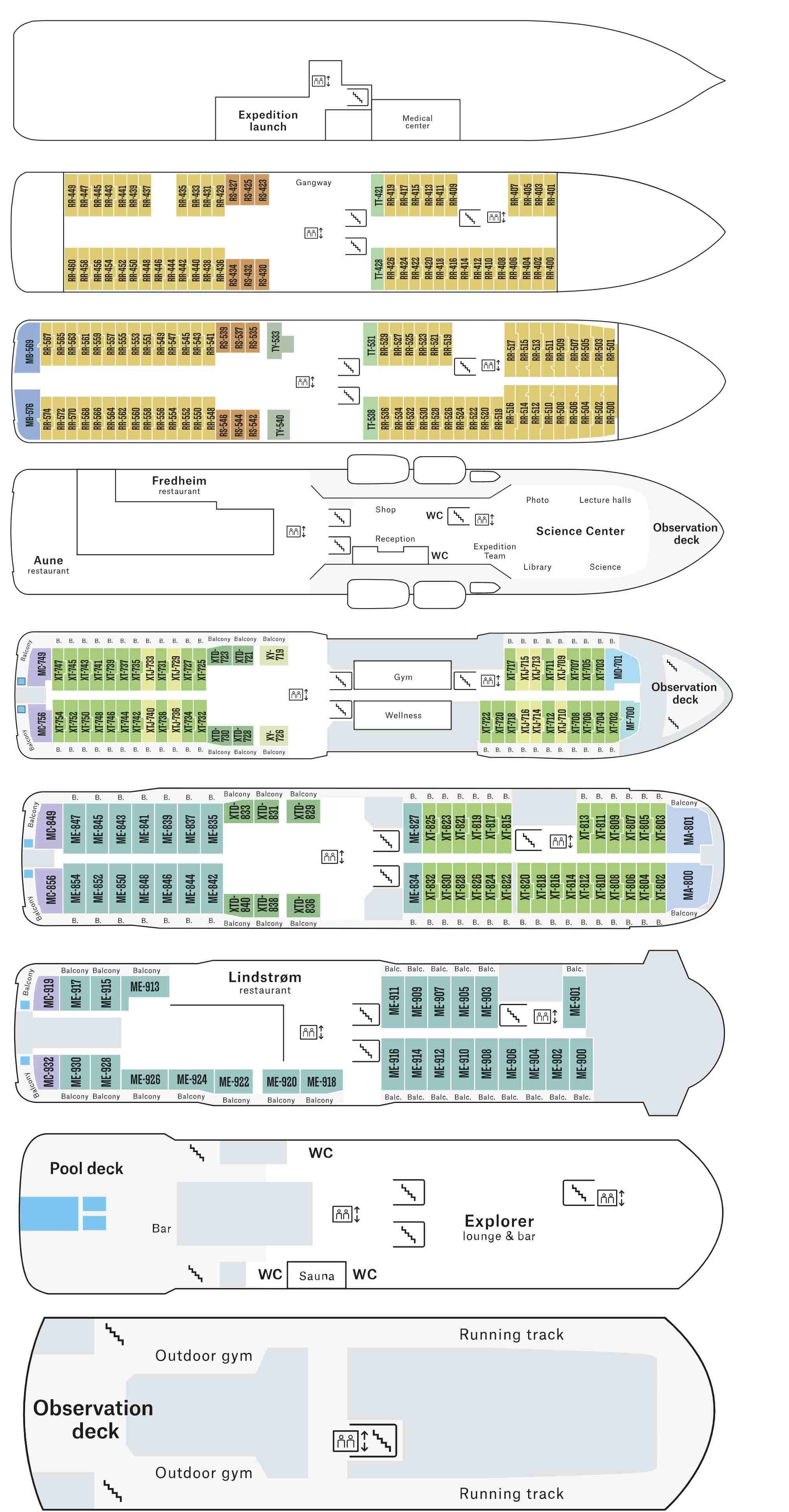 Inclusions

• Voyage on board in selected cabin category
• All meals while on board
• On board lectures
• Transfer from the ship to Ushuaia airport after the expedition cruise
• Flight in economy class from Ushuaia to Buenos Aires
---
Exclusions

• International and domestic flights unless otherwise stated
• Passport and visa costs where applicable
• Travel insurance
• Transfers unless otherwise stated
• Optional Excursions
• Pre and Post voyage accommodation
• Beverages on board unless otherwise stated
• Meals while ashore