There are14 fiords in the Fiordland National Park. They were carved out of the mountains about 20,000 years ago by glaciers. Only two of them, Milford Sound and Doubtful Sound, are accessible by road the rest can only be reached by boat. They are amongst the most remote and inaccessible places in New Zealand. This expedition does what no other expedition does and that's explores all of the Fiords giving you the opportunity to see and experience everything that makes these Fiords so unique and so alluring.


---
Highlights

• Hiking

• Swimming

• Kayaking

• Birding

• Photography

• Botany

• Cultural

• History

• Cetacean watching





This itinerary is also available in reverse. Click here for additional dates.

We will arrange for a complimentary shuttle to pick you up from your Te Anau accommodation and transfer you and other expedition members to Milford Sound. It is a stunning two and a half hour journey and a brilliant introduction to Fiordland. On arrival in Milford Sound you will be welcomed aboard the Strannik where we will introduce you to the team and the vessel. If the weather is OK we plan to get underway for Bounty Haven in Bligh Sound.

We continue the journey we started yesterday making our way south, enjoying and exploring each of the individual Fiords, or Sounds as they are commonly referred to on most charts. Our objectives are simple: - a) to overwhelm and excite you with everything that Fiordland has to offer and help you make sense of it all, including the weather, the seascapes, the landscapes, the wildlife, the forests, the history (pre and post-European) the conservation work and values. b) to welcome you aboard as a fellow expeditioner and farewell you as a committed advocate for the continued protection of this amazing place. We will linger at the most speculator locations and areas of cultural and natural history, anchoring overnight in some of the most spectacular anchorages anywhere in the world. We plan to visit the following Fiords and highlights. Big Sound Remote and seldom visited. George Sound Alice Falls, the terminus of the George Sound track, the Southwest arm. Caswell Sound American – New Zealand 1949 Fiordland Expedition Hut and the track to Lake Marchant. Charles Sound Gold and Emelius arms. Nancy Sound One of the least known and visited Fiords. Thompson Sound Northern gateway to Doubtful Sound, Secretary Island. Doubtful Sound Transit on our way South. Breaksea Sound Gateway to Acheron passage, Broughton and Vancouver arms, Acheron passage and Wet Jacket arm. Dusky Sound Pre-European and early European history (Captain Cook, Sealing Gangs), New Zealand's first shipwreck, Resolution and Anchor islands and the current conservation work, Dusky Bay Track, examine the history of moose in NZ. Chalky Inlet Edwardson and Cunaris Sounds, North and South ports. Preservation Inlet Pre-European history, the site of one of New Zealand's earliest whaling stations, gold mining relics, Puysegur Point lighthouse, the abandoned Tarawera smelter and Long Sound.

Breakfast aboard the Strannik anchored at the head of Long Sound (Preservation Inlet) then, sadly, it's time for our farewells, before joining a helicopter flight to Te Anau and your accommodation, or own transport arrangements.

Please note, we do not publish a day to day itinerary, except for first and the last days because these are expeditions. However each of our expeditions has a clear goal or objective and you have a role in both defining and achieving those. That, in our opinion, is the spirit of genuine expedition travel. Also please note, these are not "guided" trips, but the crew on board know the areas we are visiting intimately. There will be significant resources on board for your use.

This itinerary is also available in reverse. Click here for additional dates.
| | | |
| --- | --- | --- |
| 09 April, 2022 to 22 April, 2022 | | Book now |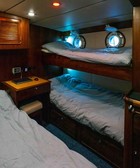 Cabins include private facilities with a bathroom including basin, toilet and shower. 8 passengers can comfortably fit within 4 twin/double cabins. Up to 12 passengers can be accomdated by prior agreement.
Strannik
Vessel Type: Small Ship
Passenger Capacity: Up to 12 overnight in five cabins
Lenght: 24 meters
Built: 2017
Strannik is a Russian word translated as "Wanderer" or "Pilgrim". Strannik is a person travelling in search of knowledge and wisdom. There is no better word nor way to describe our vessel, it has been born out of a natural curiosity and love of the natural world, history and travel. It is designed, equipped and ready to explore the world and southern New Zealand.
Cabins include private facilities with a bathroom including basin, toilet and shower. 8 passengers can comfortably fit within 4 twin/double cabins. Up to 12 passengers can be accomdated by prior agreement.
Domestic comfort
All cabins are fully insulated. Cruseair reverse-cycle systems throughout. Forced suction ventilation and fresh air seagoing vents and opening ports to all cabins. Opening hatches to most cabins. Spacious saloon and dining areas with great views. Each cabin has own entertainment docking station and screen, large theatre in saloon and music to all areas, reference library. Multiple fridge freezers, wine fridge, ice maker, full commercial laundry, garbage compactor, all electric commercial galley with Meile appliances.
Navigation System
A full double redundancy suite, featuring latest Simrad multinational navigational displays with dual range radars, high definition chart plotters, down scan and forward looking sonars, Satellite compass, Dual autopilots, and weather/climate monitoring instruments. The vessel is also fitted with CCTV and gyro stabilized Flir Night vision technology for added safety underway and on station.
Communications System
The latest Satellite communications with on-board Wi-Fi to all areas. Email and online connections. Satellite phone and data services Off shore with 4G cellular available in-shore for rapid streaming (location dependent), Long range HF SSB and VHF marine radios. Live online web based tracking system.
Safety systems
Full watertight compartments and double bottom throughout, automated Fire/smoke monitoring system to all compartments with bridge alarms. Comprehensive firefighting equipment and engine room Auto-fire flood system. All cabins with emergency exits and lighting. 2 x 20 man Solas life rafts, EPIRB's, SART, Flares and personal emergency equipment including thermal protective aids, Solas approved life jackets and abandon ship supplies. Certified crew to assist and regular safety drills.
Inclusions

• All meals and accommodation
• Complimentary wine and soft drinks (limited selection available)
• Internet access for Email